Hanoi police summoned 5 suspected attackers in the assaults against foreign women
On March 5, Hanoi police have summoned 5 attackers suspected for the assault crimes, carrying out violent and sexual attacks on foreign women in Tay Ho District.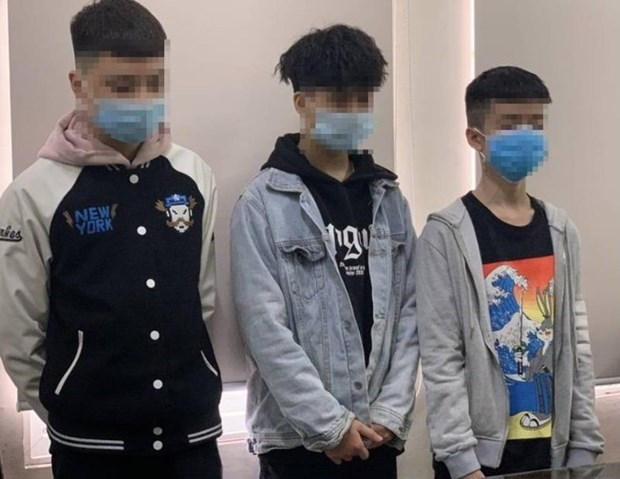 Attackers at the police station (Photo: VNA)
Police in Hanoi's Tay Ho District said a gang of 25 men is suspected of carrying out violent attacks, including sexual, on foreign women strolling around West Lake.
They have appealed to victims to help identify the culprits, Vietnam News Agency quoted a police source as saying.
They said the gang is comprised of young men always traveling on motorbikes.
The police recently received complaints from a group of foreign women that they were attacked violently, with the attackers throwing bricks at them or hitting them with belts.
Following the attacks, expats have created a Facebook group called Hanoi Nightwatch as a platform to report cases of sexual assault and suggest ways in which members can protect themselves. It has over 4,200 members.
The U.K. Embassy in Hanoi also warned British citizens on its official Facebook page: "We are aware that there has been a recent spike in reports of personal attacks, including rape and sexual assault, on foreign nationals in Hanoi. Some reports are of women being victims of indecent assault and harassment including inappropriate touching and groping."
Foreign Ministry spokeswoman Le Thi Thu Hang said at a press briefing last week that her ministry would discuss with relevant Vietnamese agencies to verify the information and deal with cases mentioned by the U.K. Embassy.
"We affirm that Vietnam always pays attention to ensuring security, order and safety for Vietnamese people and the expat community in Vietnam and strictly deals with lawbreakers."
Some 91,000 foreigners from more than 100 nations and territories live and work in Vietnam, mainly in HCMC and Hanoi.
They also confessed to commit the act as reported by victims.
The same day, Permanent Deputy Prime Minister Truong Hoa Binh also asked the municipal People's Committee to direct competent agencies to promptly verify behaviours of harassment against women around the West Lake as recently reported by the media.
Chairman of the municipal People's Committee Chu Ngoc Anh requested local police to seriously punish offenders and take measures to prevent similar occurrence.
Director of the municipal police Lieut. Gen Nguyen Hai Trung assigned the criminal police office to work with Tay Ho district's counterparts to promptly investigate the case and punish those who committed such acts in line with the law.
Sexual assaults against foreigners have been ongoing for a long time
Sexual assaults in Tay Ho district, an area popular with people of all nationalities to live and work, o Tay districthave been hidden for many years until they recently surfaced on social media. Several foreign women have since claimed that years ago they were assaulted by Vietnamese assailants riding motorcycles on roads around the area, according to VOV.
Sarah van der Velden, a 45-year-old lawyer from the United States, described how similar cases have happened to her friends during her 15-year stay in Tay Ho. She told zingnews.vn that it is rare for such sexual assaults to be reported and shared in public as they are being done at present.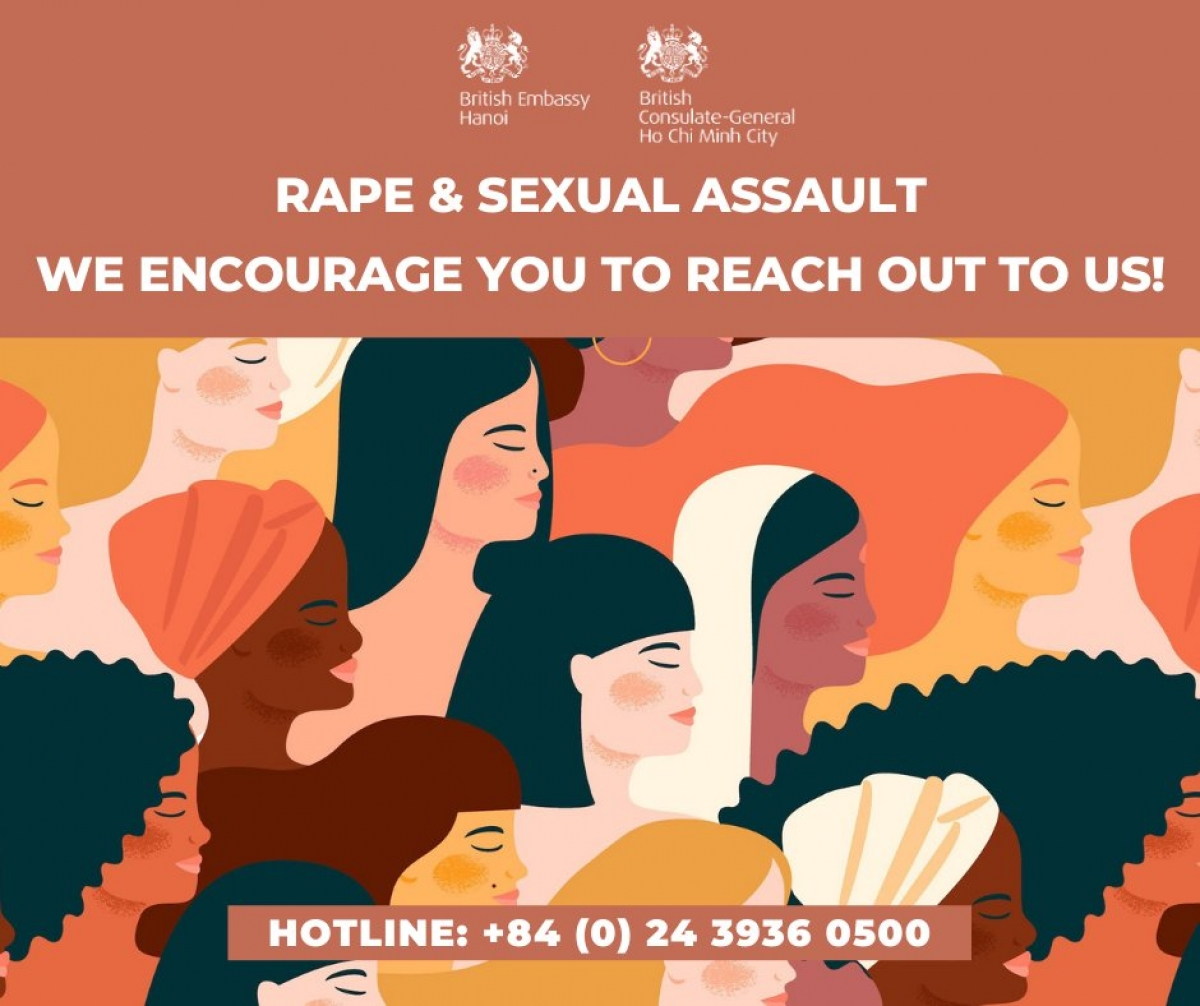 The British Embassy in Hanoi has twitted a message and a picture, encouraging its citizens to report any possible sexual violence to a hotline for immediate assistance (Photo: VOV)
Van der Velden herself is also a victim of sexual harassment. She recalled that she had twice been sexually harassed by motorcycle drivers during her stay in the West Lake area of Tay Ho district.
In 2011, van der Velden was shocked when a Vietnamese male aged over 40 stopped his motorcycle and removed his trousers in front of her while she was having a stroll around the lake.
Seven years later, another Vietnamese man also in his 40s drove a motorbike from behind, patted her on the backside, then quickly rode off laughing. The incident occurred whilst she was jogging around the lake.
"I shouted at him right away, and felt furious for a long time," said van der Velden, adding that similar cases had happened to every jogger she knew.
Recent reports regarding sexual assaults openly targeting foreign women have prompted a number of embassies of the US, the UK, Ireland, and France to warn their citizens about the possible risks of attacks in the West Lake area of Tay Ho district.
In a public statement, the British Embassy in Hanoi said:
"There has been a recent spike in reports of personal attacks, including rape & sexual assault, on foreign nationals in Hanoi. Some reports are of women being victims of indecent assault and harassment (including inappropriate touching and groping) particularly while walking alone.
We take any reports of rape and sexual assault seriously and treat them in complete confidence. British nationals can call us for support any time of day or night."
In the wake of these sexual assaults, a Facebook group has been set up specifically for foreigners residing in Hanoi to share information, alert each other regarding new incidents, and have their say on the matter. After joining the Facebook group, some female foreigners living in the area said they felt scared whilst going out with their pets or they have since given up walking locally.
Lo May, a 30-year-old from the US, has previously been the victim of sexual violence in Hanoi. She told zingnews.vn that she was attacked in 2018 by two youngsters who drove from behind and grabbed her backside. When the incident occurred, she was taking a stroll alongside her boyfriend on Dang Thai Mai street in the West Lake area, with the pair unable to see the youngers as it was getting dark.
These days, May, a horse-riding instructor in Long Bien district, says she feels very cautious when out walking alone, particularly when noticing young people around.
Similarly, van der Velden states that she is now highly vigilant when jogging in the area. She always informs her family about the route she will take, does not wear earphones, is fully aware of her surroundings, and plans an escape in case of a possible attack before going out.
Police in Hanoi say they are handling cases of sexual assault recently reported by several foreign victims. Several days ago, they summoned a young man who was accused of carrying out violence against foreign women in Tay Ho district for interrogations. They also invited four foreign victims to the scene of the attacks in order to gather more information and evidence.
There is no doubt that the sexual attacks serve to tarnish the image of Hanoi as a city of peace, and the police are now working hard to crack down on these attacks in order to create a safe living environment for all people, including foreign nationals.