Hanoi residents required to stay home and restrict Tet travel over Covid-19 concerns
Hanoi residents have been ordered to stay home and restrict travel during the upcoming Lunar New Year holiday as a way to prevent Covid-19.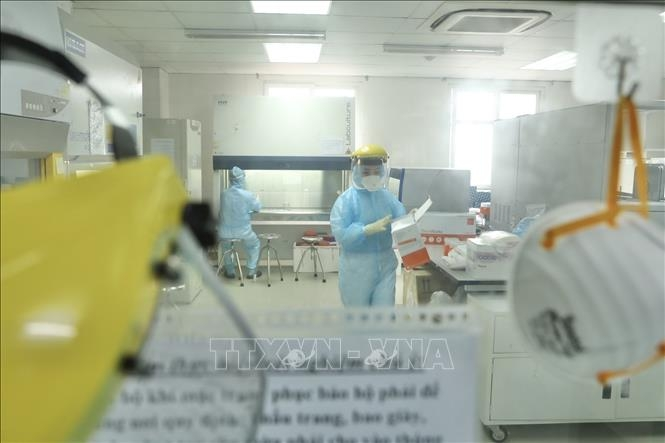 Inside a COVID-19 testing section of the Hanoi Centre for Disease Control. Photo: VNA
"If you need to go out, wear a mask, avoid large gatherings and maintain a distance of one meter from others," Hanoi Chairman Chu Ngoc Anh said in a new directive issued after the capital city recorded 21 local transmissions in the latest outbreak.
City authorities have already suspended festivals, religious rituals, sports tournaments and crowded events in public places and stadiums.
Traditionally, Tet or Lunar New Year is Vietnam's biggest and most important holiday, an occasion for spring festivals, large gatherings and parties.
Food and beverage shops that can pose infection risks should ensure social distancing of two meters between two persons and provide takeaway services, authorities have said, VNExpress reported.
In the transportation sector, all drivers and passengers must wear face masks and make medical declarations. The social distancing between passengers on vehicles is encouraged, and inter-provincial buses have to notify the names and personal addresses of passengers to enable easier contact tracing in the event of any infection being detected.
Hanoi, less than two hours to the east of Hai Duong, the country's biggest Covid-19 hotspot at present, has locked down 10 areas where infections have been confirmed. The city has shut down all bars, karaoke parlors, and discotheques, as well as video game and internet parlors until further notice.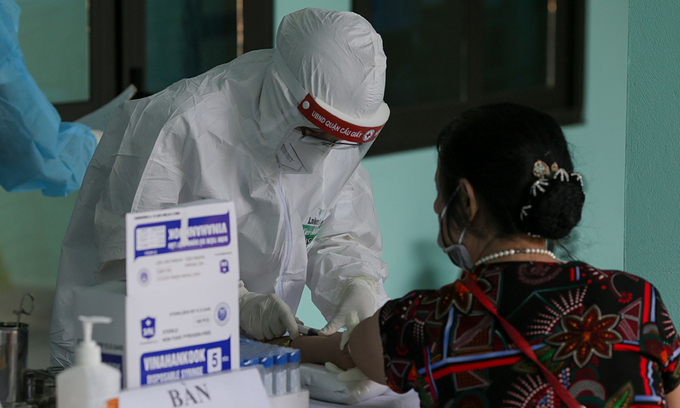 A medic takes samples of a woman for the new coronavirus test in Cau Giay District of Hanoi, July 2020. Photo by VnExpress/Tat Dinh.
Hanoi will only allow one fireworks show on Lunar New Year's Eve, instead of the planned 30, and no large gatherings to watch fireworks will be allowed.
Earlier, the city planned to set off fireworks at 30 venues, including six high-altitude shows at the Sword Lake in Hoan Kiem District, Lac Long Quan Flower Garden in Tay Ho District, My Dinh Stadium in Nam Tu Liem District, Thong Nhat Park in Hai Ba Trung District, the Van Quan Lake in Ha Dong District, and Son Tay Ancient Citadel in the outlying Son Tay District.
Residents of Ho Chi Minh City, which has reported one community transmission in the new outbreak, have also been encouraged to wear face masks while visiting the famous Nguyen Hue flower street, a traditional event in the southern metropolis during the Tet holiday. The flower street will open on February 9, three days before Tet peaks.
Nine more COVID-19 community infections were recorded in Vietnam on February 4 afternoon, raising the total to 1,957, according to the National Steering Committee for COVID-19 Prevention and Control.
Of them, one is in the northern province of Hai Duong, two in northern Quang Ninh province, four in the Central Highlands province of Gia Lai, one in Hanoi, and one in southern Binh Duong province. All are linked to the latest outbreaks in Hai Duong province.
The country has so far reported 1,068 locally-transmitted cases. Thirty-five died from complications related to the disease.
According to the Treatment Sub-committee under National Steering Committee for COVID-19 Prevention and Control, 1,465 COVID-19 patients have recovered. Among those still under treatment, 10 have tested negative for the virus once, three twice, and two thrice.
There are 65,451 people who had close contact with confirmed cases or came from pandemic-hit regions under quarantine at present, including 413 at hospitals, 24,312 at other quarantine sites, and 40,726 at home.