Hanoi supermarkets are able to meet people's goods demand even covid 19 cases increasing
Many supermarkets in Hanoi have stockpiled much goods to meet panic buying demand when Covid-19 cases were confirmed in the city. 
Vinmart and other major supermarkets have increased their inventories after there was a surge in shopper numbers the day before following Hanoi's first confirmed case of coronavirus infection on Friday night. A spokeperson for food corporation CP Vietnam said with pork supply being abundant, people do not need to worry about a shortage.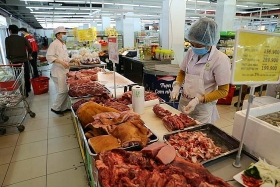 Supermarket staff at Vinmart Dai La in Hai Ba Trung District prepare meat at noon Sunday
Vinmart Dai La has also stocked up on cooked and frozen foods. Major brands Vissan, Cau Tre and Saigon Foods reassured consumers saying they are always ready to increase supply when needed. Raw materials needed for producing food products are also available in plenty.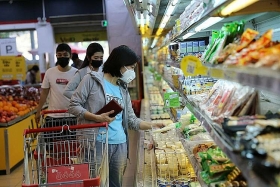 Normal shopping in some big supermarkets in Hanoi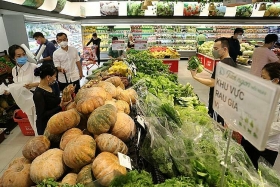 A lot of greens are on sale at a Lottemart outlet. The supermarket said stocks are continuously refilled, and that it has met with suppliers to ensure sufficient supplies.
Instant noodles, one of the most popular items, have been stocked in large volumes.
According to Lotte supermarket, there is still a lot of goods left in its warehouse, and there would not be any price increase. A spokesperson for Acecook, a major instant noodles producer, said production is being cranked up and so supply would be aplenty.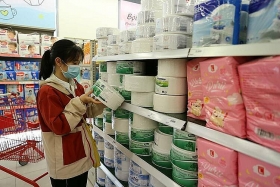 Toilet paper and paper towels fill the shelves.
The checkout counters were not as crowded as on Saturday since there were fewer shoppers. Some families said they had come shopping on Sunday because they might have had no food left at home and not due to panic.
On Friday Hanoi announced its first Covid-19 infection case, Vietnam's 17th. As of Sunday there 14 new cases in the country, including four in Hanoi, taking the total so far to 30. Before Nguyen Hong Nhung of Hanoi, who had traveled to Europe, was diagnosed, the country had gone 22 days with no new cases.
e.vnexpress.net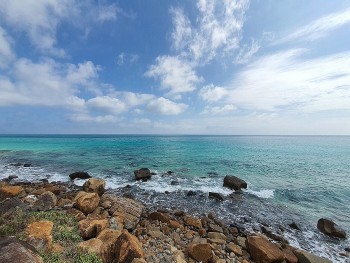 Viet's Home
Con Dao, a historical and famous island situating in the southern province of Ba Ria - Vung Tau, has been named among the top 16 best island vacations in the world, as compiled by tourism magazine Condé Nast Traveler (CNTraveler) of the United States.