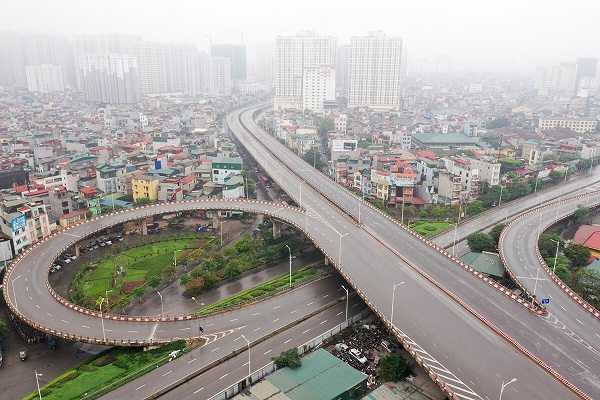 Illustrative photo by VGP.
The move is part of a series of measures set by the Hanoi People's Committee targeting a boost to its national competitiveness and business environment, according to Hanoitimes.
Hanoi considers a favorable business environment a major contributor to a speedy economic recovery in the post-pandemic period, while setting up a platform to absorb new inflows of investment capital shifted from China, or investors looking to take advantage of the upcoming EU – Vietnam Free Trade Agreement (EVFTA) and the EU – Vietnam Investment Protection Agreement (EVIPA).
The municipal People's Committee expected the local authorities to continue operating in a transparent manner, with 100% of decisions, policies and administrative procedures being updated on their respective websites and portals.
Additionally, Hanoi would strive to maintain the rate of online business registration at 100%; over 98% of enterprises declaring and paying taxes online; and 100% of tax refund claims to be processed on time.
Hanoi also targets 100% of administrative procedures in the city to be provided online at advanced stages of 3 and 4, of which at least 30% of the procedures to be processed at stage 3 and 4.
Moreover, all schools, hospitals, electricity and water providers, among others should cooperate with banks and intermediary payment providers for billing online.
At a time of unprecedented crisis, the Hanoi People's Committee requests public servants to raise their responsibilities for timely supporting enterprises with the motto "Building a government for the people – Taking the interests of the people and enterprises at the center of its service."
Meanwhile, there would be strict punishments for officials who fail to adhere to newly simplified business regulations and disturb enterprises' operations.
The capital city was named in the top 10 of the PCI report with 65.40 points, ranking ninth, followed by HCM City with 65.34 points in 2018, VNS reported.

Around 71 percent of enterprises in Hanoi said the city had a well-trained contingent of public servants with professional skills, higher than the 57-per-cent figure in 2017. Some 86 percent said the public servants were enthusiastic and friendly, compared to 53 percent in 2017.

The proportion of enterprises that took more than three months to complete all the procedures to officially come into operation dropped sharply, from 17 percent in 2017 to 5 percent last year.

The report also showed that 67 percent of enterprises in Hanoi said they could receive help from the municipal government to solve problems promptly, higher than 57 percent in 2017. Around 87 percent were satisfied with solutions and feedback from the city's authorities, up 22 percent from 2017.
Da Nang continues to top PCI rankings

Da Nang continued its reign as the top performing province in the Provincial Competitiveness Index (PCI) with a score of 66.87, followed by Dong Thap ...
Lyan Vu