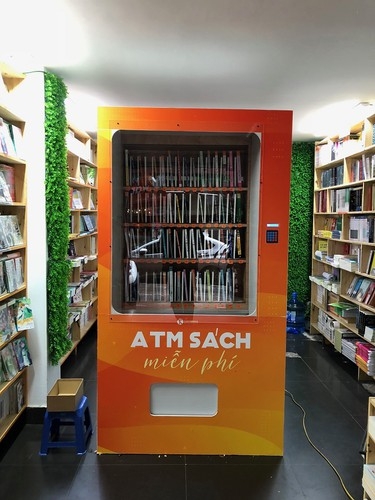 The book ATM looks and works pretty much like the ATM (Photo: VOV)
The idea is original to Dr. Nguyen Manh Hung, Chairman and CEO of Thai Ha Books Jsc, which inspired by the rice ATM newly-launched in Vietnam early April. It took Hung only three days to turn his expertise into the first book dispenser, which is set at 119-C5 To Hieu street, Cau Giay district, Hanoi.
"I think it's time for a free book ATM. It's book that enriches people, encourages them to be more civilized and attain achievements in life. Thus, I want underprivileged people to get knowledge support, along with rice support", Hung told Zing News, adding that knowledge is the power freeing poor people from sustainable poverty.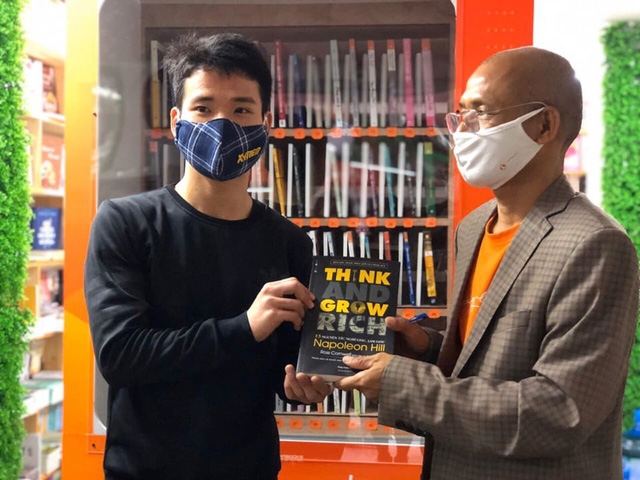 Dr. Nguyen Manh Hung (R) handing the book "Think and grow rich" to a young man (Photo: Cafe F)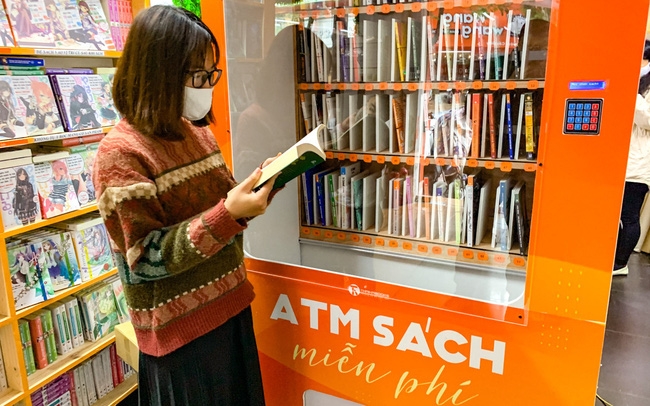 One girl stands reading in front of the machine (Photo: Cafe F)
The book dispenser works pretty much the same as the vending machine, with people press buttons to select their favorite books and the ATM will dispense the chosen one. The receiver can then collect the book through a flap located at the bottom of the ATM.
The book ATM has a capacity of 64 books, which varies in genres, targeting different age-group. Each person is allowed to take one, VNE reported.
The first-ever book to be dispensed from the ATM machine is ''Cà phê trên Sao hỏa'', known as "Coffee on Mars" in English, according to VOV.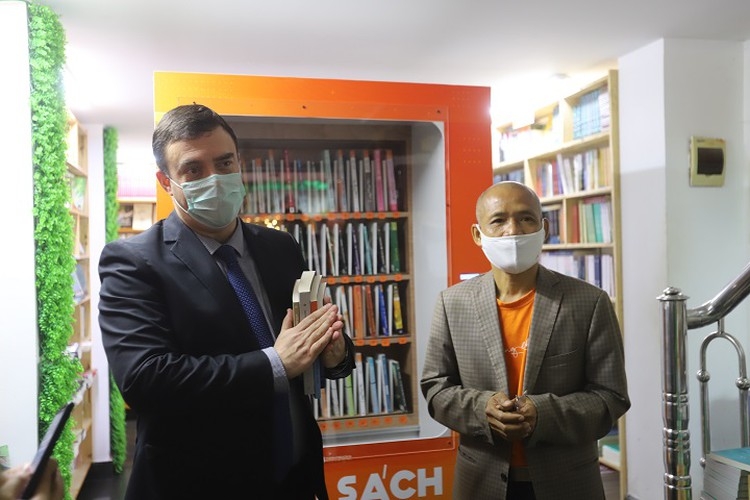 Israeli Ambassador to Vietnam - Nadav Eshcar (L) highly-appreciated the invention (Photo: VOV)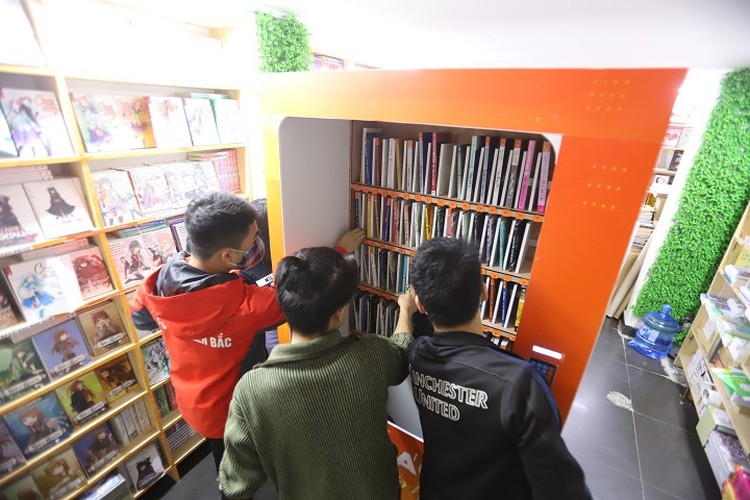 Many readers join the opening event (Photo: VOV)
The opening event Friday morning saw the attendance of Israeli Ambassador to Vietnam - Nadav Eshcar, who highly-appreciated the project.
"During such a difficult time fighting the coronavirus, Vietnamese people not only donate rice but also giving books to read for free. Nothing could be more wonderful", VNE quoted the Ambassador as saying. "Hopefully COVID-19 will soon end globally and the book ATM model will be expanded".
Ms. Lan Huong who chose a self-help book from the ATM, said "The machine is running well. It feels like receiving a gift that I love".
According to Hung, his book ATM project is a long-term one, aiming at spreading reading culture among people from all walks of life. His company is expecting to develop additional free book ATMs across the capital in the near future and calling for book lovers and tech-savvy to join the project.
Jasmine Le