Hanoi's Autumn Signature: Me Tri Green Rice
This unique rural treat will charm you on the very first bite.
After months of lockdown, Me Tri village (Nam Tu Liem District, Hanoi) in late October returned to its bustling routine of making the signature green rice - Com.
This special seasonal treat made its mark not only as Me Tri's specialty but also a Hanoi's must-try dish.
Green rice from Me Tri has its own unique rural charm, which makes it unforgettable.
The village that keeps a century-old treasure alive
Established more than 100 years ago, more than 80 households from two blocks ("Thuong"block and "Ha" block) and 300 small sellers are currently in business are keeping traditional com making alive.
In Feb 2019, Me Tri's traditional com making gained honorable status of National Intangible Cultural Heritage by the Ministry of Culture, Sports and Tourism.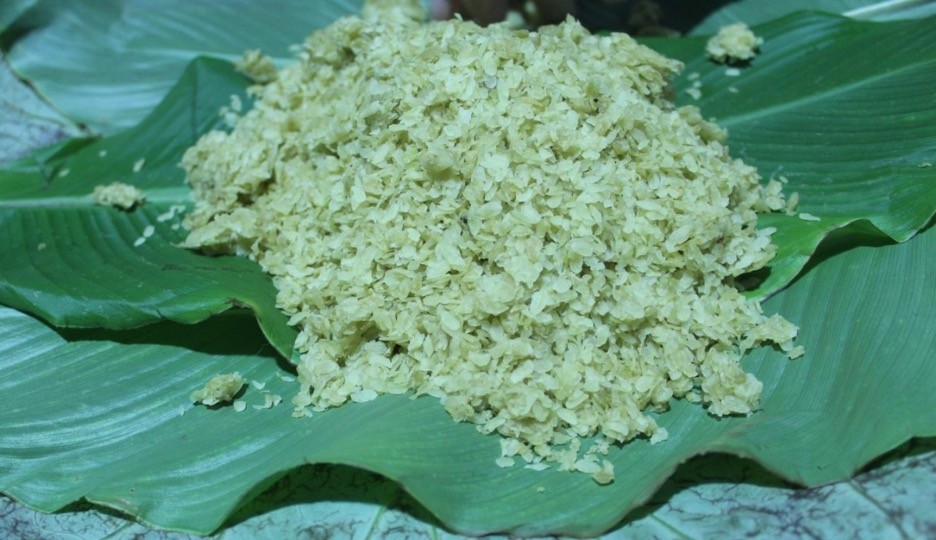 Photo: VNT
Nguyen Thi Lang, a veteran com maker said that the exact date when com making started at Me Tri was hard to say since it had been so long.
The traditional know-how had been passed down to her since she was 12, and her first-time selling com was when she was 14.
Now, she passed down the tradition to the next generation, her third son, the same way she learned from grandparents and parents.
Her son is the fourth generation of com making in her family. Me Tri villagers still pass down the traditional recipe for younger generations because they believe keeping the original taste is the priority and they wish to preserve their ancestors' legacy.
Nature and people combined
The veteran reveals great skill and dedication in perfecting each tiny flake filled with original flavor of fresh rice and nothing esle added.
Firstly, the timing must be right. In the fifth lunar month crop, rice in paddy fields ripen in Me Tri, another time for harvesting is the winter crop, mid-July til late-October (Moon Calendar).
Farmers flock to produce within these short periods, so as early as 2 in the morning they start harvesting and grinding, despite the boiling hot noon or the freezing winter dawn.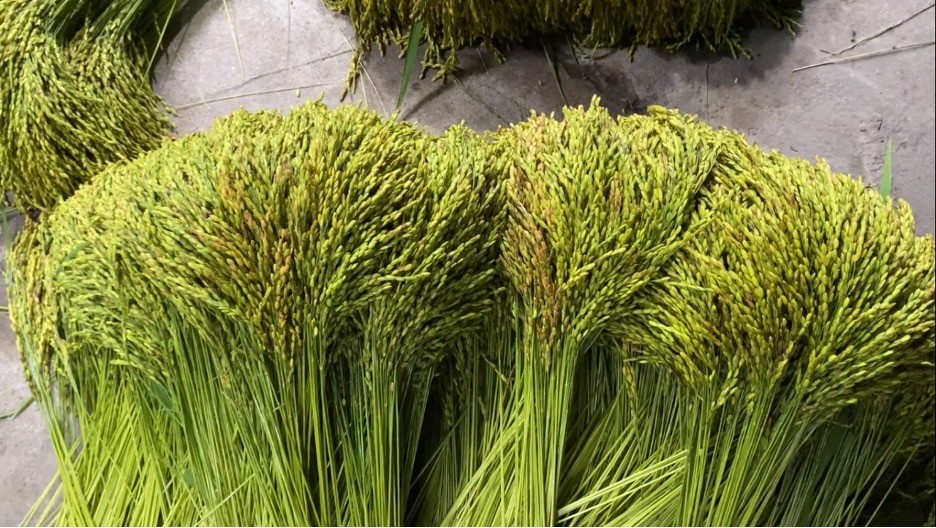 Fresh pick of grain. Photo: VNT
When the sun is yet to rise, the work has already been in full operation.
Harvesting must be done not just by eyeing for the most round and good-looking grain but also by relying on the touch of the hand.
The fresh and ripened grains are hand selected by skillful villagers to make sure of quality ingredients.
Good ingredients make delicious product, they believe. The fresh grain is then machine-processed, stirred and cleaned.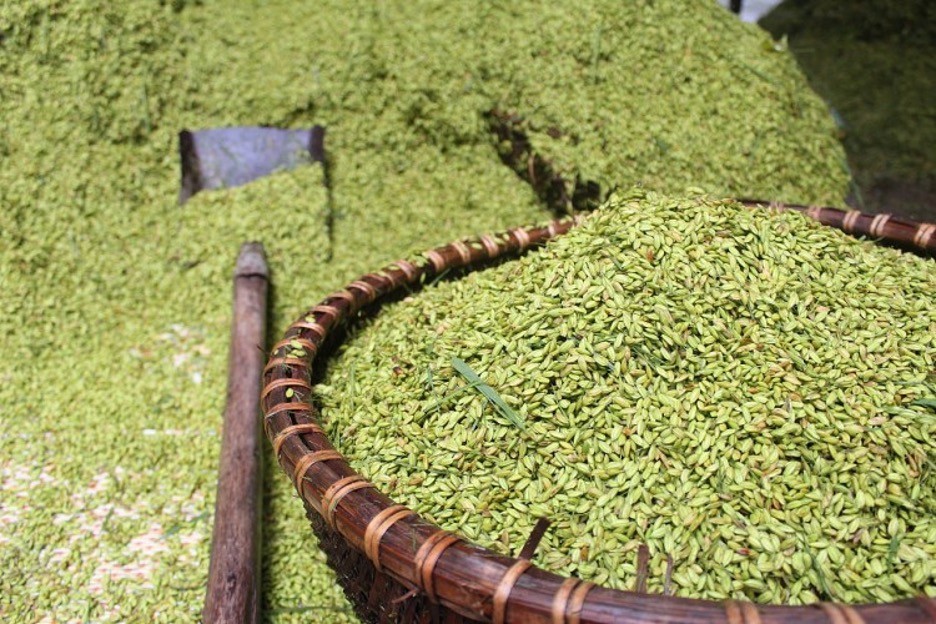 Ingredients are carefully sorted by the highest quality. Photo: VNT
Next they carefully roast the rice with the right technique and temperature.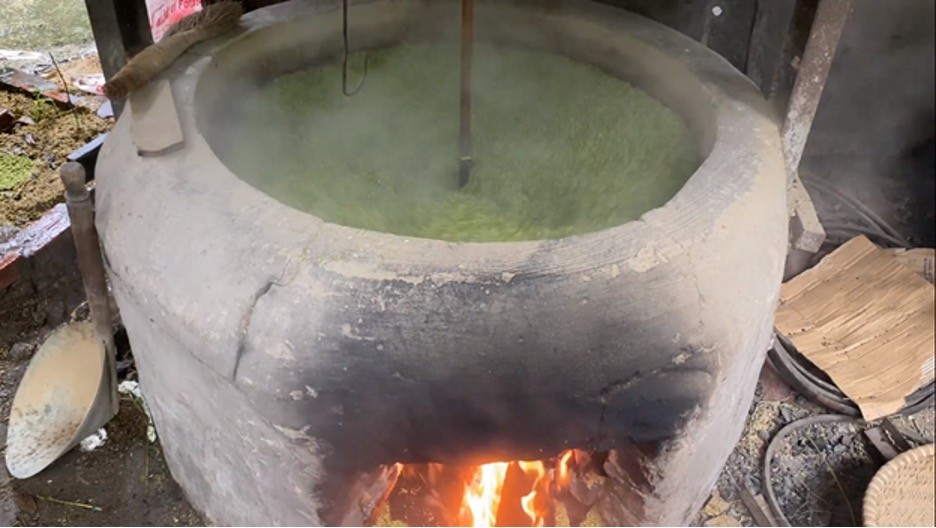 Roasting rice with wood. Photo: VNT
Onto the roasting pan, the rice is evenly stirred and set on low fire. The secret to not burning the rice is choosing the right oven, according to Me Tri villagers.
Their traditional method is to use clinkers, a coat of coal outside the pan, and then to fuel the pan with woods.
The special pan is usually made of foundry iron, and villagers love to use them because they keep the original flavor of fresh rice after roasting
The most tiring step of making com is probably grinding. Roasted rice is divided into small batches and then grinded to separate the good and the waste.
The grinding process goes on until there is only rice flakes left. About 10 kilograms of fresh rice will give 2 kilograms of green rice flakes.
From years of experience, the villagers now know that after grinding seven times, usually the product will be ready for packing.
The packaging is simple yet very useful. The food is wrapped in two layers of leaves (banana or lotus leaves,..) and tied with straw.
The scent of leaves and straw enhances the rice flavor, keeping the green color and the hydration for days so you can enjoy it for longer.
Me Tri improved the process significantly now that they have machines to save time and cost. The work is also less difficult but they promises the original taste will forever remain.
It is the unique charm that villagers value dearly so they won't risk it for profit.
Unforgettable rural treat
Me Tri deeply values traditional green rice and calls it the soul of the village.
And the soul remains despite the changing world as they continue to make the dish the same way and from the same sources just like their ancestors.
It is the ingredient that makes it so special and memorable: freshly harvested rice from Me Tri rice paddies.
Nguyen Thi Lang said: "My customers love my product, they come directly to buy good flavor, good price from me. Distributors in the city, Hang Than Street, Hang Be Street, Dong Xuan Market, etc. usually have to call to order the day before so they don't have to wait."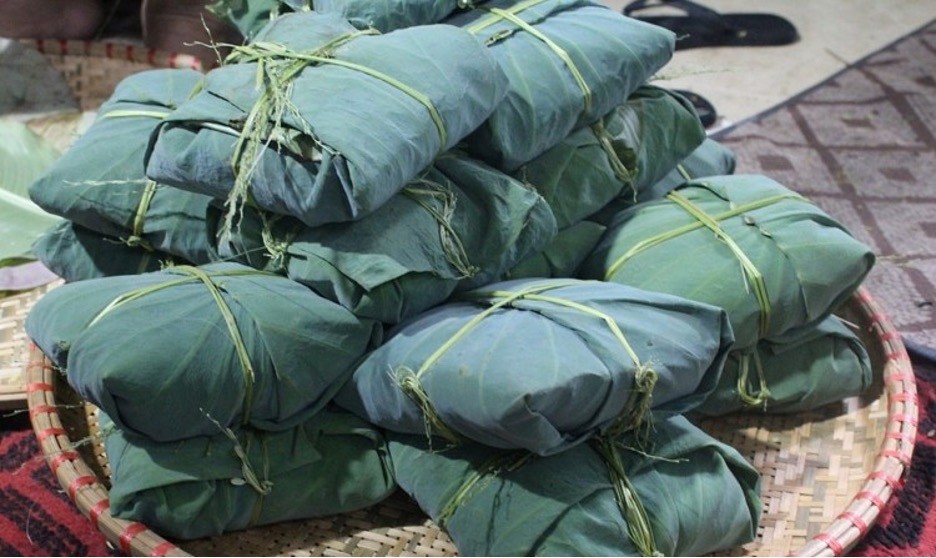 The final product beautifully wrapped. Photo: VNT
Com dishes are now getting more and more creative, such as com ham, com sticky rice, com sweet soups, and com cake, etc.
It is a must-have souvenir to bring back home from your trip to Hanoi. Com Me Tri received lots of love from many parts of the world and became one of the most famous traits of Vietnamese traditional cuisine.
Traditional flavor and modern trends
Since local lockdown due to the complication Covid-19, Me Tri has had a hard time producing and selling.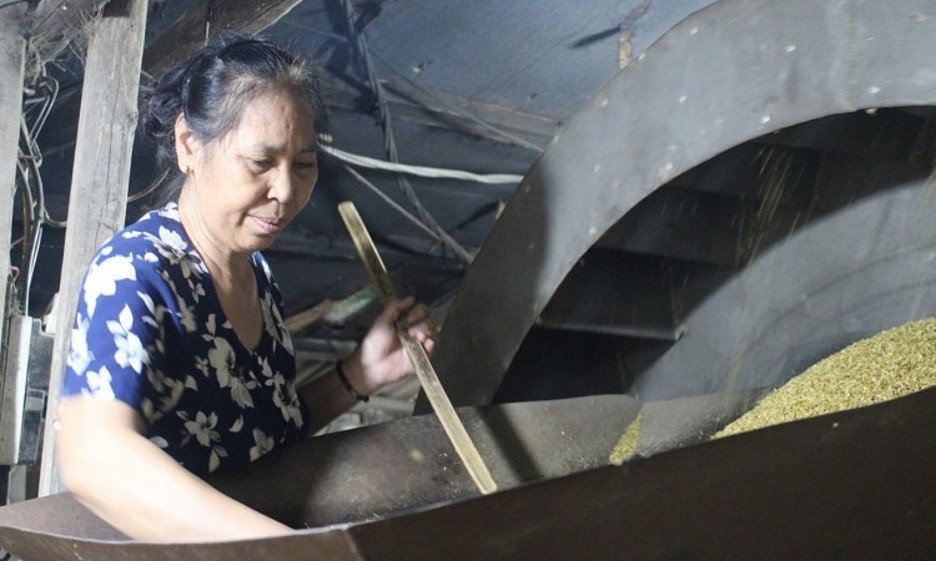 Nguyen Thi Lang prepares tre rice into the machine. Photo: VNT
But where there's a will, there's a way. Many households know they have to adapt to the situations and downsize production to survive.
Some chose to start selling their products online, making the best of technology and smart devices.
Now there is a new selling and buying behavior, this rural treat must start to catch up.
Hanoi's Devil's Tree Flower

Devil's tree flower, or hoa sua, is a symbol of Hanoi's beauty. Expats living in the capital city share their feeling about the fragrance of ...
Friendship
In Da Nang, the Vietnam-Laos Solidarity and Friendship Year 2022 was celebrated on July 2. Collectives and individuals of the Lao Women's Union were also awarded medals of Vietnam.