Delicious Dishes To Savour In The Winter Time In Hanoi
Coming to Hanoi in the winter time, tourists can have a chance to taste the best yet most delicious hot dishes that you can find in every corner of the streets.
As winter approaches, the weather starts to get colder and the rain makes you want to drink some hot coffee, staying inside and having a steamy, delicious bowl of chicken soup. Coming to Hanoi, there is plenty of winter dishes that can give you energy and warm up your body, and you can these dishes anywhere on the streets.
1. Snails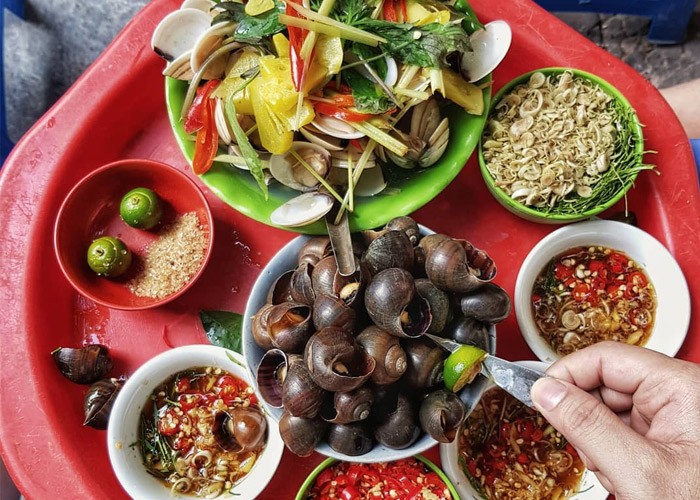 Photo: Du Lich Viet Nam
As the windy cold winter arrives, it's the best time for one of the Hanoi specialties - the snail. The popular food of hard-shell mollusk, which lives in muddy areas like ponds or rice fields, when being prepared by talented chefs will become attractive tasty dishes.
In the old days, snail was only a type of rustic food for farmers in the countryside, which is cooked simply by stir-frying or boiling. Nowadays, simple food become a beloved specialty by Hanoi people. So, it's the time for city chefs to showcase their talents: various types of snail dishes are prepared with different wonderful mouth-watering tastes.
Boiled or stir-fried snails are popular dishes in the sidewalk snail eateries in Hanoi. In a chili cold evening, there seems to be nothing more enjoyable than ordering a bowl of hot boiled snails. Let's be patient to dig into the tiny hard-shell mollusc, taking out the 'chewy-rubbery' texture piece, dipping it into the sweet-and-sour ginger-scented sauce, chewing it slowly then you'll feel satisfied as if your effort is paid off!
Enjoying the fried snail seems a little more difficult. Snails will be left whole, deep-fried in coconut milk or sweet and sour tamarind. Although you are provided with a small snail-taking utensil (something that resembles a toothpick), it's your fingernails, lips, teeth and tongue that'll do most of the work. Foreigners might wonder why Vietnamese people have to try so hard for take-out such a tiny piece of mollusc meat and, the reason is simply that diners enjoy the feeling of being paid off after hard work.
More upscaled, expensive and sophisticated dishes of snails that serve in high-end snail eateries are steamed snails with ginger leaves (Oc hap la gung), snail pies (Cha oc), spring roll with snails (Nem oc) and Snail hotpot (Lau oc).
Among the dishes which are prepared from snails, the steamed snails with ginger leaves seem to be the most sophisticated one.
2. Ribs rice porridge
Photo: Pinterest
Hanoians are very familiar with this "delicious, nutritious and cheap" dish. The hot pot of delicious rib rice porridge has long been an afternoon snack, a light breakfast or a warm night snack for Hanoians.
It is not difficult to process this dish but it is not easy to make a delicious pot of rib rice porridge. The rice must be thick, smooth and fragrant, and sweet while the pork ribs must also be cooked well.
This dish is made of two main ingredients: white rice and spare ribs. The ribs are first stewed for one hour. The cook then takes them out, puts the rice in the broth, and cooks until it turns into porridge. Next, the ribs are deboned before being put back into the porridge pot. A perfect bowl of rib rice porridge is the combination between the sweetness of the broth, thanks to ribs stewed for hours, and the tenderness of the pork and porridge.
This kind of porridge is served with crispy bagel twists, a little pepper or chili powder.
Depending on their recipe, each rib rice porridge shop in Hanoi has its own flavor that will satisfy diners.
3. Chicken soup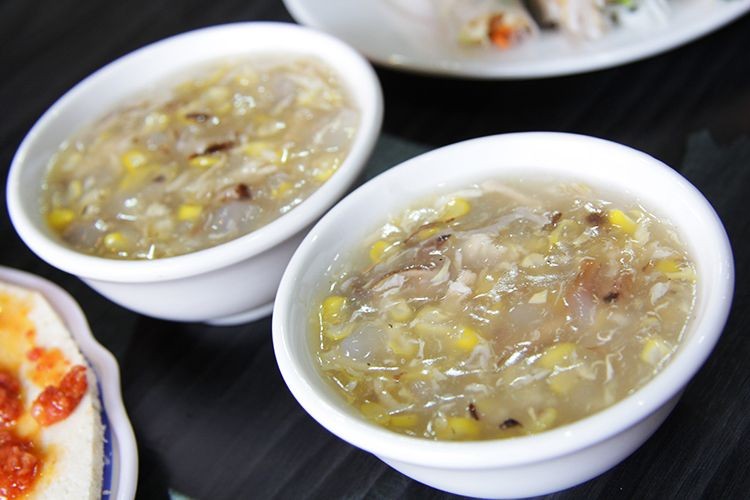 Photo: Foody
Among many delicious dishes in winter, the chicken soup still holds a firm position in the hearts of young people in Hanoi. Unlike Western-style cream soups, Vietnam chicken soup has a sweet taste from corn and mushrooms, the aroma of shredded chicken, and the taste of egg whites.
Chicken soup can be served with quay (bagel twists), salted shredded meat, herbs... Although it is processed from simple and easy-to-find ingredients, this nutritious dish can satisfy picky diners on cold days.
From 4 pm, the famous chicken soup shops in the capital city are crowded. On cold days in Hanoi, there is nothing better than to hold a bowl of hot soup in hand, add a little pepper and chili powder to enhance the taste, and chat with friends.
Some popular addresses for the best chicken soup in Hanoi are Yen Beo Chicken Soup (19 Doc Hoe Nhai, Trung Tu), Thanh Hien chicken soup (96 Cau Go), Ba Mau Beo restaurant (O Cach, Ngo Gia Tu Street, Long Bien District).
4. Herbal chicken soup served with noodle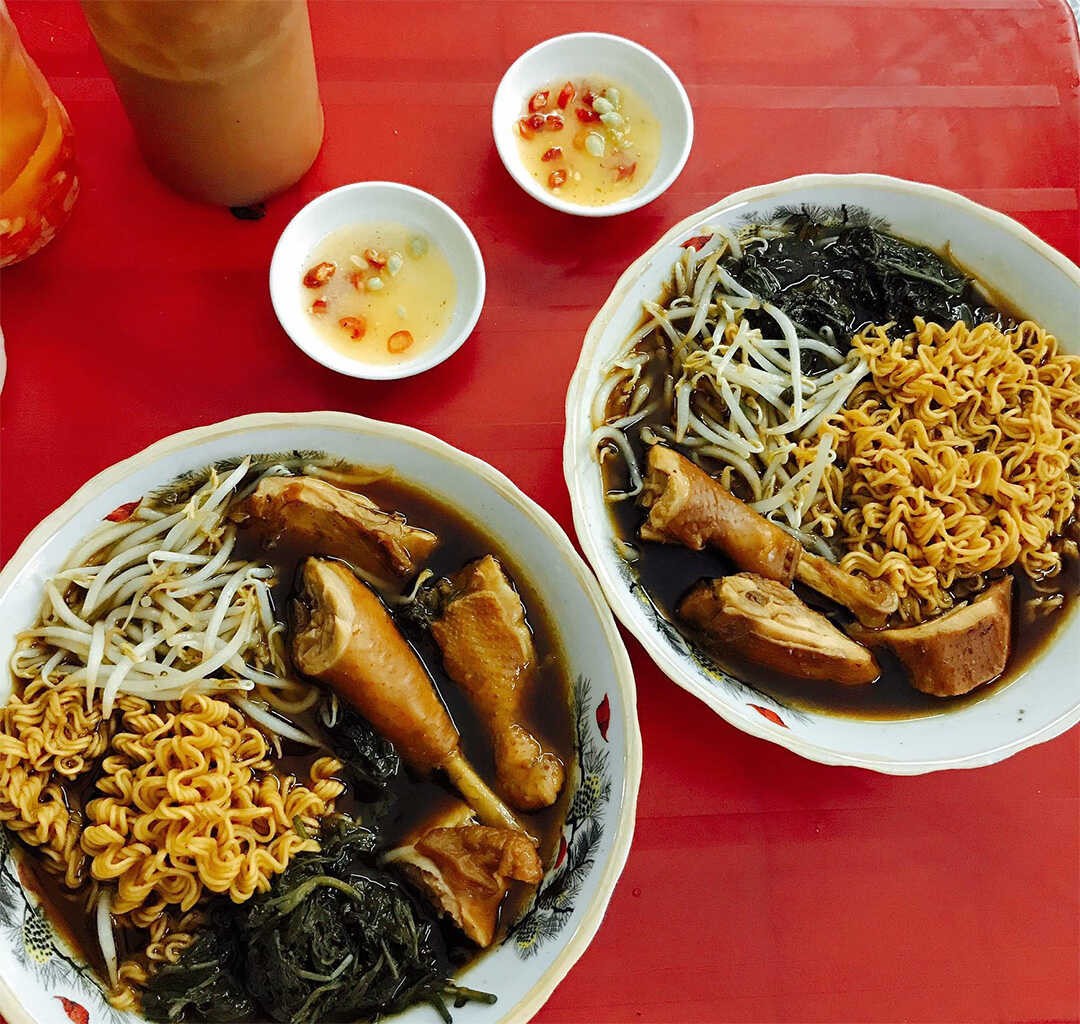 Photo: Digifood
After the afternoon wandering the streets, or after work, and when you feel chilly, 'Herbal chicken soup with noodles' will be a great taste for you. What an awesome feeling! This is not only a delicious dish but also really healthy food. The soft and fatty taste of the chicken, the bitter taste of wormwood, a little bit of chill with the bean sprouts, and more particularly the sweet and mellow taste of the herbs would be an absolute yes for this scrumptious dish.
Vietnamese black chicken (also called Ga ac or Silkie) is a breed of chicken, which has several particular qualities including bluish-gray skin, pitch-black bones, and five toes on each foot. Vietnamese black chicken often has white feathers, whereas black chicken in some other countries may appear in various colors such as black and brown. In Vietnam, black chickens are often used to make special chicken soup and other nutritious dishes, as its meat is considered more nutritious compared to other breeds of chicken.
Influenced by Chinese philosophy, Vietnamese cuisine is rooted in five core flavors, each ingredient is tied to one of the five natural elements: metal, wood, water, fire, and earth. The perfect dish needs to incorporate these elements to achieve balanced yin yang. Herbal chicken soup is one of the most balanced dishes and often the go-to medicine in Asian culture.
Spicy signifies metal, sour represents wood, bitter reflects fire, salty embodies water, and sweet symbolized earth. On our food tour, travelers sometimes ask for a try of this traditional Vietnamese dish and they love the taste and its look.
5. Glutinous rice dumplings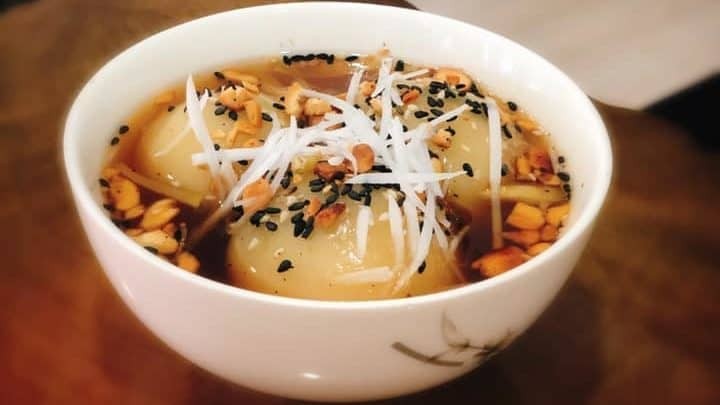 Photo: Am thuc Ha Thanh
Glutinous rice dumplings in ginger syrup (Bánh trôi tàu, Banh troi tau) is a favorite food in Hanoi on winter days. Round and oval glutinous rice dumplings which are filled with mung bean or black sesame, covered with ginger syrup, and topped with crushed peanut, shredded coconut meat, attract most of the people from local to visitors.
Glutinous rice dumplings in ginger syrup is a Chinese dish in Hanoi. Although this is not a Vietnamese traditional food, it has become something important of Hanoi. It has been not only a food but also a part of local life as well as the rich Hanoi culture. Huddling on a small chair at a corner or on a street and eating a bowl of warm and smelling Glutinous rice dumplings in ginger syrup is a favorite of many Hanoi people for many years. In Hanoi, Glutinous rice dumplings in ginger syrup are sold popularly at street food stalls and restaurants. Hanoi foodies prefer to enjoy the dumplings at long-standing street food stalls/restaurants. Some famous places to eat the dumplings are Pham Bang restaurant (30 Hang Giay Street) which was established by the famous Vietnamese artist Pham Bang, Ba Thin restaurant (1 Bat Dan Street) which last approximately a century.
Some people may think that the Glutinous rice dumplings in ginger syrup recipe is difficult and it needs many ingredients to make this delicacy. In fact, this famous dumpling is made from glutinous rice, mung bean, black sesame, ginger, and sugar. A portion of Banh troi tau usually consists of 2 dumplings: one is spherical and filled with mung bean, the other is oblate spheroid and filled with black sesame. The crust is tender and sticky, the filling is buttery and tender. 2 dumplings are covered with smelling, sweet ginger syrup, topped with crunchy, greasy shredded coconut meat, crunchy peanuts, black sesame, and greasy coconut milk (optional). According to some people, the soul of the food is not the dumplings but the syrup which should be in brown color, not too thick not too runny, sweet enough, and wonderfully fragrant.
Cooking Glutinous rice dumplings in ginger syrup is an art. The cook must be delicate, careful and skillful in each step including making the ginger syrup, cook the fillings, forming the dumplings. And eating the dumplings is also an art. You should eat it slowly to enjoy its taste to the fullest. Once eating Glutinous rice dumplings in ginger syrup in Hanoi, it leaves an unforgettable memory in your life.
6. Hot plain rice flan
Photo: Savoury Days
It is considered one of the most rustic and simple cakes in Hanoi cuisine, but the way to serve it varies thanks to Hanoian gastronomists. Hot plain rice flan is the most popular in the north. The main ingredients are non-glutinous rice flour or corn flour and peanut. Firstly, grind soaked rice with water in a grist mill; next, add lime juice to the flour solution with fine proportion to bring the cake a certain glutinous degree; then boil the solution, add peanuts to enhance nutty flavor, and stir it continuously to prevent it being burnt. When well-done, plain rice flan has a jelly shape and mild flavor. It is served either hot or cold, commonly with soy sauce and sometimes with tofu. The buttery taste of peanut, rice flour, the spicy sweet flavor of soy sauce and the cool of soft tofu are mingled perfectly together to bring us a cool dish in hot days. It is also interesting to relish a hot bow of bánh đúc topped with ground pork, grilled ground spawns, fried onions, roasted sesame seeds and herbs, called "bánh đúc thịt", a good treat in the winter. In the southern, instead of being ivory-white, hot plain rice flan is distinguishing itself with green color extracted from fragrance grass and the cool sweet taste coming from syrup or coconut juice.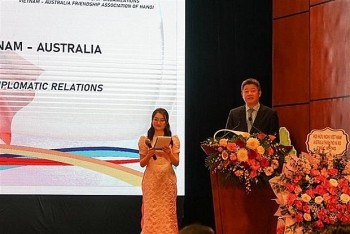 Friendship
A friendship exchange programme has been held recently in Hanoi to celebrate the 50th founding anniversary of the Vietnam-Australia diplomatic relations (February 26).