Harnessing Power of Sport for Gender Equality
A new program ensures that girls and boys can equally practice sports in safe, secure, inclusive and accessible sport spaces in schools.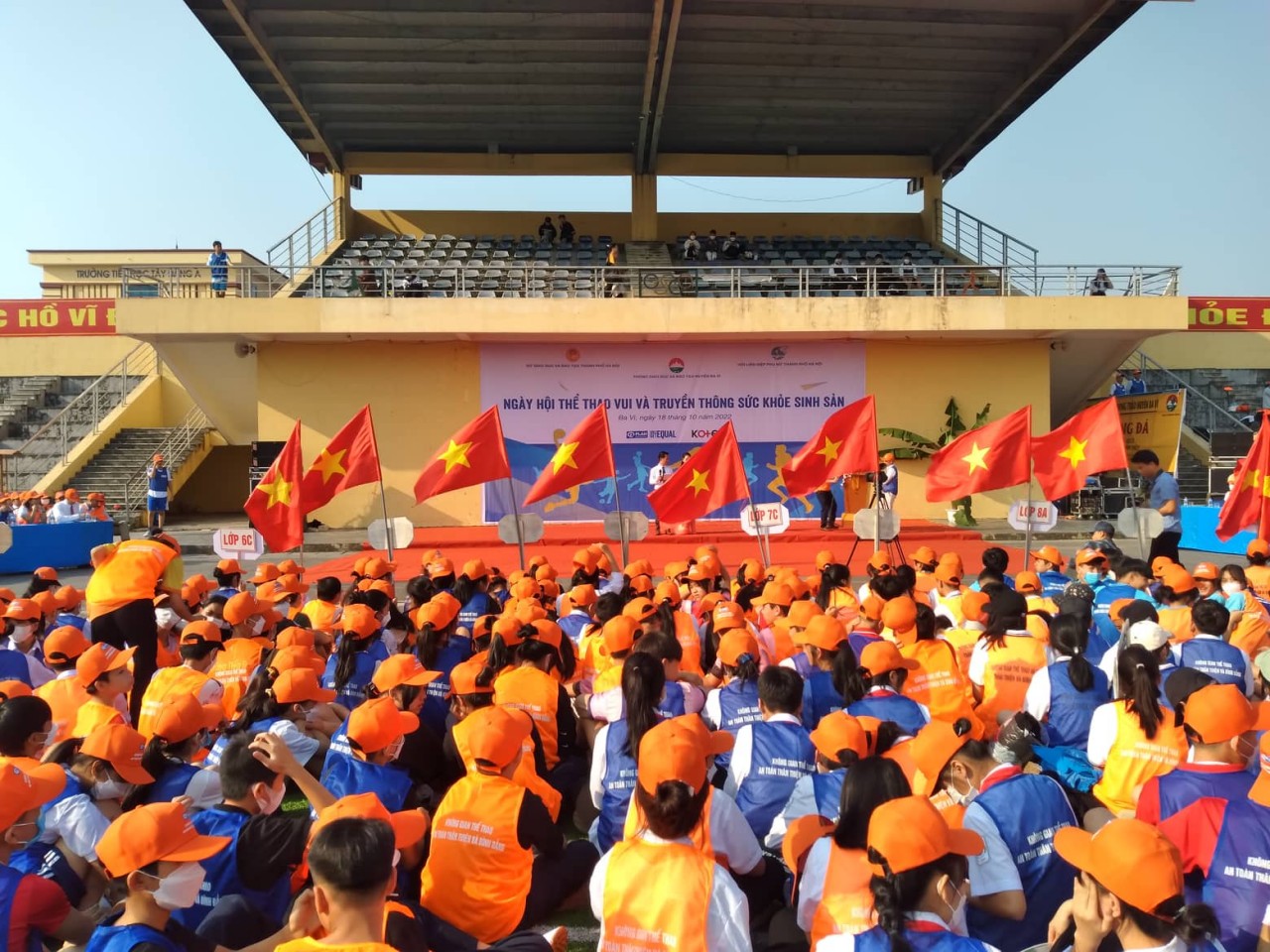 The fun sport day within the framework of the "Sport Spaces for Safety and Equality in Hanoi Schools" Project.
Plan International Vietnam in collaboration with Hanoi Department of Education, Hanoi Women's Union, Ba Vi district's Department of Education and Training, on October 18 organized a sports day and communication on gender equality and reproductive health.
The activity is within the framework of the project "Sport Spaces for Safety and Equality in Hanoi Schools" and the project "Vietnamese girl leadership on menstrual hygiene management".
The event was attended by leaders of Ba Vi district's Education and Training Department, Vietnam Women's Union, and Plan International Vietnam, especially with the participation of 1,000 students and teachers from 36 secondary schools across Ba Vi district.
The festival is an event in the series of activities of the project, aiming to create a level playing field, safe, inclusive and fun for all students. At the same time, through sports and interactive activities at communication stations, students can further their knowledge and skills on promoting gender equality, preventing and responding to gender-based violence, and understanding reproductive health and menstrual hygiene.
The day is also an opportunity for students to share and learn from each other, and at the same time exchange and share between teachers and students, between parents and children, helping to create and spread peace equality and safety for everyone in the sports environment in particular, the learning and training environment in general.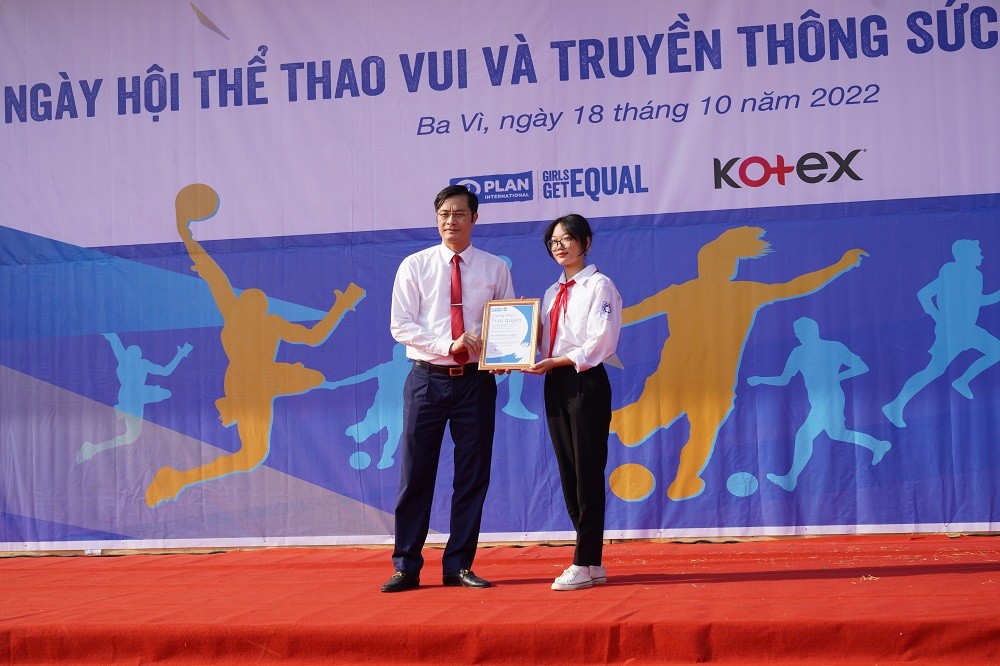 A local girl has a chance to take over the position of Head of Ba Vi district's Department of Education and Training at this event.
As part of Plan's International Day of the Girl celebration, Khanh, a local junior high school student, has been given the right to lead the Ba Vi District Education and Training Department to jointly run the fun sport day event. The "Girls takeover" series is an activity initiated by Plan International with the aim of providing opportunities for girls to experience leadership roles in all areas of life.
Khanh excitedly shared at the event that, if empowered to break down barriers, women and girls will have all the qualities and capabilities to become talented leaders in the future. future. "I would like to send a message to delegates, students, especially girls, 'Listen to children, especially girls, for a brighter future'," she highlighted.
Participating in the event, the students had the opportunity to demonstrate the knowledge they had learned during the Champions of Change in Sport model. Knowledge they learn in club meetings includes not only football techniques, but also lessons on gender equality in sports, knowledge of physiological changes during puberty, reproductive health care/menstrual health. Through participating in fun sports and experiential activities, the children show their confidence and understanding about gender issues, as well as the importance of gender equality at school.
The highlight of this event is the football competition between mix teams with the slogan "Count smiles, not goals".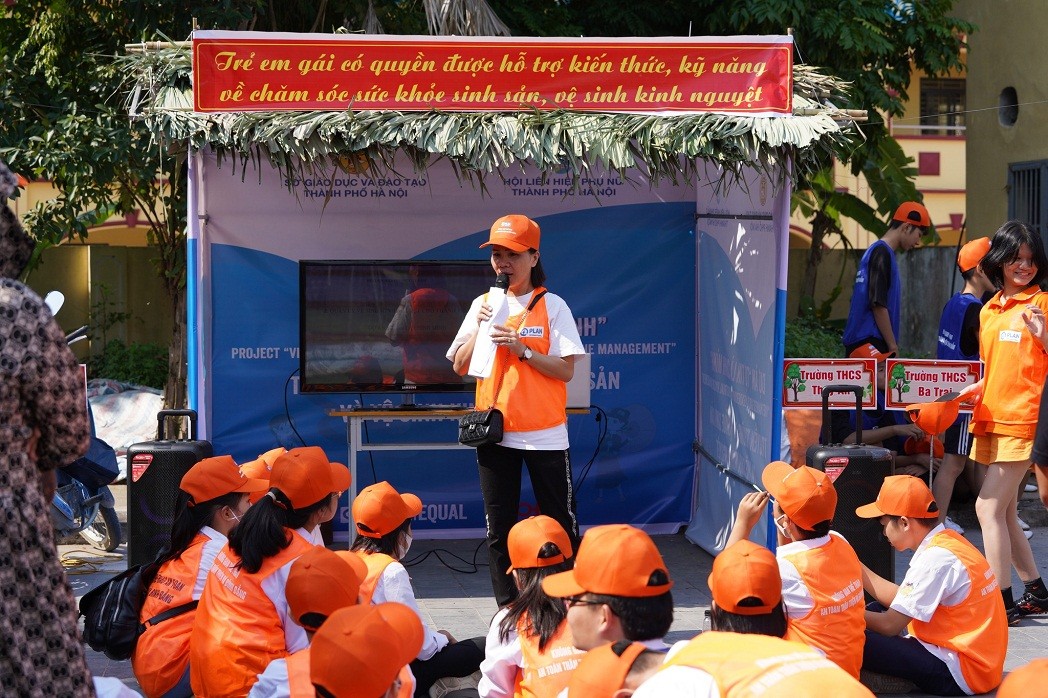 At a communication station, students hear about reproductive and sexual health.
At the opening ceremony of the program, Phung Ngoc Oanh, head of Education and Training Department of Ba Vi district said: "The project of 'Sport Spaces for Safety and Equality in Hanoi Schools' is a great project that has hit the needs and expectations of students and the education industry, so the project has received a strong response from students, parents and teachers, with the active participation of school leadership."
The Department of Education appreciates the results achieved and the positive changes that the project brings after more than three years of implementation. The smiles and confidence of the students, especially the female students in the knowledge contests and sports competitions that he witnessed in today's event are the clearest evidence.
He affirmed that Ba Vi's Education and Training Department is committed to continuing to work closely with Plan International Vietnam and related partners to successfully implement this project as well as other projects that Plan is supporting such as Self Confidence project, a project focused on equipping students with knowledge about menstrual health at 10 high schools and 10 junior high schools in Ba Vi.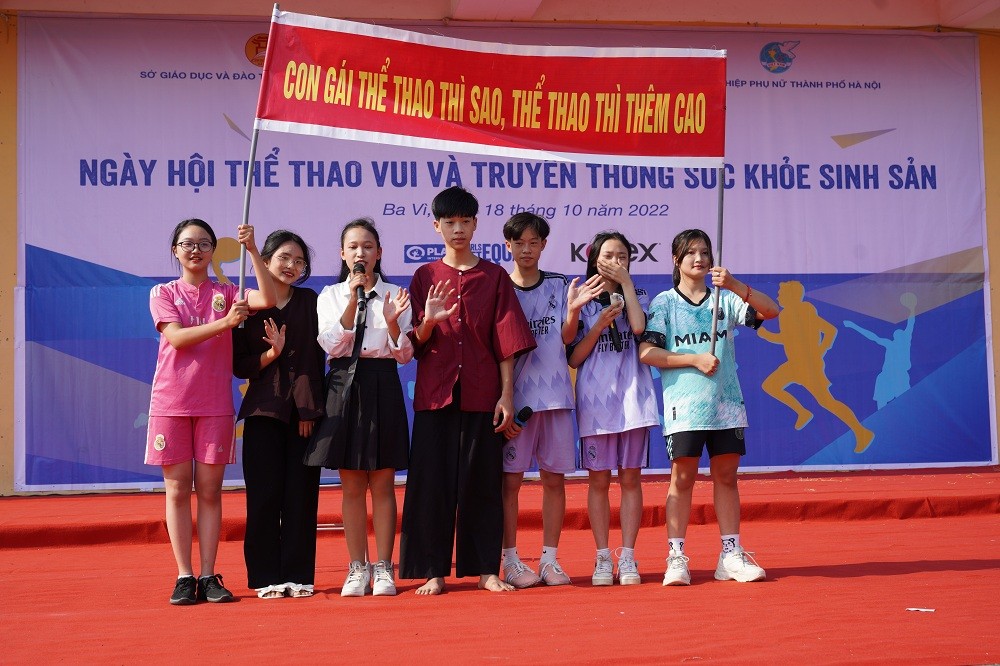 A play tell girls that sports are not just for boys.
Especially in the event, in addition to the musical performances performed by the students, there were two interactive plays, about children's rights, gender equality, breaking gender stereotypes as well as the need for knowledge about reproductive Health.
Two short plays have been choreographed and performed by boys and girls, members of the Ba Vi's Leaders of Change Clubs.
According to them, the activities of the clubs equip them with basic skit-building and acting skills; improve their coordination and teamwork skills, self-understanding and confidence.
The second interactive play with the message "Sport for everyone" was inspired by a true story, when a girl had to persuaded parents and grandparents to let her join the girls' football team at school. Through that, she wants to show that girls can participate in sports, and grow equally as boys.
According to the play, family expectations are another barrier for girls. Some girls reach a certain age and then must shoulder greater family responsibilities. They're the ones who have to stay home and help with the housework, the parents may not feel comfortable letting their daughters and that girls aren't as physically tough as boys.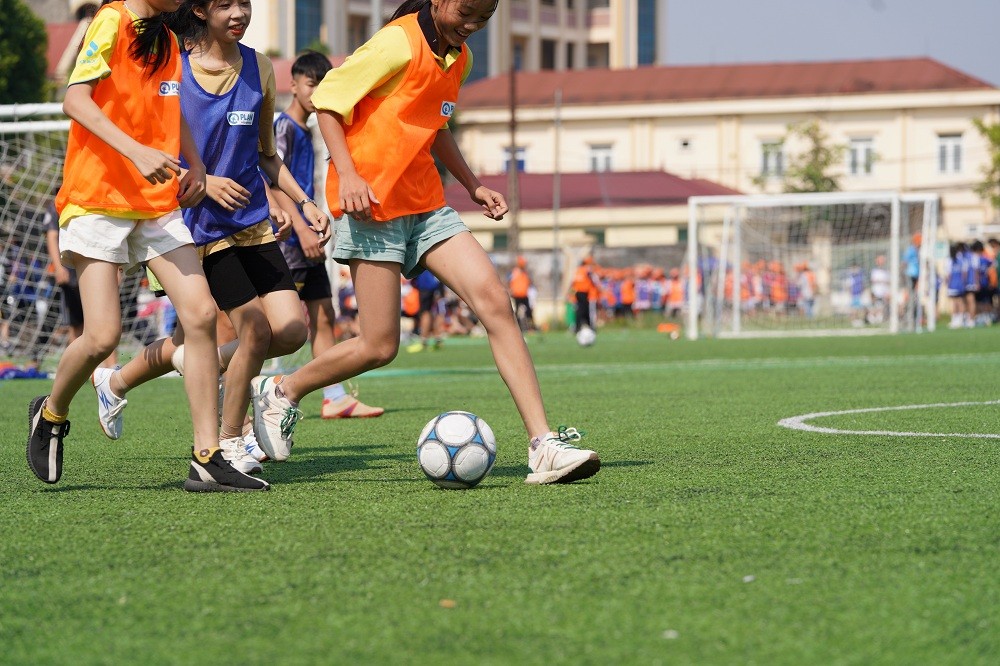 Girls said playing sports makes them feel more confident.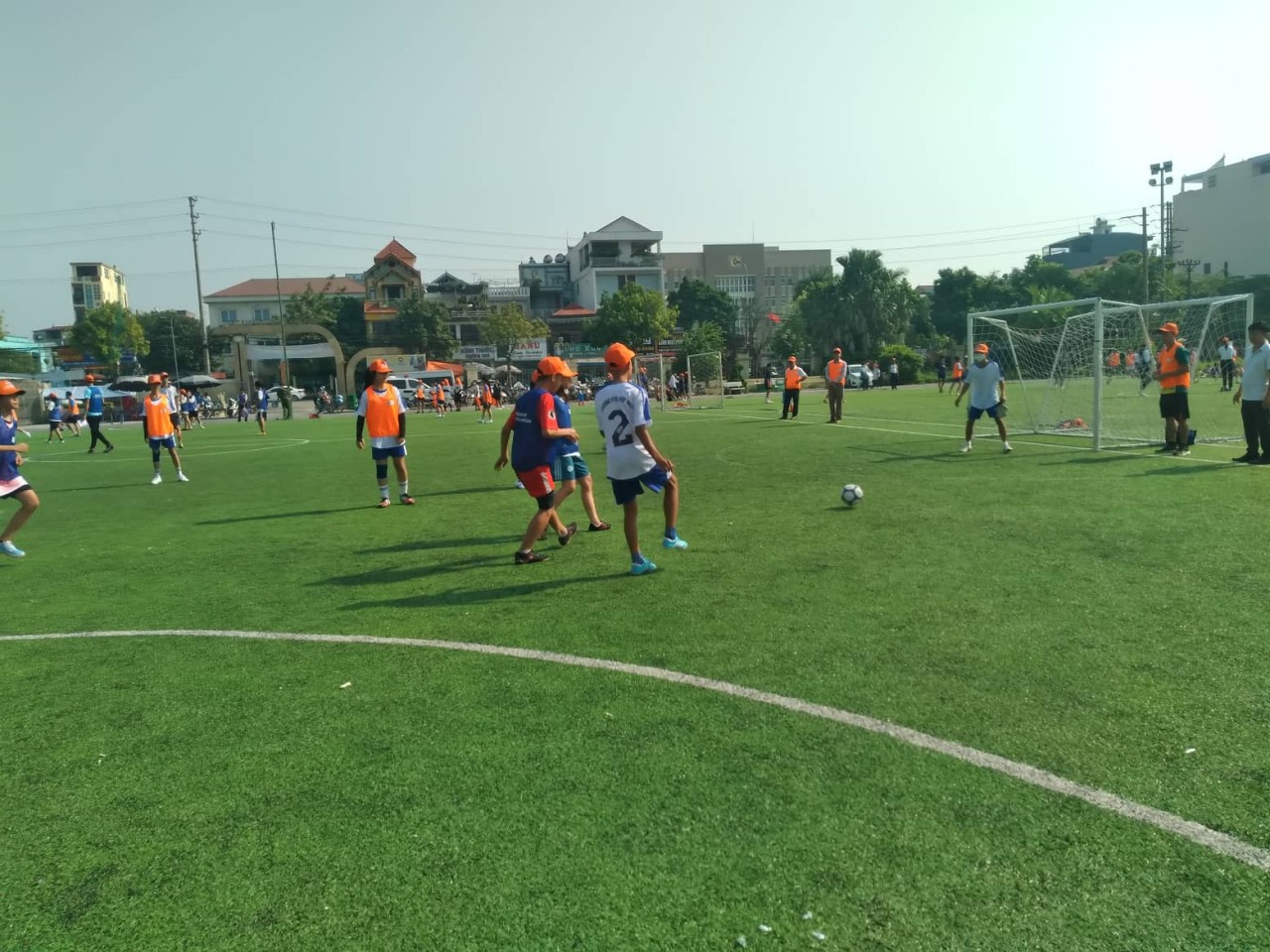 Boys and girls play football at the non-competitive sport day.
The "Sport Spaces for Safety and Equality in Hanoi Schools" project contributes to the transformation of power relations and social norms that girls and boys can equally practice sports in safe, secure, inclusive and accessible sport spaces in schools. It is implemented at 55 secondary schools in the area of ​​Ha Dong and Ba Vi districts, Hanoi.
The project and its partners believe that, with the efforts, commitment and active participation of all stakeholders, the positive impact will not only stop at Ba Vi and Ha Dong districts, but will spread to other schools in Hanoi as well as throughout the country.
Meanwhile, the project "Vietnamese Girl Leadership on Menstrual Hygiene Management" is a project co-operated and implemented by the Vietnam Women's Union and Plan International Vietnam, and funded by Kimberly-Clark, Kotex brand.
The project was implemented in Hanoi and Quang Binh with the goal of adolescent girls living in urban spaces and ethnic minority communities in remote rural areas confidently managing their menstrual periods, bringing make informed decisions about sexual and reproductive health over three years from 2020 to 2023.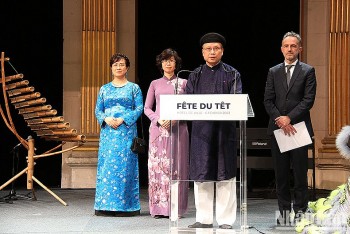 Friendship
Speaking at the celebration on the occasion of Lunar New Year for the overseas Vietnamese in France on February 6, Ambassador Extraordinary and Plenipotentiary of Vietnam in France Dinh Toan Thang emphasized that 2023 is an important milestone to promote the friendship and cooperation between Vietnam and France to the next level.