Health Minister calls for pandemic strict prevention ahead of new year holiday
The health ministry's inspectorate has ordered local health departments of central-level provinces and cities to strengthen inspections on healthcare services during the new year holiday.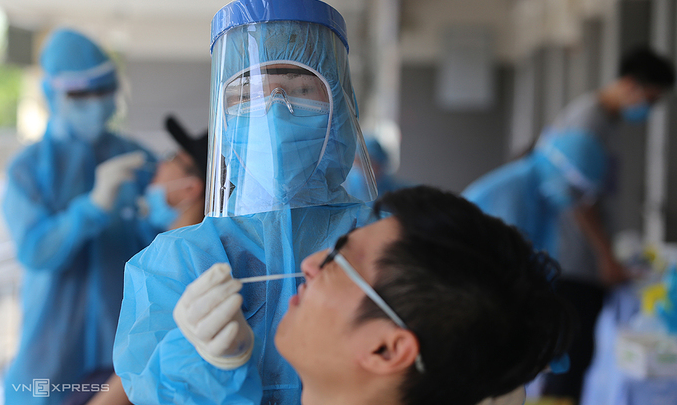 A medic takes samples of a man during a Covid-19 mass testing session in central Quang Nam Province in August 2020. (Photo: VnExpress)
The departments were urged to step up inspection in the context of increasing demand for food, pharmaceuticals, cosmetics, and medical services when the new year season is nearing. While Vietnam's COVID-19 situation is largely under control, the country still stands at high risks of getting COVID-19 infection from overseas arrivals as the global pandemic continues to progress with complicated developments.
Though Vietnam has been able to bring the virus under control, a new variant is taking root in the U.K. The new strain does not make the disease more severe, but it has been said to be 70 percent more transmissible than previous variants, according to VN Express.
"From now until the year-end, we have to implement drastic measures to keep Covid-19 contained so people could enjoy a peaceful Tet," Minister of Health Nguyen Thanh Long, referring to Lunar New Year in mid-February next year, told an online meeting with authorities from across Vietnam on Wednesday. "But we cannot put our guard down because of this. We need to strengthen prevention and be more aggressive in the fight against the pandemic," he stressed.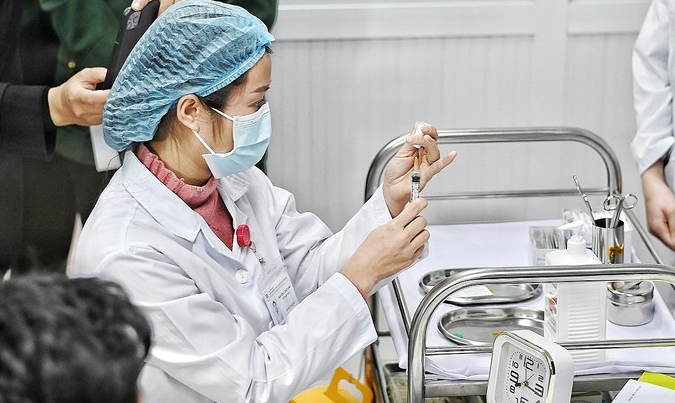 The first three volunteers to receive a dose of Vietnam's COVID vaccine have been in stable condition since their injection last Thursday. (Photo: VN Express)
In the decree 1057/TTRB-P1 sent by the health ministry to local health departments, the inspectorates said a number of organizations and localities had been complacent and failed to follow the pandemic's preventive protocols. Many took advantage of COVID-19 and increasing market demand to trade fake or low-quality products without clear origin, sell unsafe food, and violate medical exam and treatment regulations.
In that context, the health ministry's inspectorate asked local inspectorates and relevant agencies to work together to conduct inspections at production and business facilities that provide and import food in large quantities because imported food might pose COVID-19 transmission risks.
Local medical inspectorates were requested to inspect establishments that manufacture, trade, and import drugs, chemicals, medical equipment and supplies for COVID-19 prevention; medical examination and treatment establishments, especially establishments without licenses, said Vietnam News.
The Minister also called for stronger control against illegal immigration. He demanded local authorities strictly quarantine those entering the country, asking them to prepare for the worst, because "no one can tell when and where Covid-19 can reemerge in the community." Those who fail to make medical declarations or make dishonest reports evade quarantine and quarantine centers that fail to follow protocols must be strictly punished.
Vietnam has gone three weeks without recording any community transmissions. With a population of more than 95 million, the nation has so far registered less than 1,500 Covid-19 cases, with more than half imported and the rest community transmissions.
The first three volunteers to receive a dose of Nanocovax, Vietnam's first Covid-19 vaccine developed by Nanogen Pharmaceutical Biotechnology JSC., have been in stable condition since their injection last Thursday. The Institute of Vaccines and Medical Biologicals (IVAC) and Vaccine and Biological Production Company No. 1 (Vabiotech) are expected to start human trials of their own vaccines early next year. The remaining producer, the Center for Research and Production of Vaccines and Biologicals (Polyvac), is speeding up progress in producing a vaccine.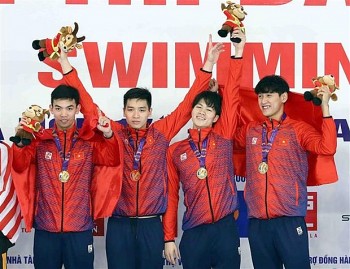 Focus
As of May 17, Vietnam's sport teams gained a total of 234 medals, continuing to top the chart.