All three Vietnamese volunteers injected with Covid-19 vaccines healthy
After three days vaccinated with the Nano Covax vaccine, three Vietnamese volunteers are in stable health conditions with no unusual reactions.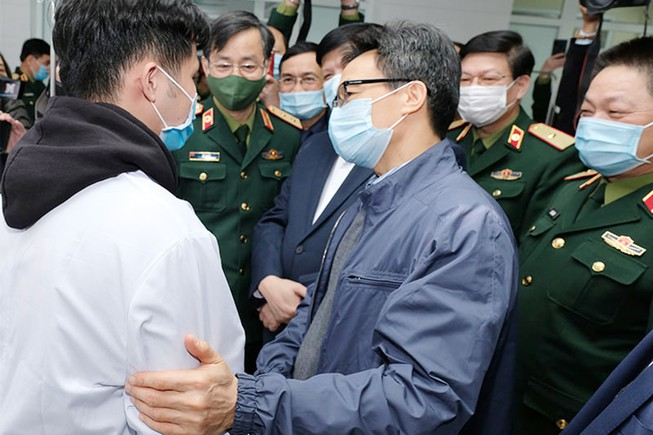 Deputy Prime Minister Vu Duc Dam visits these first volunteers to be injected with Nano Covax vaccine in Vietnam. Photo: Tran Minh/PLO.
Until now, the trio is in stable conditions after becoming the first batch to have made-in-Vietnam Covid-19 vaccine injection. Vietnam Military Medical University is carrying on the human trials of Nanocovax in the first phase as plan.
After 72 hours of injecting the first three volunteers, the index suggests that the vaccine is safe for humans. At the same time, through the process of document review, the pre-clinical results injected in mice and monkeys, experts hope that after conducting phase 2 and phase 3, the immunogenicity of the vaccine will be fully assessed as well as meet the requirements.
The Deputy Prime Minister asked that the implementation of the COVID-19 vaccine trial phase be continued in the spirit of fully complying with the regulations of the Ministry of Health, safety but urgency.
On December 21, at the meeting with the Deputy Prime Minister and head of the National Steering Committee for COVID-19 Prevention and Control Vu Duc Dam, the Ministry of Health's leaders said that Nano Covax is the very first Covid-19 vaccine approved for human trials in Vietnam.
Nanogen said it would complete the first phase in February next year in Hanoi, testing the vaccine with a group of 60 volunteers in collaboration with Vietnam Military Medical University.
The second phase will be conducted on 400 to 600 volunteers aged from 12 to 75 to defined the optimal dose.
The third phase will take place until February 2022, at least 1,500 to 3,000 volunteers will be vaccinated between the ages of 12 and 75.
Deputy PM stressed that the vaccine is still the story of the future, all pandemic preventive measures are still a must.
30,000 people to be injected with made-in-Vietnam Covid-19 vaccine
Leaders of the Ministry of Health said that the third phase of human trials of the Nano Covax vaccine is expected to see the participation of 10,000 to 30,000 volunteers.
The Ministry of Health affirms that it has created all the maximum conditions to shorten the time to perform the testing stages compared to normal conditions, but still ensure all steps and safety. Regarding the purchase of vaccines, it said that the global price for Covid-19 vaccines is very high and the supply is limited. Therefore, the promotion of research into vaccine production in Vietnam is essential.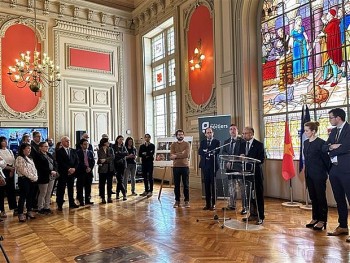 National
Vietnam News Today (Mar. 26): Vietnam and Thailand promote labour cooperation; Vietnamese, French localities look to step up cooperation; Attractive incentives on offer at Hanoi Tourism Festival 2023; E-commerce accounts for 60% of Vietnamese digital economy.