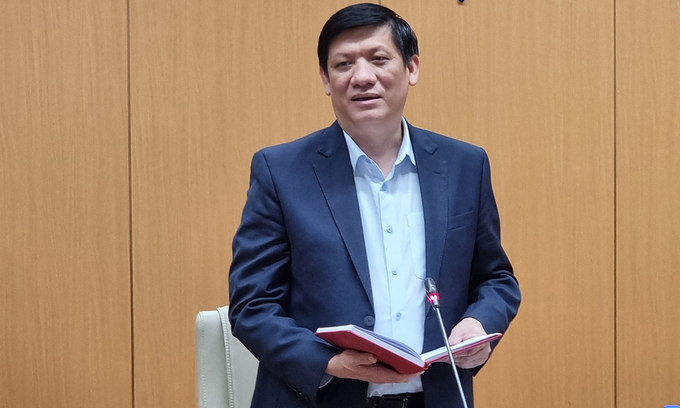 Health Minister Nguyen Thanh Long speaks at an online meeting to strengthen Covid-19 prevention and control with 63 provinces and cities on April 16 morning. Photo: Vnexpress
Minister Long warned the risk at an online meeting to strengthen Covid-19 prevention and control with 63 provinces and cities on April 16 morning. He required to tighten the control of the borders and entrants since the Covid-19 pandemic is still raging in the world and Vietnam has conducted flights to bring its citizens home, Vnexpress reported.
The country's regions where are running a high risk of new Covid-19 outbreak are the southwest borders and the southwestern provinces, Long said.
"If we neglect and let illegal entrants carrying the virus, especially ones detected in the U.K and South African to enter the country and then spread to the community, the epidemic control would become very hard", Long added.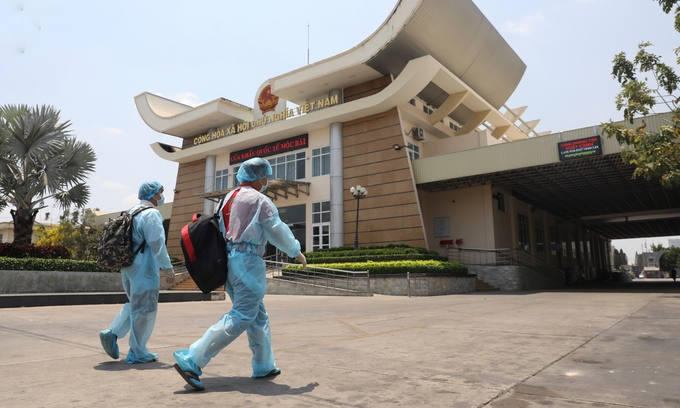 Two medical staff in protective suits at Moc Bai International Border Gate at the Vietnam-Cambodia border in Vietnam's Tay Ninh Province, March 2020. Photo by Vnexpress/Huu Khoa.
To date, Cambodia has reported 4,341 Covid-19 cases. In particular, on April 9 alone, the country logged 576 new infections. Phnom Penh Capital and Takhmao Town have placed under lockdown since April 15 in a bid to stem the quick spread. The World Health Organisation (WHO) Cambodia Representative Office warned that the Southeast Asian country is now standing on the brink of a national tragedy due to Covid-19.
Vietnam shares a long border with Cambodia, not to mention the sea and air routes.
Thailand is also grappling with the most severe Covid-19 outbreak since the start of the pandemic.
The Health Ministry also ordered to strictly crack down on those illegally entering Vietnam or those organizing for others to illegally enter Vietnam.
As of April 16, as many as 62,000 Vietnamese people in 19 provinces and cities have been administered the AstraZeneca Covid-19 vaccine.
Vietnam recorded no new COVID-19 cases over the past 12 hours to 6 am on April 16, keeping the national tally at 2,758, according to the Health Ministry.
Of the total, 2,445 have been given the all-clear from coronavirus SARS-CoV-2. Among active patients, 16 have tested negative to the virus once, 18 twice and 18 thrice.
A total of 38,743 people who had close contact with COVID-19 patients or arrived from pandemic-hit areas are being quarantined across the country, with 517 in hospitals, 22,945 in concentrated facilities, and 15,281 at home or accommodations.
Malie Nguyen