Vietnam to continue AstraZeneca inoculation campaign
Vietnam will continue its Covid-19 inoculation campaign using the AstraZeneca vaccine although Denmark stopped injecting it over fears of blot clots.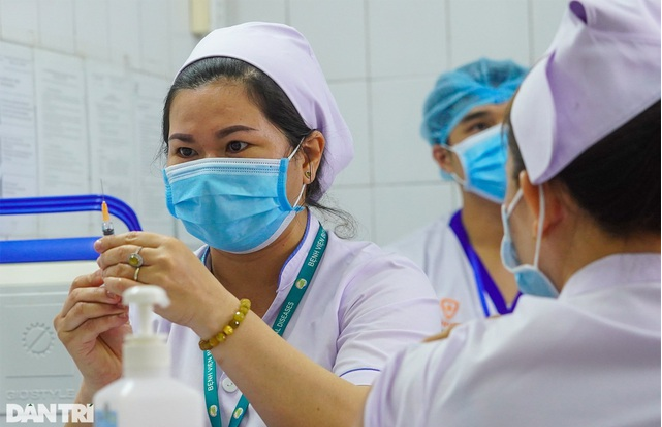 Vietnam to continue its AstraZeneca inoculation campaign. Photo: Dan Tri
As of April 16, as many as 62,000 Vietnamese people in 19 provinces and cities have been administered the AstraZeneca Covid-19 vaccine. There have been no cases of blood clots recorded. All recipients with severe reactions were timely treated and now in stable health conditions.
Therefore, Vietnam will continue its Covid-19 inoculation campaign using the AstraZeneca vaccine, said the Health Ministry.
The World Health Organization (WHO) and the European Medicines Agency (EMA) said blood clots were very rare side effects of the AstraZeneca vaccine, adding that the vaccine's benefits far outweigh its risks. Thus, countries should continue to use it.
The world is experiencing an insufficient supply of vaccines. Therefore, Vietnam has had to make efforts to procure the vaccines to inoculate its citizens.
Amidst the complicated development of Covid-19 in many countries in the world, the National Steering Committee for Covid-19 Prevention and Control on April 14 sent an urgent official dispatch to provinces of Quang Ninh, Hai Duong, Tay Ninh, and cities of Hanoi and Ho Chi Minh on strengthening epidemic prevention measures, Dan Tri reported.
The dispatch underscored the need to closely monitor the entrants especially illegal ones as well as accelerate the vaccination program.
Denmark has become the first country in Europe to abandon AstraZeneca's COVID vaccine, Euronews reported.
The decision was taken due to the vaccine's link with very rare cases of blood clots, the country's health agency said.
Søren Brostrøm, director of the agency, said despite the World Health Organization and the European Medicines Agency (EMA) favoring the use of the AstraZeneca jab, Denmark's vaccine campaign would continue without it.
"Overall, we must say that the results show that there is a real and serious side effect signal in the vaccine from AstraZeneca," said Brostrøm in a statement.
In Denmark, two recipients of the AstraZeneca vaccine have suffered severe blood clots, one of which was fatal.