Vietnam's homemade vaccine Nanocovax to enter third human trial phase in May
The third clinical trial stage of made-in-Vietnam Covid-19 vaccine Nanocovax is scheduled to start on May 5, three months earlier than expected.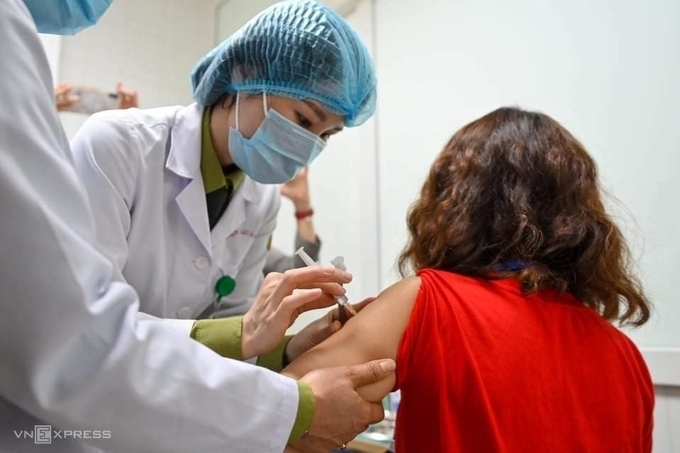 First volunteer getting the vaccine in Hanoi on the second phase (Photo: VNE)
One representative from Nanogen biopharmaceutical which studies and develops Nanocovax announced its plan on April 15.
Accordingly, Nanogen originally planned to start the last phase in August and end in February 22. It involves 1,500 – 3,000 volunteers aged 12-75 to further evaluate the immunogenicity and protectiveness of the vaccine. However, the first two phases yield promising results and go smoothly, prompting researchers to speed up the trials.
Nanogen and researchers from the Military Medical Academy (MMA) are urgently deploying plans for the third phase, making sure everything is in line with protocols, according to Prof. Dr. Do Quyet, Director of MMA. MMA is expecting to submit the second phase's report to the Health Ministry and the National Biomedical Research Ethics Council. Among the three doses under trial, (25 mcg, 50 mcg, and 75 mcg), one yields the highest immunogenicity will be chosen for the third phase.
"If this plan is approved by the Health Ministry, we will complete the second phase and start the third phase simultaneously", Mr. Quyet was quoted by VNE as sayinga t the meeting of the National Steering Committee on Covid-19 Prevention and Control.
To date, over 554 volunteers have been given the second jabs of Nanocovax vaccine. Though experienced mild reactions post-injection, all are in stable health now, no medical intervention needed. Deputy Prime Minister Vu Duc Dam and Deputy Minister of Science and Technology Pham Cong Tac also received the trial jab.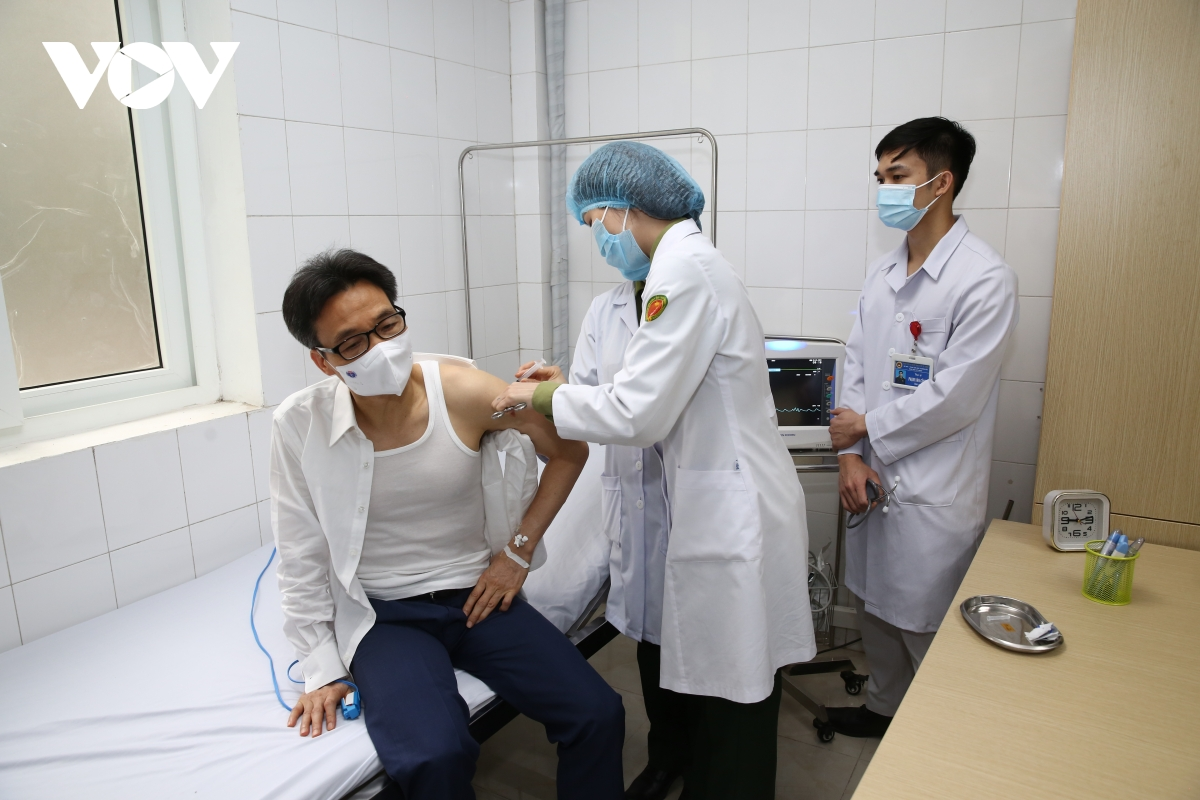 Deputy Prime Minister Vu Duc Dam gets the second shot of made-in-Vietnam NanoCovax COVID-19 vaccine. Photo: VOV
Nanocovax is the first made-in-Vietnam COVID-19 vaccine to enter human trials. The health ministry earlier has assessed Nanogen's Covid-19 vaccine candidate among the most promising, having been successfully produced on a laboratory scale and provoked immunogenicity during animal testing.
"Each injection is priced at around VND 120,000 (US $5.18). Nanocovax has two injections, it will cost each individual a sum of VND 240,000 for the COVID-19 vaccination", Dr. Do Minh Si, Nanogen's research and development director said on December 10, adding that the price was based on production costs, clinical trials costs and other relevant fees.
The Director said he was targeting Nanocovax to be over 90 percent effective, "like other potential COVID-19 vaccine candidates in the world", Dan Tri reported.
Nanogen's current production capacity is around 10-20 million doses per year. The company is planning to upgrade its factory to increase the production scale to 50-70 million doses per year. The company said it would prioritize domestic distribution before exporting the vaccine.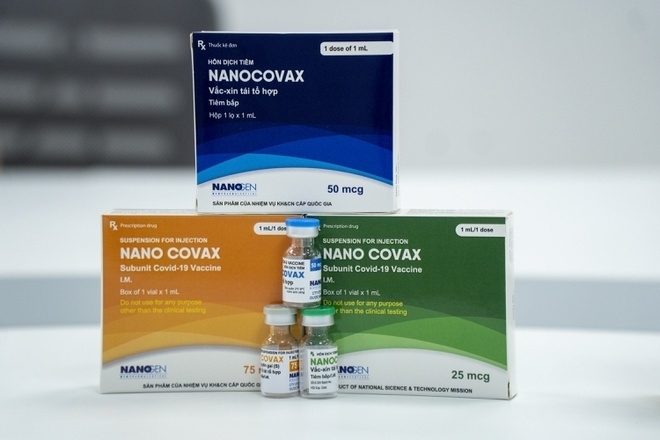 Boxes of Nanocovax vaccine (Photo: NanogenPharma)
Meanwhile, Covivac vaccine of the Institute of Vaccines and Medical Biologicals (IVAC) is currently under phase 1 of human trials.
Besides, Vietnam is having two other potential candidates studied and produced by Vabiotech, Polyvac.
Vietnam recorded 21 new cases of COVID-19, all imported, in 12 hours from 6 am to 6 pm April 15, according to the Health Ministry. As of 6 o'clock on April 16, Vietnam did not record any new cases.
The national total added to 2,758, including 1,570 domestically transmitted cases. The number of recovered patients now stands at 2,445 and the death toll remains at 35. Among patients still under treatment, 16 have tested negative for the novel coronavirus once, 18 twice and 18 thrice.
A total of 38,743 people who had close contact with COVID-19 patients or arrived from pandemic-hit areas are being quarantined across the country, with 517 at hospitals, 22,945 at concentrated facilities, and 15,281 at home or accommodations.