Health Minister: Vietnam won't lack Covid-19 vaccines
Vietnam is expected to receive 30 million doses of Covid-19 vaccines from Covax, 30 million doses from AstraZeneca, and 30 million doses from Pfizer, said Minister of Health Nguyen Thanh Long.
"Given such a roadmap, the Ministry of Health ensures that Vietnam will not lack Covid-19 vaccines," said the Health Minister at an online meeting between the Standing Government and the National Steering Committee for Covid-19 prevention and control on February 24 morning.
The Ministry of Health has already reached a deal with Covax program in which the latter pledged to supply Vietnam with 30 million doses in 2021. Covax is slated to officially announce the number of vaccine doses it will provide for each country this week.
Covax is a global mechanism for developing, manufacturing and procuring Covid-19 vaccine candidates that help member countries access vaccines as they become available.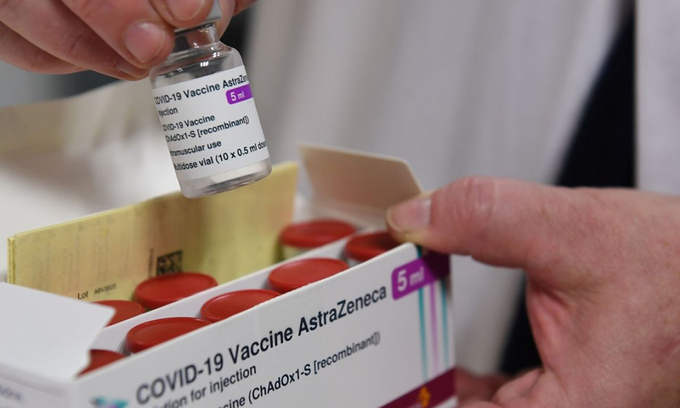 A health worker opens a box containing the Oxford/AstraZeneca Covid-19 vaccine in France. Photo: AFP.
The Health Ministry, through the Vietnam Vaccine JSC (VNVC), has planned to purchase 30 million vaccine doses from AstraZeneca. The first batch of 117,600 doses was transported to the super cold storage system of VNVC and AstraZeneca in Ho Chi Minh City on February 24 morning.
It would take two days for the quality control and the vaccination would commence in early March.
Vietnam is also stepping up negotiations with the United State's Pfizer and Moderna to buy 30 million vaccine doses. Pfizer and Moderna vaccines must be stored at -75 degrees Celsius and used within five days.
The Health Ministry continues negotiating and mobilizing sources to cover vaccination for citizens, Long added.
In addition, the Ministry is considering licensing Russia's Sputnik V vaccine which can ensure 50 to 60 million doses.
Four indigenous vaccines are under development by Nanogen Pharmaceutical Biotechnology JSC, the Institute of Vaccines and Medical Biologicals, Vaccine and Biological Production Company No. 1, and the Center for Research and Production of Vaccines and Biologicals.
Nanocovax, produced by Nanogen Pharmaceutical Biotechnology JSC, has finished its first phase of human trials and is expected to begin the second one this month. Covivac of the Institute of Vaccines and Medical Biologicals is expected to start human trials this month as well.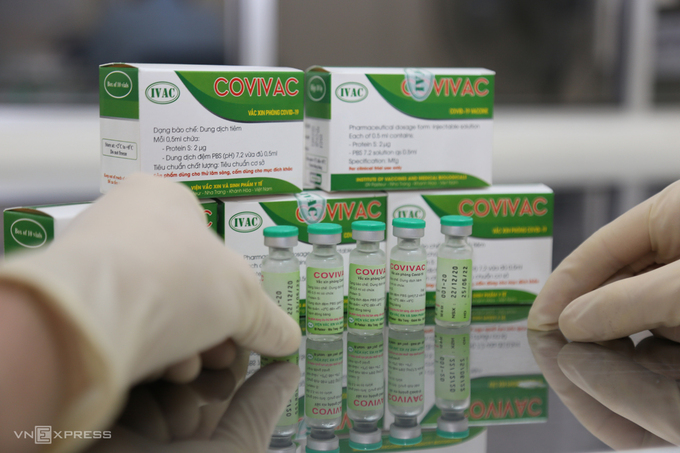 Covivac, the second made-in-Vietnam Covid-19 vaccine is expected to commence human trials this month. Photo: Vnexpress.
Earlier, the Health Ministry unveiled frontline workers against Covid-19; teachers, people working in aviation and tourism, diplomatic personnel, customs and immigration officers, military and police force, those working in essential services like transport; people aged 65 and above, those with chronic diseases that make them more vulnerable to the disease, people who are seeking to study or work abroad or are living in pandemic-hit areas will be given the first priority to get the AstraZeneca vaccine, said Vnexpress.
With the vaccine supply roadmap under development, about 1.3 million doses are scheduled to arrive in Vietnam in the first quarter; 9.5 million in the second quarter; 25.9 million in the third quarter and 51.1 million in the fourth quarter.
Prime Minister Nguyen Xuan Phuc said that one of the important factors leading to the reduction in the number of Covid-19 cases in the world over the past time is the availability of vaccines. The Politburo gave a nod to buy vaccines from the State budget and other sources.
"Citizens need to be given vaccines as soon as possible", Prime Minister added.
PM Phuc also assigned the Government Office and the Health Ministry to draft resolutions on inoculation.
He underscored the need to continue adhering to epidemic preventive regulations despite the presence of vaccines.
A fresh outbreak has gripped Vietnam since the SARS-CoV-2 virus recurred in late January 2021. As many as 820 new cases have been detected in 13 cities and provinces across the country, with 636 cases confirmed in Hai Duong alone, the epicenter of the fresh outbreak.