Ho Chi Minh City faces imminent Covid-19 spread
New clusters with unknown infection sources are making the city's Covid-19 containment efforts more challenging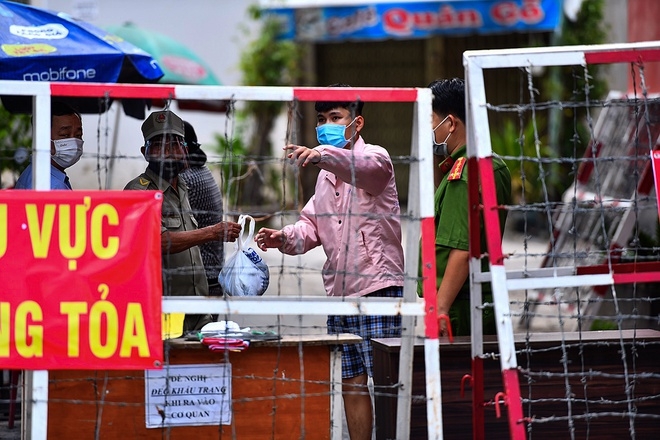 A blocked area in HCMC (Photo: Zing)
The Municipal Center for Disease Prevention and Control on Thursday called for city-dwellers to consider everyone they come across as a Covid-19 patient, saying pathogens were silently spreading in the community.
HCMC is now the country's third-largest epicenter, the biggest in the southern region. It has registered 1,257 cases since April 27. As the Revival Ekklesia Mission cluster in Go Vap district is basically contained, the city is facing more new clusters with a high infection tally, mostly linked to apartment buildings, factories.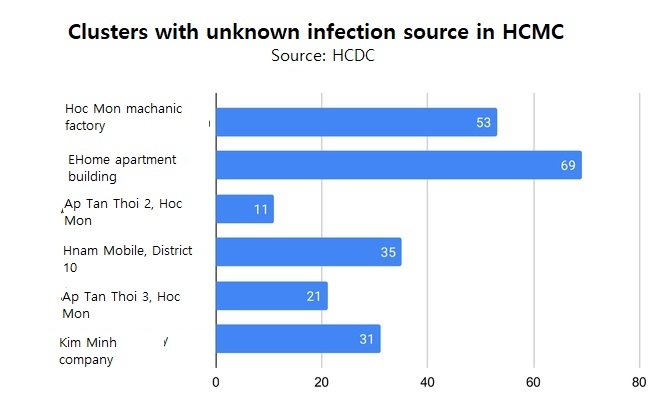 (Chart: HCMC Center for Diseases Prevention and Control)
Of the daily new cases in the past week, there are always new infections detected via screening. In other words, the virus is silently spreading in the community.
"Anyone who comes into contact with us could be an undetected coronavirus patient. Thus, we must stay highly alert, strictly abide by Covid-19 preventive protocols," a representative from the center stressed.
The fourth wave's infection chain has spread through daily interactions, especially at residential areas and workplaces, according to Dr. Dinh Thi Hai Yen, head of the department of communication of the center.
"Healthy people contracted coronavirus from patients without knowing, then go to work and spread the virus to their colleagues who bring the pathogens to their neighborhood," Yen said.
The close and hospitable lifestyle of the Vietnamese could be dangerous during the Covid-19 era. Municipal health officials, therefore, requested all residents to limit face-to-face conversations with family members, neighbors, acquaintances while strictly following anti-pandemic measures.
At the workplace, workers are told to keep a safe distance from colleagues during internal activities and at lunch. Online meetings are encouraged.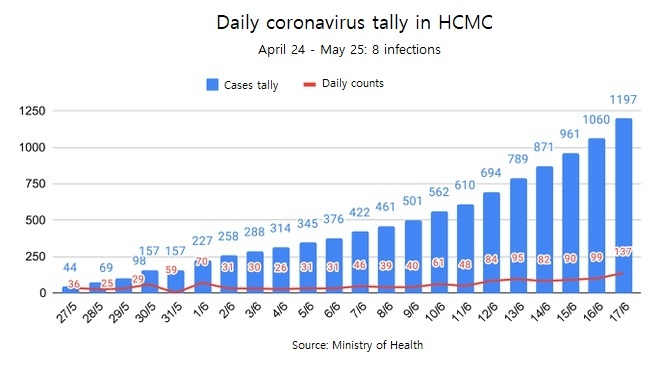 (Chart: Ministry of Health)
HCMC authorities are also going all out to deploy large-scale contact tracing, especially at hotspots, export processing zones, industrial parks, gas stations and in the marketplace.
Deputy Health Minister Nguyen Truong Son has earlier extended the social distancing order in the city for another 15 days. However, the deputy minister warned people to seriously follow authorities' recommendations or the two-week period would become a double-edged sword, making the pandemic uncontrollable in weeks to come.
As the city's tally has surpassed 1,000 infections, medical authorities have changed their containment strategy, to respond to the 5,000-case scenario.
Son said that HCMC was capable of treating both mild and critical Covid-19 patients. There are 2,500 beds in eight hospitals dedicated to coronavirus treatment. The number is to be raised to 3,500 beds.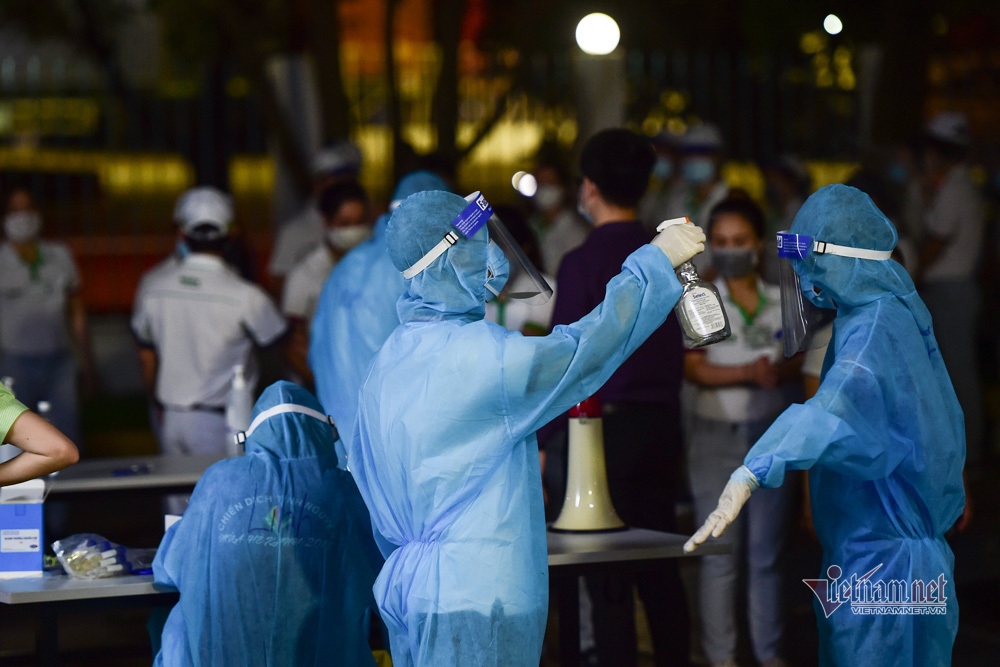 The city is ramping up testing efforts (Photo: VIetnamnet)
Given the complicated pandemic development, the Ministry of Health on June 17 urgently allocated 836,000 doses of the British-Sweden AstraZeneca vaccine sourced from Japan support to HCMC.
The southern metropolis is scheduled to kick start a city-wide vaccine rollout at 1,000 vaccination sites on June 19. The largest-ever vaccination campaign in HCMC is scheduled to last for five to seven days, targeting priority groups as identified in the government's Resolution No 21.
Local authorities will mobilize all medical workers, including those deployed from central establishments, for the drive. The deputy minister has also assured safety for the vaccination campaign since the doses to be used have a relatively long expiry date.
The novel coronavirus, which stemmed from Wuhan city, China's Hubei province, has spread to 220 countries and territories. In Vietnam, it has infected 12,150 patients, claiming 61 lives. While the two northern provinces of Bac Giang and Bac Ninh are struggling with a growing daily tally, central Vietnam is the least affected of the three regions.
In the fourth wave alone, which started on April 27, the nationwide tally has topped 8,995 cases and 25 deaths.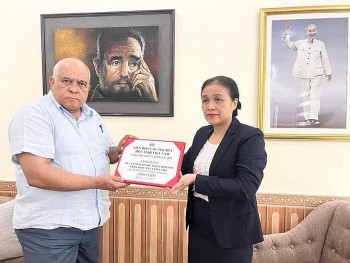 Focus
According to Cuba's News Agency Prensa Latina, on August 16, President of Vietnam Union of Friendship Organizations Nguyen Phuong Nga said that Vietnamese people will always stand by and support Cuba no matter what difficulties our friend is facing.