Ho Chi Minh City Facilitates International Air Ticket Holders' Travel to Airport
Vice Chairman of Ho Chi Minh City's People's Committee Le Hoa Binh has issued a document ordering support for airline ticket holders who want to go to Tan Son Nhat International Airport for their international flights, at the request of the Ministry of Transport.
Representative image. Photo:VNA
Accordingly, the municipal People's Committee assigned the municipal Department of Public Security and the People's Committee of Thu Duc city and districts to coordinate and direct forces on duty at checkpoints in the city to create favorable conditions for ticket holders and drivers to go toTan Son Nhat International Airport and back if they fully meet the requirements as specified in the Ministry of Transport's document No. 8272/BGTVT-VT dated August 11.
At the same time, the Department of Information and Communications was assigned to coordinate with relevant agencies and units to widely inform and instruct people on the principles to be absolutely followed by holders of air tickets to go abroad and drivers of vehicles taking the people with plane tickets when traveling in the area of Ho Chi Minh City.
According to the guidance of the ministry, when moving to the airport, ticket holders need to show their passport (with a valid visa); air ticket (paper or electronic) clearly showing the ticket code, flight time, flight date and flight number; valid certificate showing negative test result for SARS-CoV-2 by RT-PCR method; medical declaration; and strictly following the Health Ministry's 5K message - khau trang (face mask), khu khuan (disinfection), khoang cach (distance), khong tu tap (no gathering), and khai bao y te (health declaration).
Only the driver and one passenger are allowed in a vehicle, except for the case that people living in the same house flying abroad on the same flight.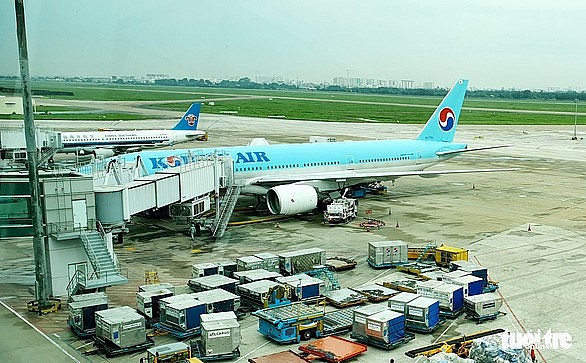 International flights still operate to and from Tan Son Nhat with a frequency of 4-5 flights/day - Photo: tuoitre
In addition, all measure must be taken to ensure the prevention of COVID-19 epidemic in accordance with the regulations of the Ministry of Health and the principle of "01 route, 02 destinations"; complying with the requirements on Covid-19 prevention and control of the localities of arrival and departures.
Travel
As the monsoon rains fall in Hanoi and Ho Chi Minh City, Time Out Dubai suggets savvy travelers to head to the central coast of Hoi An city, where good food, good weather and good vibes are.