Ho Chi Minh City, Israel Promote cooperation in Innovative Start-ups
Israeli Minister of Economy and Industry Nir Barkat suggested the two countries soon launch direct flights between Ho Chi Minh City and Israel to foster the collaboration.
Chairman of the Ho Chi Minh City People's Committee Phan Van Mai received visiting Israeli Minister of Economy and Industry Nir Barkat on August 14, noting that Israel is a partner that his city wishes to learn from and cooperate in the fields of innovation and technology, VNA reported.
The host official said HCM City hopes to be the locality that implements cooperation between the Vietnamese and Israeli Governments, especially in the two above realms.
The southern economic hub of Vietnam is working to become an innovation center in the region, he noted, adding that it has sufficient space and room to develop connections in technology, startup, and innovation with Israeli partners.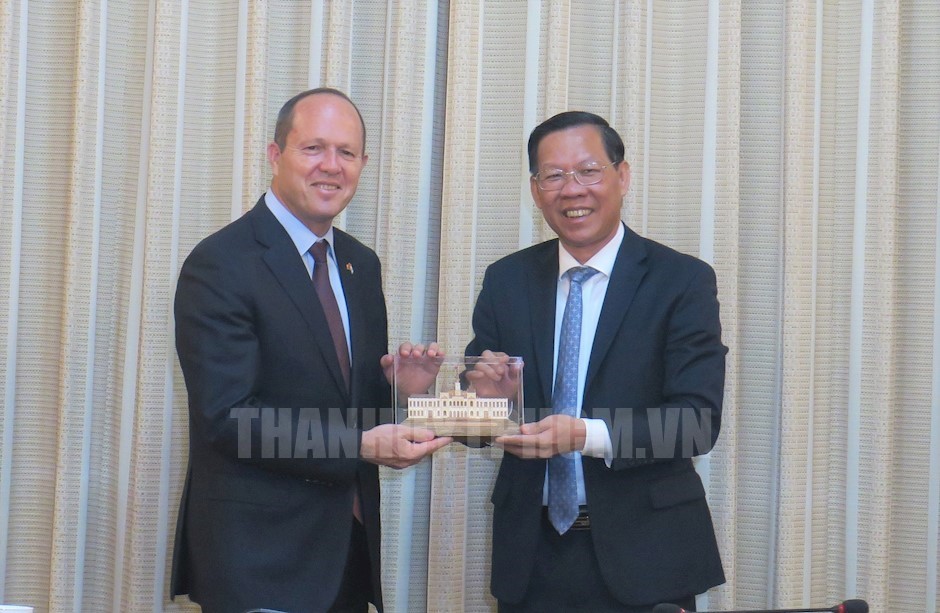 Chairman of the Ho Chi Minh City People's Committee Phan Van Mai (R) and Israeli Minister of Economy and Industry Nir Barkat. Photo: thanhuytphcm.vn
Mai expressed his support for an early direct flight between the two countries and will propose the Government pay attention and promote it soon. The HCM City's leaders also proposed a cooperation agreement between the city and Israel, including supporting young businesses, conditions to support the legal framework, training human resources for startups, and cooperation in investment and trade. the target is USD 3 billion; cooperation in high-tech agricultural transfer, and exchange of delegations.
Mai hopes the Minister will soon sign and deploy it in the near future.
The two sides can also promote investment and trade ties while working together to transfer agricultural techniques and technologies, along with new solutions and technologies for climate change response, he added.
For his part, Barkat said he is impressed with the dynamic development of Vietnam, including HCM City.
Although Vietnam is small in size, the spirit of entrepreneurship is very important, in order to cooperate to deal with difficulties and challenges, and to connect global businesses, what is created must have a global impact with Vietnam as a potential destination, attracting innovative businesses and the city as a start-up center.
He held that the recent signing of the Vietnam-Israel Free Trade Agreement (VIFTA) on July 25, will open up many opportunities for mutually beneficial development cooperation, particularly in the areas Israel is strong at such as startup, innovation, and technological solutions to global issues like high technology development, agriculture, climate change, and urban governance.
Barkat said that there are seven key industries in Israel that focus on investment and development of high technology, agriculture and food, energy, national security, life health, technology, and tourism. Therefore, in order to achieve cooperation in the near future, he proposed to have a direct flight between Vietnam and Israel, which will be leverage and create easy conditions for Israeli businesses to come to Vietnam.
At the same time, it is necessary to build a media image to position HCM City as an innovation center. Vietnam has the strength to support Israeli businesses to expand and scale up from start-up ideas.
HCM City in particular and Vietnam, in general, should build startup and innovation support centers to attract startups, the minister went on, adding that Israel is ready to share its experience in this regard and other fields of its strength such as hi-tech farming and technological solutions.
He also expressed his hope that the city will enhance cooperation with Israeli partners, assist Israeli businesses in marketing and distributing technological products and solutions, and increase bilateral trade, especially in the goods his country has a high demand for like farm produce and consumer products.
The Vietnam-Israel business and trade forum was jointly held on August 15 by the Vietnam Chamber of Commerce and Industry (VCCI)'s chapter in HCM City and the Embassy of Israel in Vietnam.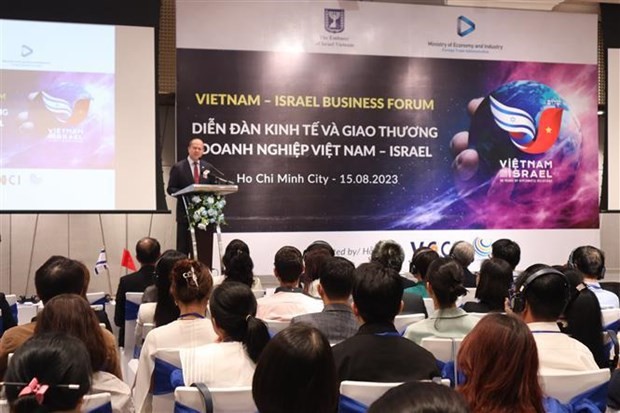 Israeli Minister of Economy and Industry Nir Barkat at the Vietnam-Israel business and trade forum. Photo: VNA
As of July 20, Israel ran 40 FDI projects worth more than USD 140 million in Vietnam, ranking 47th among the 148 countries and territories investing in the country. Meanwhile, Vietnam invested in four projects valued at some USD 76 million in Israel.
Israel is now Vietnam's fifth-biggest trade partner and third-largest importer in the Middle East. It ranks 33rd among more than 200 countries and territories that have trade ties with the Southeast Asian nation.
The two-way trade reached USD 2.2 billion last year, up 17.9% from 2021, of which Vietnam's export value hit USD 785.7 million.
Israel is the first country in West Asia with which Vietnam has reached an Free Trade Agreement. Vietnam is also the first Southeast Asian nation with which Israel has inked such deal.
The agreement is expected to facilitate Vietnam's export to not only Israel but also other markets in the Middle East, North Africa, and Southern Europe.
Vice Chairman of the HCM City People's Committee Vo Van Hoan said the southern metropolis wants to enhance cooperation with and attract more Israeli enterprises in such areas as digital economy, science-technology, high-tech agriculture, and renewable energy.