Vietnam-Israel Diplomatic Ties Celebrated in Ashdod City
A plate marking the 30th anniversary of the establishment of Vietnam-Israel diplomatic relations (July 12, 1993-2023) was installed in the Middle Eastern country's Ashdod city on July 12.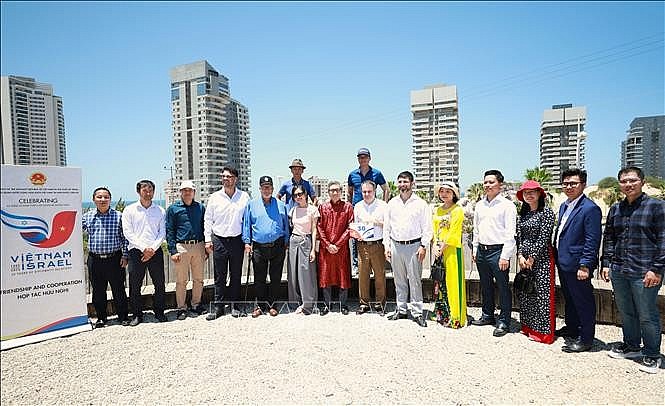 Delegates at the event in a group photo. Photo: VNA
Alexander Oberfeld, a member of the city Council who initiated the idea, said that promoting the exchange between localities of Israel and Vietnam contributes to bringing the bilateral relationship into reality. Businesses of the city and Vietnam, if connected and cooperating on the basis of each side's strengths, will contribute to promoting two-way trade in the coming time.
He expressed his belief that Ashdod, as one of Israel's biggest seaports, will set up friendship relation with Vietnamese localities, VietnamPlus reported.
According to Vietnamese Ambassador to Israel Ly Duc Trung, over the past 30 years, Vietnam and Israel, with mutual respect and trust, have recorded prideworthy cooperation achievements in the fields of politics, economy, trade and investment, making the two nations become each other's leading partner in Southeast Asia and the Middle East.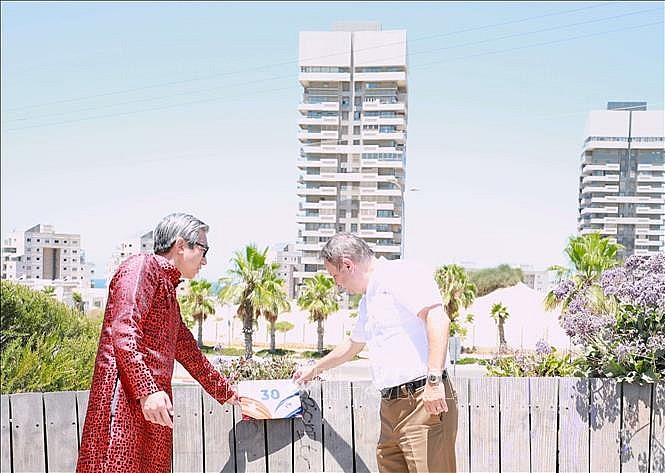 The plate marks the 30th anniversary of the establishment of Vietnam-Israel diplomatic relations. Photo: VNA
The Vietnam-Israel two-way trade hit $2.2 billion last year.
Earlier, the Vietnamese Embassy in Israel in coordination with authorities of Israel's Netanya city organised an event popularising Vietnamese culture, cuisine and tourism to local residents and businesses on July 11, according to Nhan dan (People) Newspaper.
This is part of the activities celebrating the 30th anniversary of the diplomatic ties between the two countries (July 12, 1993 - 2023).
In his remarks, Vietnamese Ambassador to Israel Ly Duc Trung briefed the participants on Vietnam's traditional culture and tourism potential.
Guests were treated to traditional Vietnamese dishes that were cooked following Kosher rules of Jewish people.
Some local participating businesses showed their interest in importing Vietnamese agro-aquatic products.
In a recent interview granted to the Vietnam News Agency (VNA), Israeli Ambassador to Vietnam Yaron Mayer highlighted the fruitful development of bilateral relations across fields, especially in trade, agriculture and education.
Economic cooperation serves as a bridge to help Israel access Asia and Vietnam reach the Middle East market, he noted.
Regarding agriculture cooperation, Israel and Vietnam have worked together to develop many new ideas and technologies that are suitable for Vietnam's agriculture development through training programmes, the diplomat said, adding that thousands of Vietnamese students have been trained in Israel over the last 15 years.
Mayer underlined the need for the two countries to further promote cooperation in education and training, saying that Israel wishes to contribute to Vietnam's development through education-training cooperation, especially innovation.
The diplomat also touched upon other potential fields that the two sides can expand cooperation, including climate change adaptation, clean energy, and green agriculture, adding that Israel has many new technologies and start-ups that are focusing on these industries.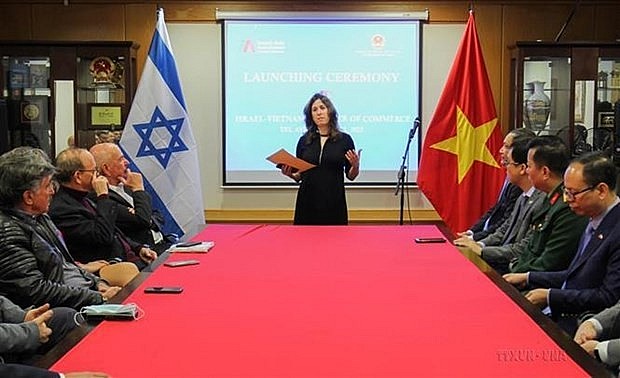 The Vietnamese Embassy in Israel, in collaboration with the Israel-Asia Chamber of Commerce, hold a ceremony on March 22, 2022 to inaugurate the Israel-Vietnam Chamber of Commerce. Photo:VNA
He emphasised the necessity to enhance the exchange of business delegations to learn experience and seek cooperation opportunities.
The Israeli government and Embassy always create favourable conditions for enterprises of the two countries to strengthen trade and investment bonds, he affirmed.
Vietnam and Israel have exchanged delegations to share experience in aquaculture, cyber security, and drainage; and worked together to develop ideas, Mayer said.
Israeli investors have realised that Vietnam is an ideal destination for building factories and receiving technologies, while Vietnamese enterprises see Israel as a potential market for the pharmaceutical industry, high technology and others, he said./.