Former Israeli Ambassador to Vietnam Amikam Levy:
"Israel Considers Vietnam A Great Partner"
Former Ambassador of Israel to Vietnam Amikam Levy says that the Southeast Asian nation always has a special place in his heart.
Vietnam and Israel established official diplomatic relations in 1993. Over the past 30 years of development, bilateral relations have achieved many achievements and are increasingly deepening.
Sharing about these achievements with the Vietnam News Agency correspondent in Tel Aviv, former Israeli Ambassador to Vietnam Amikam Levy said that apart from historical similarities, the two countries have in common that they both have a very strong leadership, with clear aspirations and commitments, for the interests of the nation and the happiness of the people.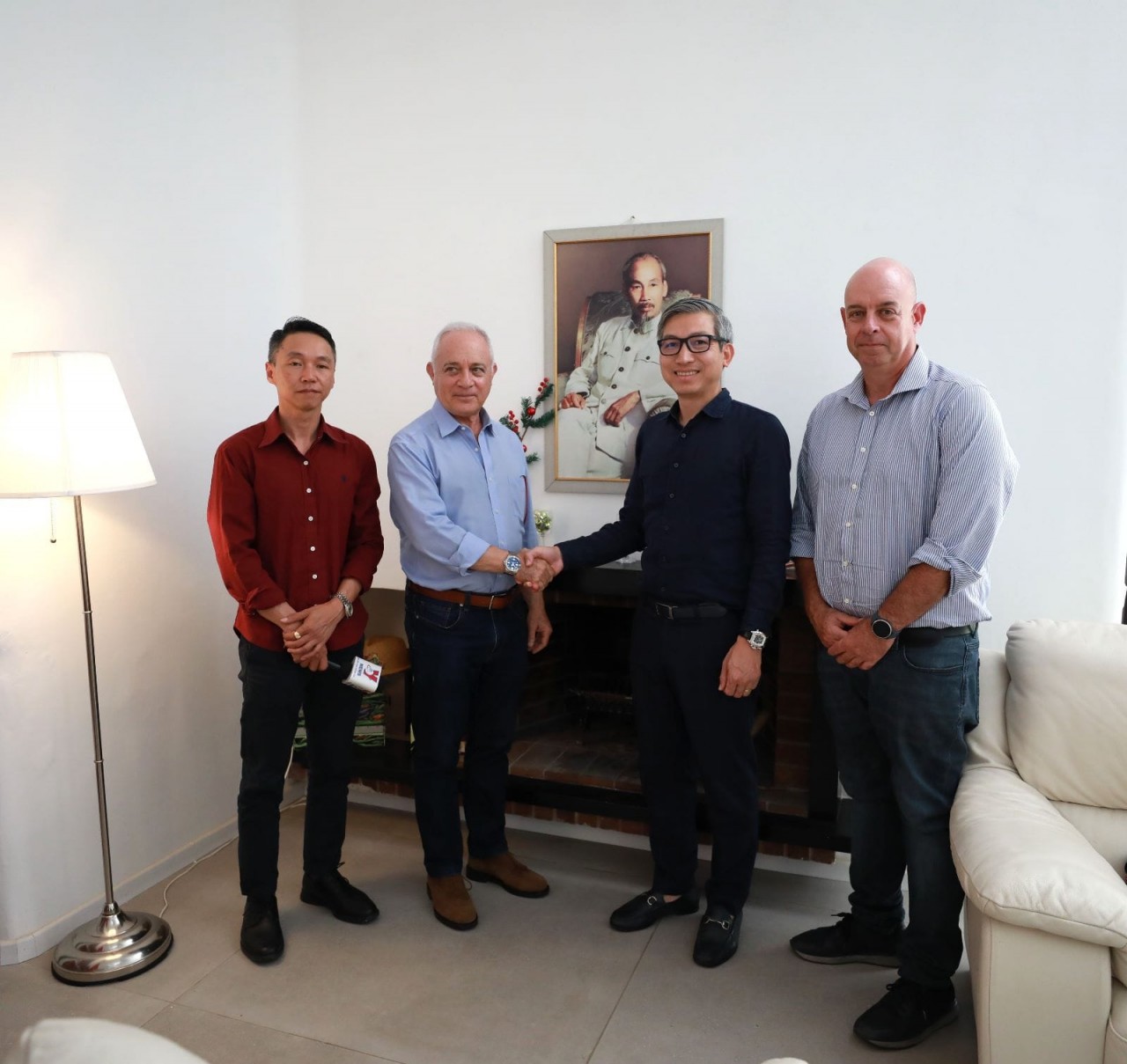 Former Ambassador of Israel to Vietnam Amikam Levy shakes hands with Vietnamese Ambassidor to Israel Ly Duc Trung. Source: Israel - Vietnam Friendship Association/FB
Amikam Levy, who served as Ambassador to Vietnam from 2001 to 2003, is Chairman of the Israel - Vietnam Friendship Association that is established on January 22, 2023.
Talking to the VNA's correspondents in Tel Aviv on the occasion of the 30th anniversary of the bilateral diplomatic ties (July 12, 1993), Levy said the establishment of diplomatic ties has facilitated tourism cooperation and opened up business opportunities for enterprises of the two countries.
As Israel's fourth Ambassador, working in Vietnam in the period 2001-2003, Levy said that at that time, the two countries' diplomats worked very hard to visualise and create the development steps. developed as it is today. More than 10 years after establishing relations, Vietnam still has not opened an embassy in Israel.
Determining that the opening of the embassy is a priority task during his term, every time he meets with leaders and colleagues on the Vietnamese side, Levy mentions this aspect. In 2009, the Embassy of Vietnam officially opened in Israel.
Levy worked hard to push the opening of the Vietnamese Embassy in Israel, which he considered a priority and "a dream". For him, that dream stems from the former aspirations of President Ho Chi Minh and Israeli Prime Minister Ben Gurion. The two leaders met in Paris (France) during the period 1946-1947, discussed and shared the same concern with the vow to bring independence and freedom to the nation.
According to him, both leaders have a great vision towards an independent country, for the sake of the nation and the people. This is a historical similarity between Israel and Vietnam and is the factor that brings Vietnam and Israel closer together.
According to Levy, who has worked as a diplomat in seven countries and territories, culturally, Vietnamese and Jewish people are completely different. However, both Vietnamese and Jewish people treasure values of family and friendship, and have a strong will to understand each other.
The former ambassador lauded the significant socio-economic achievements that Vietnam has recorded under the leadership of the Communist Party of Vietnam (CPV), especially those in infrastructure development.
Former Israeli Ambassador commented that with about 10 million people, Israel, although small in size compared to Vietnam, is known as a country at the forefront of creativity and innovation. 75 years ago, this land was mostly desert, with sand and sea. Today Israel has achieved many achievements in high technology, agriculture, health, science and smart cities.
With its experience in high-tech, agriculture, health care, science, and smart urban development, Israel is willing to share its experience with Vietnam in these fields, and become a partner and learn from the Southeast Asian nation's experience in development, he noted.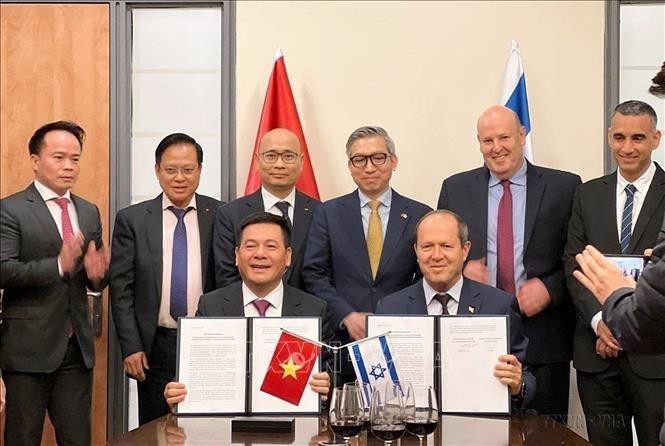 Vietnam and Israel conclude negotiations for a free trade agreement on April 2, 2023. Photo: VNA
As President of the Israel-Vietnam Friendship Association, Levy said he will work to promote people-to-people exchanges between the two countries, and encourage Israeli firms to operate in Vietnam.
Ample room remains for cooperation between the two countries, covering clean energy, the former ambassador said, expressing his hope to organise a business forum in the time ahead.
This would take time, but will surely be a success, he said, stressing that Israel considers Vietnam a great partner and puts much confidence in the country.
Notably, the two countries will sign a bilateral free trade agreement in the coming time, which is expected to facilitate collaboration in science and technology, he continued.
Levy also expressed his belief that the bilateral relations will be further tightened in the next 5-10 years, and many Israeli companies will relocate to Vietnam – a big market with huge opportunities.