Ho Chi Minh City listed in the top 10 Asian's cities luring property investors' interest
This is the first time that Vietnam's Southern city entering the Top 10 cities most interested by Asian-Pacific real estate investors in 2021.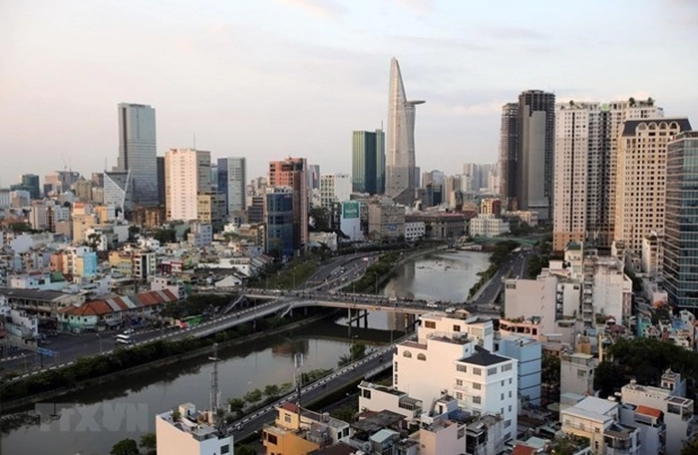 View to a corner of Ho Chi Minh City.
The list was surveyed by CBRE, which was released on Wednesday. The list seen Singapore in second place, and Ho Chi Minh City in fifth; this is the first time the Vietnamese city has entered the top 10, Business Times reported.
In its Asia Pacific Investor Intentions report, the American property consultancy said Vietnam's southern metropolis ranked after only Tokyo, Singapore, Seoul, and Shanghai in a poll of more than 490 Asia Pacific-based investors that asked a range of questions regarding their buying appetite and preferred strategies, sectors and markets for 2021.
Desmond Sim, head of research for South-east Asia in CBRE, said: "Singapore remains an important hub for foreign corporations looking to access South-east Asia."
He added that although central business district (CBD) rents in the city-state fell last year, they are forecast to grow over the next three years, supported by low vacancy and strong demand.
This year, Singapore office demand is expected to be fuelled by Chinese technology firms and non-bank financial-services firms such as investment managers and hedge funds, he added.
As for Ho Chi Minh City, it has been on investors' radar in recent years, as it "is viewed as having the potential for greater appreciation in property values and higher yields", he said.
The survey, on cross-border investment intentions, received 492 responses from investors across Asia, with about a quarter each from Japan and China. Tokyo retained its top spot, with Seoul, Shanghai, Beijing, Shenzhen, Sydney, Osaka and Melbourne rounding out the top 10.
HCMC has seen a surge in interest in the last five years thanks to Vietnam's robust economic growth, and foreign investors, mainly from Japan, South Korea and Singapore, becoming interested in its property market.
It attracted nearly $4.4 billion worth of FDI last year, or 15 percent of the country's total.
Property prices surge in 2020 despite pandemic
Property prices have been soaring in Hanoi and HCMC this year despite the economic downturn caused by the Covid-19 pandemi, Vnexpress reported.
Apartment prices in Thu Duc City, a new urban area in eastern HCMC, are at an unprecedented VND60-90 million ($2,600-3,900) per square meter in the premium segment as the creation of the new city pushes up demand.
In the affordable segment, prices have risen by 20-40 percent to VND30-35 million as the new city is expected to usher in administrative reforms and growth.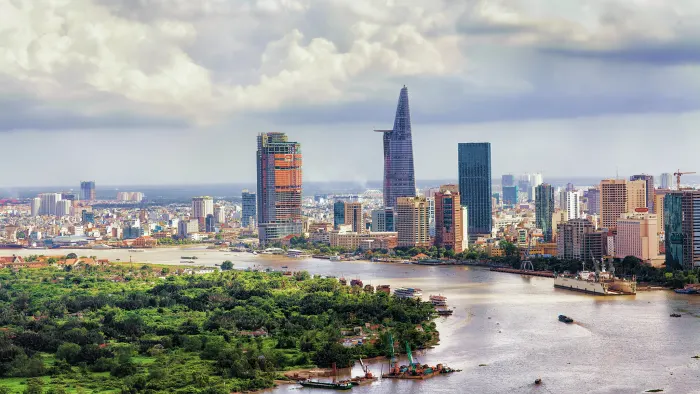 The Saigon river in Ho Chi Minh City © Getty
Other areas in Vietnam's largest city have also seen prices rise this year. The ready-built landed property segment in HCMC saw average prices climb by nearly 36 percent to $5,277 per square meter in the second quarter and a new record of $5,337 in the third, and a further increase is expected in the last quarter this year, according to real estate consultancy Jones Lang LaSalle.
Prices remain high despite a slump in rents. Shophouse rents in HCMC have fallen 25-40 percent from pre-pandemic levels, and apartment rents by 15-20 percent.
Phan Cong Chanh, CEO of HCMC-based real estate firm Phu Vinh Group, said since owners have not been affected too badly by the pandemic there are no distress sales, and this, combined with a supply shortage, keeps prices high.
But rents have fallen because businesses have had to scale down to survive, he added.
Nguyen Loc Hanh, CEO of HCMC-based Asia Gem Real Estate Investment Jsc, said so far the real estate market has coped with the challenges posed by the pandemic.
"But the unexpected Covid-19 blow has made the market difficult to forecast, and I believe there are still surprises ahead."