Exploring unique lunar New Year markets in Ho Chi Minh City
Tet is the biggest and most important festival in Vietnam. Here the the unique lunar New Year markets in Ho Chi Minh City that have become must-visit attraction for residents as well as visitors.
Tet is a time when millions of migrant workers return to their homes in the countryside from major cities to mark the coming of the Lunar New Year with loved ones. The Lunar New Year is also celebrated by several other Asian communities around the world, Vn Express reported.
Unlike northerners who cook square-shaped Banh Chung, southerners prefer cylindrical Banh Tet during the traditional Tet holiday. Both cakes are made of glutinous rice, green bean paste and pork, and they are wrapped in La Dong (Dong leaves). The leaves can be found at the La Dong market that is located at the Cach Mang Thang Tam-Pham Van Hai intersection.
The market, the biggest of its kind in HCM City, often opens from the 15th day of the 12th lunar month and lasts several days before the start of Tet. A bunch typically contains 10 leaves costing between VND70,000 (3.02 USD) and VND80,000 (3.46 USD).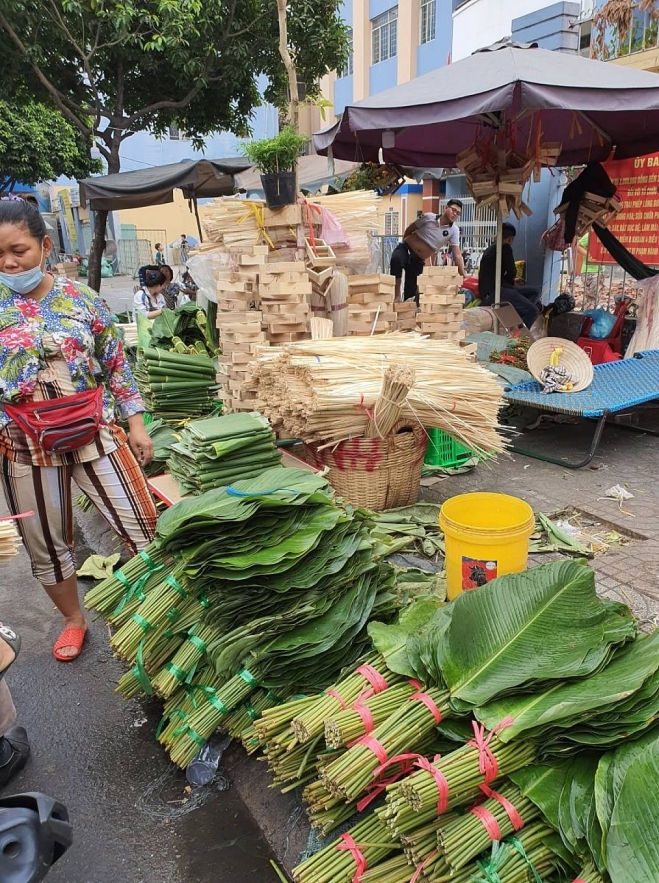 Photo: Phunuvietnam.vn
Starting on December 23 of the lunar calendar, flower farmers in the Mekong River Delta brought boats full of Tet flowers to Binh Dong wharf, District 8. Although not yet in the peak time of buying and selling Tet flowers, the busy atmosphere at Binh Dong wharf makes many Saigon people feel the Tet atmosphere. The market has grown to become an indispensable part of Tet celebrations in Saigon in recent years.
The busy trade scene of the flower market on the pier under the boat creates the characteristic spring in Saigon. The boats full of Tet flower pots have long been familiar to people around the Binh Dong wharf area every spring coming back.
Most of the flowers here come from the Mekong River Delta's provinces such as Tien Giang, Dong Thap, Ben Tre … At this unique flower market, we can find a wide variety of flowers to decorate the New Year such as apricot blossom, chrysanthemum, marigold, orchids … and also diverse in prices which help us chose easily, Athena Travel Vietnam reported.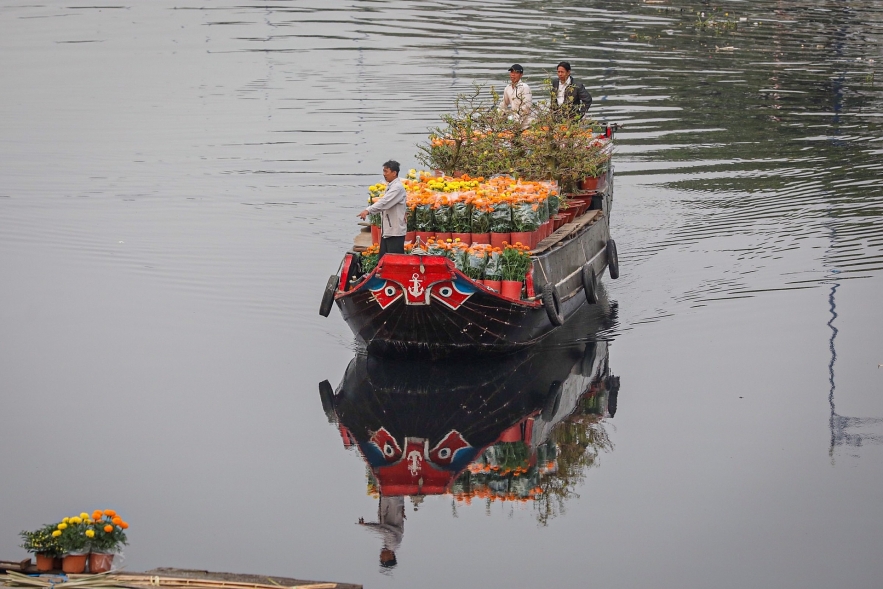 Photo: Vn Express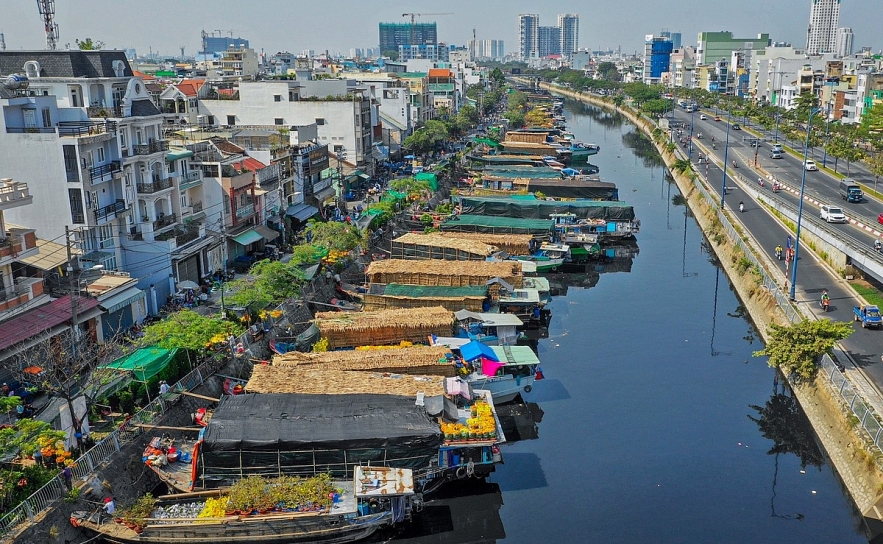 Photo: Vn Express
Flowers are among indispensable items during the Tet holiday, and the Binh Dong flower market in District 8 is an ideal place to visit. Coming here, visitors can see boats full of flowers and ornamental trees sourced from gardens throughout the Mekong Delta region.
From the 20th day of the 12th lunar month, gardeners gather at the market in order to prepare for the Lunar New Year festival. The bustling atmosphere at the site lasts for the whole day and attracts numerous residents and tourists each year, VOV News reported.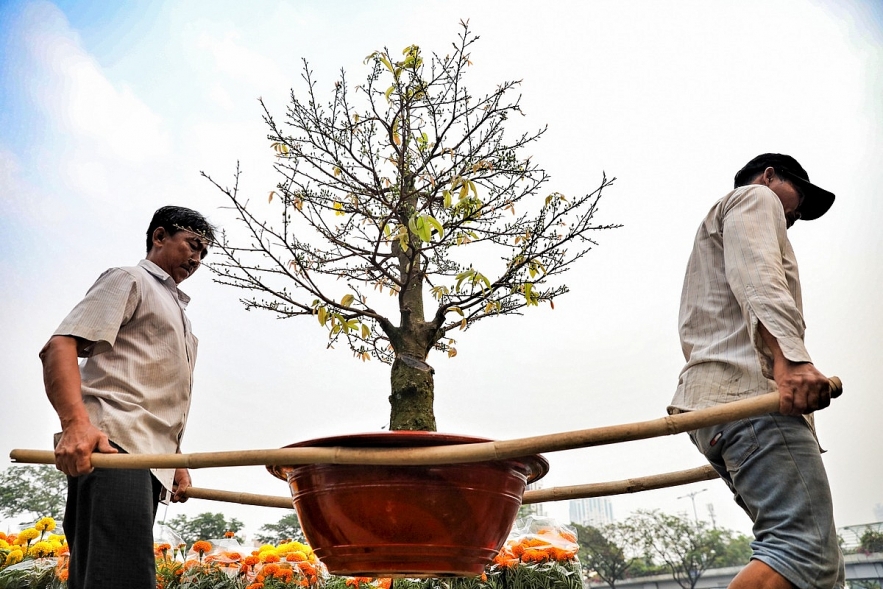 Photo: Vn Express
Easy to read and understand, Vietnamese calligraphy is a lot simpler to understand than the Han Chinese version, which helped boost its popularity during Tet (Lunar New Year) holiday.
According to Vietnam Plus, the tradition of collecting letters has become part of Vietnamese culture whenever Lunar New Year arrives. The calligraphic works, which can be romanised Vietnamese, Han Chinese or Nom (Vietnamese ideographic) scripts written by elderly scholars, expresses the Vietnamese people's respect for knowledge.
The scripts are written on traditional do (poohnah) paper and become symbols of good fortune.
Annual calligraphy markets also take place on Truong Dinh street and at the Pham Ngoc Thach-Nguyen Thi Minh Khai intersection. Calligraphy pieces are used to decorate houses and office buildings every Tet.
Confucian scholars write scripts at the visitor's request. Recipients ask for words such as Happiness, Longevity, Love, Health, Wisdom, or Patience, expecting a peaceful and prosperous year ahead. The market serves as a familiar check-in spot for youngsters.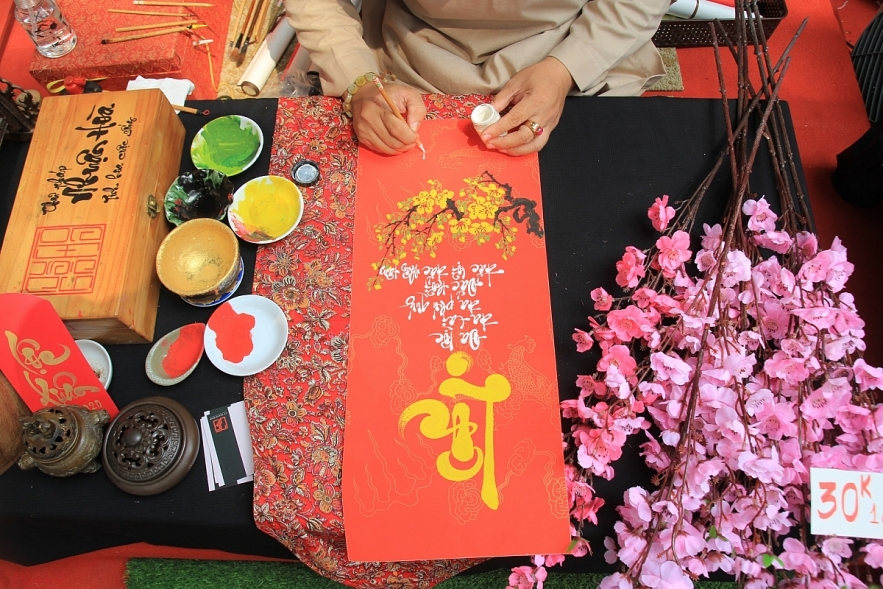 Photo: Phunuvietnam.vn
Photo: Phunuvietnam.vn
According to Vienam Plus, many calligraphers, including men and women of varying ages, from calligraphy clubs in the city and neighbouring provinces are joining the event.
The artists, dressed in ao dai (Vietnamese traditional dress), sit on mats arranged in an oval shape symbolising peace, similar to calligraphy markets in the past.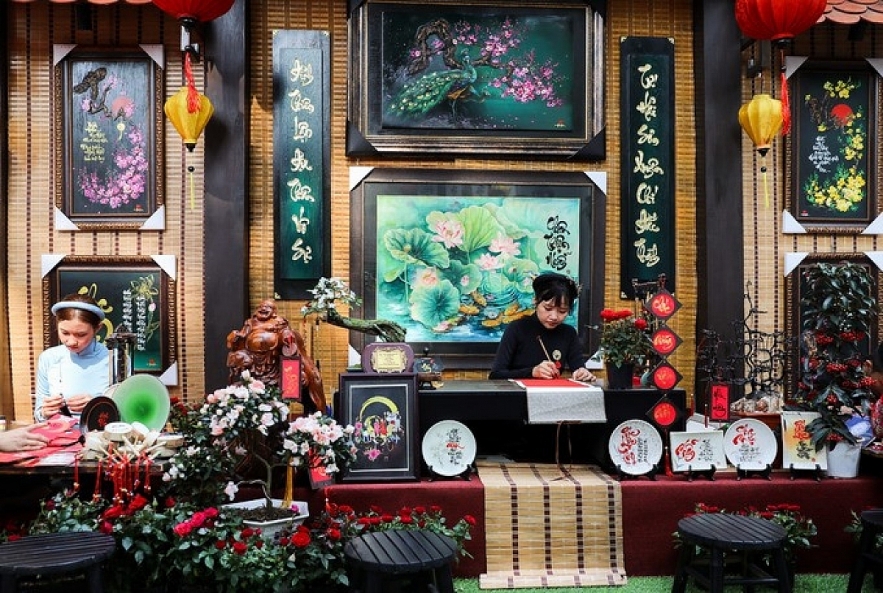 Photo: Phunuvietnam.vn
They are selling calligraphy works and lucky money envelopes in black and yellow ink on red paper, priced from 10,000 VND to 200,000 VND (0.4-8.6 USD), depending on the craftsmanship, size and materials. Larger works cost 500,000 VND (21.5 USD) or more.
People traditionally hang the lucky money envelopes and small calligraphy works mai trees to wish for luck, happiness and prosperity.