Ho Chi Minh City starts piloting public bicycles
The Ho Chi Minh City People's Committee has allowed the pilot of the public bicycle model at 43 locations in District 1 with the fares of VND5,000 ($0.22)/ 30 minutes and VND10,000 ($0.43)/ 60 minutes.
The Chief of Office of HCMC People's Committee Ha Phuoc Thang on April 12 signed a document announcing the conclusion of the city's Chairman Nguyen Thanh Phong on the project of piloting public bicycle "Mobike" in District 1, Vnexpress reported.
Accordingly, the project will be implemented within 12 months. Investors can use sidewalks for free to arrange parking at 43 sites.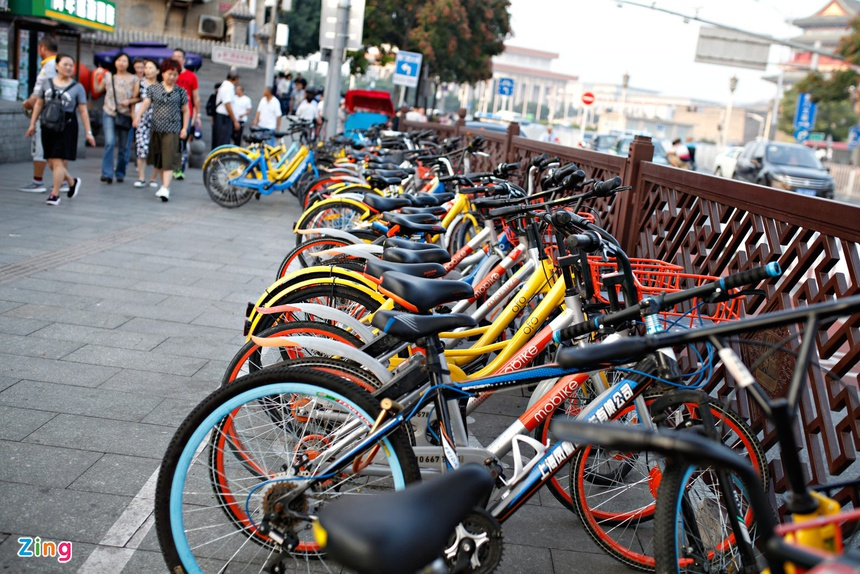 Ho Chi Minh City starts piloting public bicycles. Photo: Zing News
The Department of Transport was assigned to coordinate with relevant units to carry out the project, flexibly adjusting the number of vehicles and the scope. In addition, the Department also has the responsibility to review and evaluate the trialing results to put forth proposals for the next stage.
As per the Transport Department's proposal, Tri Nam Company is the investor. The project will see 388 bicycles parked at 43 stations in Districts 1 and along Dien Bien Phu and Vo Thi Sau streets in District 3, where the city is setting up the public bus lanes.
All bicycles are furnished with smart, GPS-equipped locks operated via 3G, 4G, and 5G connections, or Bluetooth.
Users install the Mobike app on their phone and scan to find the nearest bike station. Codes to unlock the bicycles for use are also scanned through the app.
To avoid theft or vandalism, users must provide certain personal information when registering. Each bike is embedded with an ID. Through the central software system, the operators can track down the bicycle users.
Each parking site covers an area of about 10-15 m2 and accommodates 10-20 vehicles.
The city's Transport Department said the project aims to facilitate travel to bus stations. The Southern Metropolis has been piloting two prioritized bus routes, hence, the abovementioned project is expected to be an effective wave to lure more tourists for these routes.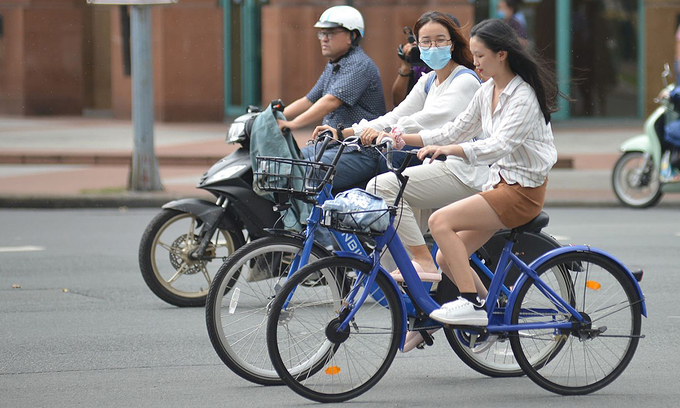 Two girls ride public bicycles in HCMC's District 1 in October 2020 when the investors put the vehicles on trial. Photo by VnExpress/Ha Giang.
With a population of 13 million, HCMC currently has almost nine million registered private vehicles, including 825,000 automobiles and 8.12 million motorbikes, according to the Transport Department.
Since 2016, it has been looking at ways to limit private vehicles in the city center to ease congestion.
In July last year, HCMC said it was seeking to invest VND393 trillion ($16.93 billion) over the next decade in a master plan to improve access to public transport and limit the use of private vehicles.
Accordingly, the city will have a comprehensive bus network by 2030, three metro lines -- from downtown Ben Thanh to suburban Suoi Tien Theme Park, from Ben Thanh to Tham Luong in outlying District 12, and from Bay Hien Intersection in Tan Binh District to Saigon Bridge – along with a bus rapid transit system, according to Vnexpress.
Urbanites have long lamented the lack of connection among stations regarding public bus services in the city.
According to official data, 305 million passengers used public buses in 2012. But the city only targets 147 million this year.
In 2014-18, the number had dropped by 6.6 percent a year though it had spiked to 13 percent in 2019.
City officials have blamed this on growing competition from ride-hailing services, which increased their numbers from just 20.6 million passengers in 2016 to 191 million last year.
Handbook
Yoga has recently become one of the best exercise methods that bring many health benefits to people, but it also requires a lot of technique and training to avoid injuries. There are several ways to practice it home, and will still help you achieve your goals.