Ho Chi Minh city's proposal of additional 5 million Covid-19 vaccine doses for citizens
Ho Chi Minh City needs 18 million doses of Covid-19 vaccine to inoculate its citizens, while the number allocated by the Ministry of Health is expected to be insufficient. Hence, the city has planned to purchase additional 5 million doses.
Ho Chi Minh Department of Health on March 6 sent a document to the City People's Committee to propose to buy 5 million doses of mRNA-1273 COVID-19 vaccine produced by U.S Moderna Company, PLO reported.
The Moderma Company agreed to supply Ho Chi Minh City with the abovementioned number of vaccine in the third quarter of this year. The vaccine is effective 94.1%.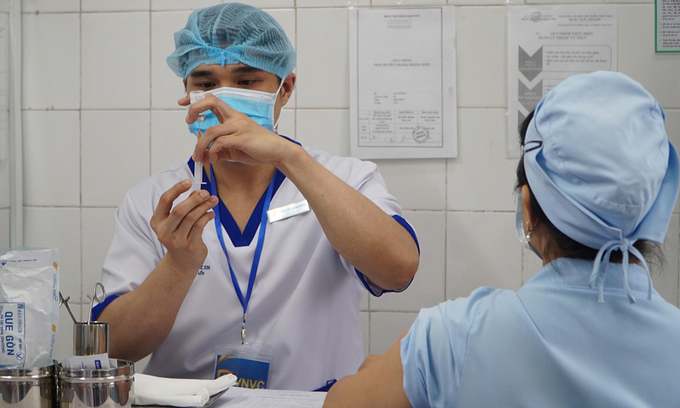 A nurse is about to be injected a Covid-19 vaccine shot produced by AstraZeneca at the HCMC Hospital for Tropical Diseases, March 8, 2021. Photo: VnExpress.
The vaccine is also said to have few side effects and appropriate with the city's existing storage system.
The city has 9 million people needed to be vaccinated, which means that it needs 18 million doses (each person needs 2 doses).
Regarding the budget to buy vaccine, the city's health authority said that it would mobilize from the State budget dedicated to epidemic prevention and control and aid from domestic and foreign organizations and individuals sent to the Vietnam Fatherland Front (VFF) Committee of the city.
Earlier, Hanoi asked the Health Ministry to support it to buy 15 million doses for residents aged 18 and over, with priority given to those most likely to be infected by the novel coronavirus. Hai Phong and Quang Ninh provinces had also planned to buy vaccine by their own budget.
Dong Nai province proposed to buy 6.2 million doses of Covid-19 vaccine for its 3.1 million inhabitants.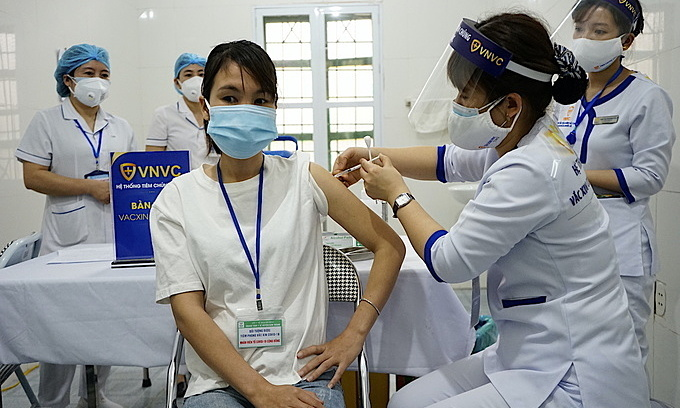 Vietnam launched the biggest vaccination campaign in history on March 8. Photo: VnExpress.
Vietnam launched the biggest vaccination campaign in history on March 8. Around 100 million Covid-19 vaccine doses would be provided to Vietnamese this year. The first batch of 117.600 AstraZeneca vaccine has been administered for frontline workers in Hanoi, Ho Chi Minh City, and northern Hai Duong Province.
On March 8, a total of 377 medical and other frontline workers received a dose of the AstraZeneca vaccine. None showed any adverse reactions as of that afternoon, according to the Health Ministry.
In April, Vietnam will get another 1.3 million doses through Covax, a global mechanism for developing, manufacturing, and procuring Covid-19 vaccines.
While the production of domestic vaccines is underway, the government has speeded up foreign procurement to inoculate prioritized groups.
It is negotiating with vaccine manufacturers in the U.S., Russia, and some other countries to ensure it can obtain a total of 150 million doses to cover 70 percent of the country's population this year.
There are four vaccine candidates being developed in Vietnam, in which Nano Covax by Nanogen Pharmaceutical Biotechnology JSC completed the first phase of human trials and has entered the second phase. Meanwhile, Covivac manufactured by the Institute of Vaccines and Medical Biologicals (IVAC) is recruiting volunteers for the first phase of human trials.
Vietnam has registered 2,524 Covid-19 cases so far, including 1,920 recoveries and 35 deaths.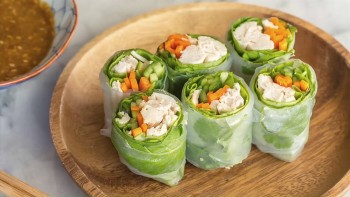 Travel
Rolls are a easy-to-make dish that is loved by many Vietnamese diners as well as Korean stars.