Ministry of Health to provide great effort to ensure Covid-19 vaccination's safety
Minister of Health Nguyen Thanh Long, comfirmed the authority would put on maximum efforts to ensure absolute safety for all citizens, as Vietnam will mobilise all resources to carry out COVID-19 vaccinations, the largest-ever vaccination programme.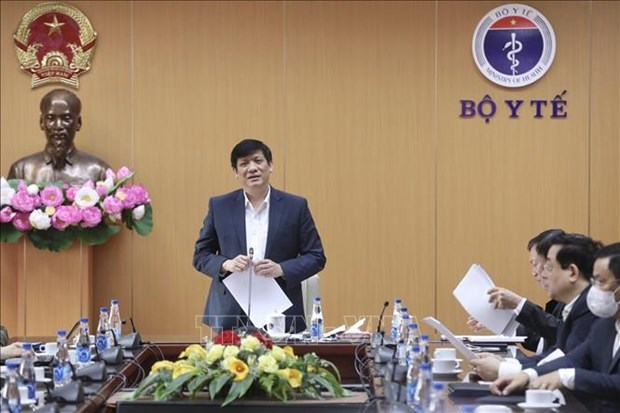 Minister of Health Nguyen Thanh Long (Photo: VNA)
Long chaired a teleconference which was organised on March 6 and connected with 700 places across Vietnam to launch the vaccination plan and provide related training for medical workers nationwide in the use and storage of the vaccine, as well as the treatment of post-injection complications.
He informed the teleconference that the vaccination programme will start on March 8, although the first batch of vaccine arrived in Vietnam on February 24.
"As the vaccine is new, we need to carry out thoroughly," Long said, adding that Vietnam has to obtain an accreditation certificate from the producer and reassess the safety index of the batch of vaccine.
Because of the limited number of vaccine, the ministry cannot allocate for all 63 provinces and cities, but for 13 pandemic-hit localities, with priority given to Hai Duong province – Vietnam's largest outbreak at present, he added.
The minister asked localities which have yet to receive the vaccine to prepare and make training programmes as the ministry will allocate vaccines to them when more are transported to Vietnam in March.
COVAC and AstraZeneca have agreed to provide 30 million doses each for Vietnam this year, the minister said, adding the ministry asked the producers to hand over the vaccines to Vietnam before September and is negotiating with Pfizer to buy an additional 30 million doses from this producer.
The ministry has assigned three deputy ministers to be responsible for directing the vaccinations as this kind of vaccine is injected for the first time and injected for adults.
Vietnam will conduct screening check-ups before infections to ensure safety, although the process takes more time. The first injections, he went on, will be given to people working on the front line of the fight against COVID-19, including health, army, police, customs and immigration personnel.
People getting the shots will be monitored via digital health records and receive e-certificates for their completion of inoculation.
Vietnam rehearses Covid-19 vaccine transport to prepare for mass inoculation
A drill to transport AstraZeneca Covid-19 vaccines took place Friday night in HCMC prior to large-scale administration starting next Monday.
As required by developers, British-Swedish firm AstraZeneca and Oxford University, the doses are being stored at a temperature of minus 2-8 degrees Celsius. VNVC had started work on a freezer and super-cold storage system in Ho Chi Minh City during October and November last year when Vietnam was still negotiating to buy the vaccine, according to VnExpress.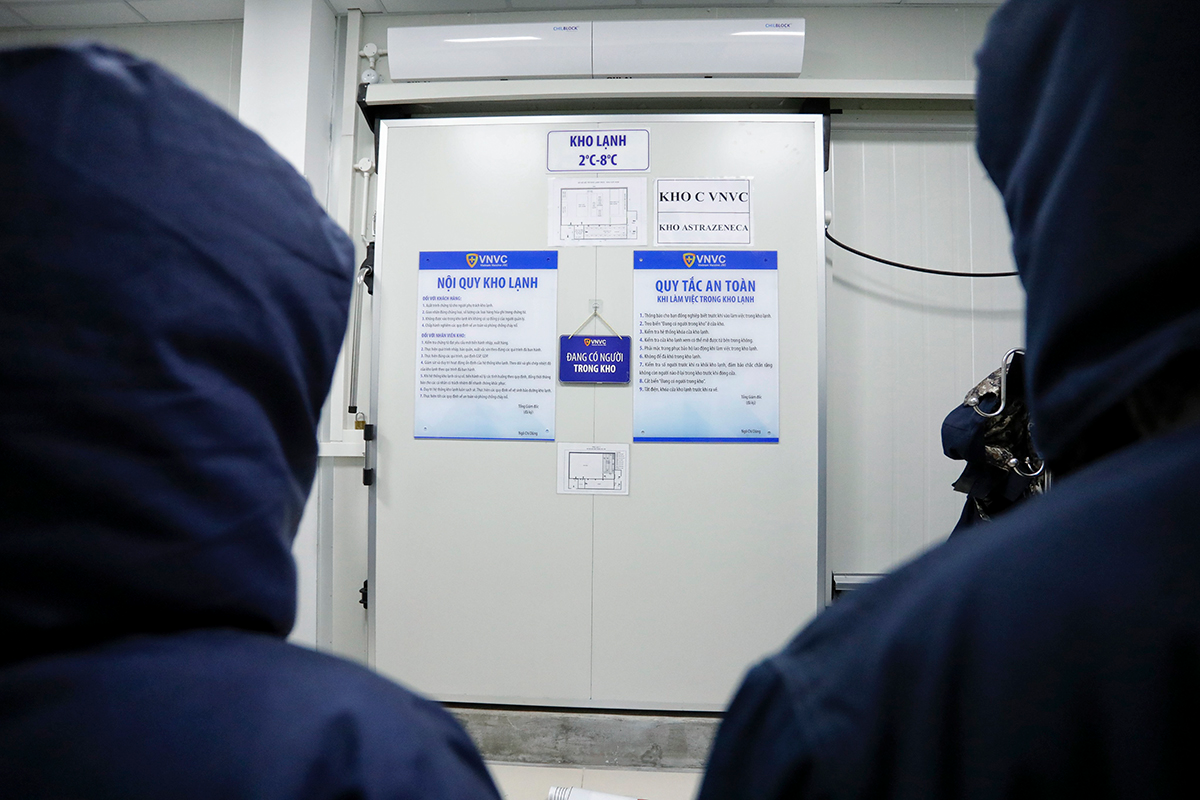 Two staff of Vietnam Vaccine JSC (VNVC), importer of Covid-19 vaccines to Vietnam, stand outside a freezer where the vaccines are kept. (Photo: VnExpress)
Last Wednesday, 117,600 doses of the AstraZeneca Covid-19 vaccine arrived in HCMC on a flight from Seoul. They are the first batch of 30 million doses Vietnam had ordered from the company.
Only those assigned by the firm could enter and operate within this area.
Minister of Health Nguyen Thanh Long said Friday that after working with South Korea to evaluate the quality of the batch, it is now concluded the vaccine is eligible for inoculation. He also announced prioritized groups would be injected with the first batch starting next Monday.
A VNVC representative said the AstraZeneca vaccine requires the same storage conditions and transport process like many other vaccines currently in use across Vietnam. "However, this is a new vaccine that had been imported in a rush to curb an ongoing pandemic, and that all related processes and procedures must be carried out carefully to minimize any possible risks."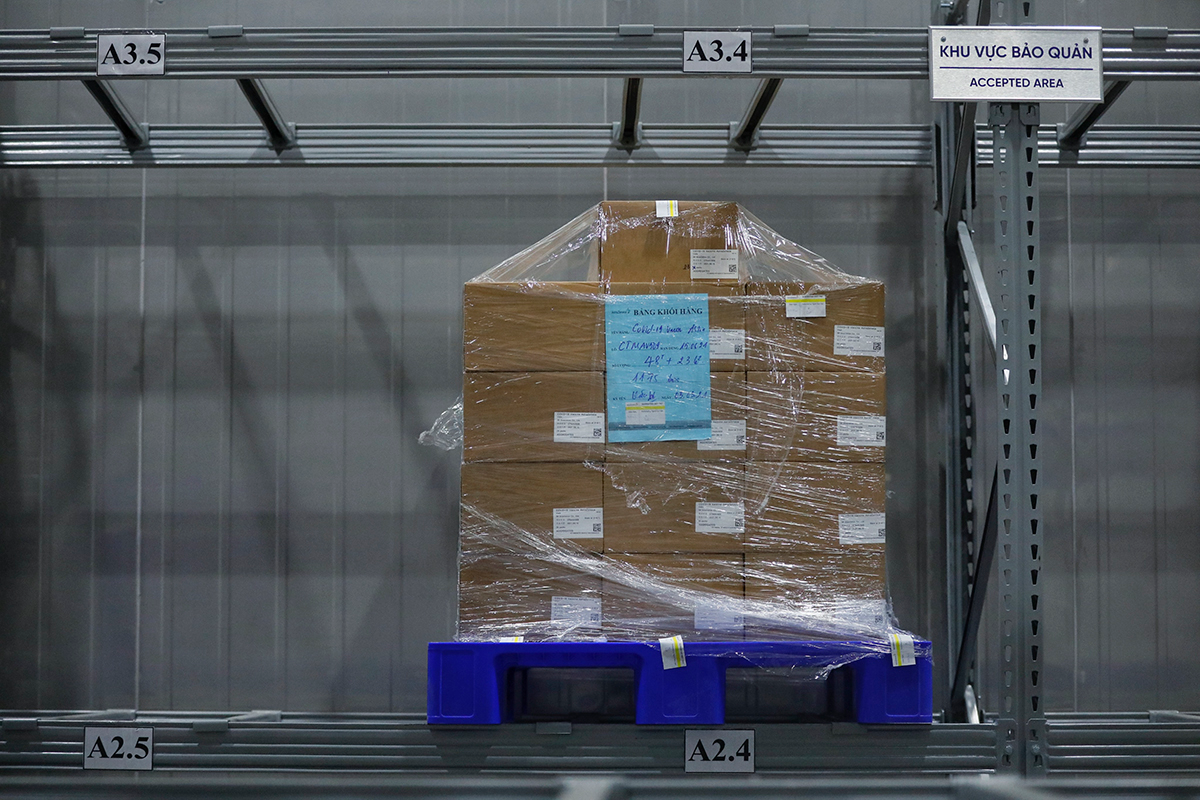 Part of the 117,600 vaccine doses inside the freezer. (Photo: VnExpress)
Tran Han Tuan, 37, head of the VNVC warehouse department in southern Vietnam, said the truck is parked 2.8 meters from the freezer's door and that loading a box takes only ten seconds. Therefore, "all movements must be especially quick and accurate." "We have yet to make any mistakes, but remain quite nervous since the entire nation is counting on this first batch of vaccines," he noted.
The back door of the truck will be opened in only one minute to receive the vaccines to ensure their quality remains unaffected by exterior conditions.
On the truck, an indoor unit system would be readied before the vaccine enters. The entire cargo bed has been accessed to meet all temperature standards. It has also met GSP (good storage practice) and GDP (good medicine distribution practice) standards according to Health Ministry regulations.
Each package of vaccines is equipped with a temperature measuring device. If the temperature exceeds the allowable limit (2-8 degrees Celsius), this device will raise an alarm, which means the shipment is not eligible for administration.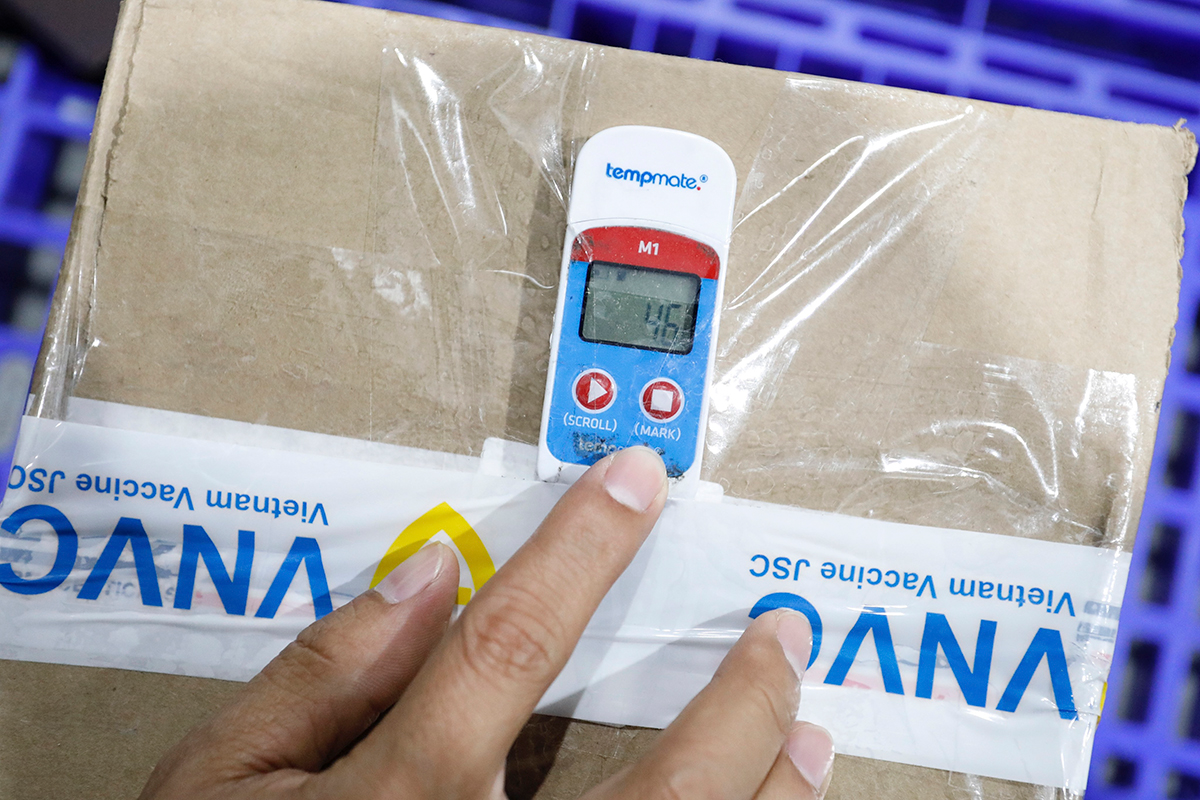 Photo: VnExpress
Two freezer trucks, valued at more than VND1 billion ($43,400) each, will be in use for the upcoming mass vaccination. For now, 13 cities and provinces that have recorded community transmissions in the latest wave will receive the vaccine first. They include northern provinces of Hai Duong and Quang Ninh where the outbreak started on Jan.28, along with HCMC and Hanoi.
The vaccine will be transported by trucks tolocalities in southern Vietnam and to the rest, by plane.
From Monday, those directly treating Covid-19 patients at 18 medical facilities and prioritized categories of people in 13 pandemic-hit localities, with Covid-19 epicenter Hai Duong given the highest priority, will be among the first to be vaccinated.
While the production of domestic vaccines is underway, Vietnam has speeded up foreign procurement to inoculate prioritized groups. The government has said it is stepping up negotiations with vaccine manufacturers in the U.S., Russia and some other countries to ensure it could obtain a total 150 million doses to cover 70 percent of its population.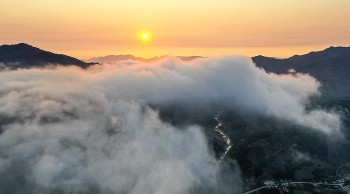 Multimedia
The gorgeous dawn behind a sea of fluffy white clouds creates a wonderful and beautiful picture of Truong Son Dong peak, Quang Ngai.