Honorary Consul of Vietnam in Switzerland Supports Covid Orphans
Dr. Philipp Rosler, the Honorary Consul of Vietnam in Switzerland became the International Chairman of a program supporting children orphaned by the Covid-19 pandemic in Vietnam.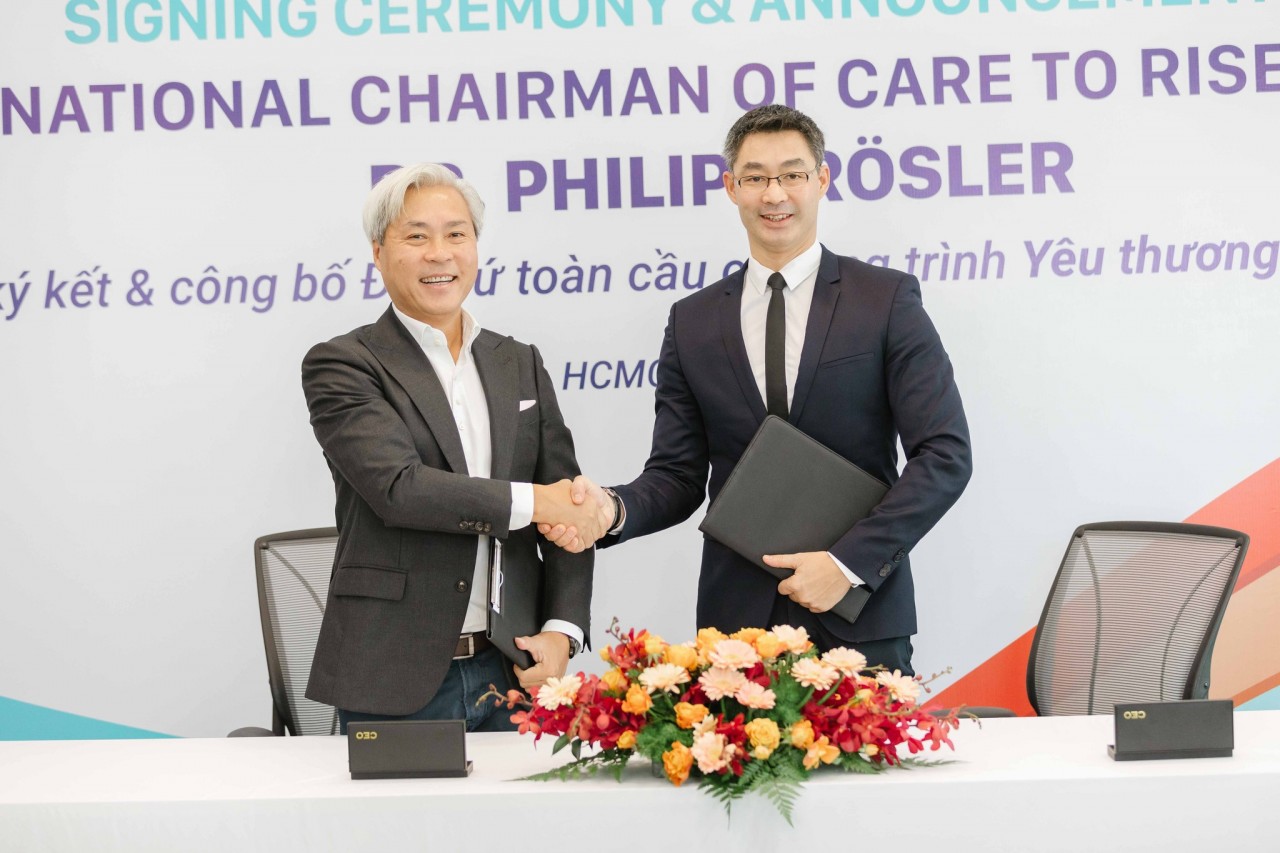 An agreement is signed by the two parties to recognize this important partnership. Photo: VCF
VinaCapital Foundation (VCF) on Jan. 26 announced that Dr. Philipp Rösler has been appointed the International Chairman of the Care to Rise program to support Covid-19 orphans in Vietnam.
The Covid-19 waves have left thousands of children under 18 years old orphaned, with many losing both their parents. Some lost their mothers at birth and are living in extremely challenging circumstances.
Ho Chi Minh City, the epicenter of the fourth wave, reported more than 1,400 children losing parents to Covid-19.
The number of orphans will continue to increase because of the ongoing impact of the virus in Vietnam. Along with financial and education difficulties, the loss of loved ones has left behind severe psychological trauma for many orphans.
Since November 2021, VCF and HCM City Youth Union have implemented the Care to Rise program to provide for, protect and encourage these 2,345 orphans until adulthood through scientific individual assessment, short-term and mid-term remedies, and long-term pathways for health and success.
As the International Chairman of Care to Rise and the program's global ambassador and advocate, Dr. Philipp Rösler is committed to using his voice and influence to raise awareness and support from the international community to assist orphans and disadvantaged children impacted by Covid-19 in his birth country Vietnam.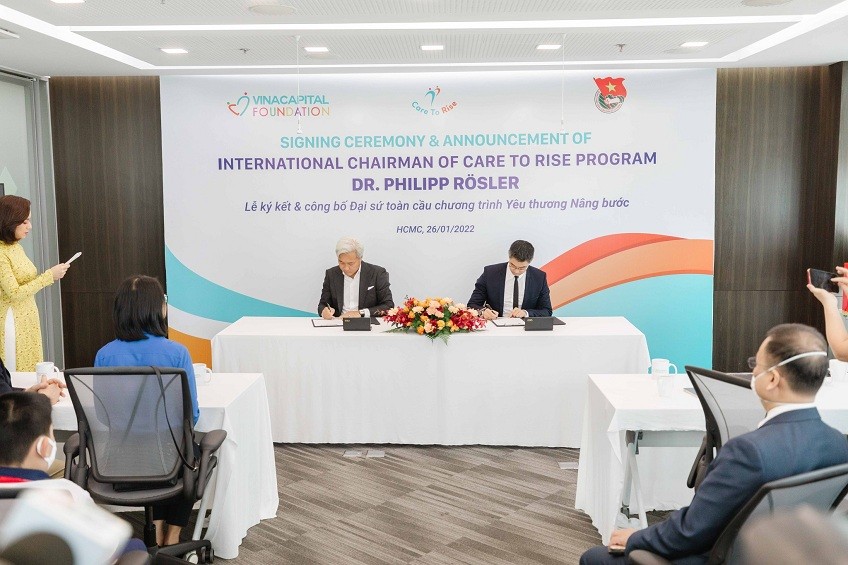 Dr. Philipp Rösler signs the agreement with VCF to become the International Chairman of Care to Rise and the program's global ambassador and advocate. Photo: VCF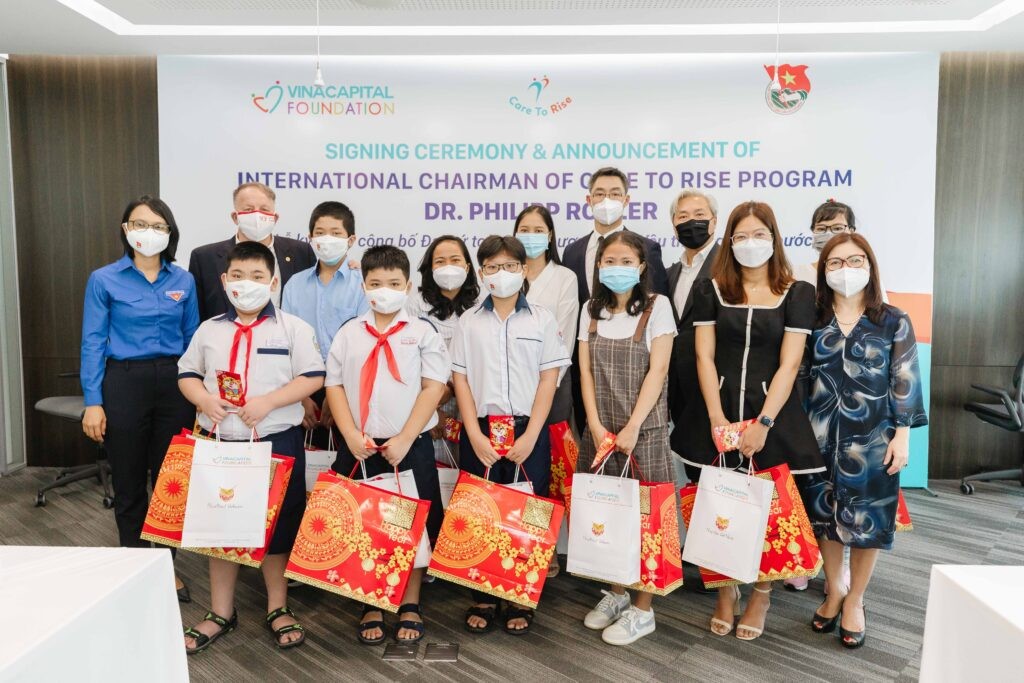 The orphans, the caregivers, and the disadvantaged children receive Tet gifts. Photo: VCF
Dr. Rösler is a Vietnamese-German cardiothoracic surgeon and former politician who served as the Minister of Health, the Minister of Economics and Technology, the Vice-Chancellor of Germany from 2011 to 2013, and recently the Honorary Consul of Vietnam to Switzerland.
Born in the southern province of Soc Trang, Rösler was the first cabinet minister and vice-chancellor of Asian descent in Germany.
He became the Chairman of the Advisory Board of VinaCapital Ventures in 2019 and an independent board member of Loc Troi Group in 2020.
"It is an honor for VinaCapital Foundation to collaborate with Dr. Philipp Rösler in the Care to Rise program supporting our disadvantaged orphan children impacted as a result of Covid-19. Dr. Rösler's assistance will enable us to reach out to the global community to call for help and deliver the best support for each of these children," stated Rad Kivette, CEO of VinaCapital Foundation.
Dr. Philipp Rösler also expresses his determination in this new role. "By joining VCF and Care to Rise, I hope to use my voice to raise awareness and call for actions at the international level to provide timely assistance to those who have already endured so much as a result of the pandemic. I am committed to dedicating my time and efforts to build a healthier and happier Vietnam – my country of birth," Dr. Rösler stressed.
On this occasion, each of Dr. Rösler and VCF donated USD 1,000, and VCF donated 32 gift packages to the orphanage, and 10 gift packages to VCF's programs' beneficiaries, supporting the orphans, the caregivers, and the disadvantaged children to have a better and more fulfilled Lunar New Year (Tet) holiday.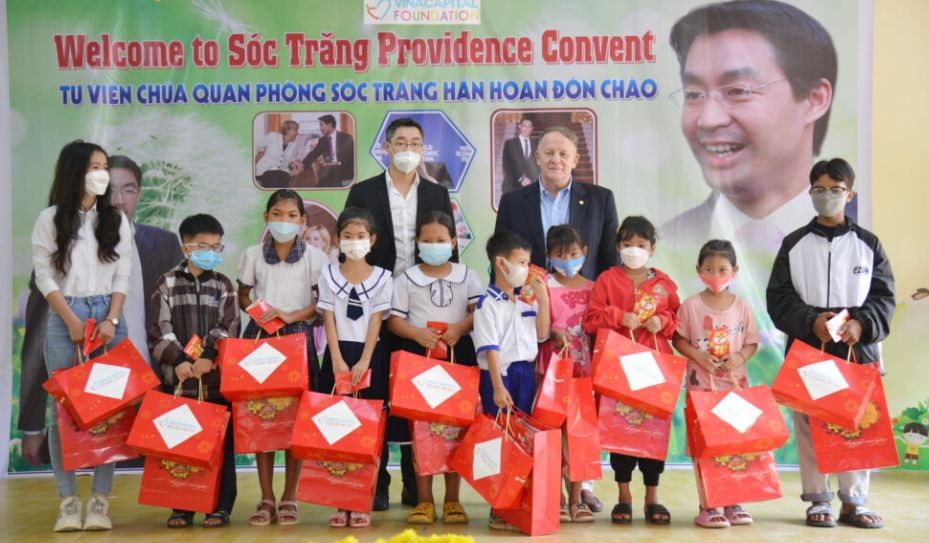 Dr. Rösler visits his former orphanage and reunited with the Catholic nuns who took care of him. Photo: VCF
Dr. Rösler on Jan. 25 also paid his first visit to the orphanage in Soc Trang where he spent the first months of his life and met with beneficiary children supported by VCF's Heartbeat Vietnam, Brighter Path, and Care to Rise programs in the province.
Since inception, in Soc Trang province, VCF has provided 152 surgeries for children with congenital heart defects, screened 393 children as well as supported four ethnic minority girls with full high school and university scholarships, one of whom is now a medical doctor in HCM City.
Friendship
To mark the 50th anniversary of the establishment of diplomatic relations between India and Vietnam and on the eve of the 132nd birth anniversary of President Họ Chị Minh, Indo- Vietnam Solidarity Committee organized a national seminar on "Ho Chi Minh and India" on 14th May 2022 at National Library, India.