Honoring a Russian Illustrator Who Depicted an Interesting Moment in Russian-Viet History
Vladimir Gavrilovich Shevchenko helped with a story about Russia's two most famous Vietnamese elephants, a friendly gift from President Ho Chi Minh.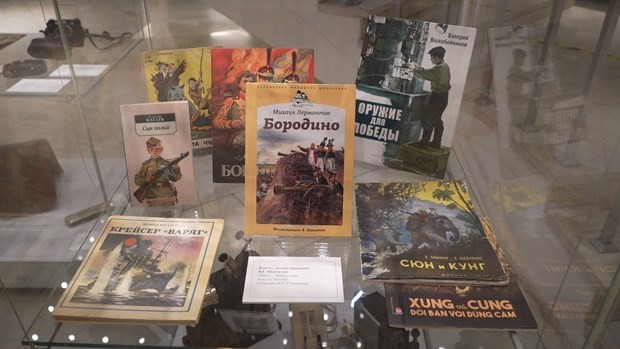 Illustrated book by Vladimir Gavrilovich Shevchenko showcased at the exhibition. Photo: VNA
On the occasion of the 100th anniversary of the birth of the talented illustrator Vladimir Gavrilovich Shevchenko (March 12, 1922 - 2022), at the Battle of Borodino Panorama Museum in Moscow, an exhibition was held, introducing personal objects as well as paintings by Shevchenko to illustrate the famous poem "Borodino" by the great Russian poet Mikhail Y. Lermontov in the 1970s.
Shevchenko had illustrated about 100 books during his six-decade career. One of his most popular works was the illustration of Mikhail Y. Lermontov's famous poem "Borodino" in the 1970s.
One million copies of the children's book "Xung and Cung" had been released in Russia. It was based on the true story of the two elephants sent as a gift from President Ho Chi Minh and the Government of Vietnam to the people of the Russian city of Leningrad, now Saint Petersburg, in 1954 on the 10th anniversary of the city breaking the siege of Nazis.
They showed great courage during the journey of nearly a year and a half, crossing forests, wading streams, climbing passes, and then taking a train from China through vast Siberia, to the Leningrad Zoo.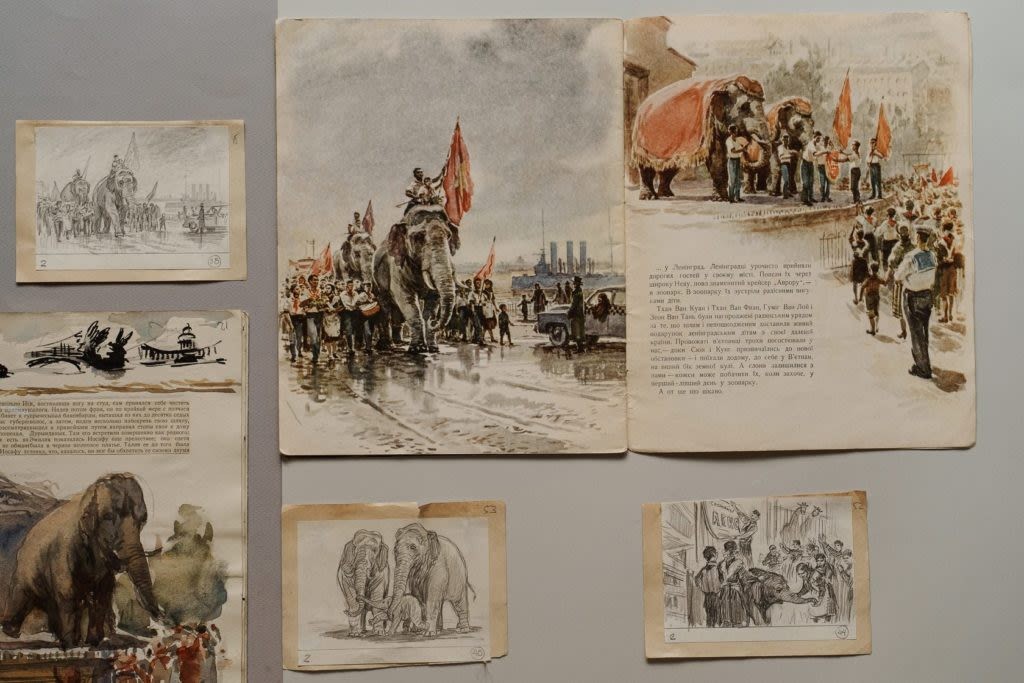 Vladimir Gavrilovich Shevchenko illustrates a children's book about two Vietnamese elephants named Chung and Cung. Source: https:holod.media
This true story made a strong impression on Shevchenko and he drew pictures about it in his graduation thesis. After that, Shevchenko's drawings again impressed the famous Soviet and Russian children's writer Vitaly Bianchi, and Bianchi agreed to write illustrations for the pictures so that the picture story "Xung and Cung" was born in the Soviet Union in 1958.
The book has been translated into Vietnamese and released in Vietnam by Kim Dong Publishing House.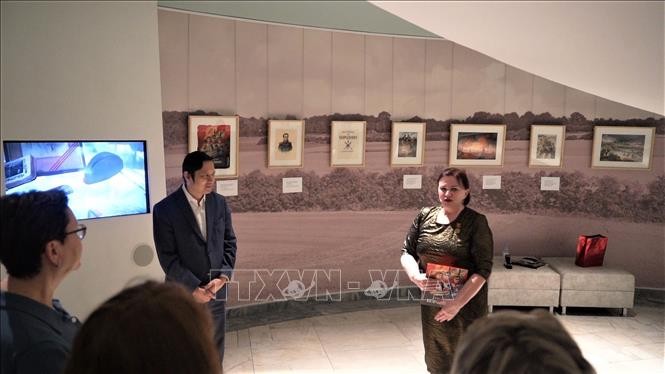 Nguyen Quoc Hung, one of the book's translators and Vladimir Shevchenko' daughter. Photo: VNA
Talking to the VNA reporter, Galina Nikolskaya, the daughter of Vladimir Shevchenko, said: "After one million copies was printed and 50 positive films was made, my father became a master painter, a famous painter, and has been recognized as a successful artist .
There were many request for his work, but every time my father went to the publishing house he mentioned the reprint of "Xung and Cung". Although it was rejected for many reasons, but my father always wished to have it reprinted.
It was his favorite book, she added. "These elephants became his symbol of happiness, thanks to them he got to know the famous writer Vitaly Bianchi, and it was also the book that helped his career take off."
As for the comic book "Borodino", Shevchenko is considered one of the best illustrators for Lermontov's "poetic chronicle of the battle of Borodino". Besides, children of the former Soviet Union will certainly remember the artist Shevchenko through other comics such as "Gulliver's travels" or "Robinson Crusoe".
Deputy Director of the Battle of Borodino Panorama Museum, Viktoria Pavlenko, said: "When Vladimir Shevchenko painted about the battle of Borodino, he studied it very seriously. He went to our museum, carefully studied the materials. He even came to visit Borodino fields so that he can imagine with his own eyes what happened We're still keeping the positive film of photos he took of the Borodino fields and his paintings It was really meticulous and rich.
Not only was the comic Borodino adapted from Lermontov's poetry, and at the same time a positive film about this battle, which children also loved. The Borodino positive film was the first film to have a voiceover."
Nguyen Quoc Hung, one of the book's translators, said it is a very touching story that should reach as many readers as possible since it demonstrates cultural ties between Vietnam and Russia.
He added that Vietnamese young people should also know better about the two countries' long-standing relations.
According to Hung, he also participates in the translation project and will soon publish the comic book "Borodino" in Vietnam.