Hospitals received medical equipment sponsored by Newborns Vietnam
On the morning of March 15, Dong Anh General Hospital was received many equipment for newborn treatment from Newborns Vietnam.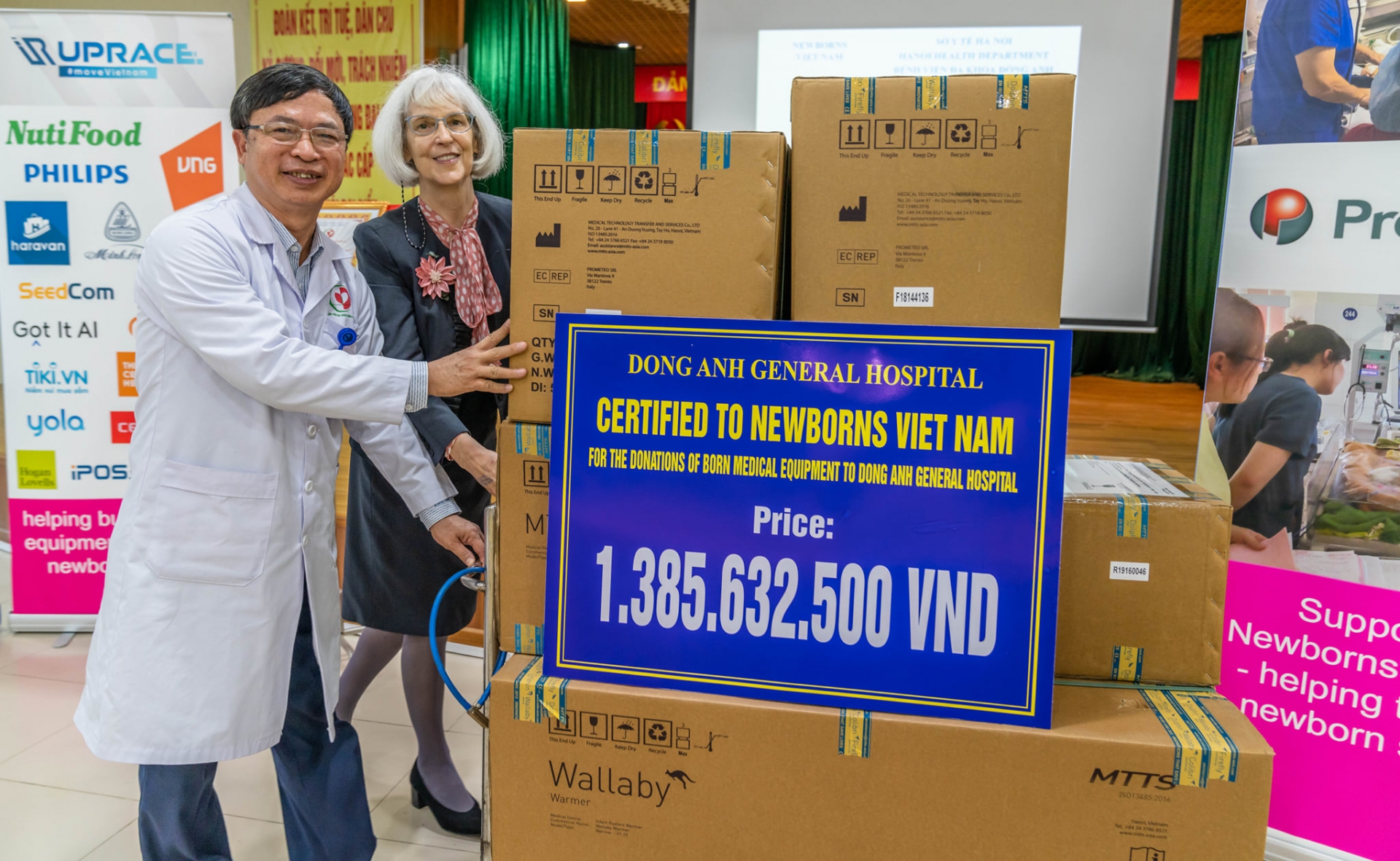 At the equipment handover in Dong Anh General Hospital. Source: Newborns Vietnam
In collaboration with the Hanoi Department of Health, we were at Dong Anh and Bac Thang Long hospitals, the first of seven hospitals in the Hanoi Neonatal Network to receive their new life saving equipment. The delivery rooms, newborn nurseries and operating theatres now have all the tools needed to save more small and sick babies every day.
Dong Anh and Bac Thang Long were the first hospitals of many to receive the new equipment, which was made possible by a combined effort of a huge number of fundraisers from UpRace and 100,000 runners who ran three million kms. Their awe-inspiring efforts helped raised over VND 1,6 billion (USD 69.106), along with the sponsors including VNG, NutiFood, Philips Vietnam, Seedcom, Genetica, POPs Worldwide, The Coffee House, Haravan, GotIt, iPOS, Yola, TekExperts, Tiki, CellphoneS, HoganLovells, Savill Vietnam, Payoo, and Minh Long.
Duc Giang and Gia Lam hospitals will continue received the equipment in the coming time.
At the handover, Dong Anh General Hospital was given medical equipment such as jaundice lamp, heated bed, Continuous Positive Airway Pressure (CPAP) ventilator, neonatal resuscitation equipment, neonatal bed and other equipments with a total value of VND 1,3 billion (USD 59.850).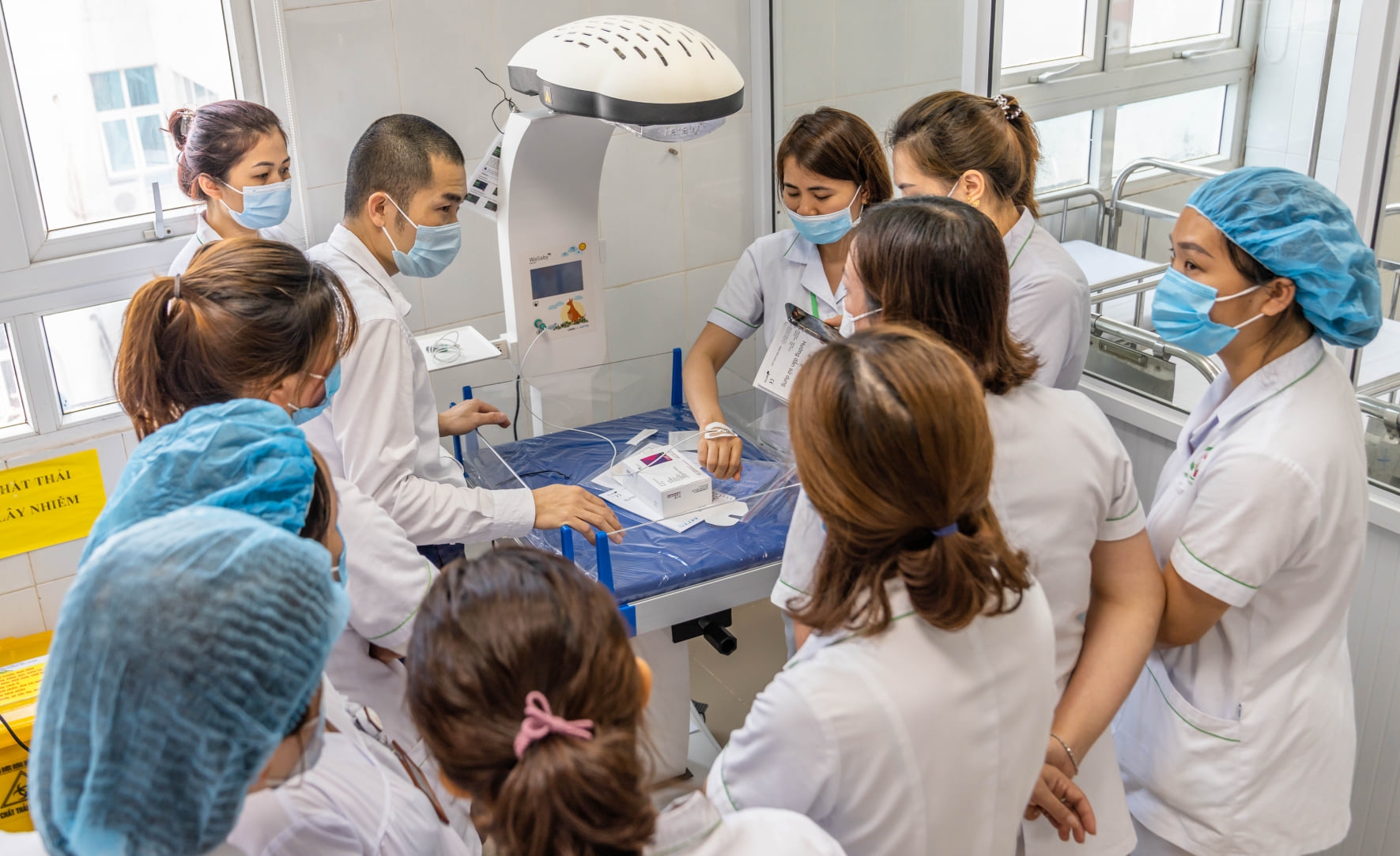 The doctors and nurses received training in the use of their new equipment. Source: Newborns Vietnam
The medical equipment was installed by Dong Anh General Hospital in the Hospital's Pediatrics and Obstetrics Department, where neonatal specialists were instructed to use and operate the machine by Newborns specialists.
On behalf of the hospital, Nguyen Quoc Tien - Deputy Director of Dong Anh General Hospital thanked Newborns Vietnam for their long reaching and powerful impact on the life chances of newborns across Vietnam.
Newborns Vietnam is a UK registered charity dedicated to reducing neonatal mortality in south east Asia, with a specific focus on Vietnam. Newborns Vietnam received the Certificate of Merit in 2013 and 2015 for Humanitarian Work For Neonatal Care from the Da Nang People's Committee.
The first 28 days of life – the neonatal period – is the most vulnerable time for a child's survival. Children face the highest risk of dying in their first month of life at an average global rate of 18 deaths per 1,000 live births in 2018, according to UNICEF./.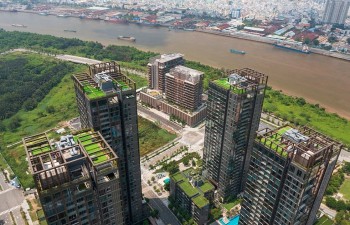 Economy
Vietnam Business & Weather Briefing (August 11): Vietnam to increase coal imports in 2025-2035 period, ten tonnes of Vietnamese longan exported to Australia.