Vietnamese lightest newborn magically survives with only 480grams
A premature baby girl born weighing merely 480 grams, has been stabilised at a hospital in the northern Vinh Phuc Province. She is now ready to return home.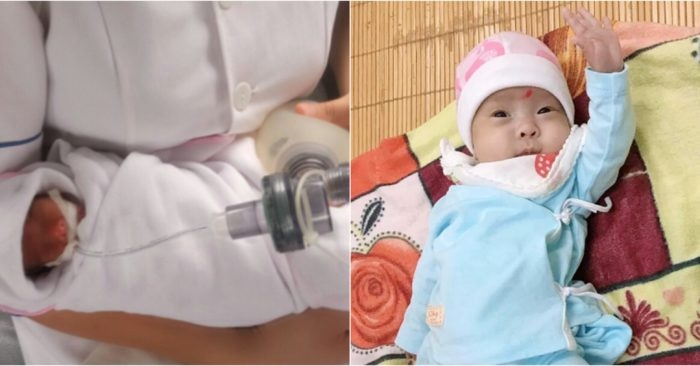 Treatment for critically ill newborns in Vietnam has been continuously improving, and the survival rate of ultra-low birth weight infants has increased significantly over the years, thanks to the development of neonatology as well as the overall improvement of medical conditions. Photo courtesy of the Vinh Phuc Obstetrics and Pediatric Hospital.
She is the lightest prematurely born baby to survive in Vietnam, weighing just 480 grams at birth, VnExpress reported.
Doctors at the Vinh Phuc Obstetrics and Pediatric Hospital on Wednesday described the girl's survival after only 26 weeks in gestation as a "rare miracle."
The mother, who had been barren for a decade, resorted to in vitro fertilization (IVF) and became pregnant with twins. She showed signs of of amniotic fluid leakage 18 weeks in, and was admitted to the hospital on July 1, where she was found to be at risk of a miscarriage.
She prematurely birthed a baby at week 24. Even though strenuous efforts were made, that baby did not survive. The medical staff encouraged them to concentrate all their energy on still rescuing the other baby. They decided then to keep her in the womb.
Her greatest risk at the time was a uterus infection, which could have forced doctors to remove her uterus altogether. The procedure might have meant that the mother could never become pregnant again, said Doctor To Van An, head of the hospital's obstetrics disease department.
"The most important task was to keep the remaining fetus alive in the womb for as long as possible," An said.
The mother was treated with antibiotics and other drugs to delay labor, before she showed signs of running out of amniotic fluid on August 20. Doctors were forced to deliver the baby prematurely within the day, at 26 weeks in gestation.
After her delivery, the baby girl was transported to a special ward for infants in a very weak condition. She had weak responses, shallow breath and discoloration of the whole body. She was put in an incubator, supported with ventilators, fed through her veins and treated with antibiotics and several drugs.
As she was born prematurely, the baby faced heightened risks of brain haemorrhage, respiratory failure, pneumonia and infection, among other conditions. Still the doctors decided not to give up.
After the team's unrelenting efforts, she staged a miraculous recovery and was finally put off ventilators and fed normally with milk.
When she was discharged on November 25, the baby was 39 weeks old and weighed 2.1 kg.
The lightest prematurely born baby who has survived in Vietnam before the one in Vinh Phuc is Bui Thi Gai, born in 2010 at week 25 in gestation. She weighed just over 500 grams at birth.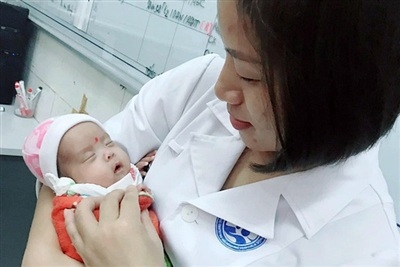 A baby girl in Vinh Phuc Province's Obstetrics and Pediatric Hospital is Vietnam's lightest premature baby to survive. Photo: Dan Tri
"Preterm birth complications are the leading cause of death among children under 5 years of age, responsible for approximately 1 million deaths in 2015. Three-quarters of these deaths could be prevented with current, cost-effective interventions," the World Health Organisation (WHO) said.
According to UNICEF, Vietnam has had significant progress in raising the survival ratio of children under five years old within the last 25 years. The ratio was 52 per 1,000 children in 1990, dropping to 12 per 1,000 children in 2018.
"However, infant mortality rates in the North and Central Highlands remain high and in some provinces, such as Lai Chau and Kon Tum, the rates are three times higher than the national average.
"It is estimated that 47 newborns die every day in Vietnam. Most are from preventable causes. Simple interventions such as skilled birth attendance, early essential newborn care, early initiation of breastfeeding, and kangaroo-mother care for premature and low-weight babies can save lives of women and their infants," UNICEF said./.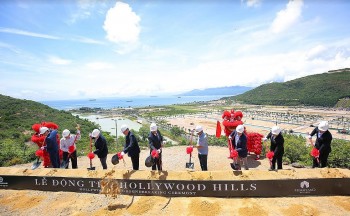 Economy
On October 2, at Hai Giang peninsula (Quy Nhon city, Binh Dinh), Hung Thinh Corporation held the groundbreaking ceremony of Hollywood Hills by YOO Inspired by Starck – a subdivision at MerryLand Quy Nhon. The event marks the first time that the world's No.1 ranked design and branded residence company YOO Inspired by Starck is officially present in Vietnam, with a collection of villas designed by creative director, Philippe Starck.