Hot Snacks in Hanoi Winter
The cold winter weather in the capital is the best time to enjoy hot snacks, from crispy pancakes to savory porridge.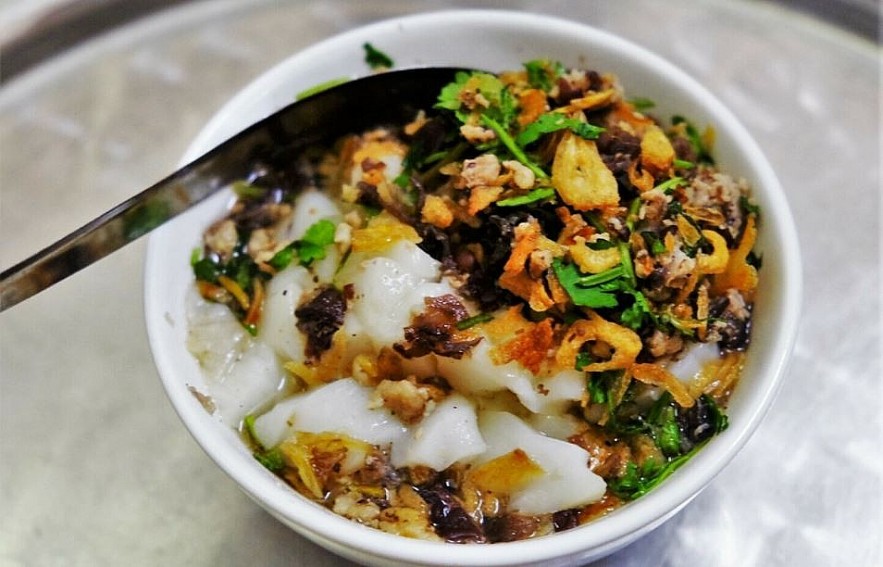 Hot banh duc (Photo: VN Express)
Hot banh duc
Banh duc (steamed rice flour) is traditionally served cold. However, the young generations prefer hot banh duc in the winter.
In this variation, instead of being served with soy sauce, banh duc is poured into a medium bowl with stir-fry pork and sweet and sour fish sauce. Wood ear mushroom, fresh coriander, fried tofu, and fried onions are usually added.
A bowl of hot banh duc costs VND 15,000 - 20,000 (US$0.65 - 0,9), which is reasonable for an afternoon break.
Le Ngoc Han street, Trung Tu residential areas, and Nguyen Hien street are home to famous and long-standing banh duc stalls.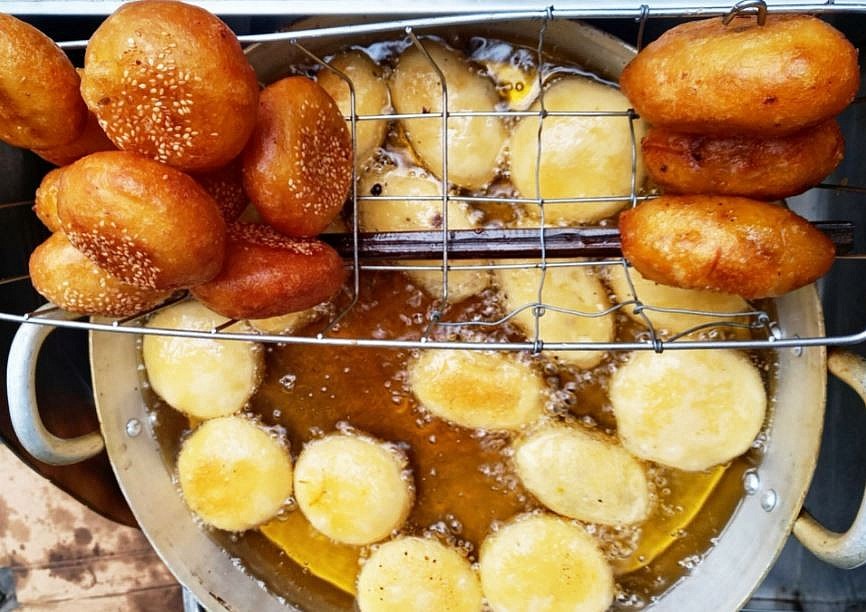 Fried sticky rice balls with bean and meat fillings. (Photo: VN Express)
Fried sticky rice balls
When the chill air visits Hanoi, banh ran (fried sticky rice balls) starts to be sold on the streets. The dish can be easily found in every market and every street of the capital. Banh ran comes in different sizes, shapes, and fillings, from sweet potato, bananas, and corn, to beans, pork and egg.
The sizzling sound of boiling oil, the golden color of the crust, and the aroma of the filling wins the hear of diners, therefore, banh ran is a signature dish in the cold weather.
The sweet fried ball is made up of mashed green beans covered in a thin layer of sticky rice flour and sesame, while the savory version is more complicated.
To make the savory fillings, the cook finely grounds and stir-fries pork with rice vermicelli, wood ear and shiitake mushroom. Savory balls are served with picked and sweet and sour dipping sauce. Each ball is sold at VND 3,000-5,000 (US$ 0.1-0.2).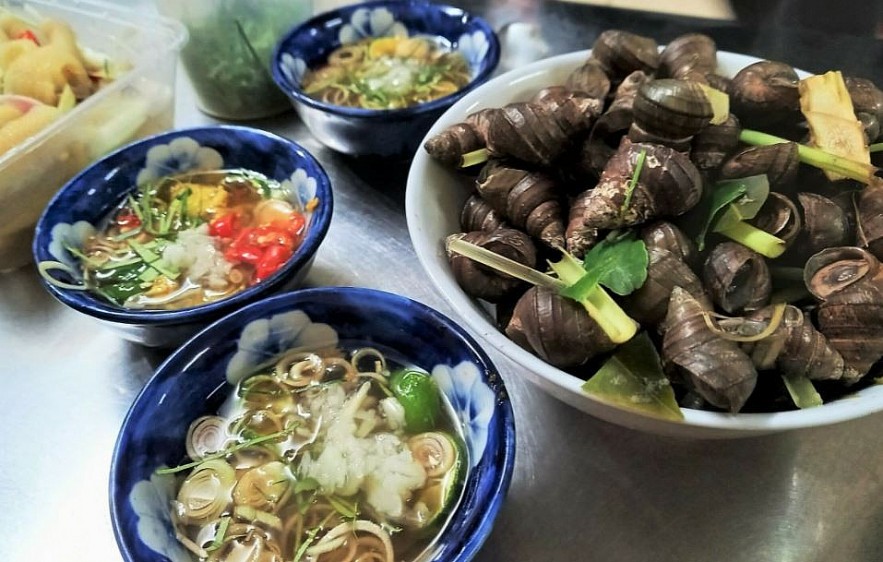 Boiled snails (Photo: VN Express)
Boiled snails
Boiled snails, as its name suggests, is a simple dish but has a strange appeal on cold days, especially to young people.
In the late afternoon and evening, people often gather around a small stall with boiling pots of snails, lemongrass, and lime to enjoy the dish and chat. Snails are served with salty, sweet, and spicy dipping sauce.
Snail stalls often sell other snacks, such as juice, quail eggs, clams, fermented pork roll. A plate of snails costs from VND 20,000-50,000 (US$ 0,9-2,2). To enjoy the dish, drive to college areas such as Chua Lang and Ton That Tung streets or the old quarter.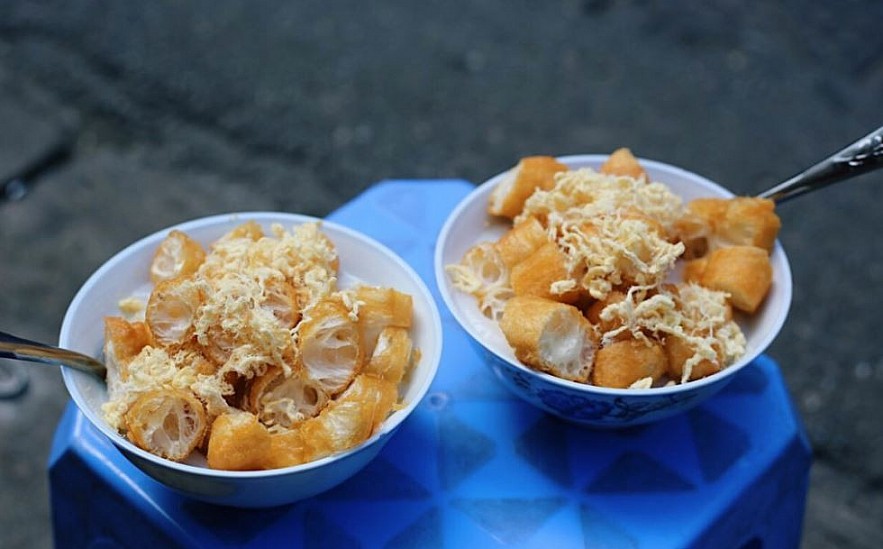 Pork porridge (Photo: VN Express)
Porridge
Pork rib and mussel porridge are among the most favorite breakfast and afternoon snacks in Hanoi's winter. The hot and light dish is served with cripsy "quay" and pepper. Each bowl costs about VND 20,000-35,000 (US$ 0.9-1,5).
Sweet sesame and bean balls (Photo: VN Express)
"Floating" sweet balls
Che troi nuoc (floating sesame and bean balls) is more popular on cold days because it is cooked with ginger.
A bowl of che troi nuoc often includes three balls, a sesame, a green bean, and a sesame mix with coconut.
Each bowl costs VND 15,000-25,000 (US$ 0.7-1.1). The dish is easy to find, especially in the old quarter. Most sweet soup stalls sell che troi nuoc in the winter only.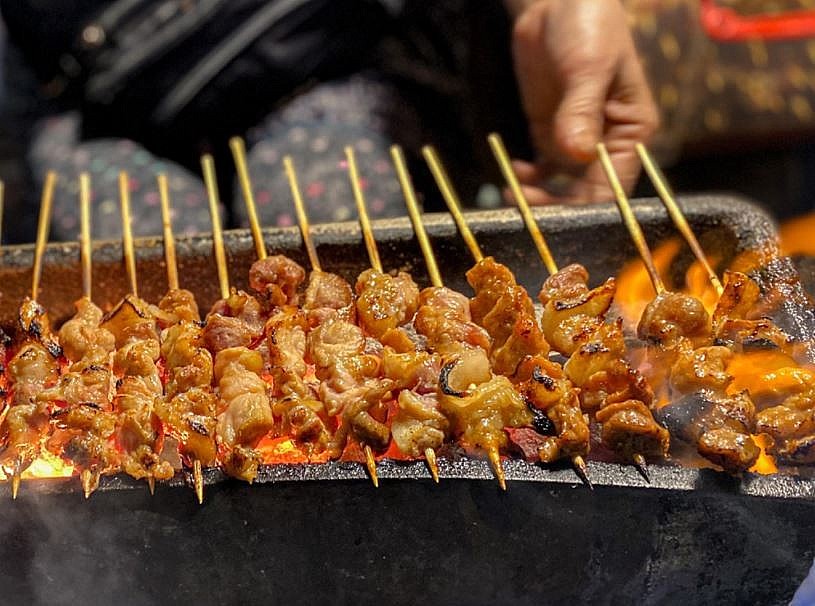 Grilled pork (Photo: VN Express)
Grilled pork
Students love eating grilled pork as an after-school snack thanks to the cheap price and moderate servings.
Some stalls also sell sausages, banh mi with grilled pork filling and pickles. Ham Long, Kham Thien, Quang Trung streets, and Nghia Tan market are famous for the dish.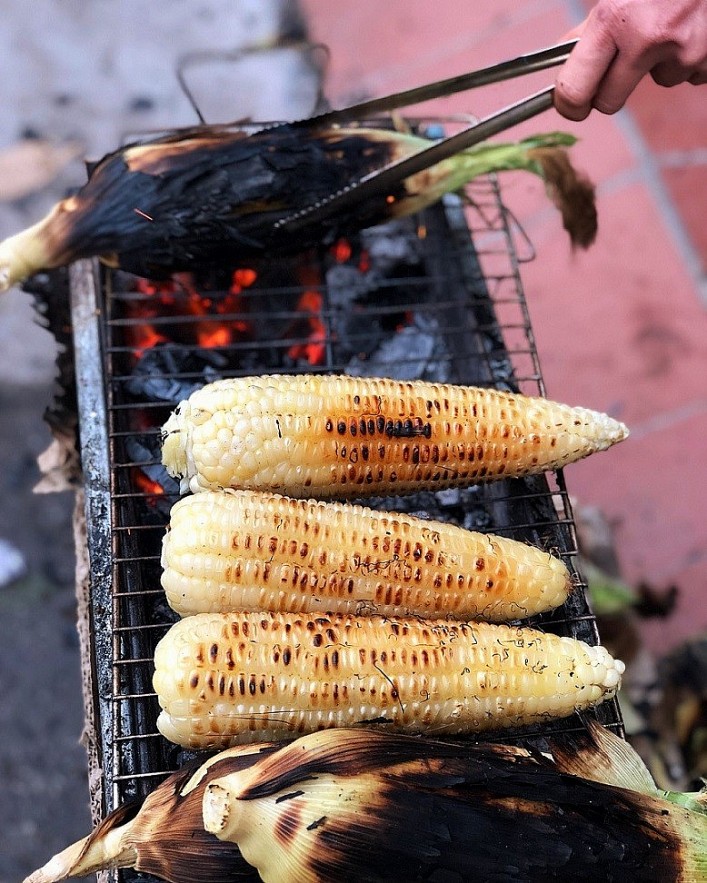 Grilled corn (Photo: VN Express)
Grilled corn and sweet potatoes
Grilled corn and sweet potatoes in Hanoi are simple and do not need any seasoning or butter.
The corn and sweet potatoes are carefully selected to ensure the dish's rustic taste. Grilled sweet potatoes look ugly on the outside but tender and delicious on the inside. The dish is sold on every corner and street of Hanoi, mostly in the evening.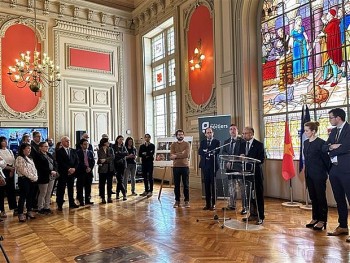 National
Vietnam News Today (Mar. 26): Vietnam and Thailand promote labour cooperation; Vietnamese, French localities look to step up cooperation; Attractive incentives on offer at Hanoi Tourism Festival 2023; E-commerce accounts for 60% of Vietnamese digital economy.