7 Tasty Snacks in Vietnam That You Can Not Miss
Aside from Pho, Vietnam is also famous for its sweet treats and snacks, which brings a distinctive flavours and taste that satisfy our sweet tooth. Here is 7 tasty snacks in Vietnam that you can not miss.
With fresh ingredients at the ready and a long tradition of creative cooking, a tasty snack is never far away when you're in Vietnam. Some come with age-old stories, while others take great Vietnamese products and elevate them with a modern twist.
It is not by chance that Philip Kotler, the world's leading marketing master, shared that, "Vietnam should become the world's kitchen." Vietnamese cuisine is not only plentiful, it also comes in a variety of flavours and preparation styles. This diversity is most evident in its snack collection. In fact, Saigon can be considered the food capital of Vietnam, with thousands of eateries sprouting up in the streets, selling all kinds of specialties from the North to the South.
1. Mung bean cubes (Banh Dau Xanh)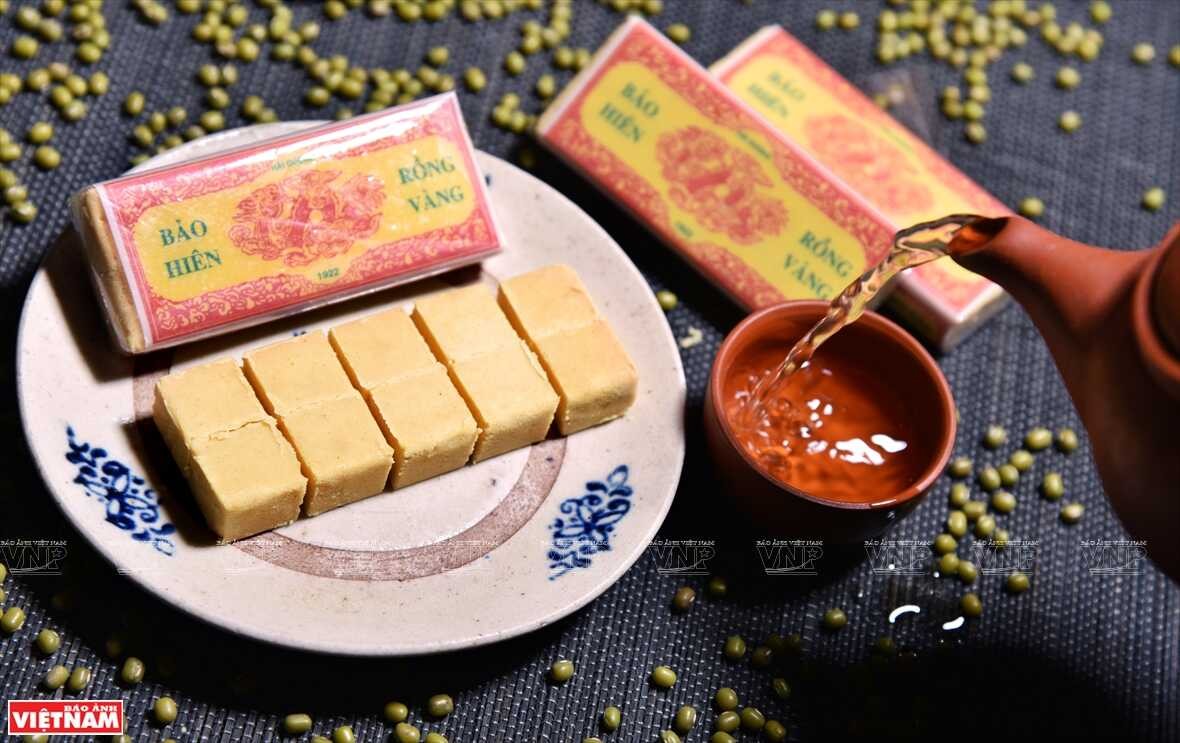 Photo: Bao anh Vietnam
With simple and rustic ingredients, each mung bean cube, banh dau xanh, is considered a representative of the country's flavour, showing the delicacy and ingenuity of industrious workers.
Located in the Hanoi-Hai Phong-Quang Ninh tourist triangle, Hai Duong city is an ideal destination for tourists from all directions. Its mung bean product is therefore one of the most chosen gifts for family and friends after a trip here.
Currently, most of the preparation steps such as preliminary treatment, roasting, grinding, mixing of fats... have been mechanized. However, in the past, the cake was made entirely by hand. The manufacturing process is not too complicated, but requires secret recipes from each family.
Banh dau xanh Hai Duong is indeed attractive for its sweet and rustic taste. Over the generations, these cubes are still packaged in small portions, on the box often printed the words: "Enjoy with good friends with delicious tea". It is a "charm" of the delicate way to taste this Vietnamese dessert. The tea has a slightly pungent taste. Everything mixes together to create a sweet, fragrant and lingering flavour.
After almost 100 years of maintaining a traditional profession, the people of Hai Duong are proud to have a production system with more than 50 brands, which are favoured by consumers nationwide and exported to many international markets.
In today's diverse and rich confectionery market, Hai Duong mung bean cake asserts a certain position as it is not just a type of cake or gift, but also a part of oriental culture.
2. Coconut candy (Keo Dua)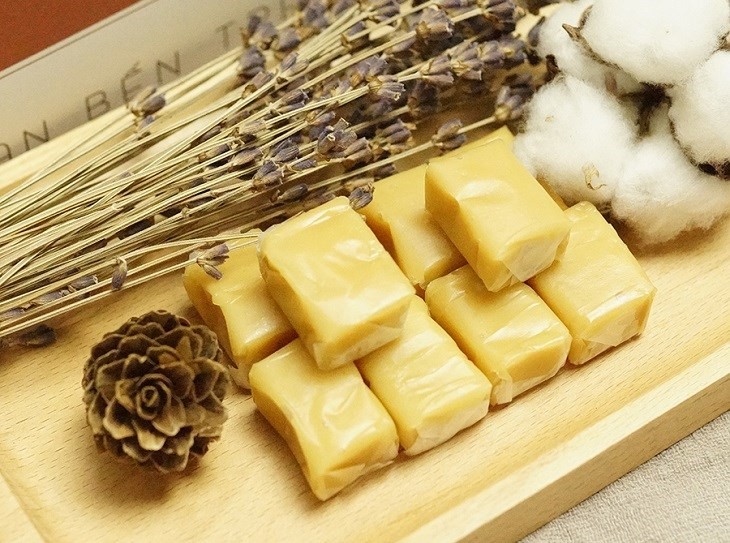 Photo: Dien may XANH
Once setting your foot in the prosperous land of the Mekong Delta, don't hesitate to give the incredible local food a try. For a sweet tooth, that means you should never miss the sticky, chewy, yet tasty thing called the Vietnamese coconut candy.
First introduced in the 1930s, Vietnamese coconut candy is the creation of Ms. Nguyen Thi Ngoc in Ben Tre Province - the so-called "Kingdom of Coconut". But it was not until 1970 that Thanh Long - the first factory of this sweet - appeared and the industry has flourished since then.
Nowadays, more than a hundred factories in Ben Tre produce this confectionary, making an association of coconut candy suppliers. Interestingly, this specialty is not only delivered throughout the country but also exported to China, Laos, Australia, Germany, Sweden, etc.
Traditionally, Vietnamese coconut candy is only made of three ingredients: coconut, sugar, and malt. However, creating this small bite-sized bonbon is far from easy. People have to follow certain requirements and steps as follow:
First, picking coconuts is undoubtedly crucial in making Vietnamese coconut candy. The chosen ones should be old with hard and thick flesh, unlike those used for fresh coconut water.
A special machine squeezes the chosen coconut to take the copra. Then fresh coconut milk is extracted from it
Next, the milk is boiled with sugar and malt. Thanks to these machines, laborers no longer have to stand by a burning stove and stir the mixture until it is thick
After that, the mixture is poured into molds, covered by a thin oil layer and left to dry
People peel dried candies off the molds and cut them into pieces
The sweets are wrapped with transparent rice papers, which are edible but often mistaken with normal plastic wraps. Finally, they go into boxes and are ready to sell
3. Marou Chocolate
Photo: Shutterstock
In the world of chocolate, something has changed in the last decade, as subtle as the cherry aftertaste of a fine truffle. In London cafes and Tokyo grocers, connoisseurs were persuaded to buy new bars from Vietnam, a communist country better known for coffee and rice exports.
And few have done as much to showcase the country's cacao bona fides as Marou. The chocolate maker has taken a journey befitting a Silicon Valley upstart, replete with quests by motorbike, home kitchen hacking, and international awards.
Marou was founded in 2011 by a pair of French friends, who went from plucking pods out of the Vietnamese countryside for experimentation, to shipping chocolate bars wrapped in luminous colors to 32 countries.
Now, with one decade under its belt, Marou is looking to the next one. It aims to multiply its network of smallholder farms fivefold. From Shanghai to Singapore, it plans to go overseas with Maison Marou, a chocolatier where customers hold business meetings over mocha, or watch an industrial-grade roaster swivel trinitario beans. And the company, which last week got a new round of investment from Mekong Capital, will use the undisclosed sum to try to win over a new demographic: local consumers.
"Vietnamese like chocolate, but they really see it as a flavoring, like on a cake or a Choco Pie," co-founder Vincent Mourou said in an interview at a Maison Marou cafe.
4. Peanut and rice paper brittle (kẹo cu đơ)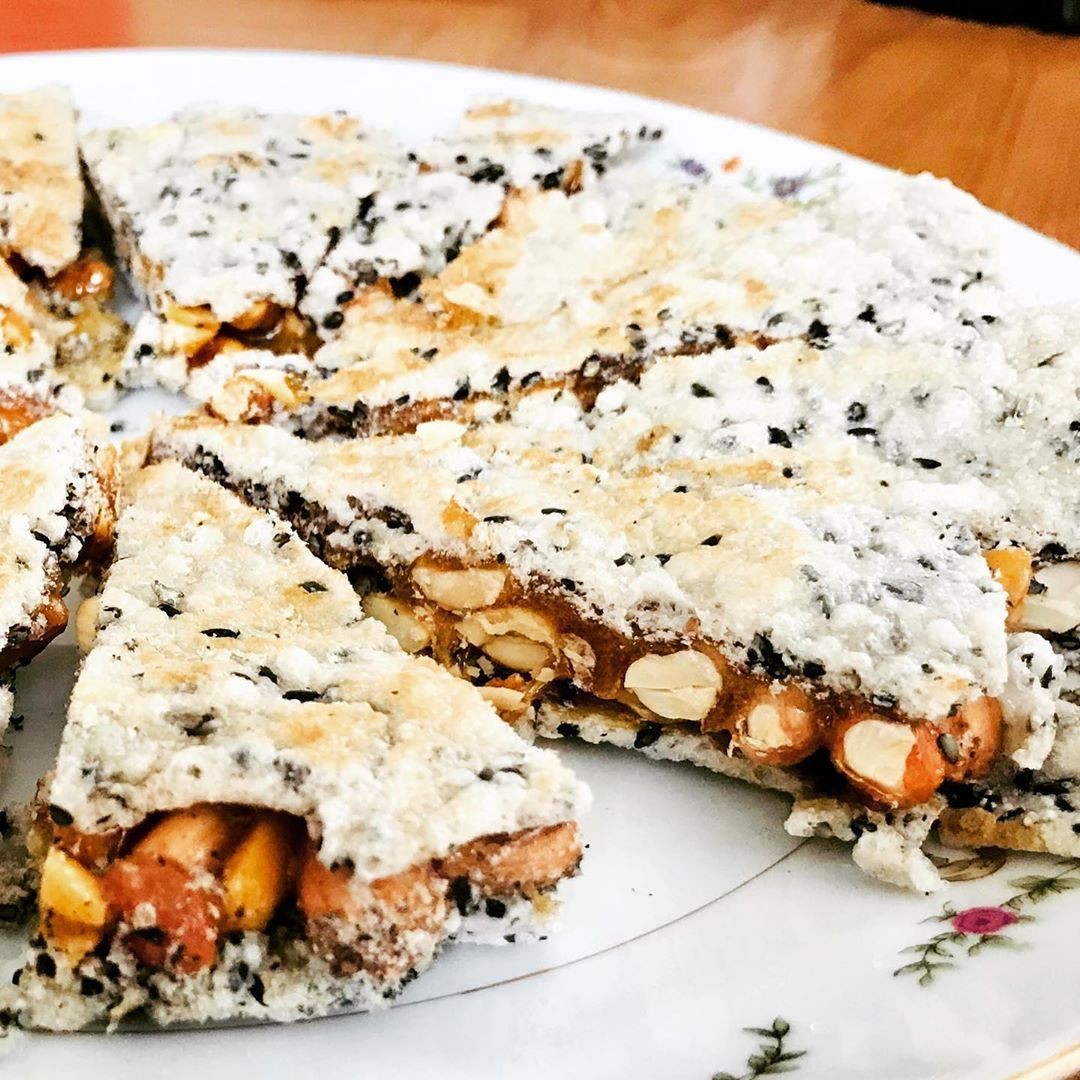 Photo: NEM
Kẹo Cu-đơ is made from natural ingredients such as: peanut, cane molasses, malt powder, sesame, and ginger. Candied peanut is itself delicious. Kẹo Cu-đơ (peanut rice-paper candy) is a famous food of the central province of Ha Tinh.
In Vietnamese kẹo means candy, and Cu-đơ is the nickname locals gave the man who changed the traditional form of making candy. People snicker while eating it because Cu-đơ is a play on "stiff penis." In the past it used to be called just kẹo lạc (peanut candy).
Cu-đơ was a seller of peanut candy and green tea who had the novel idea of putting rice paper under the peanut candy instead of wax paper that was used traditionally to prevent the candy from sticking. This clever idea meant the crispy rice cracker made the candy even tastier.
Kẹo Cu-đơ is made from natural ingredients like peanut, cane molasses, malt powder, sesame, and ginger. The process may seem simple but it is not really so, and one has to strictly follow it to achieve the right taste.
For delicious kẹo Cu-đơ, one needs pure cane molasses. If the molasses is not pure and is mixed with sugar, the peanut will not taste as good, spoil easily, and it will melt in hot weather.
Put cane molasses in a pot on the stove. Cook until it melts and starts bubbling. Add ginger, sesame, and malt powder to soften the molasses.
Stir the mixture constantly. When it is bubbling, add the peanut to the pot. If the peanut is added at the right time, it will be crispy and fragrant and melt in the mouth. Stir it one direction, otherwise the skin will peel off or the nuts will sink to the bottom and burn, making the kẹo Cu-đơ bitter.
When the mixture is done, pour it between two grilled rice papers. The candy must be not too thin or thick.
5. Sugared or Salted Fruit (Ô mai)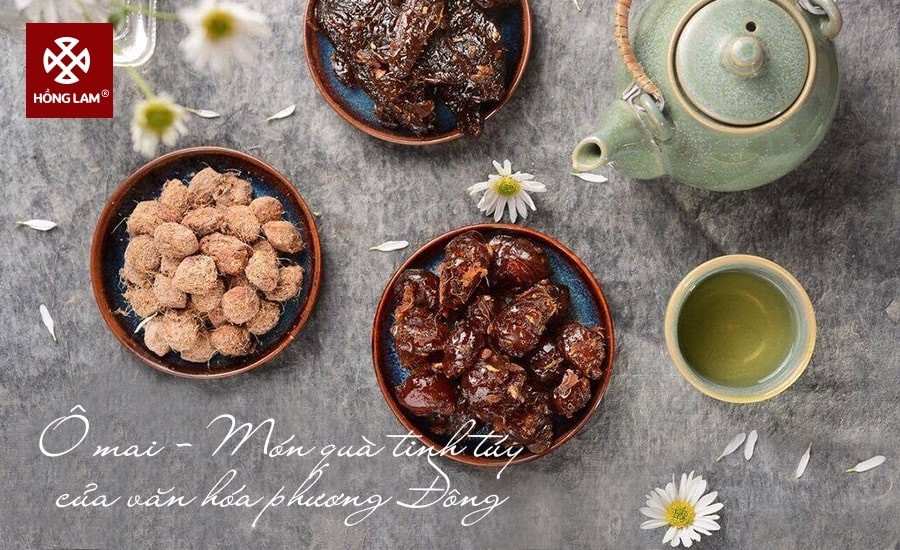 Photo: Hong Lam
O mai is a traditional Vietnamese snack and a specialty of Hanoi. The term refers to preserved sugared or salted fruits such as apricot, dracontomelon (sau), peach, plum, tamarind, pineapple, mango, star fruit, and kumquat. The fruits are first checked to ensure that they are of the same size and without bruises.
They're then thoroughly cleaned and pricked so that they can absorb sugar more easily. The sugar is mixed with salt, water, often ginger and chili, and a bit of lime juice, which keeps the fruit's natural color in check. The fruits are cooked, fermented, and finally dried before they're sold, usually all along the Hang Duong Street in Hanoi.
O mai is especially popular as a snack during Tet (Vietnamese New Year). It's recommended to serve these fruits with a cup of lotus tea on the side.
If you would like to make dried apricot, you can use the following recipe and you can make the perfect nosh. First, you soak the apricots in water to cover overnight. Then, place them to cook in the same water. Cook until tender. Mash them or chop in blender. After that, peel, core, and cut the pineapple into small pieces. Cover with water and cook until tender. Measure the fruits and juices. Last, place equal amounts of sugar with the measured fruits into a heavy kettle and cook slowly until thick and clear.
6. Vietnamese candied ginger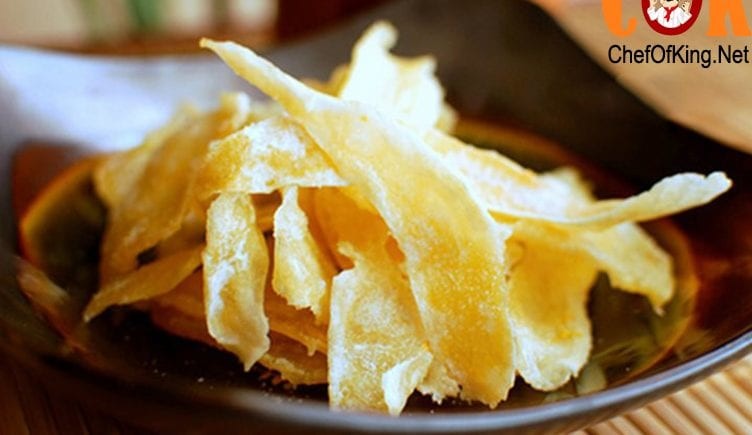 Photo: Chefofking
Tet in Vietnam is the season of endless parties and sweet snacks.
Every family stocks various kinds of sweets. One of the all-time favorites is mut gung, candied ginger.
The thin sugar coating compliments the zing of the ginger so well you just can't stop eating. And your stomach will thank you because many say it's very good for digestion.
Everything of the holiday now tastes more industrialized. Families have stopped making their own sweets.
But natives of the Kim Long Village in the outskirts of Hue still believe this is a tradition worth preserving.
When it comes to tea pairings, Vietnamese have some surprisingly perfect creations. Sugar-coated ginger might sound curious at first, but the sweetness compliments the zing of ginger so well, the only way to make it better is to follow with a sip of tea. Locals believe this healthy snack symbolises a life of comfort and happiness.
7. Vietnamese sesame rice cracker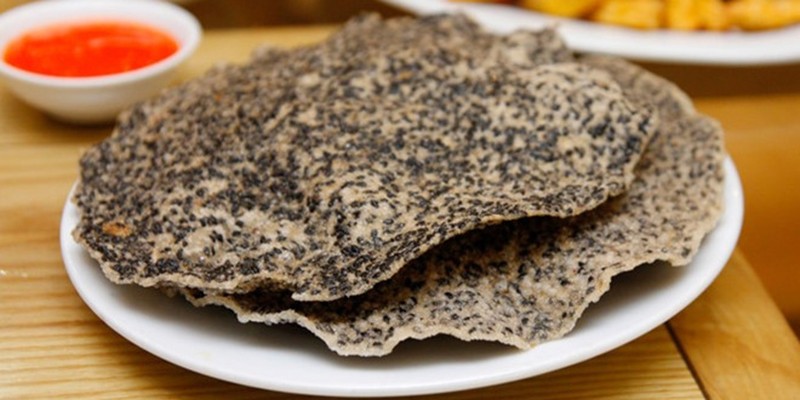 Photo: Blog Beemart
The crispy round Vietnamese sesame rice cracker or Girdle sesame rice cake is specialty food of Central Vietnam. In Vietnamese, they call this food Bánh tráng mè, Banh trang me (in Central Vietnam) or Bánh đa vừng, Banh da vung in North Vietnam. Made from rice and sesame, Banh trang me is sold and stored in dried version. To serve and eat, grill or fry the dried Banh trang me on charcoal for a few minutes. The smelling and crispy Banh trang me has attracted most of the people in Vietnam as well as foreigners.
There are some types of Vietnamese sesame rice crackers which are made from different types of sesame seeds (white, black). They use normal rice and a special rice which is called Khang Dang rice to make the cracker. The ratio of normal rice to Khang Dang rice is 13:2. After soaking in water for 30 minutes, the rice is ground into a smooth mixture of rice flour and water. The mixture should not be too thick but not too runny so that it will not be hard to make Banh trang me. Season the mixture with ground black pepper, salt, garlic, green onion. Add toasted sesame to the mixture and stir well. They make Banh trang me by steaming a thin layer of batter on a thin cloth which covers a wide pot with water. The pot is kept being heated and the water is kept boiling. Use a ladle to pour the batter onto the cloth, skillfully create a thin round sesame rice sheet on the cloth. Cover the lid, steamed sesame rice sheets will be ready after 3 minutes. Dry the steamed sesame rice sheets under the sun until dry. Normally, the sheets turn dry after drying for one day. Now the dried Vietnamese sesame rice cracker is ready, it is stored in air-tight plastic bag. As mentioned above, it should be grilled or fried until crispy and puffed up to serve. To grill, they use a special tool to change the sides of the cracker continuously to make sure it is well-cooked on both sides. The dried Banh trang me is thinner than the grilled/fried one. After cooking, the dried one turns crispy, puffed up and very smelling.