"How Do You Want Your Eggs?" Different Ways To Cook Your Eggs At Home
Eggs are nutritious, easy to make, and bring a lot of health benefits. But the question is: How do you want your eggs? From hard-boiled to omelet, here is how you can make your eggs at home with different styles of cooking them.
How many times have you been asked that at a restaurant and not known exactly how to answer it? "What's the way where it's fried but the yolk is still runny?" "Aren't sunny side up and over easy the same thing?" "What's the difference between over easy and over medium?"
Eggs are rich in several nutrients that promote heart health, such as betaine and choline. A study of nearly half a million people in China suggests that eating one egg a day may reduce the risk of heart disease and stroke, although experts stress that eggs need to be consumed as part of a healthy lifestyle in order to be beneficial.
Whole eggs are nutritionally rich, supplying almost every nutrient you need. They are useful sources of some of the hard to get nutrients like vitamins D and B12 as well as the mineral iodine. Eggs are regarded as a 'complete' source of protein as they contain all nine essential amino acids, which we must obtain from our diet. Furthermore, if you choose brands enriched with omega-3 fatty acids, due to the diet the chickens are fed, you'll benefit from higher omega-3 fatty acids as well as fat soluble vitamins such as vitamins A and E.
1. Hard-boiled egg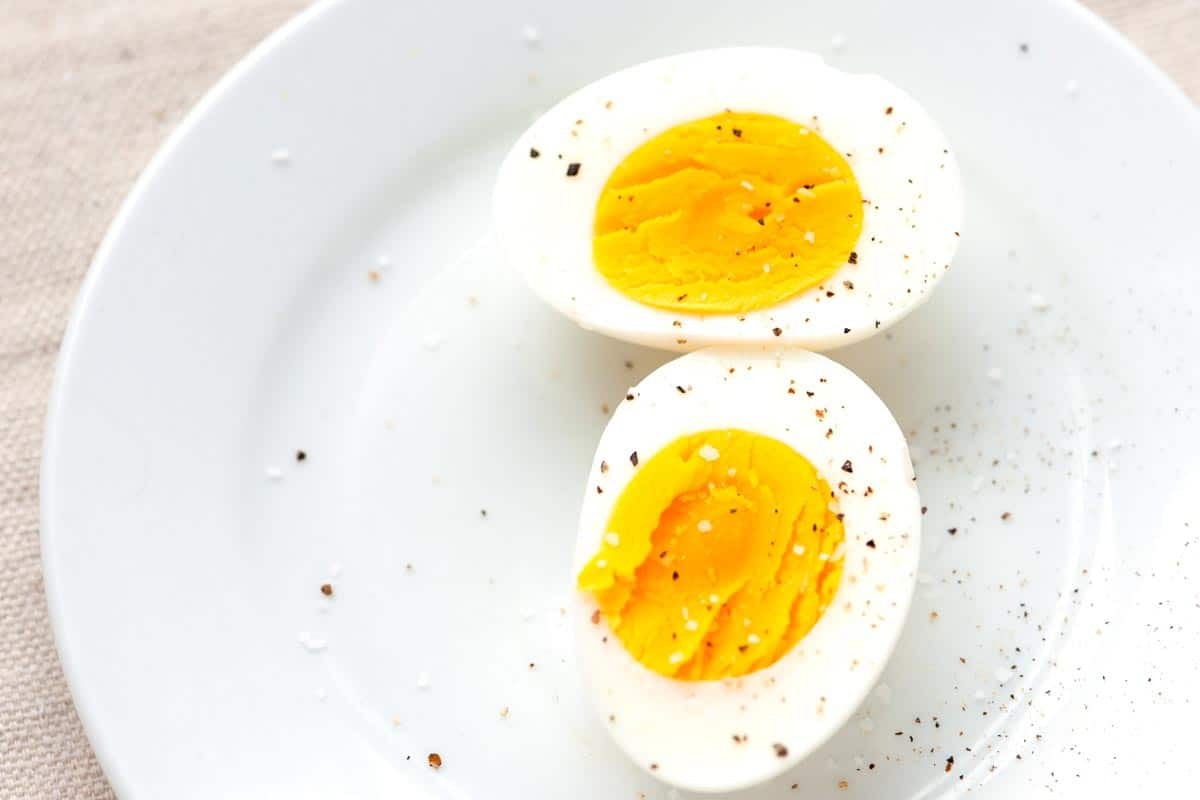 Photo: Inspired Taste
Boiled eggs are eggs, typically from a chicken, cooked with their shells unbroken, usually by immersion in boiling water. Hard-boiled eggs are cooked so that the egg white and egg yolk both solidify, while soft-boiled eggs may leave the yolk, and sometimes the white, at least partially liquid and raw. Boiled eggs are a popular breakfast food around the world.
Besides a boiling water immersion, there are a few different methods to make boiled eggs. Eggs can also be cooked below the boiling temperature, i.e. coddling, or they can be steamed. The egg timer was named for commonly being used to time the boiling of eggs.
Follow these simple steps to make perfect hard boiled eggs every time:
First, boil the eggs. Place them in a pot and cover them with cold water by 1 inch. Bring the water to a boil over high heat.
Then, let them sit in the hot water. As soon as the water begins to boil, turn off the heat and cover the pot. Leave the eggs in the hot water for anywhere from 10-12 minutes, depending on how you like your eggs. The 10-minute eggs will have vibrant, creamy yolks, while the 12-minute yolks will be paler and opaque, with a chalkier texture.
Finally, move them to an ice bath. When the time is up, drain the eggs and transfer them to a large bowl of ice water to stop the cooking process. Leave them in the ice bath for at least 14 minutes before you peel the eggs.
If you're not planning to eat the eggs right away, feel free to leave them in the shells and store them in the fridge. But even if this is the case, don't cut the ice bath short! It's crucial for stopping the cooking process and making the eggs easy to peel later on.
2. Soft-Boiled egg/Runny-boiled egg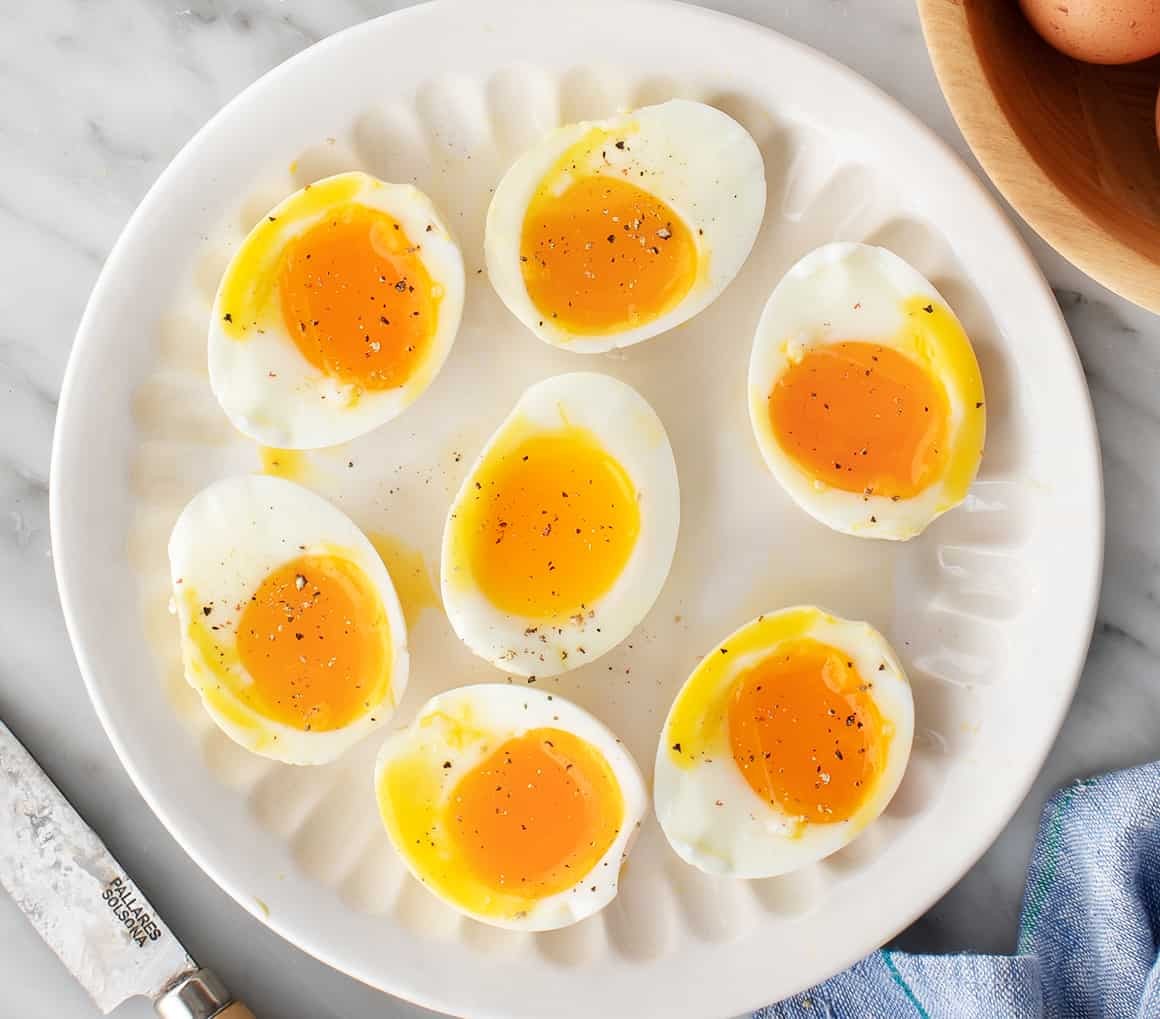 Photo: Love and Lemons
Soft boiled eggs bring back memories of breakfast in bed and the fun of dipping sliced toast or "soldiers" into a golden well of egg yolk.
Soft boiled eggs follow the same process as hard boiled eggs, but you cut the cooking time roughly in half. This gets the egg white cooked while leaving the yolk runny. Our preferred method is the "six minute egg," which sounds way fancy. ("This is a pile of breadcrumbs and a six minute egg." "Ooooooo!") The six minute is just like it sounds: bring your water to a boil, gently lower in the eggs, set a timer for six minutes, then remove the eggs and drop them in an ice bath.
Sometimes soft boiled eggs are eaten in the shell, stood upright in little egg cups. You can then daintily tap the top of the egg with a spoon and scoop out the insides. They're great on toast, sprinkled with salt, pepper, and hot sauce. We also love dropping a couple on a thick black bean soup.
3. Medium-boiled egg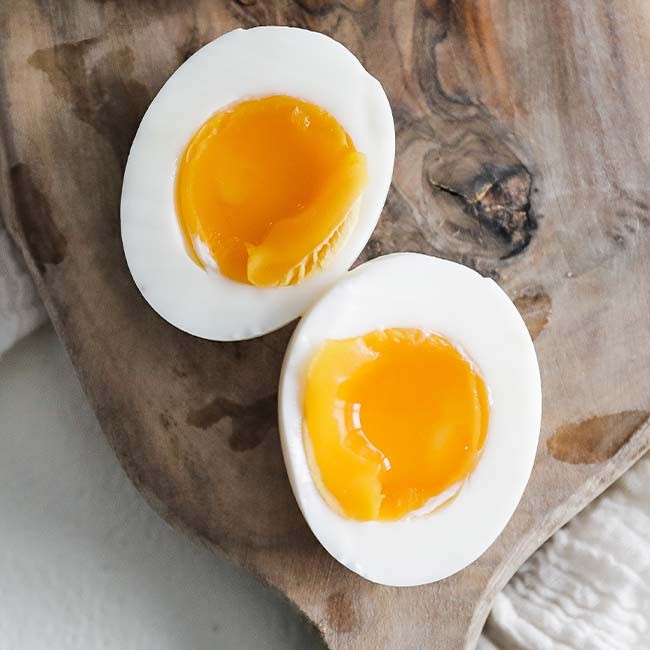 Photo: Chef Billy Parisi
Medium-boiled eggs have a jammy texture that makes them perfect for topping toast or adding to a party board.
Place eggs in a single layer in a saucepan and cover with water. Bring to a simmer over medium-high heat. Reduce heat to maintain a bare simmer and cook for 7 minutes. Immediately transfer the eggs to a bowl of ice-cold water and let stand until cool enough to handle. (For fully cooked hard-boiled eggs, cook in boiling water for 10 minutes before transferring them to the cold water.) Peel the eggs and halve lengthwise.
4. Poached egg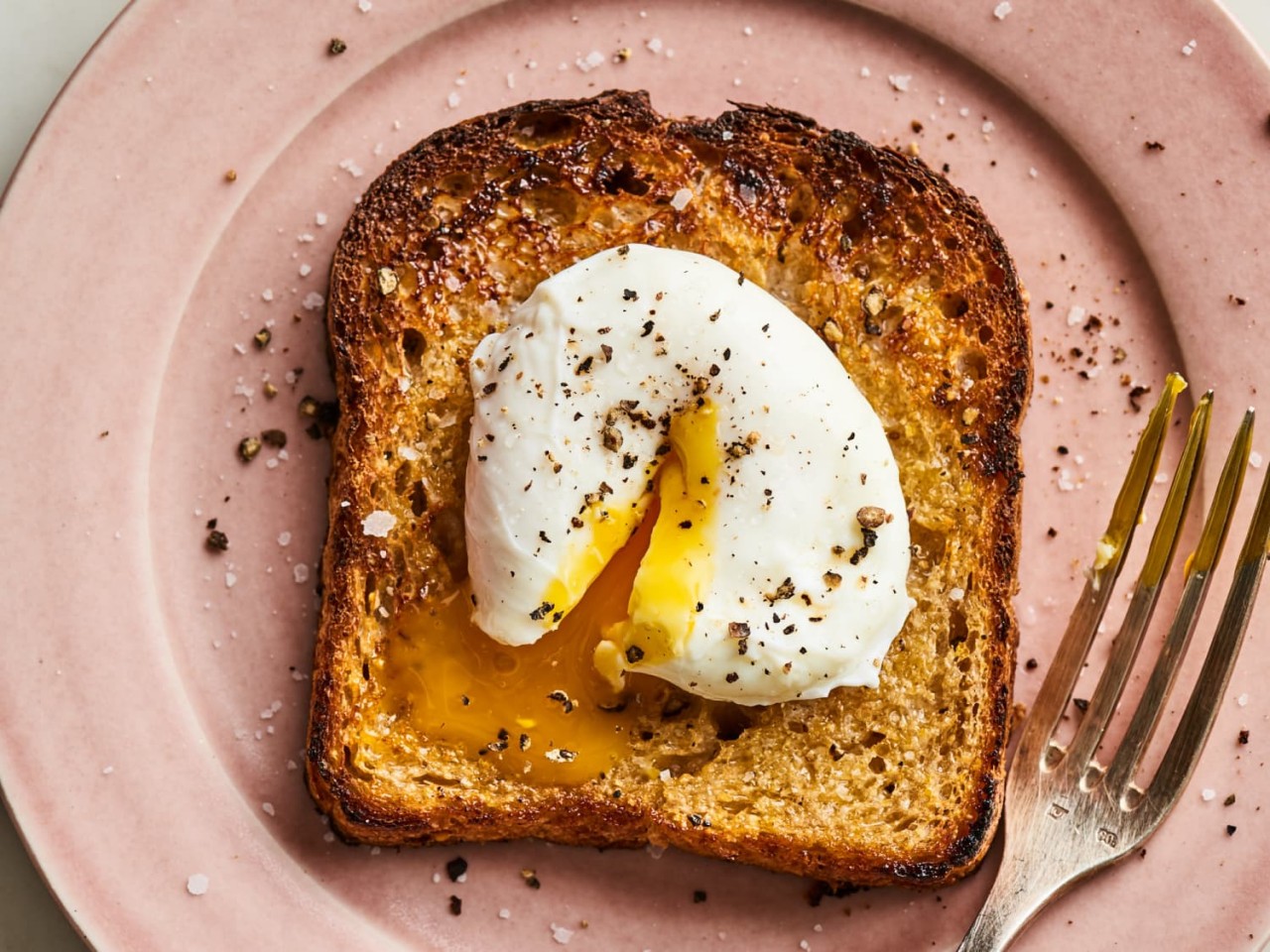 Photo: The Kitchn
A poached egg is an egg that has been cooked, outside the shell, by poaching (or sometimes steaming), as opposed to simmering or boiling. This method of preparation can yield more delicately cooked eggs than cooking at higher temperatures such as with boiling water.
The egg is cracked into a cup or bowl of any size, and then gently slid into a pan of water at approximately 75° C (167 °F) and cooked until the egg white has mostly solidified, but the yolk remains soft. The "perfect" poached egg has a runny yolk, with a hardening crust and no raw white remaining. In countries that mandate universal salmonella vaccination for hens, eating eggs with a runny yolk is deemed safe for consumption.
Broken into water at the poaching temperature, the white will cling to the yolk, resulting in cooked egg white and runny yolk.
Any given chicken egg contains some egg white that is prone to dispersing into the poaching liquid and cooking into an undesirable foam. To prevent this, the egg can be strained beforehand to remove the thinner component of the egg white. A small amount of vinegar may also be added to the water, as its acidic qualities accelerate the poaching process. Stirring the water vigorously to create a vortex may also reduce dispersion.
The age of the eggs affects the cooking process. The whites of freshly-laid eggs are less likely to disperse. With less fresh eggs, the whites are more likely to disperse, so acidulating the water will assist in preventing excessive egg white dispersement.
5. Sunny side up egg
Photo: The Spruce Eats
To cook an egg sunny-side up, first crack a pasteurized egg into a custard cup or small bowl.
In a nonstick skillet set over medium-low heat, melt 2 teaspoons butter.
When the butter has melted and begins to bubble, gently pour the egg into the skillet.
Cook until the white is opaque and the yolk has set, about 1 to 2 minutes.
Then sprinkle with salt and pepper as desired. Now just slide the egg from the skillet onto a plate.
Heat control is crucial here. Too much heat, and the whites will toughen and brown at the edges. Not enough, and the yolks will cook partway through by the time the whites are set. Listen to the pan, and watch the whites for cues that your pan is properly heated. You can use a little extra oil in this dish so there's enough for basting. The hot oil baste lets you set the whites without covering the pan and clouding the yolks. Season after the eggs are done so the basting doesn't wash off the salt and pepper.
6. Over-easy egg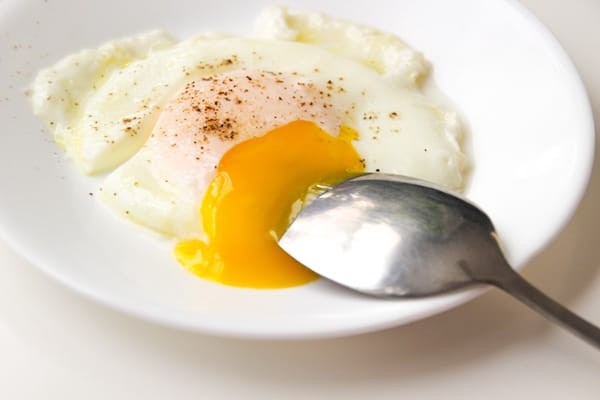 Photo: Fusion Craftiness
An egg cooked "over easy" means that it gets fried on both sides, but it's not cooked for very long on the second side, so the yolk doesn't get cooked through and stays runny. To make one, you cook the raw egg just until the whites are set on the bottom, then you quickly flip it over to cook the other side. "Over" refers to flipping the egg, and "easy" refers to the doneness of the yolk. You can also cook eggs "over medium" and "over hard," depending on how cooked you prefer the yolk.
7. Scrambled egg
Photo: Love and Lemons
Scrambled eggs is a dish made from eggs (usually chicken eggs) stirred, whipped or beaten together while being gently heated, typically with salt, butter, oil and sometimes other ingredients.
Only eggs are necessary to make scrambled eggs, but salt, water, milk, chives, cream, crème fraîche, sour cream, or grated cheese may be added. The eggs are cracked into a bowl with some salt and pepper, and the mixture is stirred or whisked: alternatively, the eggs are cracked directly into a hot pan or skillet, and the whites and yolks stirred together as they cook. Recipes disagree on whether milk, cream, or water should be added.
The mixture can be poured into a hot pan containing melted butter or oil, where it starts coagulating. The heat is turned down and the eggs are stirred as they cook. This creates small, soft curds of egg. Unlike pancakes, scrambled eggs are virtually never browned. A thin pan is preferable to prevent browning. With continuous stirring, and not allowing the eggs to stick to the pan, the eggs themselves will maintain the pan temperature at about the boiling point of water, until they coagulate.
Once the liquid has mostly set, additional ingredients such as ham, herbs, cheese or cream may be folded in over low heat until incorporated. The eggs are usually slightly undercooked when removed from heat, since the eggs will continue to set. If any liquid is seeping from the eggs (syneresis), this is a sign of undercooking, overcooking or adding undercooked high-moisture vegetables.
Scrambled eggs can be cooked in a microwave oven, and can also be prepared using sous-vide cooking, which gives the traditional smooth creamy texture and requires only occasionally mixing during cooking. Another technique for cooking creamy scrambled eggs is to pipe steam into eggs with butter via a steam wand (as found on an espresso machine).
8. Egg Benedict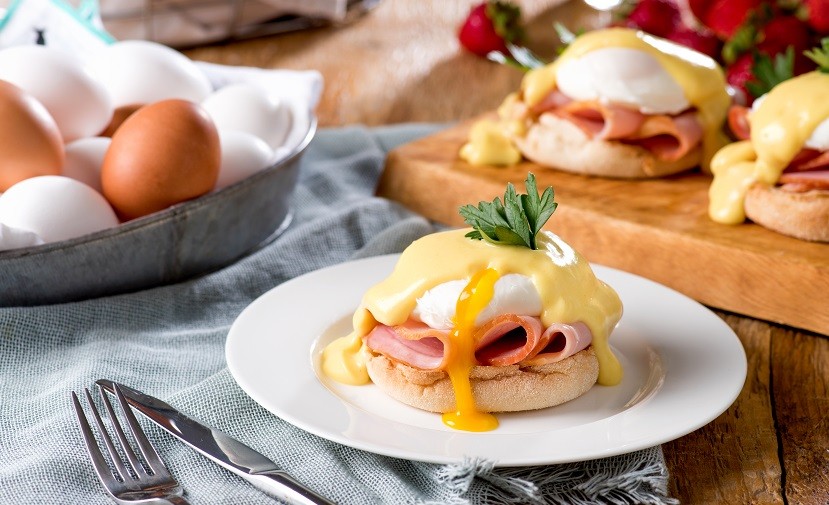 Photo: Pinterest
Eggs Benedict is a common American breakfast or brunch dish, consisting of two halves of an English muffin, each topped with Canadian bacon, a poached egg, and hollandaise sauce. It was popularized in New York City.
There are conflicting accounts as to the origin of eggs Benedict.
Delmonico's in Lower Manhattan says on its menu that "Eggs Benedict was first created in our ovens in 1860." One of its former chefs, Charles Ranhofer, also published the recipe for Eggs à la Benedick in 1894.
In an interview recorded in the "Talk of the Town" column of The New Yorker in 1942, the year before his death, Lemuel Benedict, a retired Wall Street stock broker, said that he had wandered into the Waldorf Hotel in 1894 and, hoping to find a cure for his morning hangover, ordered "buttered toast, poached eggs, crisp bacon, and a hooker of hollandaise". Oscar Tschirky, the maître d'hôtel, was so impressed with the dish that he put it on the breakfast and luncheon menus but substituted ham for the bacon and a toasted English muffin for the toast.
A later claim to the creation of eggs Benedict was circuitously made by Edward P. Montgomery on behalf of Commodore E. C. Benedict. In 1967 Montgomery wrote a letter to then The New York Times food columnist Craig Claiborne which included a recipe he said he had received through his uncle, a friend of the commodore. Commodore Benedict's recipe—by way of Montgomery—varies greatly from Ranhofer's version, particularly in the hollandaise sauce preparation—calling for the addition of a "hot, hard-cooked egg and ham mixture".
9. Omelet egg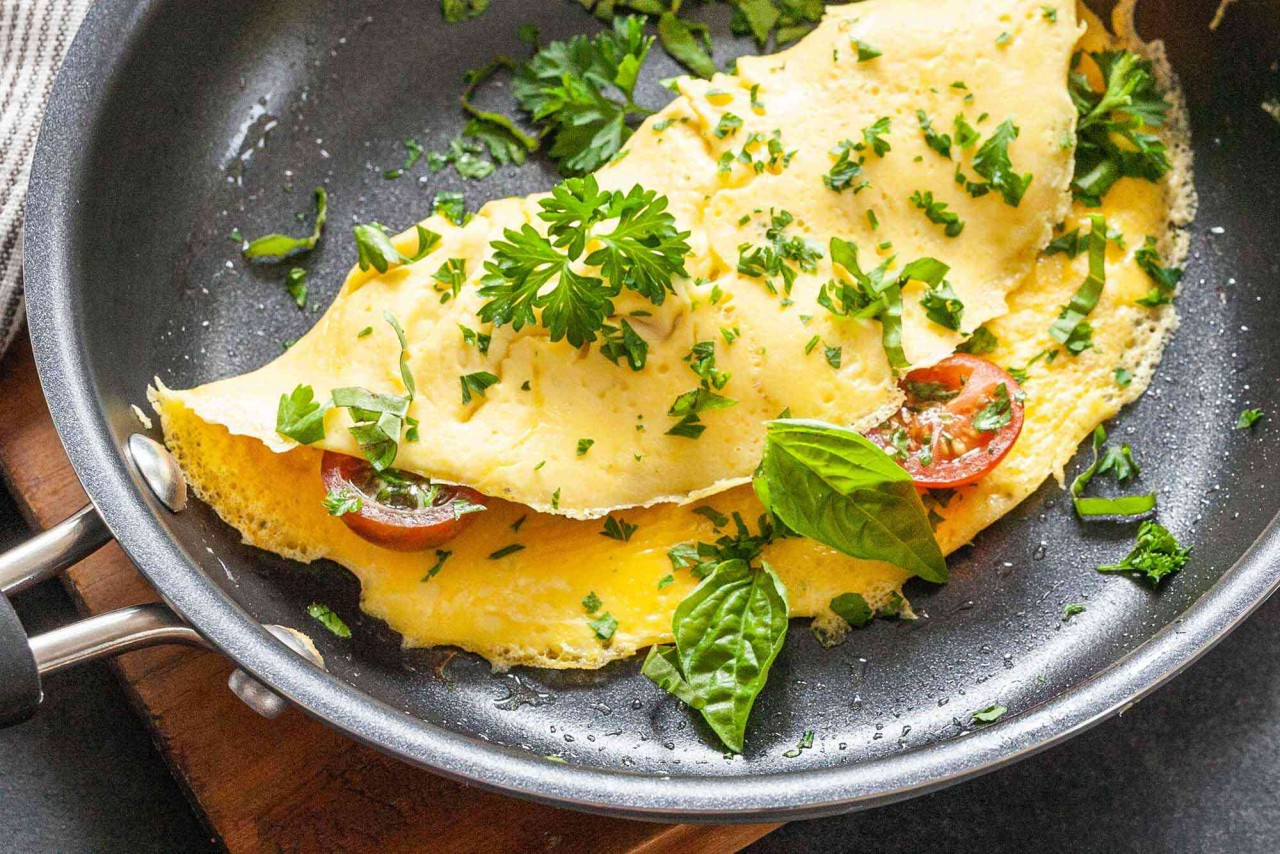 Photo: Simply Recipes
In cuisine, an omelette or omelet is a dish made from beaten eggs, fried with butter or oil in a frying pan (without stirring as in scrambled egg). It is quite common for the omelette to be folded around fillings such as chives, vegetables, mushrooms, meat (often ham or bacon), cheese, or some combination of the above. Whole eggs or egg whites are often beaten with a small amount of milk, cream, or water.
The earliest omelettes are believed to have originated in ancient Persia. According to Breakfast: A History, they were "nearly indistinguishable" from the Iranian dish kookoo sabzi.
According to Alan Davidson, the French word omelette came into use during the mid-16th century, but the versions alumelle and alumete are employed by the Ménagier de Paris in 1393. Rabelais mentions an homelaicte d'oeufs, Olivier de Serres an amelette, François Pierre La Varenne's Le cuisinier françois (1651) has aumelette, and the modern omelette appears in Cuisine bourgeoise.
According to the founding legend of the annual giant Easter omelette of Bessières, Haute-Garonne, when Napoleon Bonaparte and his army were traveling through southern France, they decided to rest for the night near the town of Bessières. Napoleon feasted on an omelette prepared by a local innkeeper, and thought it was a culinary delight. He then ordered the townspeople to gather all the eggs in the village and to prepare a huge omelette for his army the next day.
Alexander Dumas discusses several variations of omelet in his Grand dictionnaire de cuisine. One is an omelet with fresh herbs (parsley, chives and tarragon), another is a variation with mushrooms that Dumas says may be adapted using green peas, asparagus, spinach, sorrel or varieties of truffles. The "kirsch omelet" (or rum omelet) is a sweet omelet made with sugar and liquor, either kirsh or rum. The omelet is rolled and sprinkled with powdered sugar. A hot poker is used to burn a design into the omelet and it is served with a sweet sauce made of liquor and apricot jam. Another sweet omelet, attributed to a royal cook of Prussia, is made with apples and brown sugar glaze. Of the Arabian omelet, Dumas writes "I have been concerned in this book to give the recipes of peoples who have no true cuisine. Here, for example, is a recipe the Bey's cook was good enough to give me." The omelet itself is made with an ostrich egg and served with a spicy tomato-pepper sauce.