How the wealth of top Vietnamese billionaires fluctuates in a year
Tran Dinh Long, the Chairman of Hoa Phat Corporation, Vietnam's biggest steel maker is the fastest-growing Vietnamese billionaire in 2020 with more than $ 1 billion.
On Forbes magazine's 2020 list of the world's richest people, Vietnam has 5 billionaires including Pham Nhat Vuong, owner of Vietnam's biggest real estate conglomerate Vingroup ($ 7.6 billion), CEO of budget carrier Vietjet Air Nguyen Thi Phuong Thao ($ 2.7 billion), chairman of Truong Hai Auto Corporation (Thaco) Tran Ba Duong ($ 1.7 billion), chairman of Techcombank Ho Hung Anh ($ 1.4 billion) and Masan Chairman Nguyen Dang Quang ($ 1 billion).
Since Covid-19 pandemic appeared, the net worth of Vietnamese billionaires has changed drastically.
When Forbes announced the list of world billionaires at the beginning of April 2020, only four Vietnamese businessmen appeared because the property of Masan chairman was below the $ 1 billion mark. It was also the second consecutive year that Hoa Phat Chairman Tran Dinh Long is absent from the billionaire group.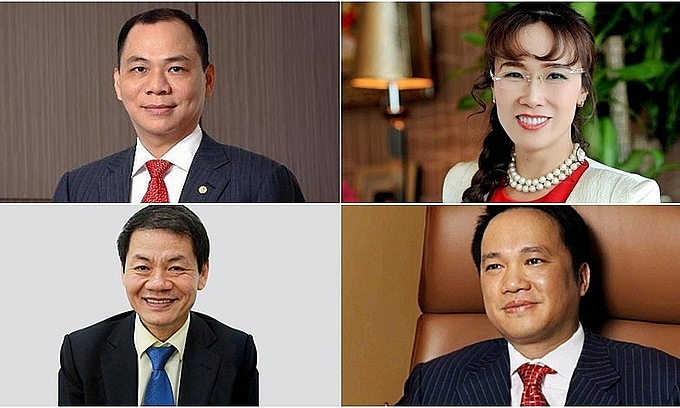 Pham Nhat Vuong (L, upper line), Nguyen Thi Phuong Thao, (R, upper line), Tran Ba Duong (L, lower line) and Ho Hung Anh. Photo by VnExpress.
At that time, the stock market had just plunged to the bottom at the end of March when investors sold off shares because of concerns about the Covid-19. Therefore, the asset value of Vietnamese giants also lost hundreds of millions of dollars.
Then, domestic stocks also started their impressive recovery. At the end of May, the two owners of Masan and Hoa Phat returned to the group of billionaires.
Closing the last session of 2020, VN-Index stopped at 1,104 points with an increase of nearly 70% after 9 months. Many Vietnamese billionaires have also gained hundreds of millions of dollars.
By the end of 2020, Vingroup Chairman Pham Nhat Vuong is still the richest person in Vietnam with 6.8 billion USD, far from the other group. Mr. Vuong's assets increased by 1.2 billion USD compared to the beginning of April but still lower than 7.6 billion USD at the end of 2019. He is ranked by Forbes as the 356th richest person in the world.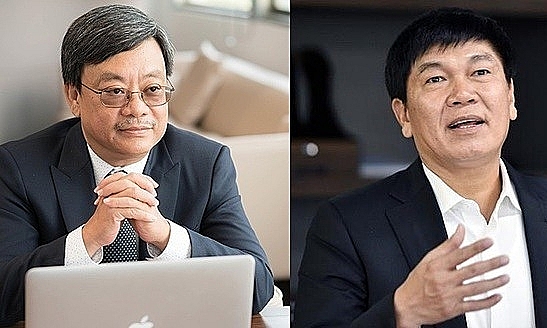 Masan Group founder Nguyen Dang Quang (L) and Hoa Phat steel tycoon Tran Dinh Long. Photo courtesy of Masan Group and Hoa Phat Group.
Standing in second place is Ms. Nguyen Thi Phuong Thao with 2.5 billion USD. The property value of Mrs. Thao is also lower than the same period last year, like Mr. Vuong. Shares of Vietjet and Vingroup have not yet recovered compared to the end of 2019.
Meanwhile, the year 2020 witnessed the impressive promotion of Hoa Phat President Tran Dinh Long in the list of Vietnamese billionaires. At the end of the year, Mr. Long's net worth reached a record of $ 2 billion. From the beginning of not being in the billionaire group, the owner of Hoa Phat became the third richest person in Vietnam when 2020 passed.
Mr. Long's net worth increased by more than 1 billion USD in the context of Hoa Phat shares which is one of the most impressive blue-chips with impressive growth last year. Hoa Phat shares closed in 2020 with an increase of 116% compared to the beginning of the year. Compared to the bottom at the end of March, this code increased by 213%.
Long founded Hoa Phat in Hanoi in 1992. The group currently manufactures office equipment, steel pipes and construction steel; and it is the biggest steelmaker in Vietnam.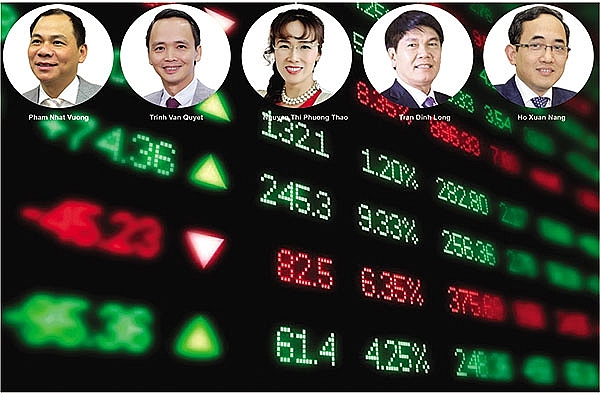 Photo: Vietnam Investment Review
Long, who entered the Forbes list of world's richest people for the first time in 2018, is one of the largest shareholders of the Hoa Phat Group with over 700 million shares, equivalent to more than 25 percent of its chartered capital, according to the group's management report.
The pair of Masan - Techcombank shares together with a breakthrough in the year-end period also helped the assets of Mr. Nguyen Dang Quang and Mr. Ho Hung Anh grow significantly. Although he lost third place on the ranking of richest people in Vietnam, Hung Anh's fortune still increased by 400 million USD after 1 year. The Masan Chairman's wealth has added by 500 million USD.
Quang made it to the Forbes list for the first time last year with a net worth of $1.3 billion. He founded Masan, a major producer of fish sauce and packaged foods, in 2004.
The last Vietnamese billionaire in the list, Mr. Tran Ba ​​Duong, did not record much volatility last year because Thaco was not listed on the stock exchange. Forbes currently values ​​Duong's assets at $ 1.5 billion, which is about $ 200 million lower than the same period.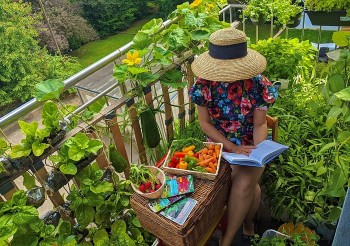 Overseas Vietnamese
An amaetur farmer, Chang Nguyen taught herself to build a small green space on her balcony.
Multimedia
In September, some isolated resorts in Sa Pa, Lao Cai Province and Hoa Binh Province have welcomed tourists with negative test results for Covid-19 within 72 hours.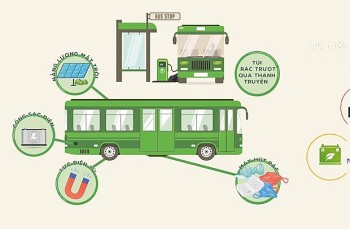 Viet's Home
Up to 800 initiatives on environmental protection have been submitted by Vietnamese youth to the British Council after only two months of launching.