Billionaire Jack Ma's Alibaba hit with antitrust probe
China kicked off an investigation into alleged monopolistic practices at Alibaba Group Holding Ltd. and summoned affiliate Ant Group Co. to a high-level meeting over financial regulations, escalating scrutiny over the twin pillars of billionaire Jack Ma's internet empire.
Alibaba facing probe, yet operations remain normal. (Photo: Getty)
Alibaba facing probe, yet operations remain normal
China's top market watchdog has begun a probe into Alibaba over alleged anti-competition practices at the e-commerce firm, the latest of Beijing's efforts to curb the country's ever-expanding internet titans. The probe announced Thursday marks the formal start of the Communist Party's crackdown on the crown jewel of Ma's sprawling dominion, spanning everything from e-commerce to logistics and social media. The pressure on Ma is central to a broader effort to rein in an increasingly influential internet sphere: Draft anti-monopoly rules released November gave the government wide latitude to restrain entrepreneurs who until recently enjoyed unusual freedom to expand their realms.
Once hailed as drivers of economic prosperity and symbols of the country's technological prowess, Alibaba and rivals like Tencent Holdings Ltd. face increasing pressure from regulators after amassing hundreds of millions of users and gaining influence over almost every aspect of daily life in China, said Bloomberg. The campaign against Alibaba and its peers got into high gear in November, after Ma famously attacked Chinese regulators in a public address for lagging the times. Market overseers subsequently suspended Ant's IPO -- the world's largest at $35 billion -- while the anti-monopoly watchdog threw markets into a tailspin shortly after with its draft legislation.
"Today, Alibaba Group has received notification from the State Administration for Market Regulation that an investigation has been initiated into the Company pursuant to the Anti-Monopoly Law. Alibaba will actively cooperate with the regulators on the investigation," Alibaba said in a statement. "Company business operations remain normal," TechCrunch quoted the company.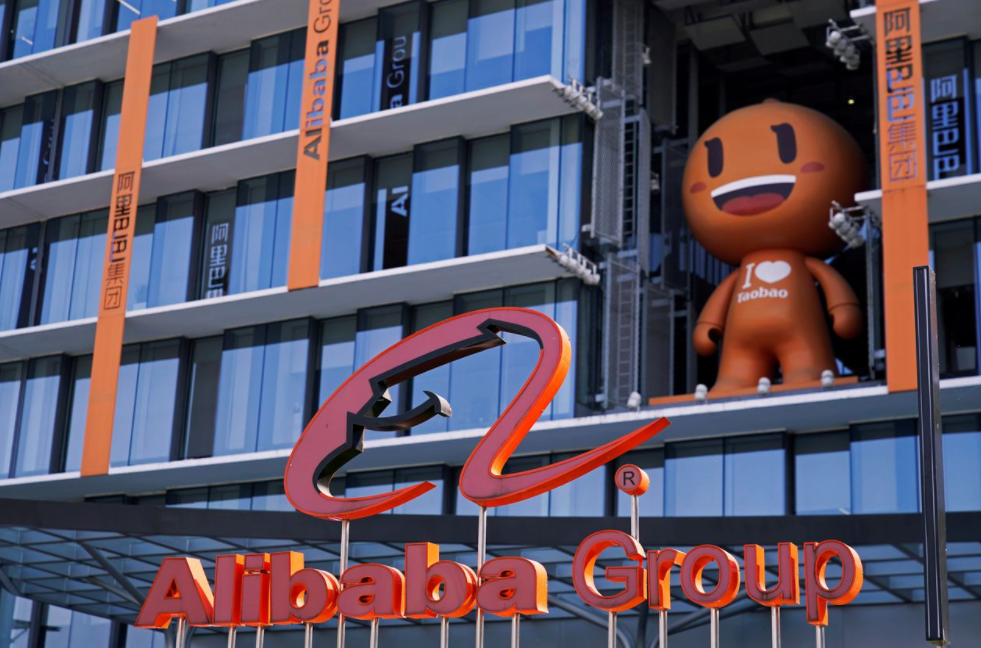 Alibaba's headquarters in Hangzhou, China, on Nov. 11. (Photo: Reuters)
Get pressure due to "too big to fail" state
In recent weeks, Chinese officials and regulators have also issued draft antitrust guidelines for internet platforms; cautioned that some companies could become "too big to fail"; and warned them not to engage in practices such as predatory pricing, abusing consumer data, or selling fraudulent products. Bocom International analyst Connie Gu said Alibaba's size in online retail made it a target. "Alibaba is the largest in the industry," Ms. Gu said, and officials "would start reining in the biggest first."
Bruce Pang, head of macro and strategy research at China Renaissance Securities, said Beijing was wary of large internet companies profiting at the expense of smaller businesses, or misusing their vast troves of user data, according to Wall Street Journal. Mr. Pang said a tougher economic backdrop also informed official actions, as did China's push to become more self-reliant economically—and to improve conditions for brick-and-mortar companies.
The anti-monopoly rules now threaten to upset that status quo with a range of potential outcomes, from a benign scenario of fines to a breakup of industry leaders. Some analysts predict there's a crackdown coming, but a targeted one. They point to language in the regulations that suggest a heavy focus on online commerce, from forced exclusive arrangements with merchants known as "Pick One of Two" to algorithm-based prices favoring new users. The regulations specifically warn against selling at below-cost to weed out rivals. But Beijing's diverse agencies appear to be coordinating their efforts -- a bad sign for the internet sector.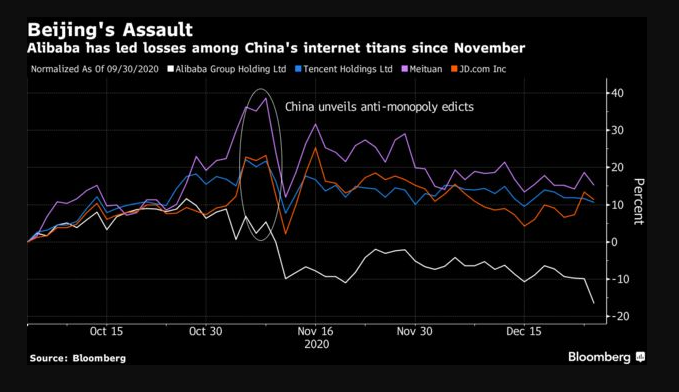 Alibaba slid 8% in Hong Kong to a five-month trough Thursday. (Photo: Bloomberg)
Firsthand influence on China's giant group
As of Wednesday's close, Alibaba's market value stood at $694 billion, according to FactSet. The company, which also has American depositary receipts that trade in New York, is the worst-performing constituent of the 10-stock NYSE Fang+ index this year.
After Thursday's fall, Alibaba's Hong Kong stock is now up 10% for the year. Gains for other FANG+ constituents range from a 29% rise for Google owner Alphabet Inc. to a near-eightfold increase surge at Tesla Inc. in the year through Wednesday. It has also been beaten by local peers like Meituan, the operator of a popular multipurpose app in China, and e-commerce rival JD.com Inc. Meituan's Hong Kong stock and JD.com's ADRs in New York have more than doubled this year, according to Wall Street Journal.