Hue's Specialty Cake is a Rare Vietnamese Treat
This cake is not sold in many places. If you want to taste it, you have to go to certain shops.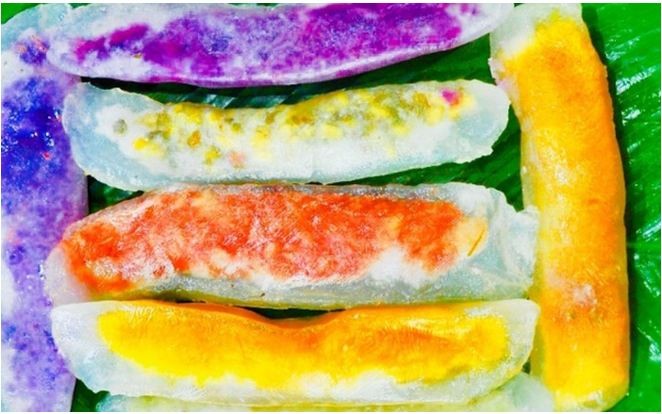 Hue's Phat cake. Source: Thua Thien Hue newspaper
Hue cuisine is so diverse that there are many types of cakes that are now lost or are no longer known to many people. Phat cake is one of city's most delectable dishes. This strangely named cake is now sold in few places in Hue city in the central province of Thua Thien-Hue.
Hue's Phat cake has an outer shell made from tapioca flour, the filling consists of vegetables, a little bit of boiled meat or cha (steamed pork sausage). When eating, it will be served with lemon garlic chili sauce and raw vegetables. This dish is quite similar to banh cuon (Vietnamese steamed rice rolls), but if you taste it, you will find it completely different.
In the past, Phat cake was a snack for people when they missed meals, it also often appeared during Tet (Lunar New Year) holidays in poor rural areas. Also because it has an eye-catching color and attractive taste.
Because it is a poor rural area, the most things in every household are vegetables. When it's in season, or when it's not sold in time, people have to think of ways to process fruits and vegetables so that they become easier to eat and switch up the weekly routine for the whole family. Mothers have come up with a cake with a chewy outer skin made of tapioca flour, and the filling is from sweet potatoes, purple potatoes, mung beans or pumpkins.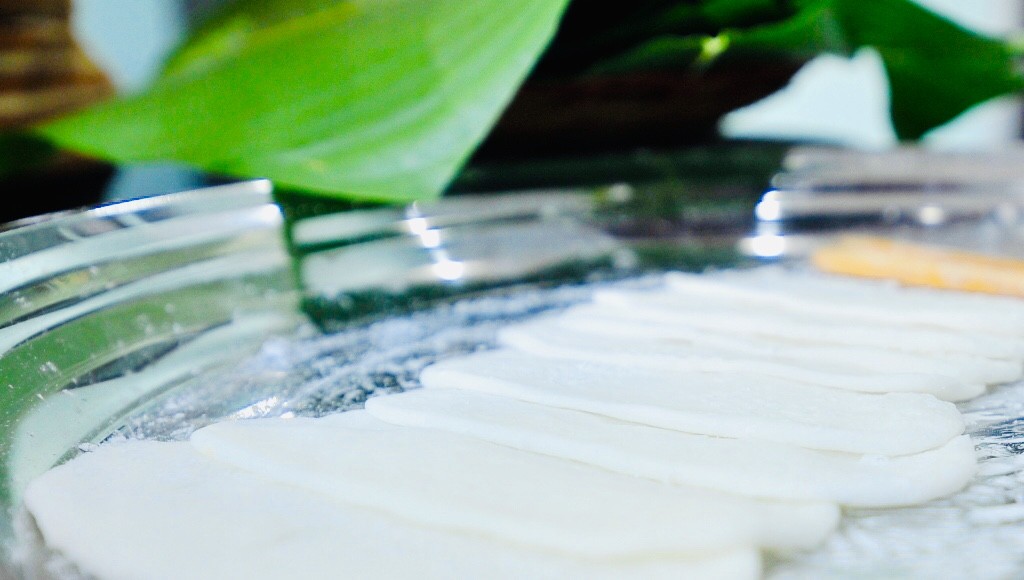 The dough, after kneading and boiling, is rolled into thin, long slices. Source: Thua Thien Hue newspaper
The reason this dish is called "Phat" is also because of the act of making the cake, instead of just putting the filling in and rolling it back, the maker will fold or flip it quickly, this movement is called in phat or hat, that's why this funny and unique name was born.
There are two types of filling for Phat cake, which are savory and sweet. Sweet-filling type are made from tapioca flour and vegetables such as sweet potatoes, mung beans, pumpkins, or purple potatoes. Thanks to such an eye-catching appearance, Phat cake used to become one of the royal appetizer in the past. Meanwhile, savory type has filling made from meat, fried pork fat, the Vietnamese equivalent of bacon bits, and served with cha (steamed pork sausage).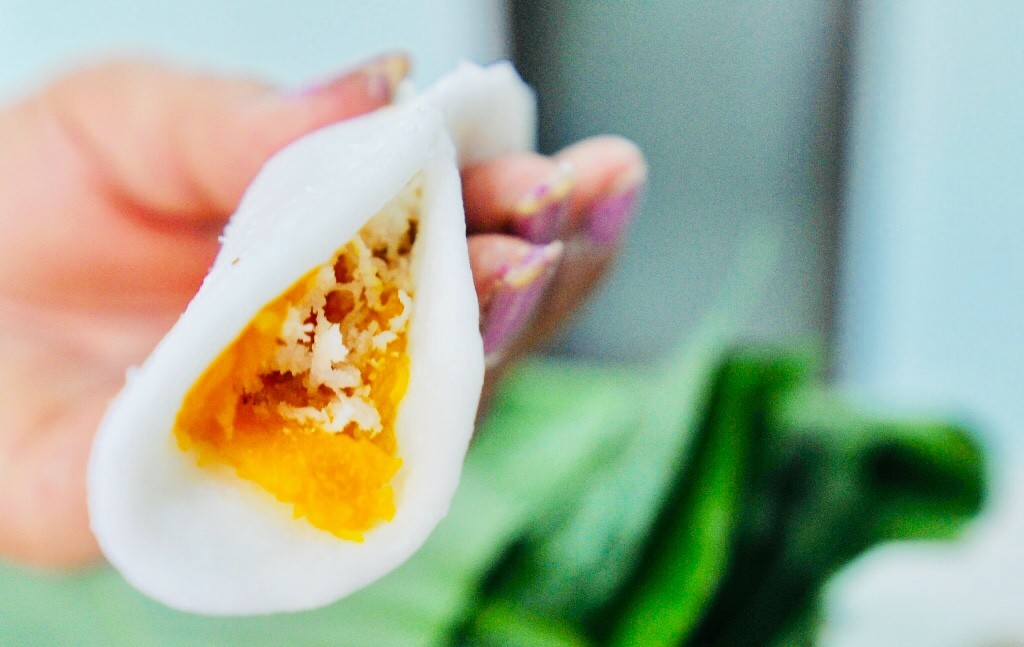 Source: Thua Thien Hue newspaper
The most important step when making this cake is the stage of making the outer skin. If you want the cake to be chewy and so clear that you can see through and keep it for a long time, you have to make the dough two days in advance. The ingredients for the filling are usually pumpkins, sweet potatoes, purple potatoes, mung beans, the vegetables are both sweet and fragrant yet give off beautiful natural colors. After stuffing, boiled, the dough is rolled into thin, long slices.
Then the squash, potatoes, beans is boiled or steamed, pureed and mixed with granulated sugar to make the filling. Depending on your creativity, you can use the juice from the malabar spinach's seeds to add more color to the cake. To make the cake more fragrant and sweeter, you can use dried shredded coconut sprinkled on the filling.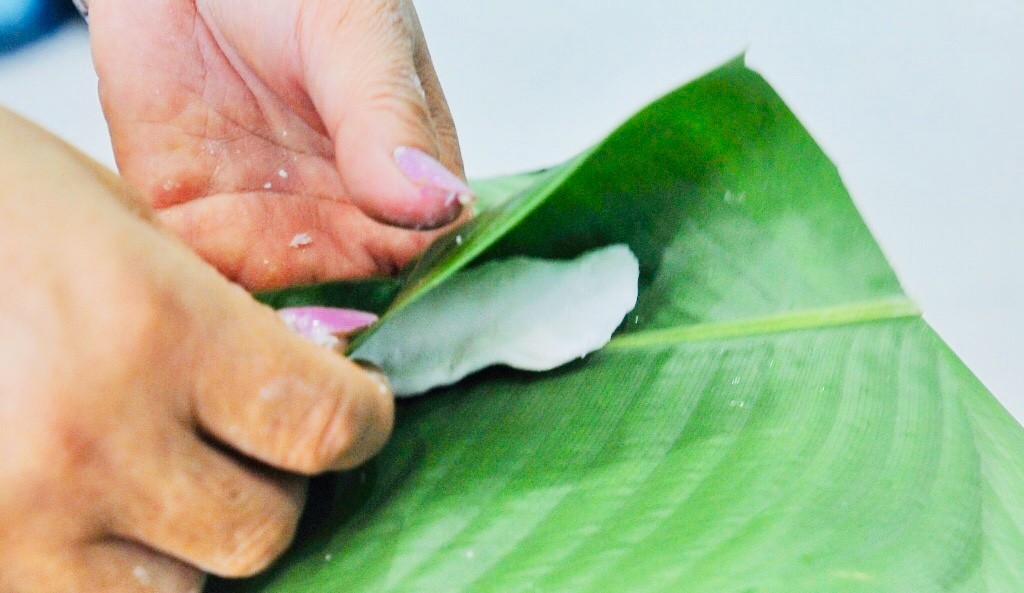 The cake is wrapped in dong leaves before steaming. Source: Thua Thien Hue newspaper
People wrap the cake with 'dong' leaves (Phrynium placentarium). The dong leaves will be washed, dried, peeled off the veins and then steamed for about 30 seconds to make the leaves softer and easier to pack. After wrapping, the cake will be steamed for about 20 minutes.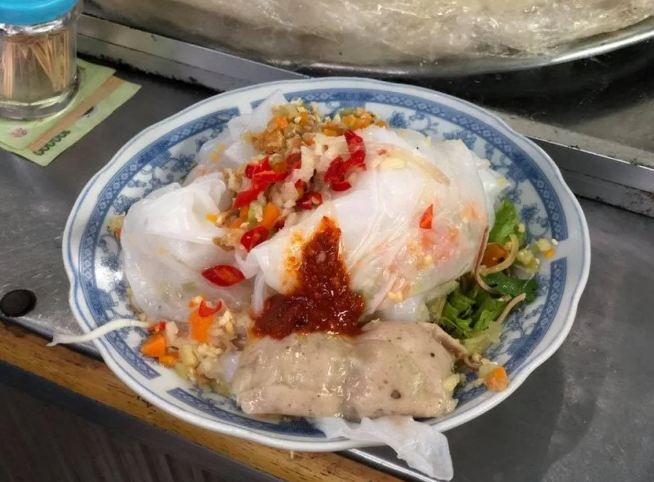 Savory Phat cake at Dong Ba market. Source: Soha
The soft, chewy, fragrant cakes with aromatic but not too sweet fillings will make eaters fall in love from the first time they enjoy them. Purple color of purple potato, yellow of pumpkin and sweet potato looks extremely delicious and attractive. The savory type is also extremely appealing, when eaten, it will remind you of banh cuon, but the skin is more supple.
In Hue today, Phat cake is no longer available for sale, if you want to taste the taste of age-old cakes, you can try it at Mrs. Toan's shop located at No.9 Ung Binh Street, Vy Da Ward, Hue City, or in Dong Ba market, there is also a shop selling the savory type.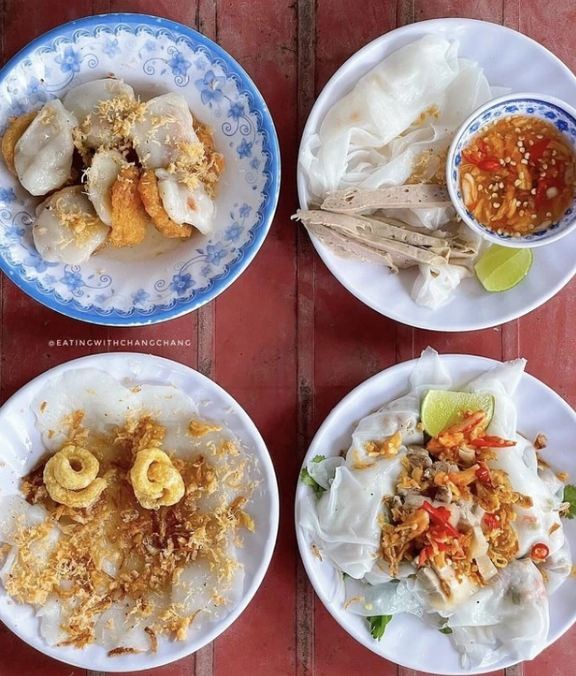 Banh Phat. Source: @eatingwithchangchang