Hunting for Out-of-Season Plum Blossoms in Moc Chau
For food lovers, Moc Chau (Son La province) is famous for dairy products, while travelholics crave the province's wild beauty in the plum blossom season.
Plum flowers in Moc Chau normally bloom in spring. However, due to this year's hot summer, the season comes a month earlier. Curious about the out-of-season plum flowers, photographers have flocked to the district over the past few weeks.
Pham Xuan Hoan, a tourist from Hanoi, came to Na Ka valley in early December. His homestay's owner guided him to a plum garden in Na Ka, where the white plum flowers had already covered the wild forest, even though the annual blooming season has not yet come.
"I have never seen such a beautiful plum garden," he said. "I am so fortunate to meet favorable weather to take a qualify photoset."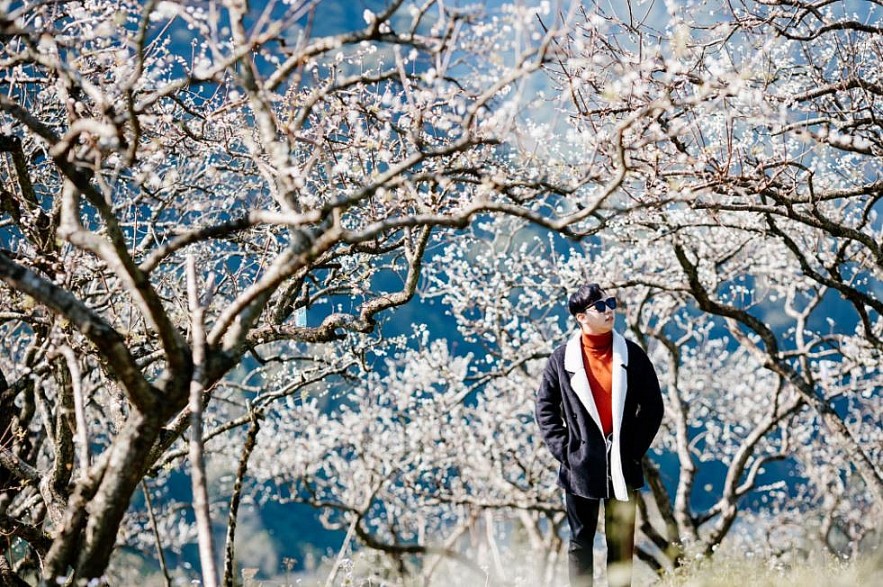 (Photo: VN Express)
Nguyen Hai Duong, a local photographer who took Hoan's photos, said that the location was an off-seasonal plum garden in Na Ka and would be in full bloom for about a week. Last week many tourists visited the garden because of the warm weather. Currently, Na Ka has many plum flower gardens due to the good care and weather.
(Photo: VN Express)
(Photo: VN Express)
Tips for "hunting" early plum blossom in Moc Chau
Pham Xuan Hoan came to Moc Chau on a sleeper bus whose one-way ticket was priced at VND 220.000 (US$9,5) per person. Besides buses, tourists can choose limousines or drive their own vehicles. Tourists from Hanoi should depart in the evening to arrive in Moc Chau the next morning. Hoan stayed in Moc Chau Cottage homestay, an airy space.
On the first day in Moc Chau, Hoan came to the plum garden in Na Ka as his homestay's owner suggested. Hoan said the best way to know which garden was in bloom was to ask the locals. After spending hours in the plum garden, he came to Thanh Binh persimmon garden and a tea hill. Persimmon fruits are in the ripe season as all the trees have already fallen off leaving only the deep orange fruits on the slim stems. However, due to the pandemic, the garden has been closed from Dec. 8. Tourists now can only admire persimmons fruits lie separately in several villages. After the lunch break, he visited the pine forest of Ang village and took pictures in the field of canola flowers on the way here. According to local people, canola flowers will reach full bloom in about two weeks.
On the second day, he visited Chieng Khoa waterfall, also known as the Cloud waterfall. Each tourist has to pay VND 25,000 (US$1,1) for the entrance ticket. Although it is not possible to swim in this season, visitors should still stop by to enjoy the wild beauty and fresh air. They should also visit the nearby camping area to try the local sticky rice and chicken, he said.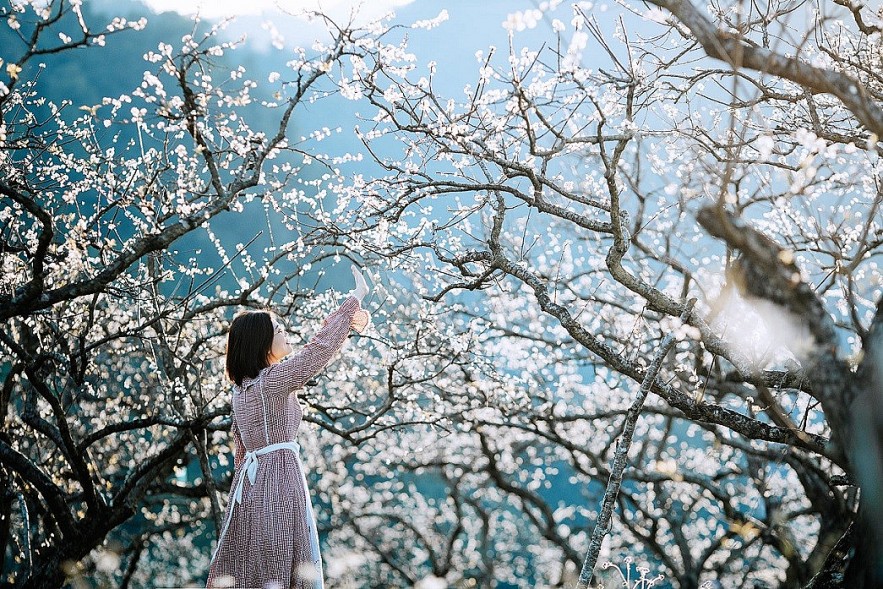 (Photo: VN Express)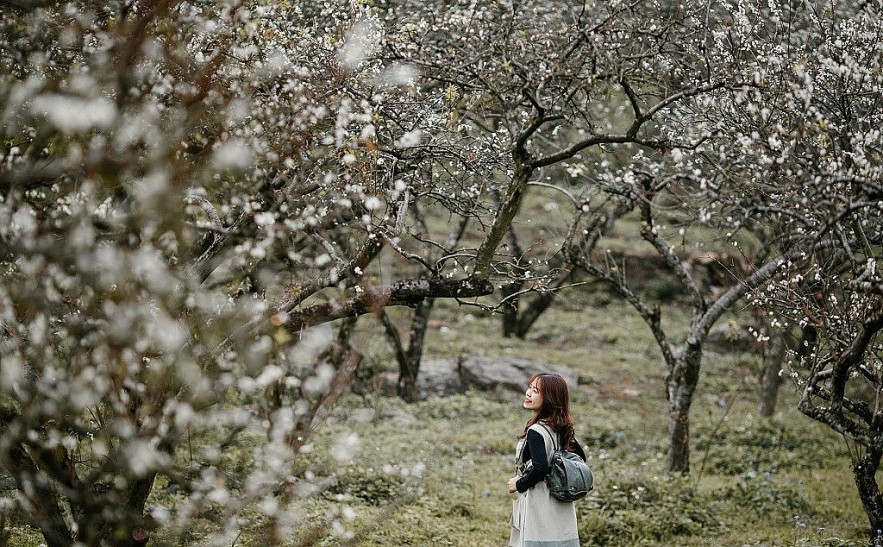 (Photo: VN Express)
Hoan then went to take pictures at the S-shaped street in Long Luong commune, Van Ho district, very close to Moc Chau. The road is surrounded by mountains, so it is often chosen by the backpackers as a destination to take check-in photos. In the afternoon, he finished the trip and returned to Hanoi. Hoan spent VND 2,000,000 (US$87) for the trip.
According to Hoan, the weather in Moc Chau this season is chill and foggy, especially early in the morning and at night. However, the afternoon is sunny and warm. Visitors should bring warm clothes with them to enjoy the trip.
In the "official" plum blossom season, which comes in January and February, in addition to Na Ka, visitors can take photos near the pine forest of Ang village, Long Sap border gate, and Pa Phach valley.
Hoan recommended several homestays, such as Le Chalet Dulac (in Po Pip village), The Nordic Village (in Hua Tat village and Van Ho village), Moc Chau Retreat (in Chieng Di village). They should try local dishes such as hill chicken, steamed fish, hot pot.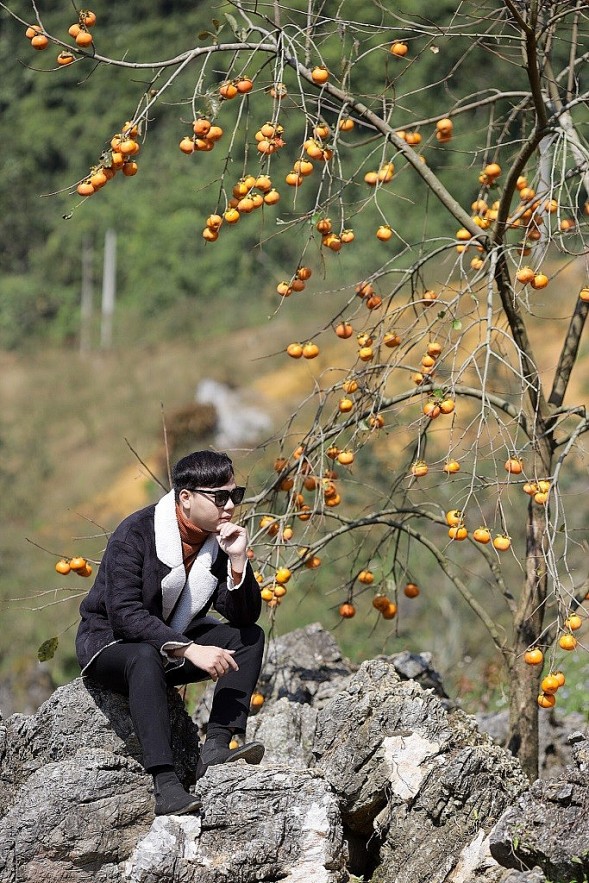 (Photo: VN Express)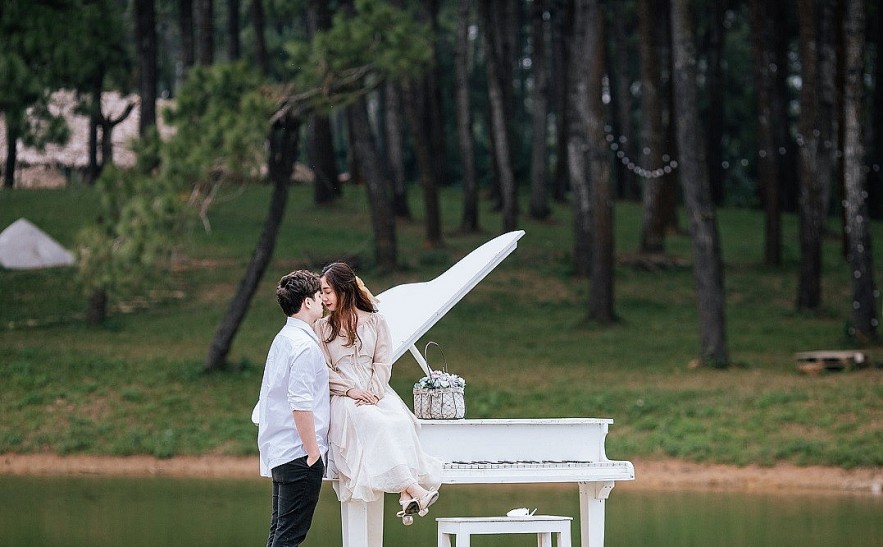 (Photo: VN Express)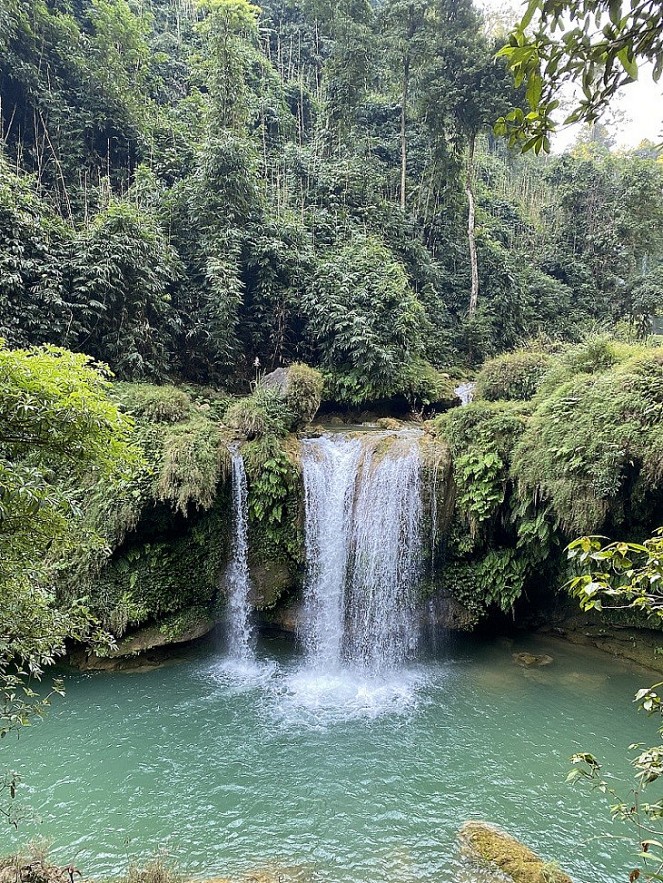 (Photo: VN Express)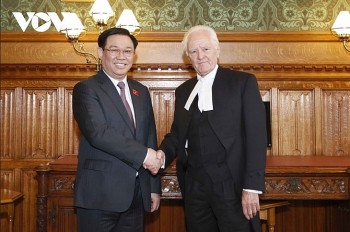 Friendship
Vietnam is willing to create all favourable conditions for investors of the UK to operate in the Southeast Asian country, National Assembly (NA) Chairman Vuong Dinh Hue told UK Secretary of State for International Trade Anne-Marie Trevelyan during their meeting on June 29 (UK time).