"I Have Visited 90 Countries and Am Just Getting Started"
At 40 most of us prefer to settle down. But one Vietnamese has chosen to fully embrace the life of a world traveller.
Thuy Anh in Entim Camp, Kenya. Photo: Vnexpress
With fierce silver hair waving in the wind, Viet traveler Thuy Anh looks off in the distance, enjoying the view of the safari of the Masai Mara National Reserve, Kenya. It was her very first wildlife encounter.
Meet Thuy Anh, who has been to six continents, 87 countries and is only getting started.
Childhood dream versus reality
Anh's childhood dream was to travel the world. Her family wasn't wealthy and everyone told her it was such a big dream for a little girl. But that didn't stop her. Anh tried her best to learn English with nothing but old tapes of English lessons.
In her 20s, she left Vietnam to study abroad in the US. This was the trip that changed her life. Around freshman year in college her savings from part-time jobs, Anh took a trip to Germany to see her father.
She had no cellphone back then, and Anh and her father thought they couldn't meet because Anh didn't make it to the train.
She was clueless about how long security check would take and she missed her train.
That was one of the most unforgettable experiences in Anh's life. She was young and unprepared at the time, and her trip was right after the 9/11 attacks.
Her first solo trip abroad was to meet her father in Germany. Photo: VNExpress
Anh researched carefully before every trip, including every detail, such as getting visas, packing, budgeting and customs, etc.
Wealthy Beyond Compare
When travelling, she often goes along with her sister and friends, and some of her favorite places include Machu Picchu in the Andes, Cappadocia in Turkey and the Ancient Egypt Pyramid.
Paris in France is her all time favorite destination, which she's been to many times.
Thuy Anh in Cappadocia, Turkey. Photo: VNexpress
Anh took her longest trip in early 2020, right before Covid-19 hit. She considered herself very lucky. For around 10 weeks she travelled to seven countries: France, Morocco, Qatar, Arab Saudi, Maldives, Bulgaria and Oman.
Travel has made her rich in knowledge, which is the best kind of wealth in Anh's opinion.
She believes that travelling changes people's preconceived notions about one another, citing stereotypes she once had as an example.
Anh knew Egypt and the people from what she saw on TV, as very serious and cold people. However, she travelled to the country and was surprised by how cheerful and friendly everyone was.
Anh doesn't miss the chance to take photos, showcasing every colorful moment from her travels to friends and family: feasting in the underwater restaurant the Maldives, looking out at the sacred estate in Machu Picchu, and visiting The Kingdom Center Riyadh in Saudi Arabia.
Thuy Anh in Oia, Santorini. Photo: Vnexpress
Thuy Anh in Oia, Santorini. Photo: Vnexpress
Life is short, life is precious
Thuy Anh in Maldives. Photo: Vnexpress
It's been 15 years since her first trip and her goal is to keep on discovering new places.
Anh loves the feeling of being part of the landscape and having profound encounters with nature and the people in their own land.
Thuy Anh in the Sahara Desert. Photo: Vnexpress
Nighttime by the fire at the desert with the locals. Photo: Vnexpress
"Every place has its own history and its own culture, its own food, its own language. Traveling helps us broaden our perspectives and have respect for other people," Anh said.
She understands that this lifestyle is not for everyone. Some prefer to get married and settle down. But Anh, now in her 40s and still unattached, fully embraces the single life because life is short and precious.
I must work hard to afford my trips since I don't accept sponsorship from any brand, Anh said.
Thuy Anh has been running a beauty spa in Dallas, Texas, US for many years. She has a lot of experience on how to get cheap flights or how to book good accommodation.
Thuy Anh in Maldives. Photo: Vnexpress
Recently, Anh started writing blog posts and taking pictures for social media, and wants to give advice on travel, budgets, travel destinations and health guidelines. But overall, Anh hopes her story can inspire others on their own journeys.
Thuy Anh in Oia, Santorini. Photo: Vnexpress
Vietnam for the solo female traveller

Women are travelling alone more than ever, as a result of more flexible working patterns, greater spending power and an increasingly accessible world out there ...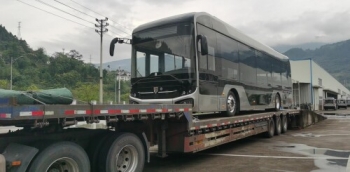 Economy
Ev Dynamics (Holdings) Limited is a pioneer and a prominent player in China's new energy commercial vehicles market, as well as a whole-vehicle manufacturer of specialty passenger vehicles and new energy passenger vehicles.