I'm No Hero: First Vietnamese to Win Exceptional Bravery Award
The first Vietnamese to receive the Exceptional Bravery at Sea award for risking his life to save people from rough seas says it was a job he signed up for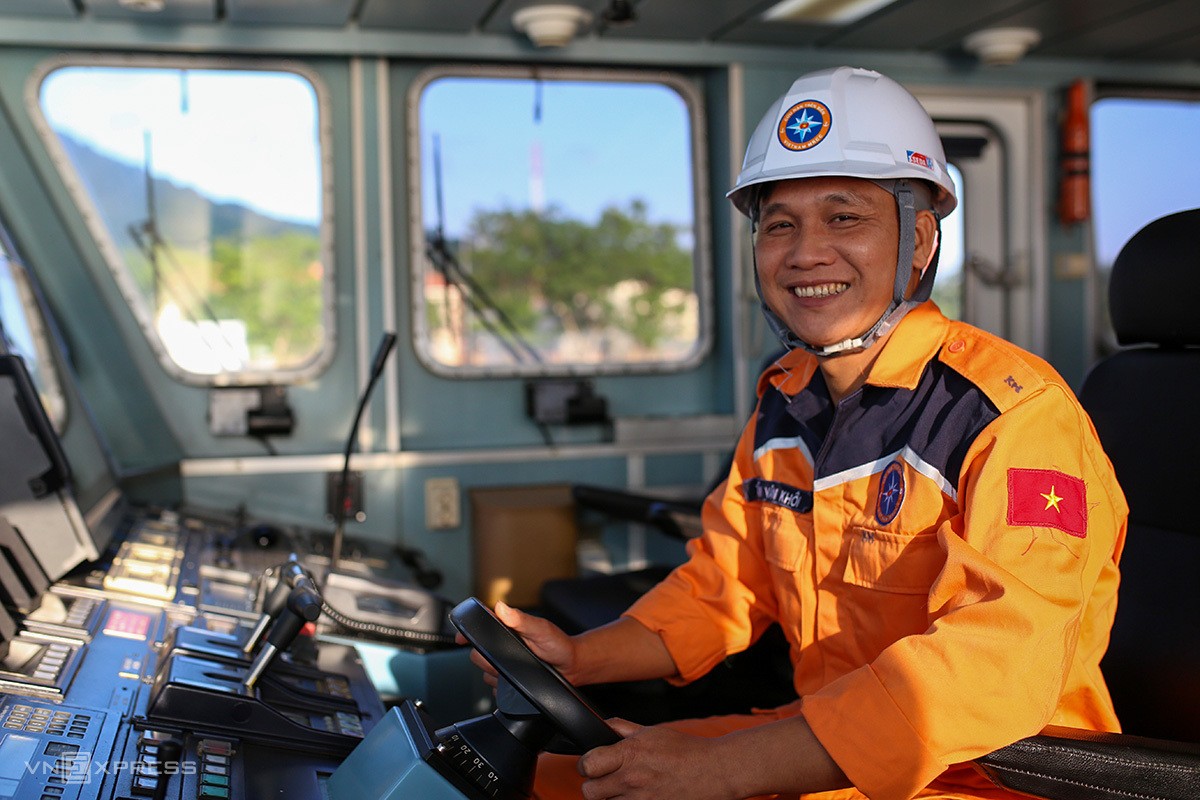 Tran Van Khoi works at Regional Maritime Search and Rescue Coordination Center No.2 in central Da Nang City, December 2021. Photo: VNE
It was also a humanitarian act and others would have done the same, said Tran Van Khoi, a member of Regional Maritime Search and Rescue Coordination Center No.2 in central Da Nang City under the Vietnam Maritime Administration, VNE reported.
The International Maritime Organization (IMO) awarded last week its 2021 Award for Exceptional Bravery at Sea to Khoi, making him the first Vietnamese citizen ever to be honored with the award.
"I'm really proud," Khoi said on the day he was supposed to receive the award in person in England. Because of Covid-19, the event was held virtually.
As reported by VNA, a short video showing he and his colleagues braved extreme weather and heavy seas to rescue four sailors in the sunken cargo vessel Vietship 01 was screened at the event held at the IMO headquarters in London. IMO Secretary-General Kitack Lim spoke highly of Khoi's acts which helped save many lives during the incident off Quang Tri waters in October.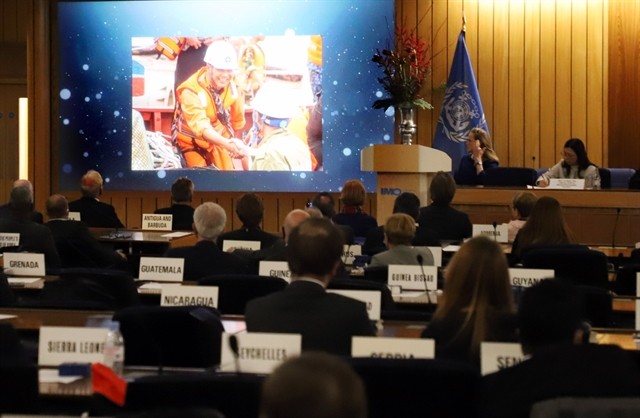 Delegates watch a short video on Khoi's brave acts, at the event. Photo: VNA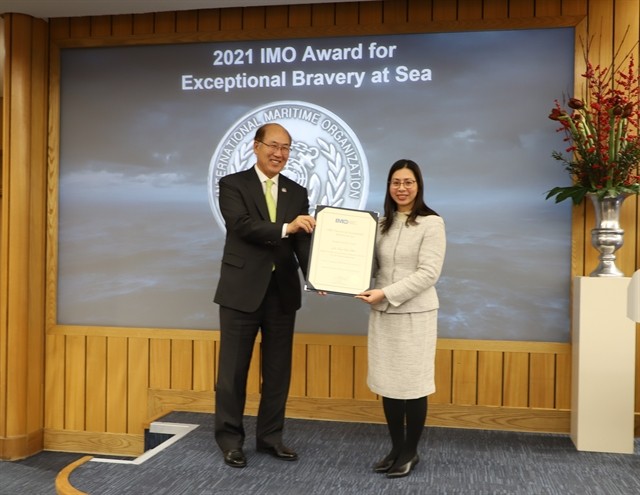 Charge d'Affaires of Vietnam to the UK To Minh Thu, on behalf of Tran Van Khoi, receives the awards granted by IMO Secretary-General Kitack Lim at the event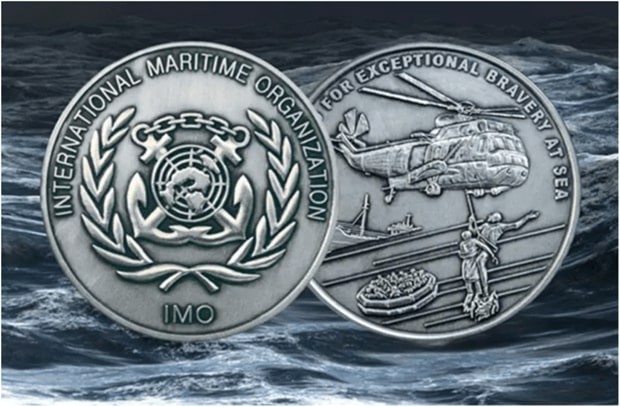 (Photo: Vietnam Maritime Administration)
Khoi, 41, grew up in a remote commune in the central province of Ha Tinh and spent his childhood swimming in the local river, giving him strong swimming and diving skills that are highly valued by his colleagues.
Although he has joined hundreds of rescue missions at sea for 15 years, none has left him as many unforgettable memories as the one that happened last October, which had also resulted in his being nominated for the award.
The incident lasted three days starting Oct. 8, 2020, when cargo vessel Vietship 01 of a Hanoi-based logistics firm was swept away as it was docking at the Cua Viet Port in Quang Tri Province by typhoon Linfa's wind gusts.
The vessel sank in shallow waters, leaving 12 crew members trapped on the roof of the cabin. Several rescue units were deployed immediately, but a rescue plan was not viable because of severe weather conditions with heavy rains, strong winds and very rough seas.
Early morning the next day, Khoi and his team were sent to the area. When he saw two crew members being washed off by strong waves into the sea, he tied a rope to his body and swam through five-meter waves and strong currents, rescuing both.
"They would be exhausted in trying the swim to the shore, I had to save them immediately," he said, recalling his thoughts at the moment.
In the afternoon, two more crew members of Vietship 01 fell into the water and were fortunately tossed ashore by the waves.
In deteriorating weather on Oct. 10, a fishing vessel of local people tried to approach the cargo ship but sank before reaching it. One fisherman was swept ashore by rough waves but three others had no other option but to climb to the Vietship 01 for safety, which resulted in more people being stranded on it.
That afternoon, Khoi volunteered to try a new approach on another fishing vessel – connecting the sunken ship to the shore using guns that shoot wires. However, the rough sea conditions prevented this rescue attempt as well. When two crew members jumped into the water, Khoi risked his life again, swimming through raging waves to help them board the fishing vessel. Together, they returned to shore safely.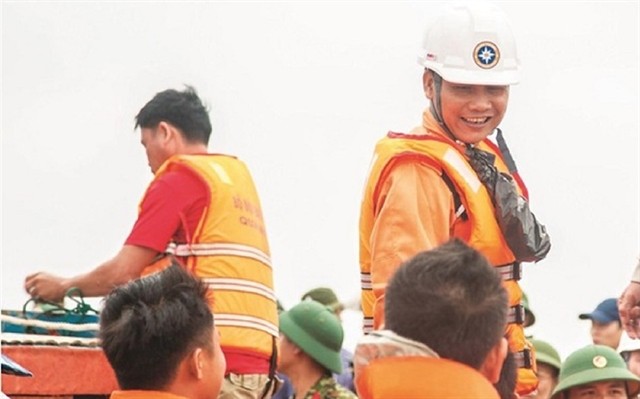 Photo: Cong Doan Giao Thong Van Tai
Later that day, Khoi volunteered once again to steer a rib coach boat in the fierce seas. The boat nearly overturned after its engine stopped working due to significant flooding. Khoi and his crew quickly fixed the engine problem and continued trying to approach the Vietship 01, but their efforts were in vain.
As it was turning dark, they were ordered to return to the shore.
On the morning of October 11, a fisherman and a crew member jumped into the water and battled their way back through the rough seas and strong waves. Two teams of rescuers rushed to deliver them safely to shore.
The same day, a military helicopter was sent to the scene to rescue the remaining six crew members stuck on the vessel.
Two days after he was rescued, however, ship captain Nguyen Van Bao, 51, passed away due to multiple organ failure and sepsis.
Many videos and photos of Khoi's actions were captured by local people, photographers and the Regional Maritime Search and Rescue Coordination Centre No.2. These were submitted to the IMO, which gathered a total of 37 nominations this year.
Khoi's eyes moistened as he recalled the events.
"I feel like it was just yesterday. I don't think of me as a hero. This is the job that I choose to do."
His wife sulked for a while after he returned home from the mission, upset that he could have left their three children fatherless.
Explaining why he dared to risk his life in such a dangerous situation, Khoi said he was not the only one. There were other rescuers and fishermen not related to anyone stranded on the Vietship 01 vessel who'd been willing to do what he did.
"It is just humanity that motivates us."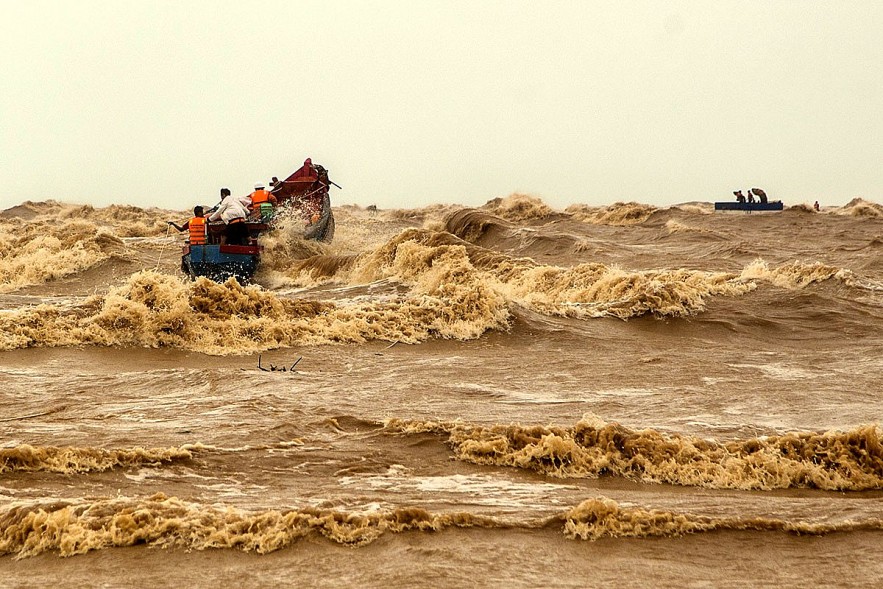 Tran Van Khoi is at the front of a fishing boat with local fishermen during an attempt to rescue stranded crew members of the Vietship 01 vessel on October 10, 2020. Photo: VNE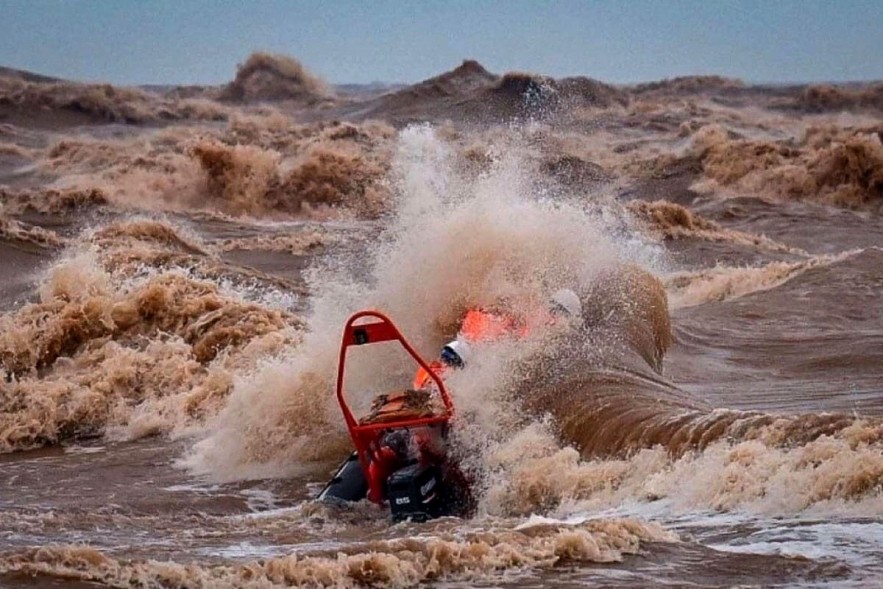 Strong waves hit a rib coach boat as Khoi and his crew try to approach the location of a sunken ship on October 10, 2020. Photo by the Regional Maritime Search and Rescue Coordination Center No.2/ via VNE
International Maritime Organization (IMO) is an annual award is to provide international recognition for those who, at the risk of losing their own life, perform acts of exceptional bravery, displaying outstanding courage in attempting to save life at sea or in attempting to prevent or mitigate damage to the marine environment, as reported by VNA.
Prior to the award ceremony, the IMO Secretary-General Kitack Lim received Charge d'Affaires of Vietnam to the UK To Minh Thu, during which the former hoped that Vietnam will continue to introduce nominations to the award in upcoming years.
Vietnam holds huge potential in maritime development thanks to its long coastline, he said, affirming that the IMO is willing to cooperate and support Vietnam in the field.
For her part, Thu pledged that Vietnam highly valued maritime economy development at large and the maritime industry in particular, and stands ready to partner with regional countries in the field, particularly in search and rescue.
Vietnam is to run for membership in Category (c) of the IMO Council in 2023, she said, hoping that Lim will show his support for the country's effort.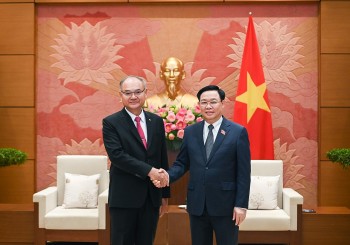 National
A Thai delegation is visiting Vietnam to learn about the guidelines and policies in the fight against corruption in Vietnam; exchange experiences with relevant Vietnamese agencies.