Japan, UNICEF to Help Vietnam Enhance Resilience to Disaster Risks for Children
The exchange of notes was inked by Japanese Ambassador Takio Yamada and UNICEF Representative in Vietnam Rana Flowers in the presence of Vietnamese Deputy Minister of Agriculture and Rural Development Nguyen Hoang Hiep.
The Embassy of Japan and UNICEF Vietnam on November 17 signed an exchange of notes for a project on "enhancing resilience to disaster risks and climate change for children", which runs in Vietnam from 2021 – 2026.
The US$5.7-million-project aims to build institutional capacity to support child-centered and climate-sensitive activities through policy advocacy to access 27,000 children under 18 in central Vietnam and the Mekong Delta, especially Soc Trang, Ca Mau, and Bac Lieu provinces.
Speaking at the event, Hiep thanked the Japanese Government and UNICEF for supporting risk reduction and other fields, including nutrition, healthcare, education and clean water supply, to meet basic needs of people in natural disaster-prone areas.It will also improve water and sanitation services and conduct screening for severe acute malnutrition to make timely interventions in 2025.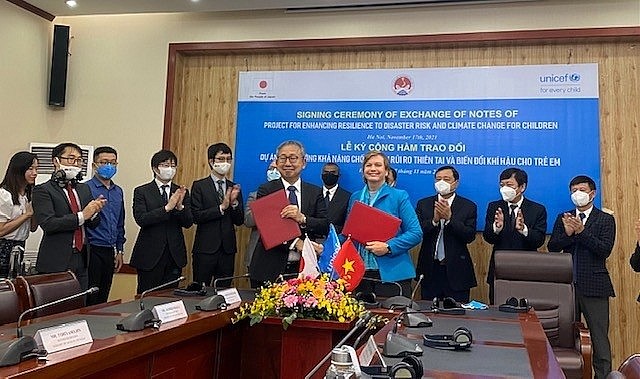 The signing ceremony of the exchange note "Project on strengthening children's resilience to disaster risks and climate change" - Photo: VGP/Do Huong
The signing of the document marked an important milestone in the close partnership among the Governments of Vietnam and Japan and UNICEF, he said.
Additionally, the project does not only consider children as a vulnerable group but also an agent of change for a green, clean and safe community.
The EU grant via the WARM Facility will be used to provide technical assistance to the project.
The support will build local stakeholders' capacity in project implementation and multi-disaster risk management.
The capacity-building exercise will include hazard and vulnerability mapping and promoting integrated urban development strategies.
The project will also provide local authorities with a better decision-making tool through hydrological data analysis and development of a hydrological and hydraulic model of the Nam Rom River system.
The support includes a loan of 24.65 million euros from AFD for infrastructure development and a 1.5 million euro grant (non-refundable aid) for technical assistance through the Water and Natural Resources Management Facility (WARM) funded by the EU, according to a press release from the French Embassy in Hanoi.Two financing agreements were signed by Bertrand Walckenaer, Deputy General Director of the French Development Agency (AFD), and Dinh Toan Thang, Ambassador of Vietnam to France, in Paris on the occasion of the Vietnamese Prime Minister Pham Minh Chinh's official visit.
"It will help address challenges and support the resilience of this city of 150,000 inhabitants," the release said.
In January, the UNFPA provided $180,000 in flood relief to elderly Vietnamese.
In particular, over 3,700 UNFPA Dignity Kits worth $180,000 were provided to the elderly in central Vietnam following a series of storms and tropical depressions that hit the region last year.
Early this year, over $28,000 were collected from over 110 Americans in a charity drive for flood relief in central Vietnam.
The campaign was organized by Ron Haeberle, the American photographer best known for capturing the My Lai Massacre in 1968, with assistance from Chuck Searcy, co-founder of Project RENEW, an organization that deals with unexploded ordnance left from the Vietnam War.
According to the UNICE Children's Climate Risk Index 2021, Vietnamese children and adolescents are at the highest risk of being affected by climate change.
In early November, the European Union and France also agreed to fund 26.1 million euros ($30.3 million) to enhance flood risk management capacity of Dien Bien Phu Town in Vietn
Hiep further noted that his ministry hopes the Government of Japan and UNICEF will continue sharing experience and promoting Public-Private Partnership (PPP) in enhancing the resilience of natural disaster response projects and management system.
He also expected Japan and UNICEF to put forward recommendations for Vietnam, carry out behaviour-change campaigns, and enhance awareness of people and policymakers in disaster risk reduction in order to build a disaster-resilient society.
Flowers, for her part, said the climate crisis is a crisis of children's rights. Vietnam is facing climate change-related disasters, like drought and saltwater intrusion in the Mekong Delta, as well as historic floods and landslides in central Vietnam last year, she said.
Many communities already hit by natural disasters are suffering adverse impacts from the COVID-19 pandemic, she noted, adding that the project will address vulnerable issues in multiple areas, namely clean water, sanitation, nutrition, education and children's protection.