In Photos: Young Vietnamese Help Refugees on Ukraine Border
During the past 2 months, along the border of Ukraine, Vietnamese youth union members and students have provided invaluable help for people in need.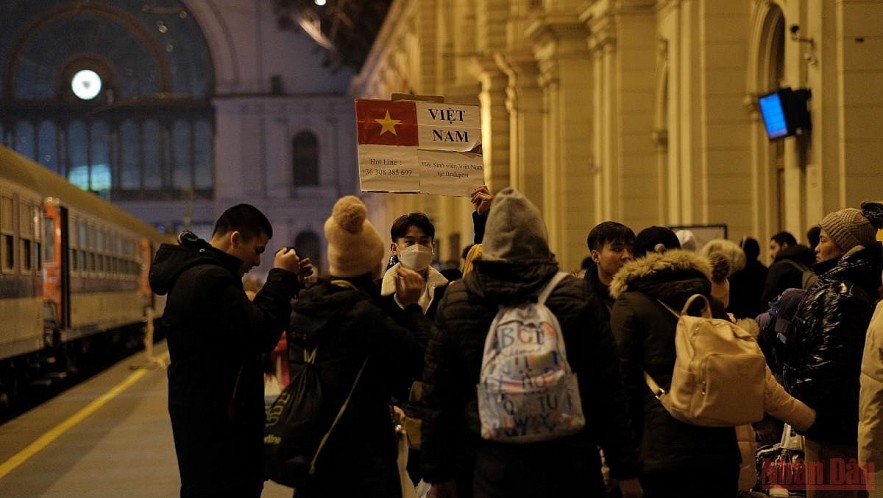 As Vietnamese in Ukraine evacuated to neighboring countries such as Poland, Slovakia, Hungary, Romania, hundreds of young people has been voluntarily gathering at the border to support their countrymen. (Photo: Nhan Dan)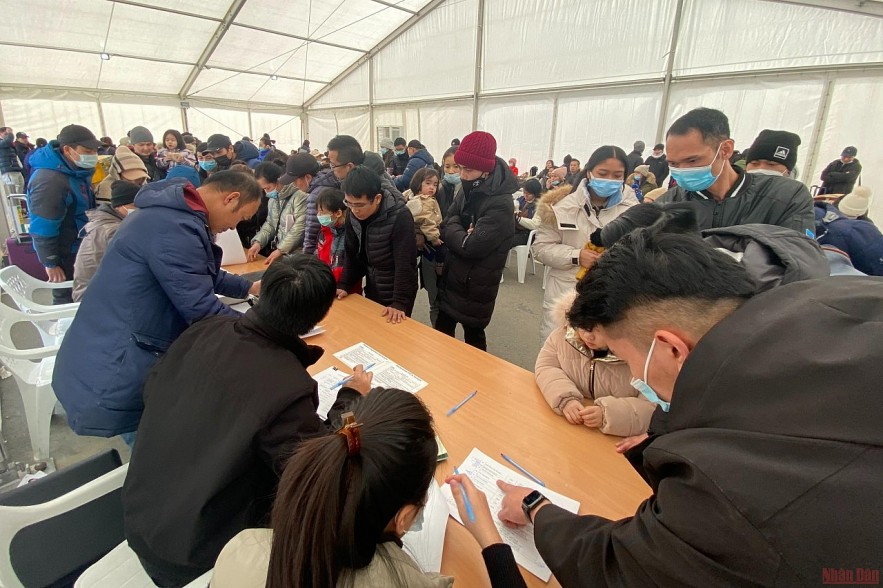 A group supports picking up Vietnamese refugees at train stations, provides them with food, temporary accommodation, assists with paperwork, guides them to buy tickets if they have further travel needs. (Photo: Nhan Dan)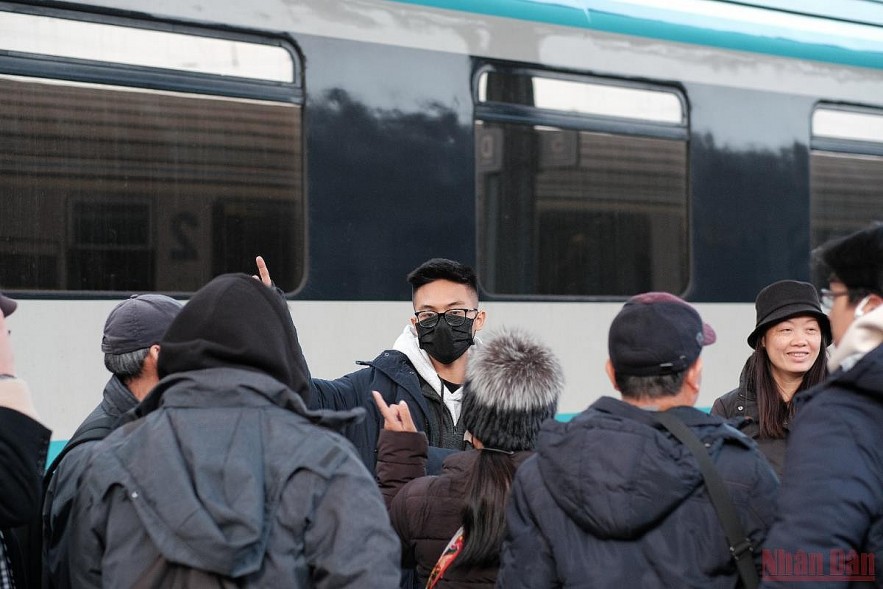 Nguyen Thien Thanh (middle) - 2nd-year student of Corvinus University of Budapest (Hungary) joins the volunteer group to welcome Vietnamese expatriates from Ukraine to Budapest. (Photo: Nhan Dan)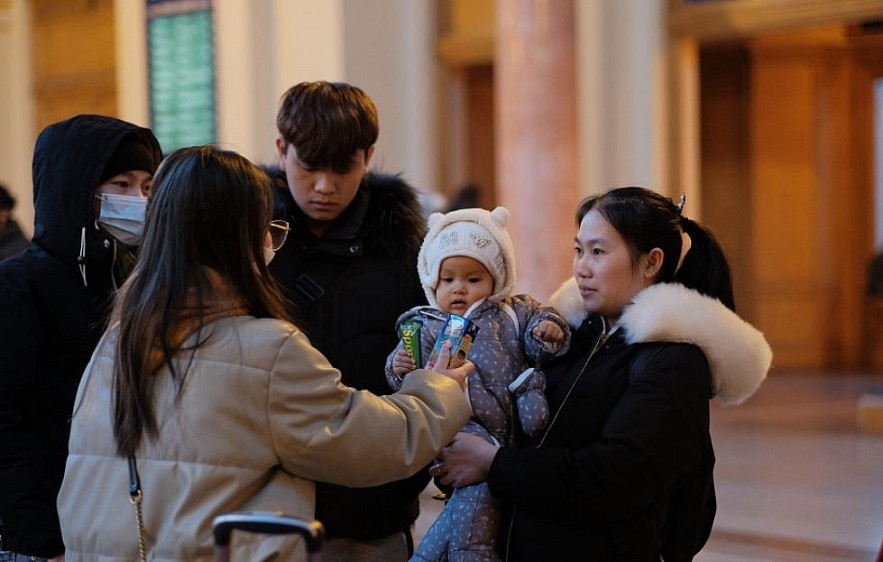 Immediately after receiving the notice from the Vietnamese Embassy, hundreds of young people in countries boring Ukraine such as Hungary, Romania, Slovakia, Poland volunteered to support their compatriots. (Photo: Nhan Dan)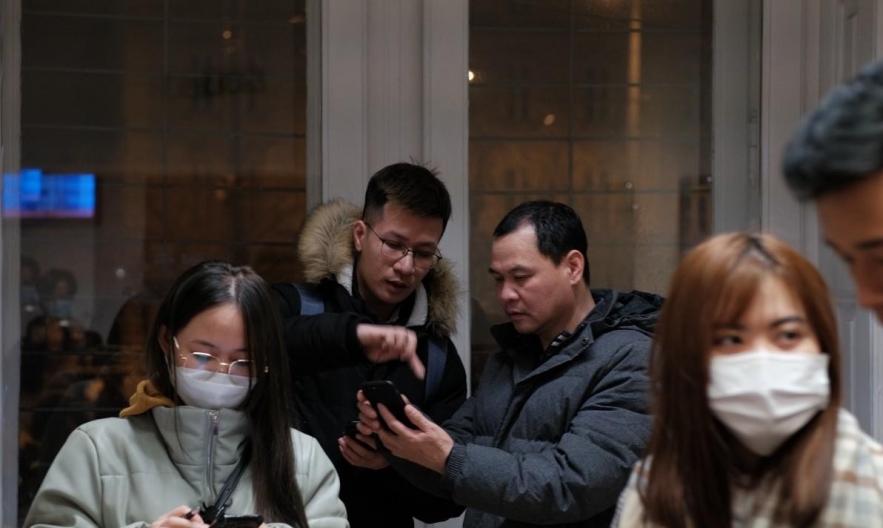 Vietnamese students in Hungary assist overseas citizens. (Photo: Nhan Dan)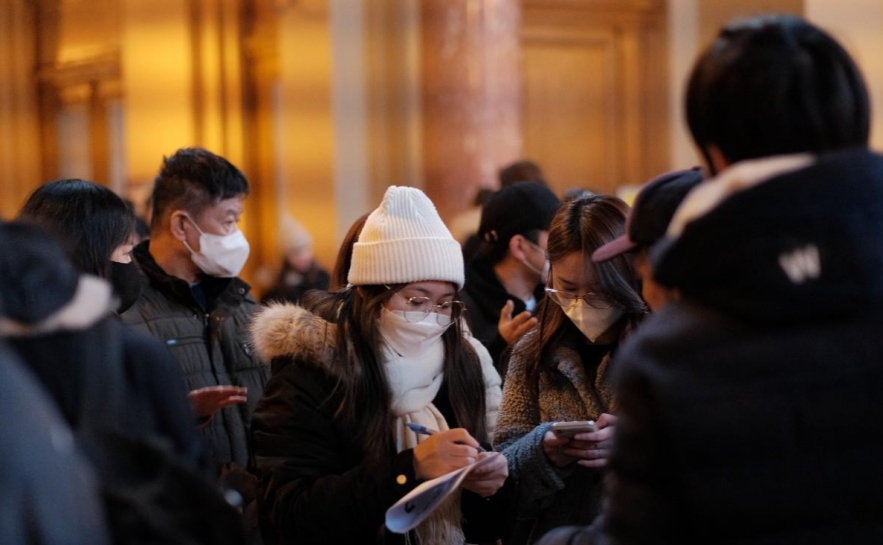 Because they still have to study, Hoang Anh - Vice President of the Vietnamese Student Union in Budapest said his group usually starts their volunteer work at 7 pm and comes home late at night. (Photo: Nhan Dan)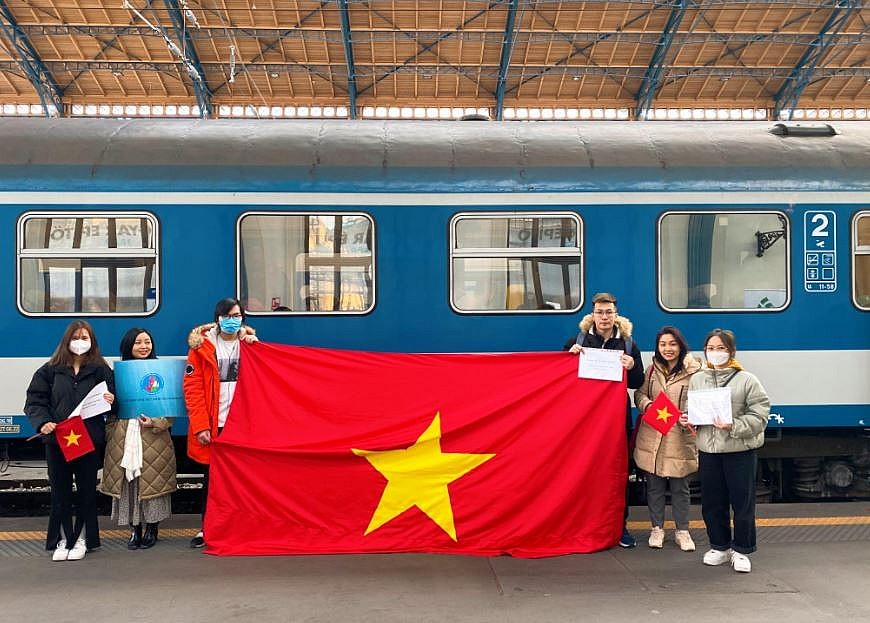 In March, members of the Vietnamese Youth Union left unforgettable images in Europe as they raised the national flag at the Budapest train station as a sign for Vietnamese evacuated to the station to recognize their countrymen to seek help (Photo: Nhan Dan)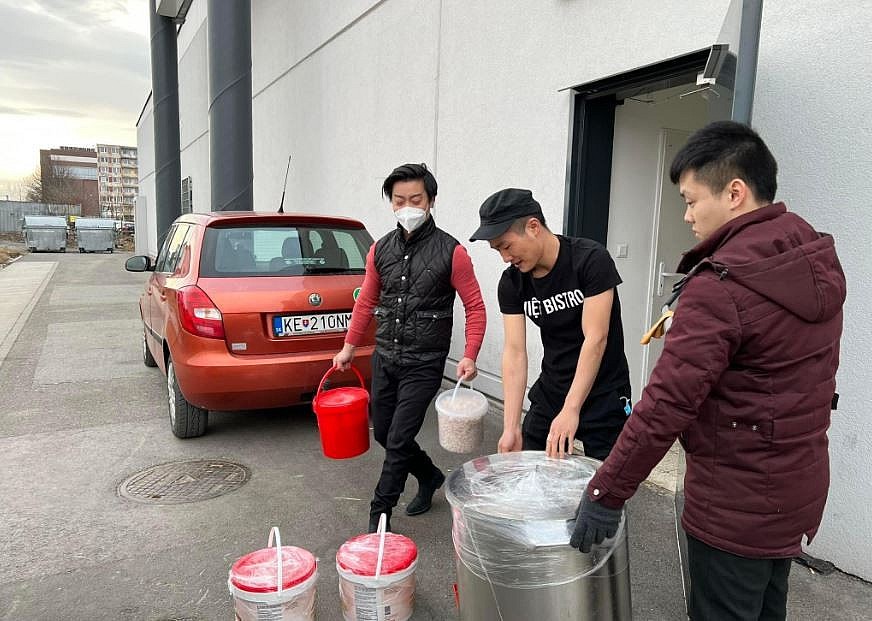 Meanwhile, the group in Slovakia provides warm soup and free products for those in need. (Photo: Nhan Dan)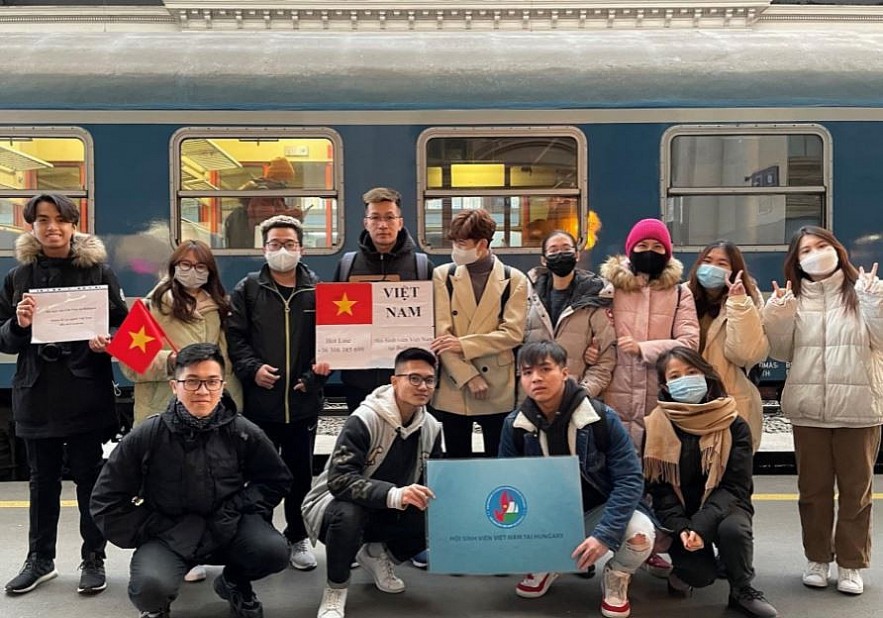 During the current conflict, Vietnamese youngsters across Poland, Romania, Hungary, Romania, and Russia have upheld their spirit of solidarity. (Photo: Nhan Dan)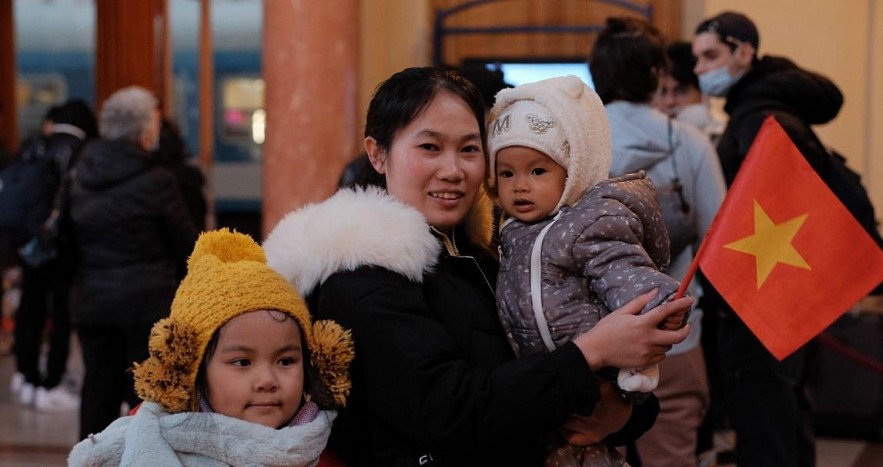 The joy of Vietnamese expats when receiving help from young students. (Photo: Nhan Dan)
Wherever they are, young Vietnamese keeps their "sharing brings happiness" motto. (Photo: Nhan Dan)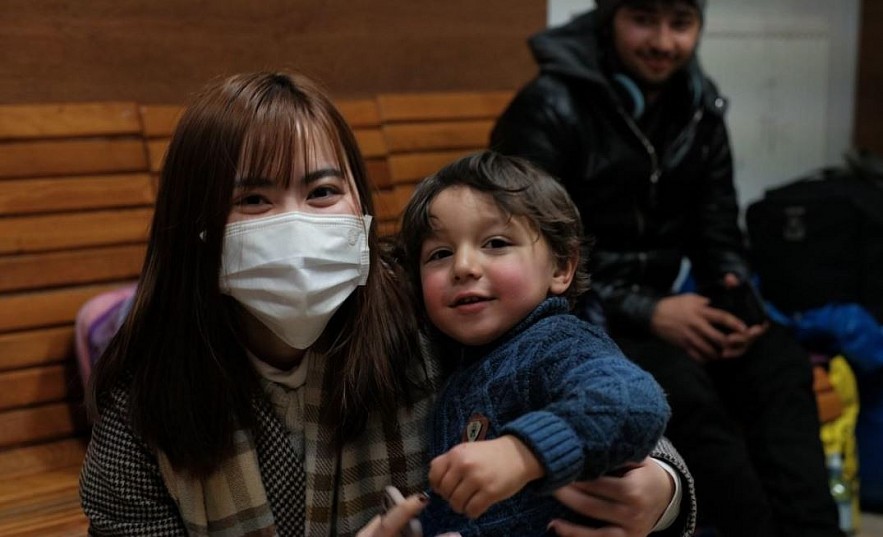 (Photo: Nhan Dan)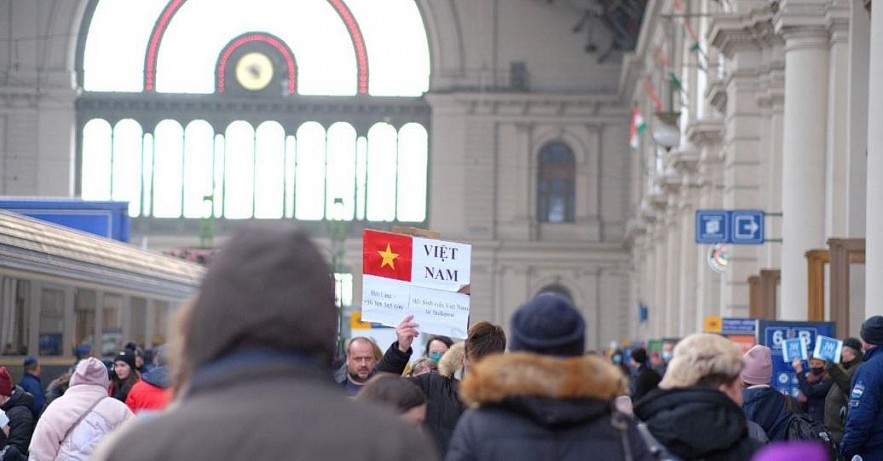 "As a Gen Z, patriotism seems to be something too grand to understand. Through these voluntary activities, I realized patriotism starts from small acts, such as timely help for our countrymen during difficulties," said a volunteer. (Photo: Nhan Dan)
"We students are happy to join volunteer works, not only to support Vietnamese but also citizens of other nations evacuated from Ukraine," a student said.(Photo: Nhan Dan)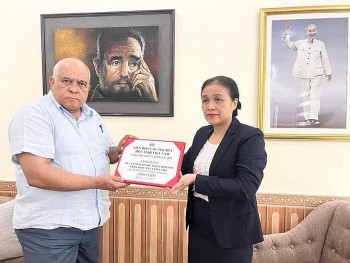 Focus
According to Cuba's News Agency Prensa Latina, on August 16, President of Vietnam Union of Friendship Organizations Nguyen Phuong Nga said that Vietnamese people will always stand by and support Cuba no matter what difficulties our friend is facing.