Vietnamese Embassy to Germany Encourages Viet Citizens Evacuate From Ukraine
The delegation led by Ambassador Vu Quang Minh visited the Eisenhüttenstadt Center, where refugees from Ukraine, including nearly 200 Vietnamese, have been received.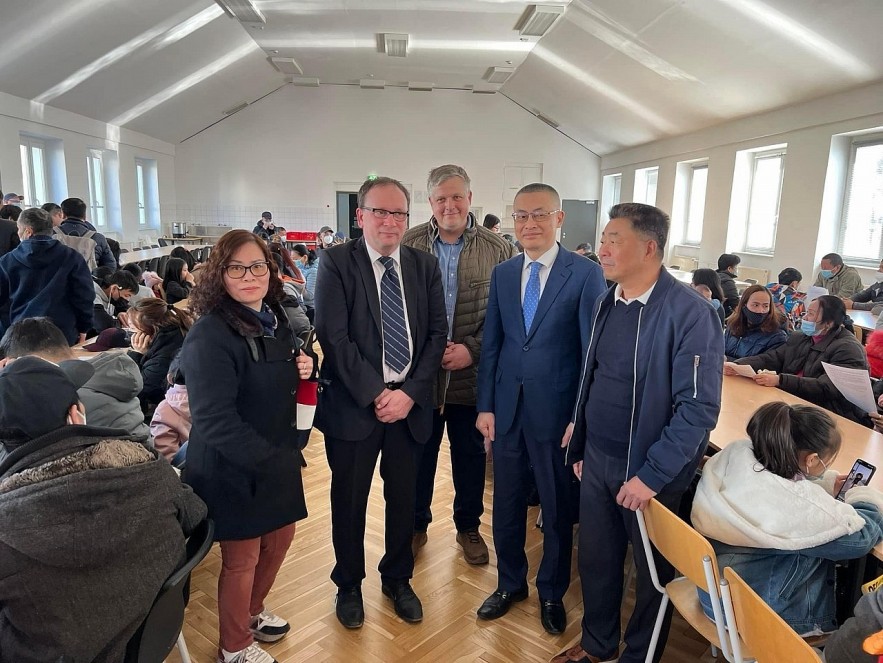 Eisenhüttenstadt Center has received 200 Vietnamese families fleeing from Ukraine, including those with young children.
A delegation from the Vietnam Embassy to Germany, Dong Xuan Women's Union, Golden Lotus Foundation, Viet Bao, and Vietnam News Agency visited the Eisenhüttenstadt Center on March 22.
Ambassador Vu Quang Minh thanked the center for building favorable conditions for the embassy and several Vietnamese associations to visit, encourage and give gifts to Vietnamese people and their relatives evacuated from Ukraine to Germany. Minh confirmed the embassy's willingness to coordinate with the center on all issues related to Vietnamese people. He stressed that Germany was a hospitable country that always opened its arms to receive and support those who flee from Ukraine to seek shelter.
Complying with the consistent policy of the Party, State, and Government of Vietnam, all Vietnamese representative agencies in Europe have been doing their best, working closely with the host country and the Vietnamese community to provide the best support for people evacuated from Ukraine.
The Ambassador affirmed that within their jurisdiction, the representative agencies always create the most favorable conditions to be able to provide legal support, documents, and procedures for people who have difficulty in the evacuation process.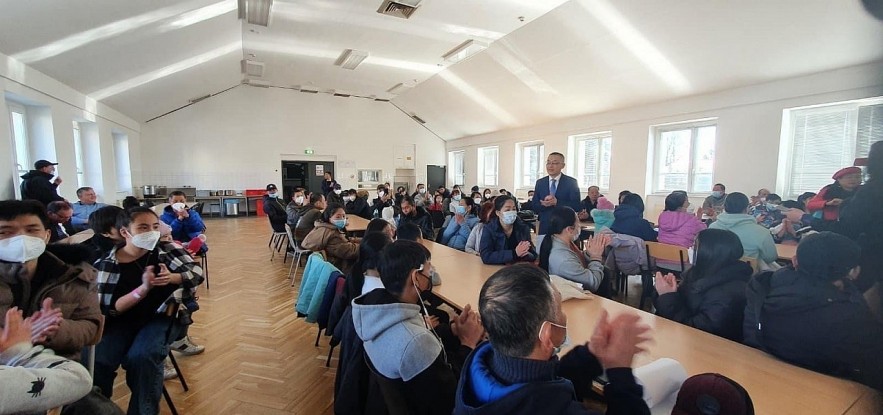 Ambassador Vu Quang Minh encouraged the Vietnamese in Eisenhüttenstadt Center.
Jens Dorschmann, Deputy Director of Eisenhüttenstadt Center appreciated the visit, which was the first visit from a representative agency.
Ambassador Vu Quang Minh expressed his joy when knowing Vietnamese in the center reached their safe shelter after a hard journey. He said Germany created good living conditions, including temporary accommodation and free meals. They have also received support from volunteer Vietnamese associations and individuals in Germany from the first day they set foot in Germany.
Volunteer organizations have brought gifts to the center such as food and daily necessities, strollers for children, clothes, electrical appliances.
The embassy also gave out leaflets containing the most necessary information. They answered questions and inquiries from people about documents, passports, birth certificates, trying to create the most favorable conditions for the refugees in terms of procedures and documents within the embassy's jurisdiction. The embassy donated 1000 euros to buy essential supplies at the center.