India daily weather forecast latest, February 19: Scattered rains and thunderstorms to cover Maharashtra, Telangana, Kerala
Dry northerly winds and moist easterly winds are expected to converge over Maharashtra and Chhattisgarh in India, resulting in active thunderstorms.
According to Skymet Weather, a cyclonic circulation is over south Rajasthan. A cyclonic circulation is over Vidarbha and adjoining area in low levels.
A low-level trough is extending from Kerala to the cyclonic circulation over Vidarbha across coastal Karnataka, south Madhya Maharashtra and Marathwada.
A cyclonic circulation is over Bangladesh and adjoining areas. A fresh Western disturbance is over North Pakistan and adjoining areas.
During the next 24 hours, light to moderate rain and shower may occur over parts of Bihar, Jharkhand, Odisha, West Bengal, Chhattisgarh, south-east Madhya Pradesh, parts of Assam, and Arunachal Pradesh.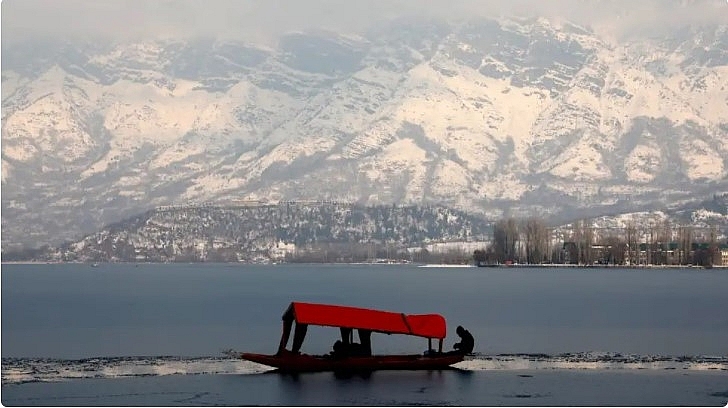 Representational image (Bilal Bahadur/BCCL Delhi)
Madhya Maharashtra, Vidarbha and parts of Marathwada may receive intense spells of rain and thundershower associated will hailstorm activities.
Light rain may occur over coastal parts of Karnataka, Kerala and adjoining parts of interior Tamil Nadu.
Andaman and Nicobar Islands may receive one or two short spells of the intense shower. Maximum temperatures of North-West India will remain above normal.
5-Day Nationwide Weather Forecast
According to Weather.com, dry northerly winds and moist easterly winds are expected to converge over Maharashtra and Chhattisgarh, resulting in active thunderstorms. This activity will continue through Thursday, with scattered rains likely over Maharashtra, Telangana, Chhattisgarh, and some of Odisha before dissipating on Friday morning.
In view of this forecast, the India Meteorological Department (IMD) has issued orange alerts over East Madhya Pradesh, Chhattisgarh, and Maharashtra's Marathwada and Vidarbha on Thursday, February 18.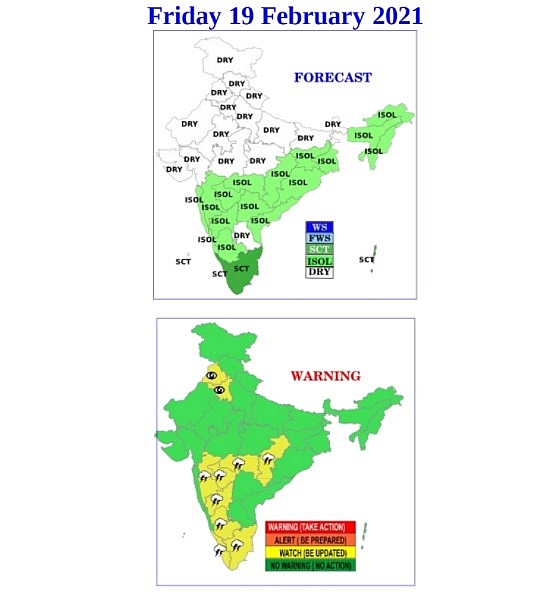 Photo: IMD
Similarly, winds converging along coastal Karnataka and coastal Kerala will produce showers from Thursday afternoon to Friday morning.
Another wind convergence zone is located at southwest Bay of Bengal. Much of the rainfall will be over the open waters, but some coastal areas along Tamil Nadu and Andhra Pradesh may witness wet weather on Friday. The rain event will approach Southern India towards the weekend, and inland areas may also be engulfed in scattered rain. Thunderstorms, too, are possible across the coastal areas.
Low wind speeds and high relative humidity will allow dense fog to form in some pockets over the Punjab plains on the morning of Thursday and Friday. Some of the Gangetic plains may see dense fog on Friday morning.
Under the influence of a feeble western disturbance, isolated rainfall/snowfall with isolated thunderstorms, lightning and hail are very likely over Uttarakhand during the next 24 hours.
Arunachal Pradesh, too, will experience lingering isolated snow due to a feeble but persistent cyclonic circulation until Saturday.
Photo: Weather Online
Meanwhile, a fresh western disturbance will affect weather across the Western Himalayan region from Saturday onwards.
As for temperatures, the maximum temperatures will be 4°C to 8°C cooler than normal across eastern Madhya Pradesh and the adjoining areas from Thursday to Saturday. On the other hand, minimum temperatures will be warmer than normal across much of the country during this forecast period, except Deccan Plateau, where the mercury levels will be normal.
The IMD adds that dense to very dense fog is expected in isolated/some pockets over Punjab, Haryana, Chandigarh, Delhi, and West Uttar Pradesh in the morning hours of Friday, with the intensity and spatial coverage reducing thereafter.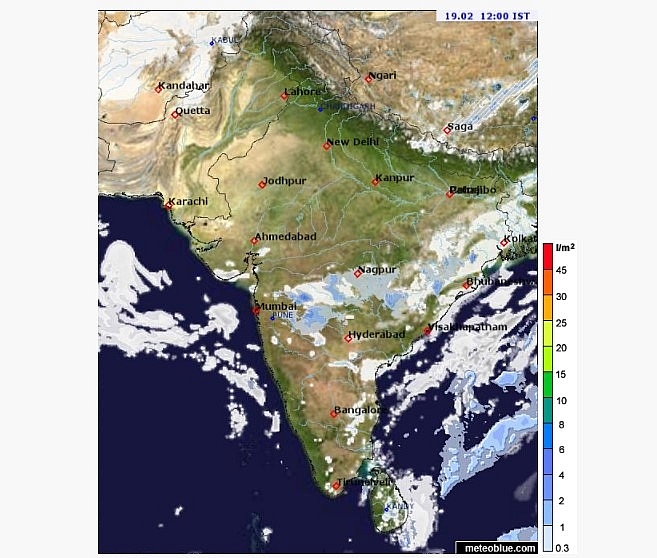 Photo: Meteoblue
Regional Forecast
Scattered snow/rain and thunderstorms are likely over Arunachal Pradesh. Isolated rain and thunderstorms are possible over Madhya Pradesh, Chhattisgarh, Jharkhand, Telangana, Karnataka, Andhra Pradesh, Kerala, Tamil Nadu, and Andaman & Nicobar Islands..
Dense to very dense fog has been forecast at isolated places over Punjab. Dense fog is likely at isolated places over Uttar Pradesh.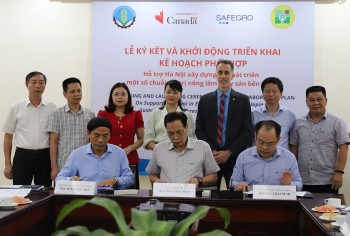 Make in Vietnam
As Vietnam furthers its international intergration, building agro-forestry-fishery high value chains is crucial for the sustainable development of the agriculture sector.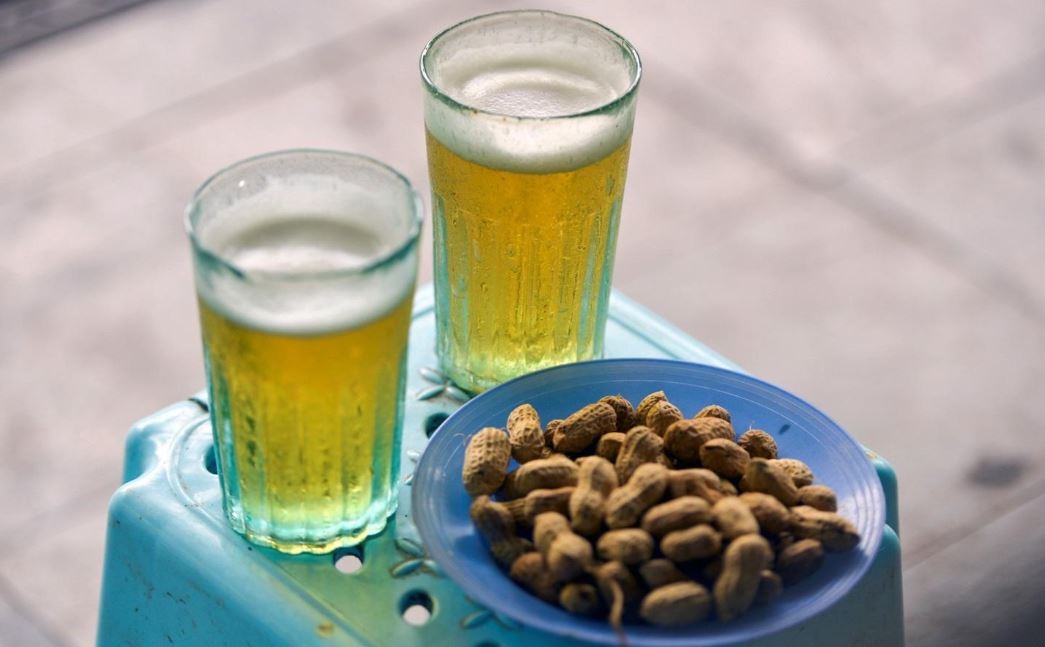 World
Among Vietnamese best beer destinations voted by foreign travelers, Hanoi is followed by Ho Chi Minh City, Hoi An, Nha Trang, and Da Nang.
August 06, 2022 | 14:54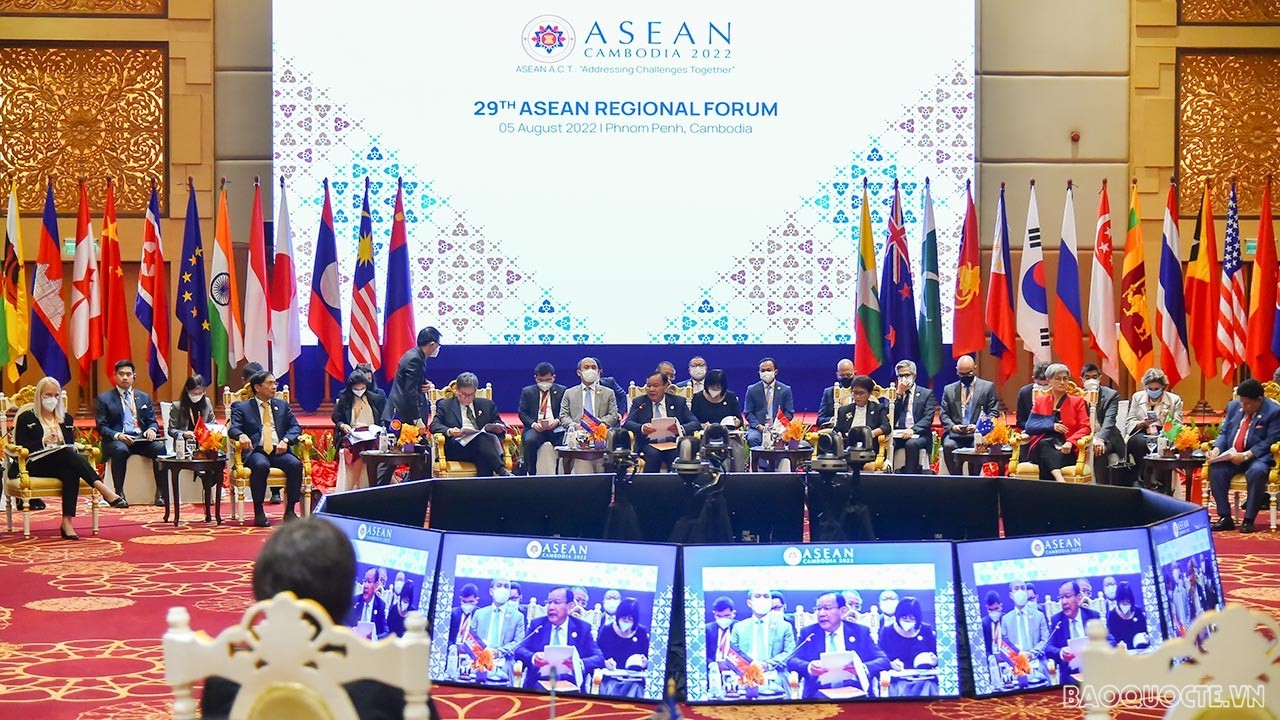 World
Foreign Minister Bui Thanh Son attended the 29th ASEAN Regional Forum (ARF) that took place in Phnom Penh, Cambodia on August 5 within the framework of the 55th ASEAN Foreign Ministers' Meeting (AMM-55), and held several bilateral meetings on the sidelines of the event.
August 06, 2022 | 09:12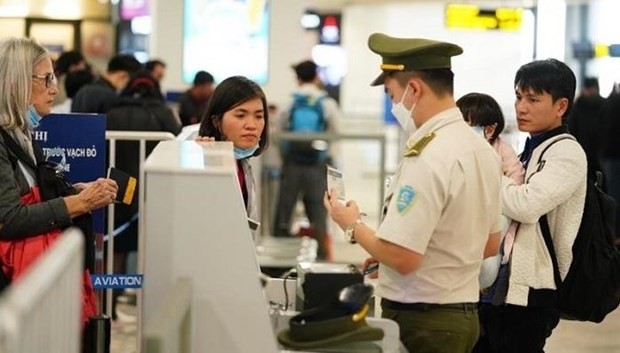 World
The Ministry of Health has asked localities nationwide to monitor foreign arrivals from countries with monkeypox as an early response after infections were spotted in the region.
August 05, 2022 | 16:11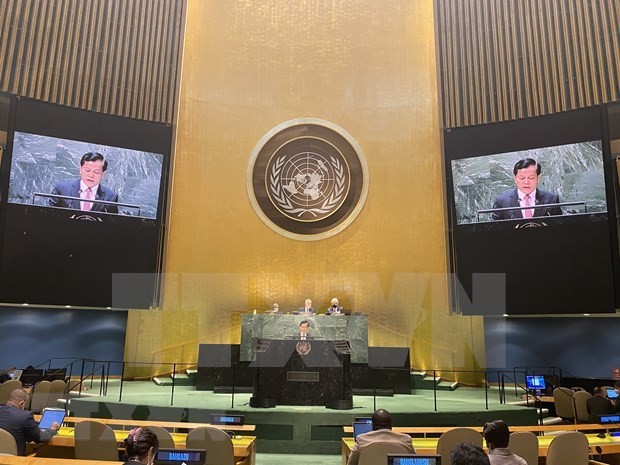 World
Deputy Foreign Minister Ha Kim Ngoc had a meeting on August 3 with United Nations (UN) Secretary-General Antonio Guterres who highly valued Vietnam's active and responsible contributions to the common work of the organisation, especially the country's strong commitments in the fight against climate change, and promised to continue supporting Vietnam in this work.
August 04, 2022 | 16:57