Indian enterprises turn eyes to Vietnamese market
Indian companies are turning their focus to Vietnam as the country is emerging as one of the bright stars in the COVID-19 dark sky.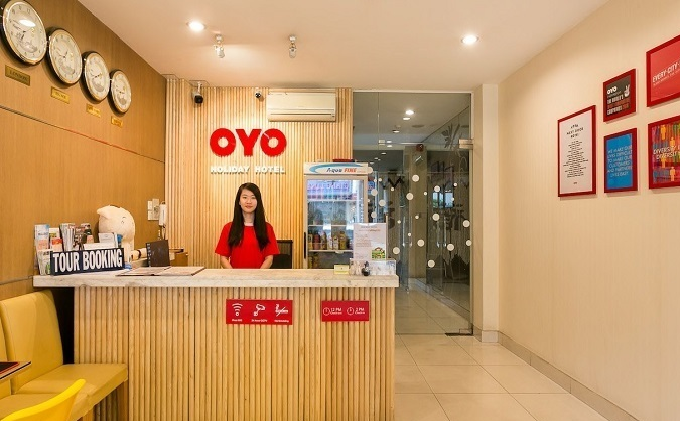 A franchised hotel of Indian hospitality company OYO in Vietnam. Photo courtesy of OYO.
In mid-December, major Indian IT provider HCL Technologies announced its official foray into Vietnam, where it aims to boost employment, provide resources and skilling local talent to serve its global clients, Vietnam Investment Review reported.
HCL began operations in Vietnam in July with the goal of hiring more than 3,000 local university graduates and experienced professionals over the next three years. The company has set up its first delivery centre in Hanoi. From there, HCL will deliver advanced technology solutions to its global client base across several industries and verticals, including banking and financial services, healthcare, infrastructure, engineering, and cybersecurity.
Another Indian company Sethia Hemraj Rice Oil Co., Ltd. is also ramping up its presence in the country. Surbhi Bachhawat Sethia, vice general director of the company, is upbeat about the fast-paced growth of Vietnam relying on an export-led growth model, combining trade liberalisation and foreign direct investment (FDI) to spur exports. It has been enjoying growth since the 1990s despite the constant ups and downs in the global market.
She noted that as Vietnam is one of the largest producers of paddy, the company felt there is good scope to set up a Rice Bran Oil manufacturing project in Vietnam. Additionally, the punctual, hardworking, and friendly work force facilitates foreign investments pouring in. The supportive local and central governments have succeeded in creating a business-friendly environment for ever-increasing FDI.
"Before choosing to invest in Vietnam, we also did thorough research across Southest Asia, in Indonesia, Thailand, and Cambodia. Some did not have stable political conditions or favourable tax policies, while others had smaller potential for success in comparison with Vietnam. However, the language and communication are still huge barriers that discourage some investors from investing in Vietnam," she added.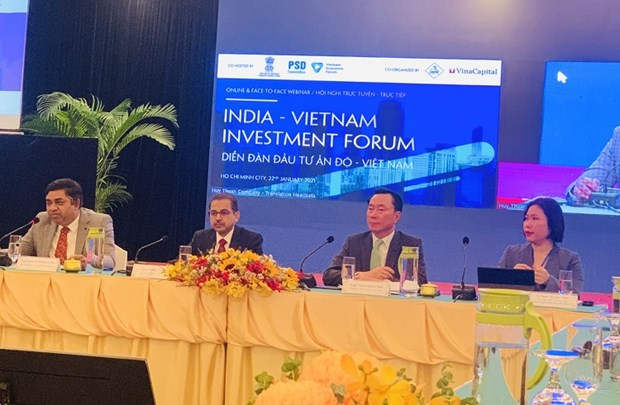 The India-Vietnam Business Forum held in Ho Chi Minh City in January. Photo: VNA
Most recently, many Indian firms have explored investment opportunities in Vietnam through the India-Vietnam Business Forum held in Ho Chi Minh City in January.
Speaking at the forum, Ambassador of India to Vietnam Pranay Verma said India values Vietnam as an important partner in its Act East Policy. Indian investment in Vietnam stood at $900 million as of December 2020, which could go up to $1.9 billion if investments through third countries are also included.
The ambassador pointed out that one potential sector for Indian investors in Vietnam is the pharmaceutical industry. Meanwhile, both India and Vietnam are focusing on renewable energy generation. India has made global initiatives in this regard and is looking to cooperate with Vietnam.
The ambassador also proposed the two sides to look at startups, since both countries have young populations keen on innovation. Startups play an important role in both countries. Additionally, the ambassador highlighted climate change and smart city development as other potential areas for cooperation.
On the same note, Ambassador of Vietnam to India Pham Sanh Chau said that India and Vietnam have different strengths to complement each other and are not in direct competition. This is seen in reciprocal investment projects such as HCL Group from India investing in Vietnam and FPT Group investing in India. HCL's $650 million investment project in Vietnam is highly potential as it focuses on training high-quality human resources in the IT industry.
He further noted that Indian and Vietnamese companies can cooperate in the textile and yarn field. Vietnam currently ranks third in the world in terms of textile and garment exports after China and India. With supply chain shifts, Vietnam and India need to find room to develop cooperation. While Vietnam has a great demand for yarns and fabrics, India has strengths in both natural and synthetic fibres. This woulud be a valuable addition to Vietnam which depends heavily on imported raw materials.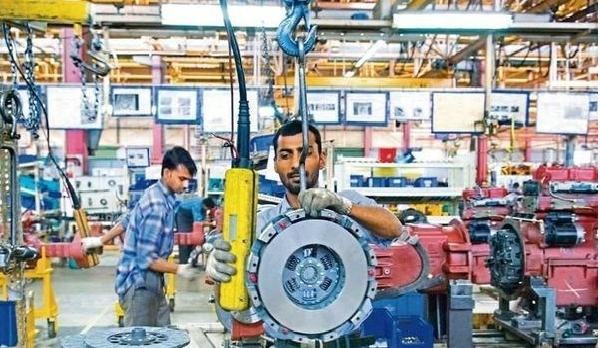 Indian companies are increasingly looking at the lucrative Vietnamese market. Photo: VIR
Trade between the two countries has grown steadily and reached US$12.34 billion in the 2019-20 period, Viet Nam News said.
Vietnam is emerging as an important pillar for India with its stable political and economic environment, attractive investment policies, competitive labour costs, availability of raw materials, and potential market access due to free trade agreements that Vietnam has concluded.
Many Indian investors see Vietnam as a prominent destination for investment, especially in sectors in which India has competitive advantages such as infrastructure, energy, IT & technology, and pharmaceuticals, and others.
Exports from India to Vietnam include bovine meat, fishery products, corn, steel, pharmaceuticals, cotton, and machinery, while imports from Vietnam include mobile phones, electrical machinery and equipment, computers, electronic hardware, natural rubber, chemicals, and coffee. /.