According to Skymet Weather, a cyclonic circulation is formed around the Comorin region. Anti-cyclonic circulation over Central India has reached Vidarbha and its adjoining areas. A weak western disturbance is currently coming towards North India. Currently, this system has reached North Pakistan.
During the next 24 hours, light to moderate rains may continue in some places in the coastal areas of Tamil Nadu. Light to moderate rains is likely over Andaman and Nicobar Islands, interior Tamil Nadu and parts of Kerala as well.
Light rains may occur over East Assam and Arunachal Pradesh. Cold day conditions will prevail over Punjab, Haryana, West Uttar Pradesh and Delhi and some areas of North Rajasthan. There can be frost somewhere in these parts.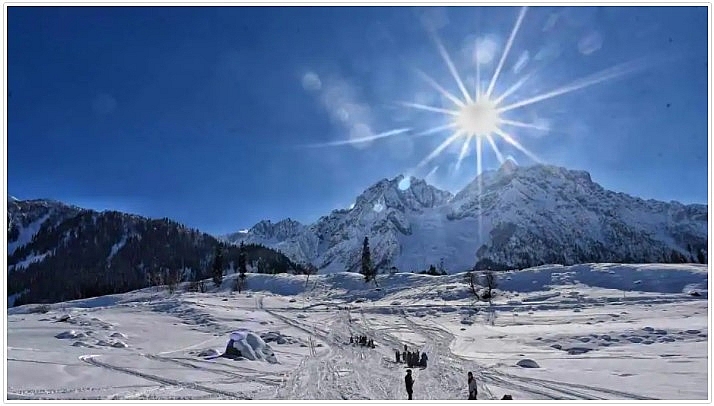 Tourists enjoying snow covered slopes in sonamarg on December 17,2020.(HT Photo/ Waseem Andrabi)
Minimum temperatures are expected to drop by 2 to 3 degrees in parts of Uttar Pradesh, Bihar, Jharkhand, East Madhya Pradesh, Vidarbha and Marathwada.
Heavy snowfall and rain in higher reaches of Himachal Pradesh is very likely on Sunday, as per the state meterological department, Hindustan Times reported.
The MeT department has also issued a yellow warning for intense cold wave and dense fog in Una, Bilaspur, Hamirpur, Mandi and Sirmaur districts.
State MeT director Manmohan Singh said snowfall is very likely to occur in isolated places of Lahaul-Spiti, Kullu, Chamba and Kinnaur districts. Visibility will be less than 500 metres in the five districts, causing disruption to traffic and damage to crops due to frost. He advised people to stay updated.
"Weather will remain dry throughout the state till December 25," he added.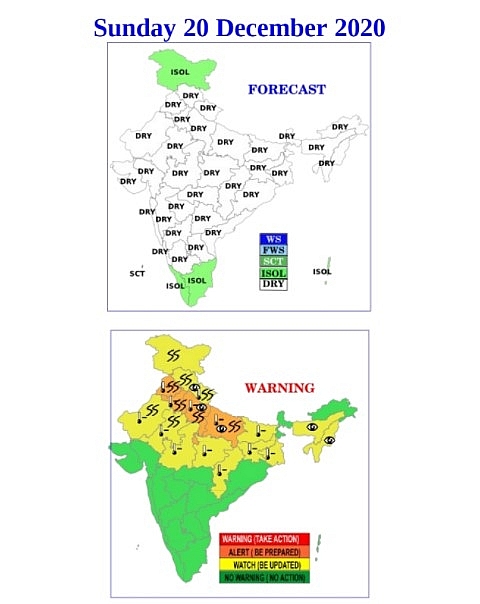 Photo: IMD
Weather was mostly sunny throughout the state on Saturday. However, cold wave continued throughout the state as minimum temperatures were three to four degrees below normal while maximum temperatures were two to three degrees below normal.
Minimum temperature in Shimla was 4.4°C while Manali, Dharamshala, Dalhousie and Kufri recorded minus 1°C, 2.4°C, 4.7°C and 0.8°C respectively. Minimum temperature in Una was 0°C, minus 1.3°C in Solan, 0.1°C in Palampur, 2°C in Bilaspur, 1.8°C in Hamirpur, 7.5°C in Nahan, minus 1.1°C in Mandi and minus 3°C in Kalpa. Keylong was the coldest at minus 12.1°C.
Besides, Kashmir will get the next spell of snow with the onset of Chillai Kalan, the harsh 40-day winter period starting on December 21.
Kashmir's winter pans out in three stages, starting with the 40-day intense period from December 21(Chillai Kalan) followed by 20 more days that are less intense (Chillai Khurd) and lastly 10 days of mild cold (Chille Bache).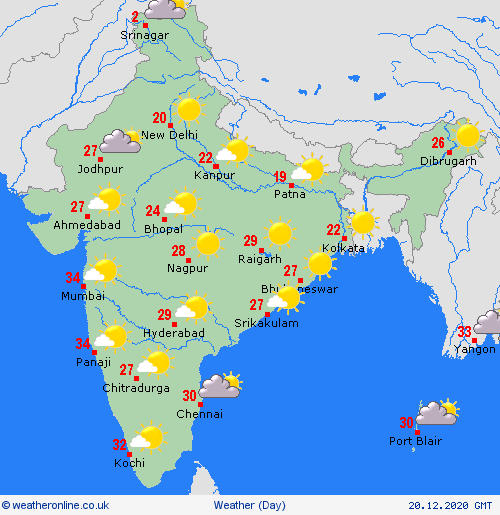 Photo: Weather Online
The night temperatures continued to drop in most places of Kashmir. Jammu was also cold at 3.3 degrees. Leh in the Union Territory of Ladakh recorded a low of minus 16.4 degrees Celsius, while Kargil recorded a low of minus 21.1 degrees C and Drass, the second coldest place in the world, observed minus 29.0 degrees C temperature.
The night temperatures started dipping in Jammu and Kashmir on Monday after snowfall over the weekend.
Ruby Lee