According to Skymet Weather, the Western Disturbance has moved eastwards from North India. Its effect will not be visible on North India at the moment.
In the plains, there is a cyclonic area over northwestern Uttar Pradesh. Another cyclonic circulation is also seen over East Bangladesh and adjoining areas. A cyclonic circulation is active over the southwestern parts of the Bay of Bengal and adjoining Sri Lanka.
During the next 24 hours, light to moderate rains are likely over Tamil Nadu, Kerala, Puducherry, Lakshadweep and southern interior Karnataka. Heavy rains may occur at some places in these parts.
The weather is expected to remain mainly dry and clear in all the rest of the country.
In Punjab, Haryana, Delhi, Rajasthan, Uttar Pradesh and Bihar, minimum temperatures will remain below normal in most places due to which cold wave outbreak and frost will likely continue in these parts during the next 24 hours.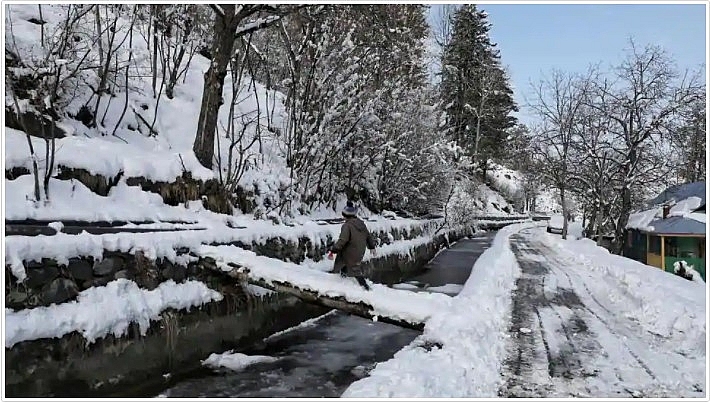 A child crossing a snow-covered wooden pavement in Tangmarg near Srinagar in Jammu and Kashmir.(HT Photo)
From the plains of northwestern India to the plains of the Ganges, there will be dense fog cover over the plains.
Delhi's minimum temperature recorded at 8.30am was 3.3 degrees Celsius, four degrees below normal, on Thursday, said India Meteorological Department (IMD) . According to IMD, there is likely to be relief from extreme cold briefly from Friday. IMD also recorded dense fog both at Palam and Safdarjung stations with visibility under 50 metres.
Minimum temperatures over most parts of northwest and central India are likely to rise by 3-5 degrees for three days from January 1, 2021 according to Thursday's bulletin.
"Cold wave" to "severe cold wave" conditions are likely over Himachal Pradesh, Uttarakhand, Punjab, Haryana, Chandigarh, Delhi, Uttar Pradesh, Rajasthan and West Madhya Pradesh in the next one day.
"Cold day" conditions are likely in isolated pockets over Himachal Pradesh, Punjab, Haryana, Chandigarh, Delhi and West Madhya Pradesh during the next two days.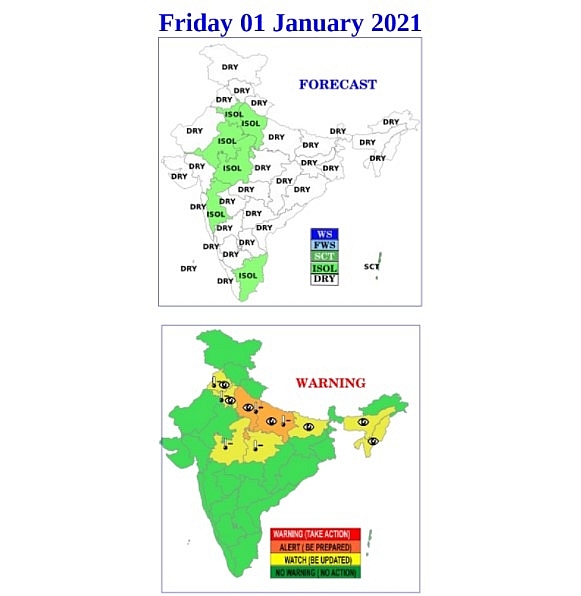 Photo: IMD
According to Hindustan Times, dense to very dense fog is likely in some pockets is very likely over Punjab, Haryana, Chandigarh, Delhi and West Uttar Pradesh on Thursday and Friday.
Ground frost is likely over Himachal Pradesh, Uttarakhand, Punjab, Haryana, Chandigarh, Delhi, Uttar Pradesh, Rajasthan and West Madhya Pradesh on Thursday.
Air quality in many parts of northwest India has deteriorated from "poor" on Wednesday to "very poor" on Thursday. Delhi's air quality index on Thursday morning was 331.
Due to an approaching western disturbance, light to moderate rainfall with isolated thunderstorm and lightning is likely over the Western Himalayan region and over the northwestern plains during January 2 to 5.
With temperature going down by several notches in Kashmir, the Met department has predicted another spell of snowfall in the first week of January.
Director, Met Department, Sonam Lotus said that Kashmir could witness another spell of snowfall.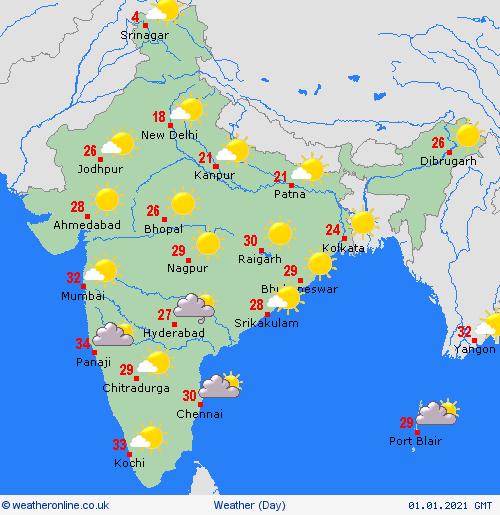 Photo: Weather Online
"As of today [Thursday], the weather most likely to remain mainly dry and cold in both UTs till January 3. Thereafter a spell of light to moderate snowfall is likely during 4-5th at many places of Kashmir, few hilly areas of Jammu and Zojila, Drass and hilly area of Zanskar and Leh district (on 5th)."
He said except the spell, there's no forecast of any major snowfall for the next 10 days. Srinagar recorded a temperature of -5.6 degrees Celsius on Thursday, while the tourist resort of Gulmarg recorded -6.2 degrees Celsius.
Fresh snowfall was witnessed in parts of Jammu and Kashmir, including summer capital Srinagar, on Tuesday leading to the closure of the Srinagar-Jammu National Highway for a few hours.
Meteorologist M Hussain Mir at the Srinagar-based Met Department said that the weather will now remain dry upto January 3-4.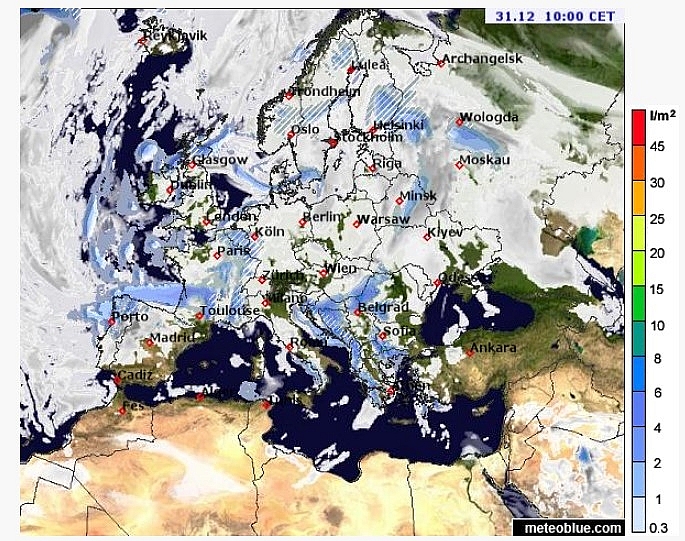 Photo: Meteoblue
The 40-day intense winter period "chillai kalan" started in Kashmir valley on December 21 with sub-zero night temperatures across the region.
This year, winter has already started on a harsh note as the temperature dropped to a record -6.6 degrees Celsius in summer capital Srinagar on December 19, the lowest temperature of the season and the second-coldest December night in the past decade.
Ruby Lee