India weather forecast latest, January 14: Rain covers south India while western states to bear dry and windy conditions
On Thursday, Tamil Nadu is largely expected to experience light to moderate rains, with isolated heavy showers predicted in just four districts—Pudukkoitai, Ramanathapuram, Thoothukudi, and Tirunelveli.
According to Skymet Weather, a cyclonic system is visible over the Comorin region and adjacent parts.
The northeast monsoon season ends after 31 December. But this time a steady flow of eastern winds is persisting over the coastal parts of Tamil Nadu. An anti-cyclonic circulation lies over central India.
During the next 24 hours, moderate to heavy rains are expected to continue over Tamil Nadu and southern parts of Kerala and Lakshadweep.
After 24 hours, rain activities will reduce over Tamil Nadu and Kerala. But moderate rains over Lakshadweep will continue even after that. Light to moderate rains are expected over North Kerala and Interior Tamil Nadu.
Dense fog is expected in Punjab, Haryana, Delhi and Uttar Pradesh in the morning. Also, in Haryana, Uttar Pradesh, Punjab and parts of Delhi, the maximum temperature will be below 16 degrees, due to which cold day conditions may continue.
The cold wave conditions are likely to continue in parts of Rajasthan, Haryana and Delhi.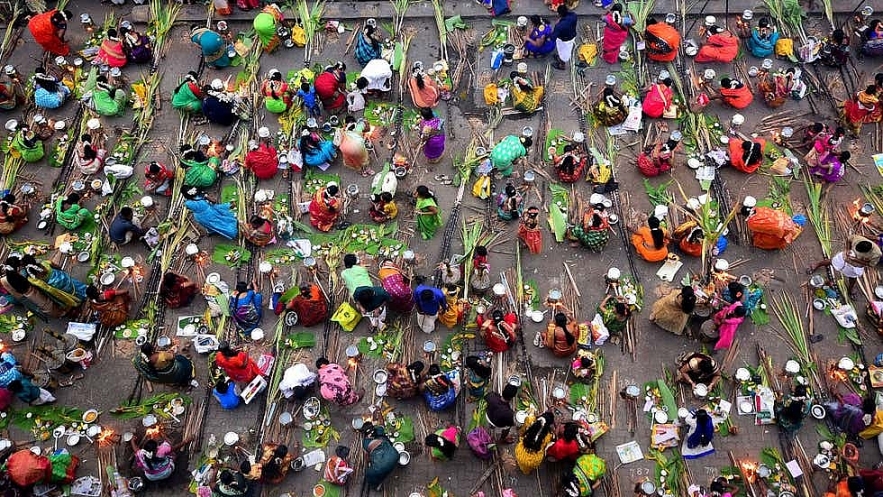 File photo: Devotees gather at the 90 feet road of the Dharavi area in Mumbai, Maharashtra to celebrate the Tamil harvest festival of Pongal (SL Shanth Kumar/BCCL Mumbai)
The effect of cold northwest winds is now visible in parts of eastern India, causing a drop in temperature by 1 or 2 degrees. Cold wave conditions are also prevailing in eastern Uttar Pradesh and parts of Bihar.
Cold wave conditions prevailed at the Safdarjung Observatory, which provides representative data for the city. It recorded a minimum of 3.2 degrees Celsius, four notches below the normal, said Kuldeep Srivastava, the regional forecasting centre head of the IMD.
Cold and dry northerly/northwesterly winds from the western Himalayas have been barrelling through the plains, bringing down the minimum temperature in north India. Similar conditions will prevail in the city over the next two days, Srivastava said.
"Dense" fog lowered visibility to 50 metres at Palam and 200 metres at Safdarjung, the IMD said.
According to the IMD, a "very dense" fog is when the visibility is between 0 and 50 metres. In case of a "dense" fog, the visibility is between 51 and 200 metres, "moderate" 201 and 500 metres, and "shallow" 501 and 1,000 metres.
Delhi had been registering above-normal minimum temperatures till Monday, as a cloud cover persisted over the city under the influence of successive Western Disturbances (WDs). However, the temperature started dropping with the commencement of cold northwesterly winds after the withdrawal of the latest WD.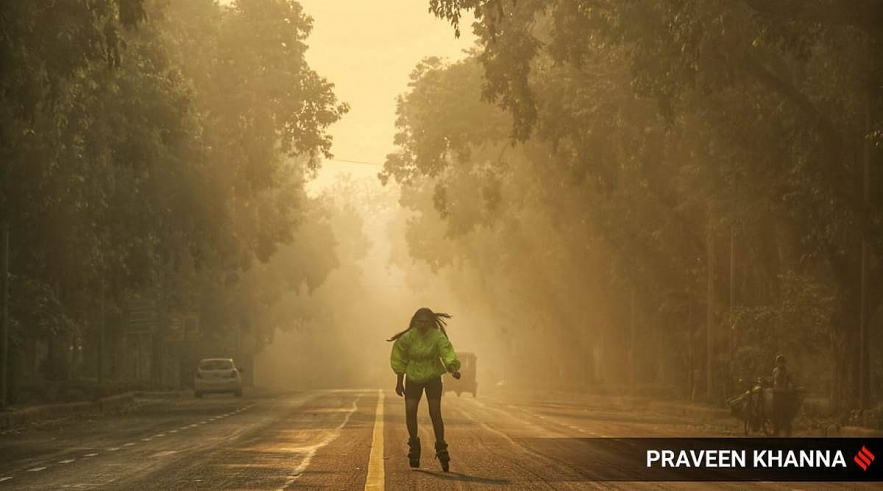 After a brief respite over the last week, mercury has started to dip again in the capital and is forecast to dip further until Thursday, as per scientists at the India Meteorological Department (IMD). (Express file photo by Praveen Khanna)
According to Weather.com, the festival season is not over yet, and Thursday, January 14, marks the celebration of the auspicious Makar Sankranti. The annual festival is celebrated across the country, albeit in several diverse ways and under a variety of different names. This observance heralds the arrival of longer days post the winter season, while also marking the first day of the Sun's transit into Capricorn (Makar rashi).The temperature is expected to stabilise after Thursday, Srivastava said. It is forecast that the minimum temperature would be 4-5 degrees Celsius until January 18 and maximum would be 18-19 degrees Celsius, reported Indian Express.
South India
The India Meteorological Department (IMD) has forecast heavy to very heavy showers over parts of South India on Wednesday, January 13. Post this spell, the rainfall activity is expected to de-intensify.
Come Thursday, Tamil Nadu is largely expected to experience light to moderate rains, with isolated heavy showers predicted in just four districts—Pudukkoitai, Ramanathapuram, Thoothukudi, and Tirunelveli. This state celebrates a four-day Pongal festival, with the Day 2 celebrations of Thai Pongal falling on January 14 this year.
As for Kerala, light to moderate rainfall is expected across the state, which has been placed under a yellow watch ('be aware' of local weather situation) by the IMD. Further, The Weather Channel's met team has also indicated the possibility of isolated rains and thunderstorms over southern Andhra Pradesh and southern Karnataka for the day.
All in all, the southern half of South India seems to be in for a wet Sankranti and Pongal this time around.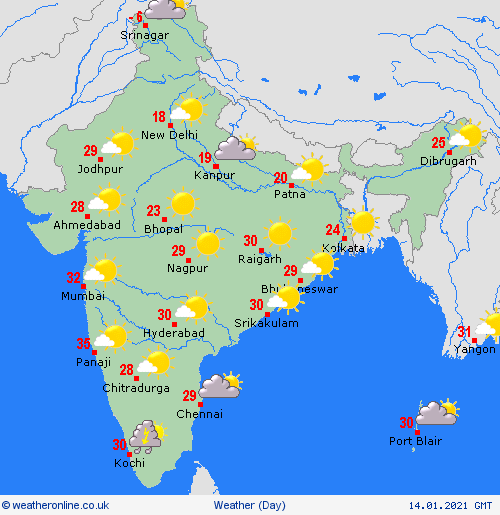 Photo: Weather Online
West India
The state of Maharashtra is set to witness completely dry weather on the day of Makar Sankranti. The only change in the weather will arrive in the form of minimum temperatures dropping in the northern parts of the state by 1-2°C, and in Vidarbha by 3-5°C. In Mumbai, the skies will remain partly cloudy, with the daytime mercury levels hitting a maximum of 30°C amid northerly-northwesterly winds blowing at 19 km/h.
Conditions across Gujarat will also remain dry, with general northeasterly winds prevailing at lower levels over the state. The sun will shine bright over the city of Ahmedabad, with daytime temperatures hovering around 28°C and the winds blowing at 14 km/h.
Overall, the conditions across West India seem ideal for kite-flying and other customary practices on the festive day. However, make sure you avoid using banned or harmful threads like the Chinese 'manja', which can form a death trap for birds during the kite-flying seasons.
North, Northwest and Central India
The weather in the plain areas of northwest and central India will be cold and dry, as the northerly-northwesterly winds will create cold day/severe cold day as well as cold wave/severe cold wave conditions in Punjab, Haryana, Chandigarh, Delhi, Uttar Pradesh, Madhya Pradesh, and Uttarakhand over the next 2-3 days. Ground frost is also very likely in isolated pockets over south Punjab, Haryana, Chandigarh and north Rajasthan.
With chilly weather likely to persist during both day and night, residents of these parts must wear warm clothes while engaging in the Maghi and Sankranti festivities this week.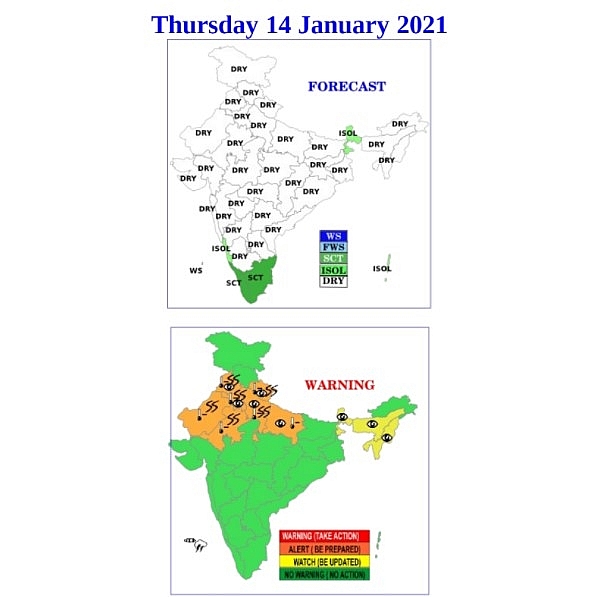 Photo: IMD
East, Northeast India
As for the eastern and northeastern parts of the country, the weather is likely to remain dry, although shallow to moderate fog will blanket isolated pockets across Arunachal Pradesh, Assam, Meghalaya, Nagaland, Manipur, Mizoram, and Tripura.
The only alterations will arrive through falls in nighttime mercury levels, with the minimum temperatures falling by 2-4⁰C in Gangetic West Bengal and Jharkhand, by 2-3⁰C over Bihar, and by 4-6⁰C over Odisha.
Therefore, the Poush Sankranti celebrations in the east should more or less go on uninterrupted by the weather.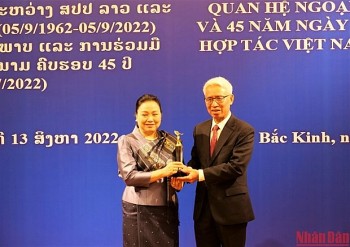 Friendship
The embassies of Vietnam and Laos in China held a friendship exchange in Beijing on August 13 in celebration of the 60th anniversary of the two countries' diplomatic ties (September 5) and 45 years since of signing of the Treaty of Friendship and Cooperation (July 18).