India weather forecast latest, January 10: Minimum temperatures fall as cold wave to be back
Minimum temperatures over northwest India are likely to fall gradually by 3 to 5 degrees Celsius during the next four or five days.
According to Skymet Weather, the western disturbance is in North India and it is gradually moving in the eastern direction. The cyclonic circulation has developed over the Western Disturbance and continues over northern parts of Punjab.
A cyclonic circulation is over the Southeast Arabian Sea and another cyclonic circulation over Sri Lanka and adjoining areas. A trough is extending from Sri Lanka to the coastal parts of Tamil Nadu.
A trough is extending from coastal parts of Karnataka to coastal parts of Maharashtra and southern Gujarat.
During the next 24 hours, light to moderate rain and thundershowers may continue over Tamil Nadu, Kerala, southern Interior Karnataka, and coastal Karnataka. Heavy rains are also expected at one or two places in these parts.
Light to moderate rains may occur over Andaman and Nicobar Islands, Lakshadweep, Konkan and Goa, and Madhya Maharashtra.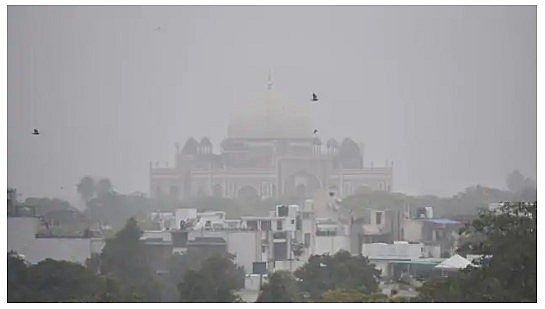 Minimum temperatures are expected to fall in Delhi from January 11.(Sanjeev Verma/HT PHOTO)
Light rain is also expected in Maharashtra, southern and southwestern parts of Madhya Pradesh, eastern Rajasthan, western Uttar Pradesh, and southern Gujarat. However, the weather will be clear in Rajasthan and Uttar Pradesh from 9 January.
Dense fog may occur over parts of Punjab, Haryana, North and East Rajasthan, Delhi, West Uttar Pradesh, and North Madhya Pradesh.
Minimum temperatures over northwest India are likely to fall gradually by 3 to 5 degrees Celsius during the next four or five days due to dry northwesterly winds which are bringing cold air from the snow-clad Himalayas.
"We can expect minimum temperatures to fall in Delhi from January 11. The wind speed will be around 20 to 25 kmph for the next three days in association with the present western disturbance. We are not expecting any intense western disturbance in the next 10 days so the weather is likely to be dry in most parts of northwest India," said Kuldeep Shrivastava, head, regional weather forecasting centre.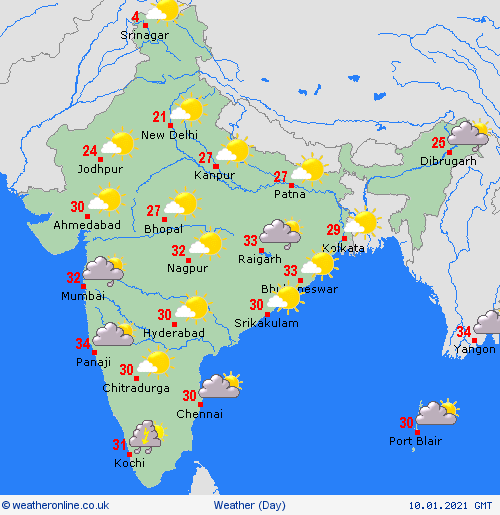 Photo: Weather Online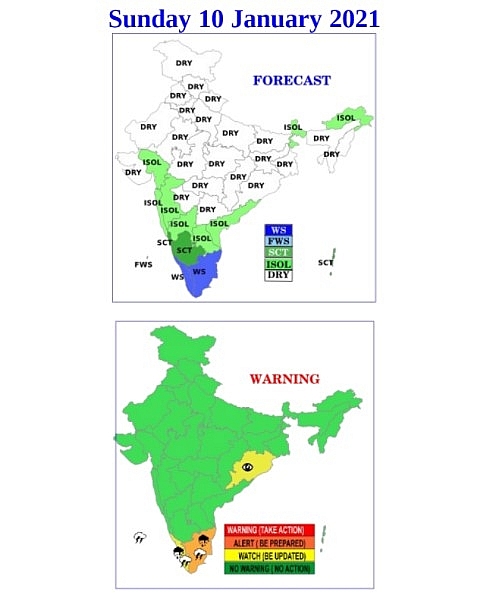 Photo: IMD
Due to abundant moisture and other favourable meteorological features, dense to very dense fog is also likely over isolated pockets in Punjab, Haryana, Chandigarh, Uttar Pradesh and Delhi on January 9 and 10.
"Due to the prevailing dry north/northwesterly winds over most parts of northwest India, minimum temperature will fall gradually by 3-5 degrees Celsius during the next 4-5 days causing "cold wave" conditions over Uttarakhand, Punjab, Haryana and north Rajasthan during January 11 and 12.
Under the influence of a cyclonic circulation over southeast Arabian Sea and another cyclonic circulation over south Sri Lanka; widespread rainfall with moderate thunderstorm and lightning is very likely over southern peninsular India during the next 3-4 days.
Heavy rainfall is also likely over Tamil Nadu, Puducherry, Karaikal and Kerala during January 8 to 11 and over coastal and south interior Karnataka on January 8 and 9.
Due to a trough (area of low pressure) in low level easterlies from southeast Arabian Sea to Gujarat region, isolated to scattered rainfall with thunderstorm and lightning is also likely over Maharashtra and Goa during the next two days.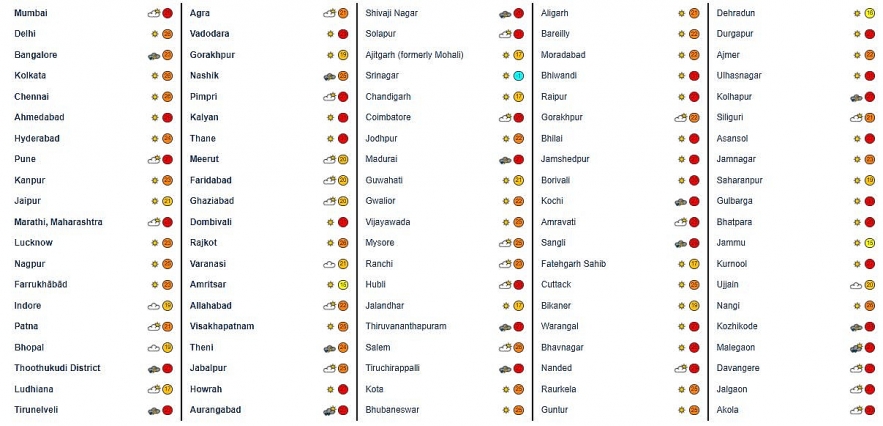 Photo: Weather Forecast
IMD also says that below-normal minimum temperatures are likely over Rajasthan, Himachal Pradesh, Jammu & Kashmir, Haryana, Chandigarh, Delhi, Sub Himalayan West Bengal, Sikkim, Jharkhand, Chhattisgarh, Odisha, Marathawada and Vidarbha during the next couple of weeks.
According to Hindustan Times, Delhi's air quality deteriorated slightly on Saturday with an hourly average Air Quality Index (AQI) of 289 recorded at 7 am even as officials said the situation was likely to improve with stronger wind speeds expected from Sunday.
"Because of increased wind speeds, air quality will also show good improvement. On Saturday, the air quality is expected to be between the poor and moderate zones," said VK Soni, who heads India Meteorological Department (IMD)'s Environment Monitoring and Research Centre.
The IMD also said that the temperatures from Monday will start falling again with the mercury likely to dip to around 8 degrees Celsius.