India weather forecast latest, January 12: Wintry conditions with stronger cold over the next few days and heavy rain cover south states
The minimum temperature drop over many parts of northwest India accompanied by wintry conditions and stronger cold. Besides, heavy rains are on the cards for the next three days across the south Indian states.
According to Skymet Weather, a cyclonic circulation is seen over the south-eastern parts of the Arabian Sea. A trough is also active from this system up to Northwest Madhya Pradesh.
Another cyclonic circulation is over Sri Lanka and adjoining areas. A cyclonic system also persists over Bangladesh and adjoining parts.
During the next 24 hours, light to moderate rains are expected to continue over some places in southern Tamil Nadu and Kerala and heavy to very heavy rains at some places.
Light to moderate rains are possible over rest of Tamil Nadu. Light rains may occur over East Assam and Arunachal Pradesh as well as parts of Lakshadweep.
Cold day conditions are likely to persist in parts of Rajasthan, Punjab and Haryana. Day and night temperatures are likely to fall further in northwest India, central India and parts of eastern India.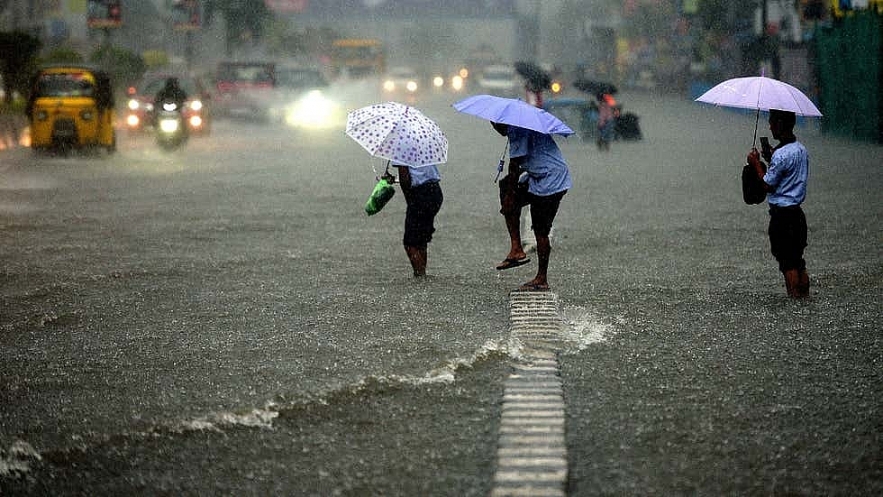 Heavy rains lashed parts of Chennai on January 5, 2021. (Ramesh Shankar R/TOI, BCCL, Chennai)
According to Hindustan Times, due to the prevalence of dry north or northwesterly winds over most parts of northwest India, the minimum temperature is likely to fall gradually by 3-4°C over the next three to four days, which may cause isolated cold wave conditions over Punjab, Haryana, Chandigarh, Delhi and north Rajasthan on January 12 and 13.
Surface winds, between speeds of 15 and 25kmph are very likely over the plains of northwest India during next the three days, according to India Meteorological Department's Sunday bulletin.
"Very cold northwesterly winds are blowing from snowclad Himalayas towards Delhi, so both maximum and minimum temperatures have fallen. Winds are blowing at 20 to 25 kmph, so the perception of cold is stronger. They are chilly winds. We are expecting cold day conditions over Delhi for the next few days," said Kuldeep Srivastava, head, regional weather forecasting centre.
Pedestrians cross a road in Chennai as the city receives rainfall. Express Photo: Srinivas K
According to the IMD, a 'cold day' or 'severe cold day' is based on two parameters — a minimum temperature below 10°C and maximum temperature is 4.5 degree C or 6.4 degree C below normal respectively. A cold wave occurs in the plains when the minimum temperature is 10°C or below and/or is 4.5 notches lower than the season's normal for two straight days.
A cold wave is also declared when the minimum temperature is less than 4°C in the plains. A cold day and cold wave together means the gap between day and night temperatures was lower than normal.
Air quality still poor
Despite very strong winds, Delhi recorded 'poor' air, with an AQI (air quality index) of 245 on Sunday. Strong winds and better ventilation conditions are likely to prevail between January 10 and 13. The air quality is likely to remain within the 'poor' and 'moderate' category on January 11 and 12, according to air quality early warning system for Delhi under the Union ministry of earth sciences.
"Delhi's air quality improved to 'poor' category and is improving further. We are likely to see 'moderate' air quality for two to three days, due to strong winds," said VK Soni, scientist at IMD's air quality division.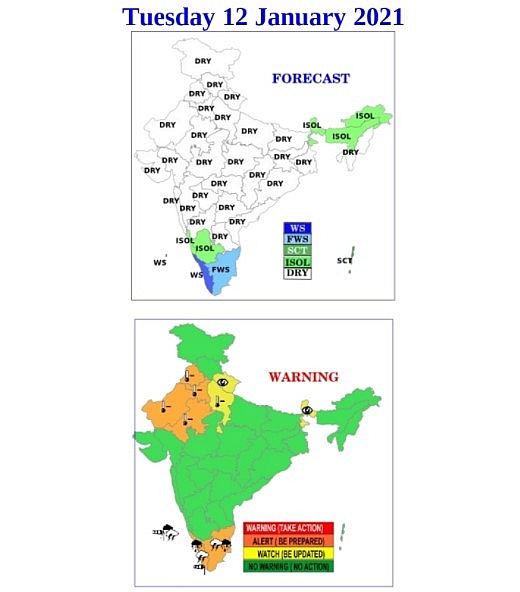 Photo: IMD
According to Times of India, Delhi's minimum temperature was recorded at seven degrees Celsius on Monday and likely to drop further as cold winds from the snow-clad wesyern Himalayas continued to sweep the plains. The mercury is likely to drop to five to six degrees Celsius by January 14.
Parts of South India — particularly Tamil Nadu, Kerala, and Lakshadweep — are likely to receive widespread rainfall over the next three days, according to the Indian Meteorological Department (IMD). However, the rainfall activity is predicted to decrease considerably from January 13th, the weather department added, Indian Express reported.
Isolated bouts of heavy to very heavy showers are expected in parts of southern Tamil Nadu and Kerala until Tuesday. Meanwhile, Lakshadweep, too, is predicted to receive heavy rains on 12th and 13th January, the IMD warned. These places are also likely to witness thunderstorms and lightning.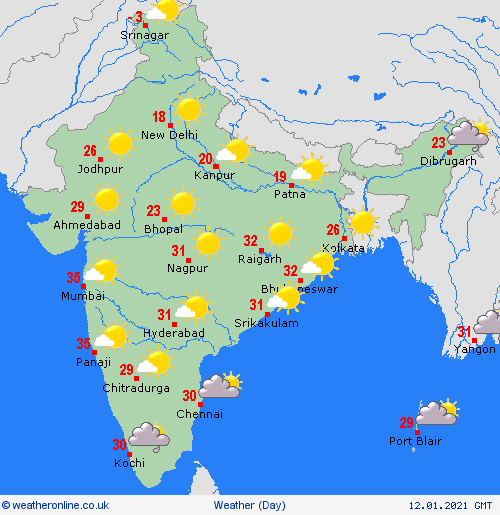 Photo: Weather Online
"Under the influence of the cyclonic circulation over Equatorial Indian Ocean & adjoining central parts of South Bay of Bengal upto mid tropospheric levels, fairly widespread to widespread rainfall with moderate thunderstorm and lightning very likely over Tamil Nadu, Kerala and Lakshadweep during next 3 days," the IMD's latest weather alert read.
Meanwhile, temperatures in parts of northwest India are likely to drop by 3-4° C over the next few days, which could result in isolated cold wave conditions in Delhi, Punjab, Haryana, Chandigarh and north Rajasthan on January 12 and 13, the IMD alerted. During the next three days, strong surface winds are also expected over the plains of Northwest India.