India weather forecast latest, January 13: Widespread rain covers Tamil Nadu, Kerala as the country braces for cold wave
India is forecasted to bear a cold wave declared along the plains when the minimum temperatures fall by 5 to 6 degrees Celsius from the normal.
According to Skymet Weather, a Western Disturbance is seen over Jammu and Kashmir and adjoining areas. However, this system is also as weak as the previous system.
A cyclonic circulation is seen over the south-central parts of the Arabian Sea. From this system, a trough is extending from South Konkan and Goa up to North Maharashtra. It is getting weaker now.
A cyclonic system is formed over the southern central parts of Bay of Bengal while another cyclonic system has developed over the southern Andaman Sea.
During the next 24 hours, the flow of icy winds from northwest direction will continue continuously in northwest India as well as the entire Gangetic plains. Despite the clear weather due to the cold winds, there will be a sharp drop in temperature in many cities of Punjab, Haryana, Delhi, North Rajasthan and Western Uttar Pradesh and conditions like cold wave will continue during the day.
Along with north-west India, the effect of cold winds will now be seen in central and eastern India, which will reduce the temperature in Madhya Pradesh, Gujarat, Maharashtra, Chhattisgarh, Bihar, Jharkhand.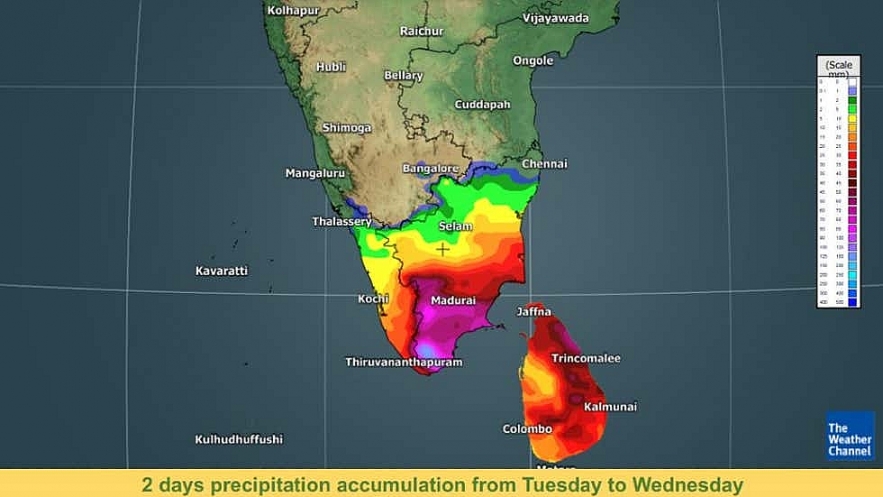 2-day rain forecast over Southern India from Tuesday to Wednesday. (TWC Met Team)
The rainy season will not be visible over the rest of the country except the southern states. Tamil Nadu and Kerala in the south will continue with heavy to very heavy showers with light to moderate rainfall.
The southern parts of Andaman and Nicobar Islands, as well as some places in Lakshadweep, may receive light to moderate rainfall.
North India is bracing for yet another cold week, with the India Meteorological Department (IMD) warning that cold to severe cold wave conditions are likely to prevail till January 15 even as southern regions are likely to experience wet weather.
A cold wave is declared along the plains when the minimum temperatures fall by 5 to 6 degrees Celsius from the normal.
According to Indian Express, the minimum temperatures in most north and north-western regions — Punjab, Chandigarh, Delhi, Haryana, Rajasthan and west Uttar Pradesh — will see a fall of anywhere from 2 to 4 degrees Celsius in the night temperatures during the next four days. Dense fog shall engulf these areas in the upcoming three to four days, the Met department has warned.
Photo: IMD
On most days last week, a stream of western disturbances had crossed the extreme northern regions of the country, with many areas in Jammu and Kashmir, Ladakh and Himachal Pradesh reporting severe snowfall that threw normal life out of gear. Air and road traffic at several places were also badly hit.
"Due to the prevalence of cold and dry northerly winds, the minimum temperatures would gradually fall in parts of north and northwest India. Cold wave to severe cold wave conditions are expected at isolated places of Punjab, Chandigarh, Delhi, northwest Uttar Pradesh and Rajasthan till January 15," read the IMD's forecast issued on Monday.
The minimum temperatures in the national capital have been gradually showing a declining trend since the last two days while on Monday, Churu in Rajasthan recorded a minimum of 1.9 degrees Celsius.
But in south India, stark contrasting weather is taking shape with the Regional Meteorological Centre (RMC), Chennai, warning of widespread rainfall, thunder and chances of lightning till early Friday. "This will be mainly under the influence of the presence of a cyclonic circulation laying off Sri Lanka coast over the Bay of Bengal," stated the weather update issued by RMC, Chennai.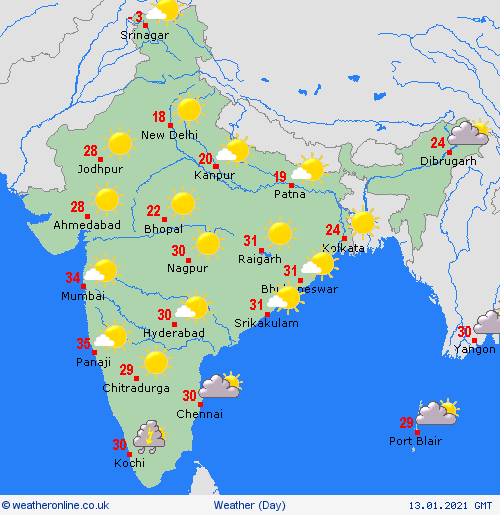 Photo: Weather Online
As a result, Tamil Nadu, Pudduchery, Karaikal, Mahe and Kerala will experience wet days till the end of this week.
According to Weather.com, January 13, 2021, marks the celebration of Lohri in India, particularly in Punjab, Haryana, and its neighbouring states and territories. The festival heralds the end of winter and commemorates the passing of the winter solstice, thereby welcoming longer days and marking the Sun's journey to the northern hemisphere.
Interestingly, the traditional end of winter this year will be marked by a cold spell in these parts of the country, as the India Meteorological Department (IMD) has predicted both cold day and cold wave conditions for the next 2-3 days. Therefore, it is prudent to cover oneself with warm cloths while stepping out to celebrate Lohri on Wednesday.
As per IMD forecast, the prevalence of dry northerly and northwesterly winds will cause the minimum temperatures over northwest India to gradually fall by 2-4°C from Tuesday to Thursday. This drop in the mercury levels will lead to cold day and severe cold day conditions in some pockets of Delhi, Punjab, Haryana, Chandigarh, northwest Uttar Pradesh, and north Rajasthan on Tuesday and Wednesday.
Further, cold wave to severe cold wave conditions are also expected in isolated pockets of these aforementioned states and territories until Thursday.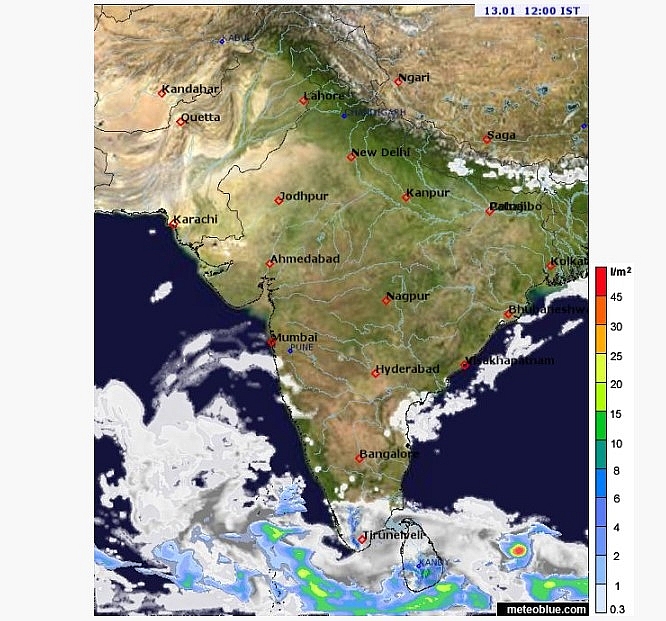 Photo: Meteoblue
Accordingly, an orange alert has been issued over all six of these territories on Tuesday and Wednesday, with the advisory instructing local residents to 'be prepared' for rough conditions. These instructions are especially applicable during the Lohri celebration on Wednesday, when people head outdoors and light bonfires. Wearing warm clothes during this ancient tradition is highly recommended.
Thereafter, come Thursday, the alert will be downgraded to a yellow watch, which urges people to 'be aware' of their local weather situation. Post Thursday, the low temperature conditions are likely to begin easing gradually, The Weather Channel's met team has indicated.
Along with low temperatures, the northwestern plains will also be bombarded with strong surface winds blowing at the speed of 15-25 kmph over the next 48 hours. These could prove to be highly beneficial for those celebrating Makar Sankranti on Thursday, as the festival includes the tradition of flying kites. Despite a drop in temperatures, the air quality may remain at the current levels of 'poor' to lower-end of 'very poor' till Friday. Thereafter, a further drop in air quality to higher-end of 'very poor' is forecast due to calm winds, says System of Air Quality Weather Forecasting and Research (SAFAR).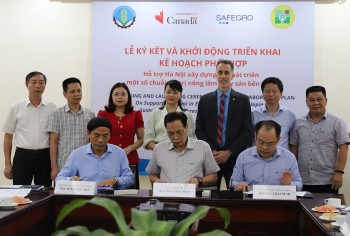 Make in Vietnam
As Vietnam furthers its international intergration, building agro-forestry-fishery high value chains is crucial for the sustainable development of the agriculture sector.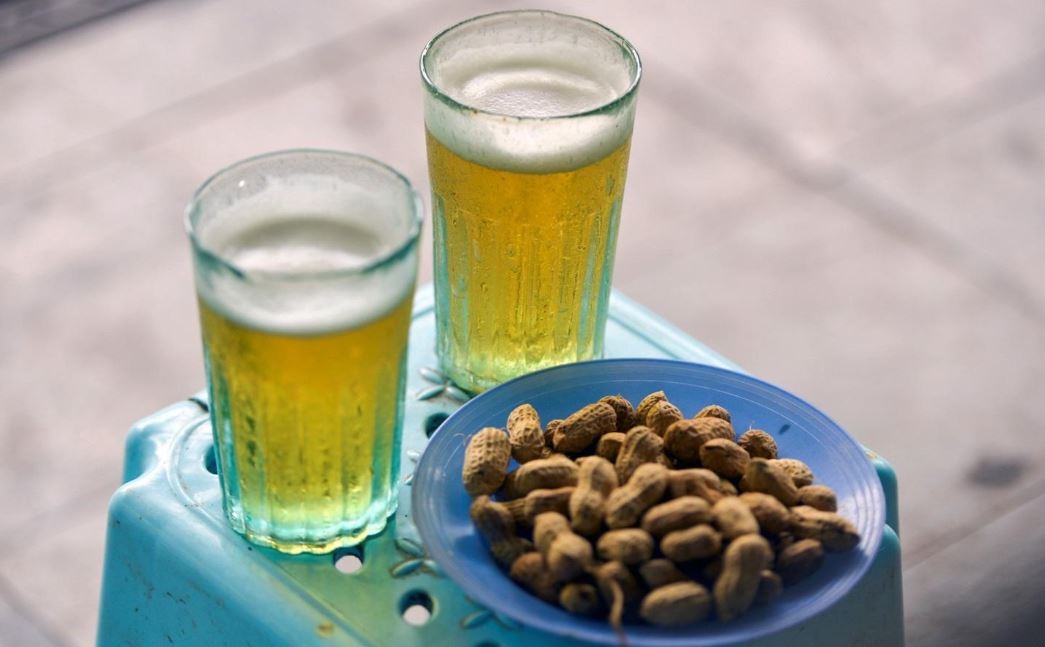 World
Among Vietnamese best beer destinations voted by foreign travelers, Hanoi is followed by Ho Chi Minh City, Hoi An, Nha Trang, and Da Nang.
August 06, 2022 | 14:54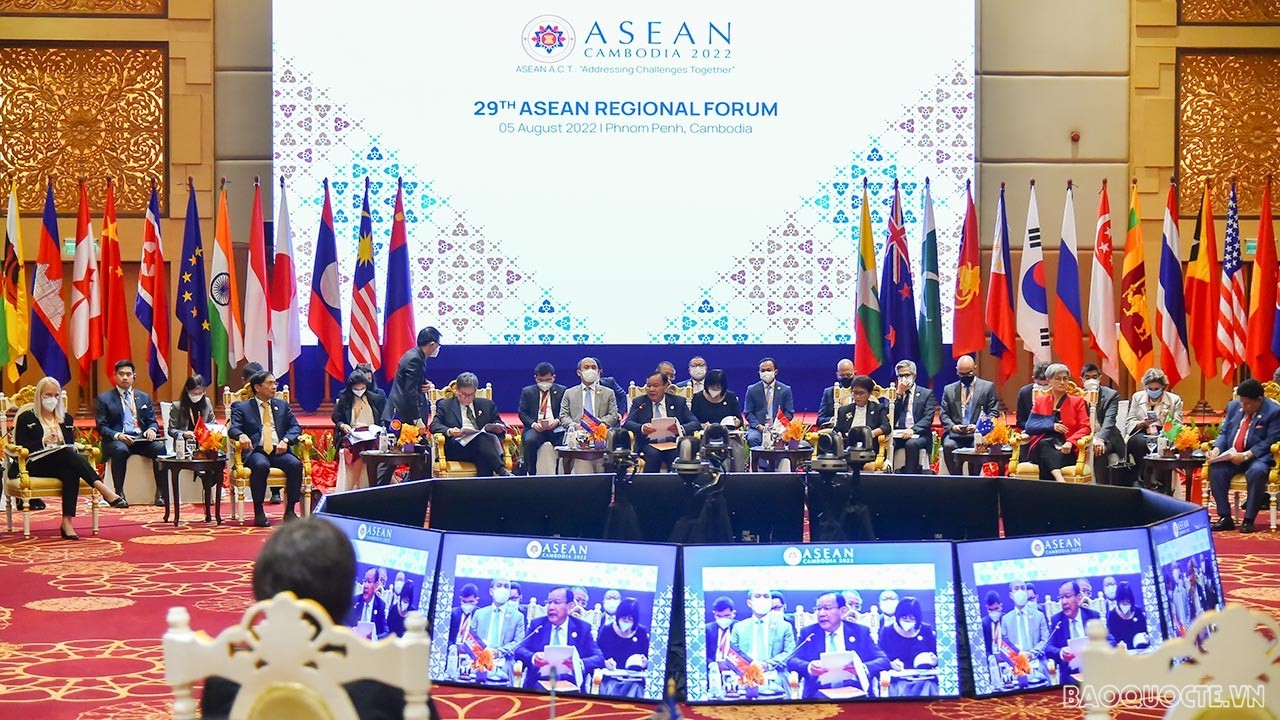 World
Foreign Minister Bui Thanh Son attended the 29th ASEAN Regional Forum (ARF) that took place in Phnom Penh, Cambodia on August 5 within the framework of the 55th ASEAN Foreign Ministers' Meeting (AMM-55), and held several bilateral meetings on the sidelines of the event.
August 06, 2022 | 09:12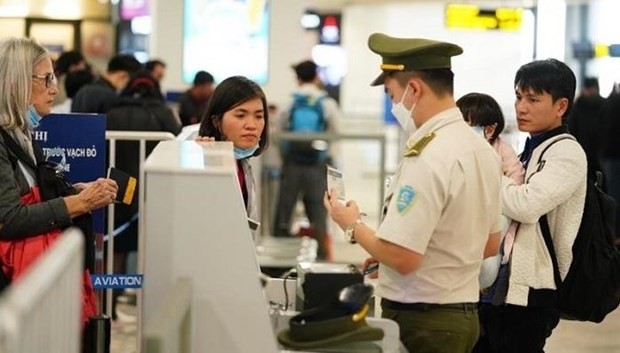 World
The Ministry of Health has asked localities nationwide to monitor foreign arrivals from countries with monkeypox as an early response after infections were spotted in the region.
August 05, 2022 | 16:11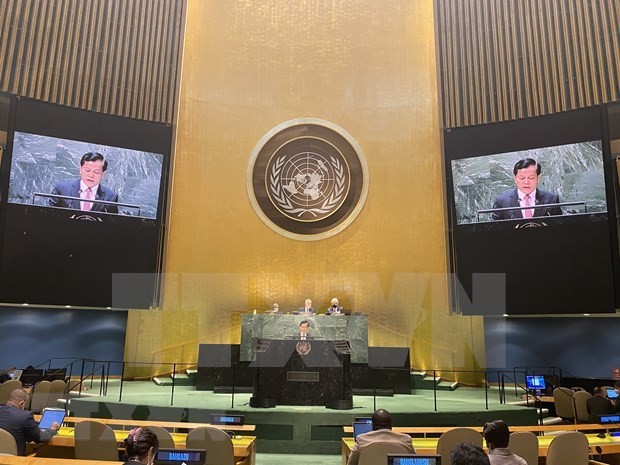 World
Deputy Foreign Minister Ha Kim Ngoc had a meeting on August 3 with United Nations (UN) Secretary-General Antonio Guterres who highly valued Vietnam's active and responsible contributions to the common work of the organisation, especially the country's strong commitments in the fight against climate change, and promised to continue supporting Vietnam in this work.
August 04, 2022 | 16:57