Indian Ambassador, Embassy Staff Donate Blood Ahead of Lunar New Year
The Indian Embassy in Vietnam and the Indian Business Chamber organized a blood donation camp in Hanoi, helping Vietnamese in need.
Expressing his joy when donating blood for the first time in Vietnam, Indian Ambassador to Vietnam Pranay Verma hopes to do this meaningful work more.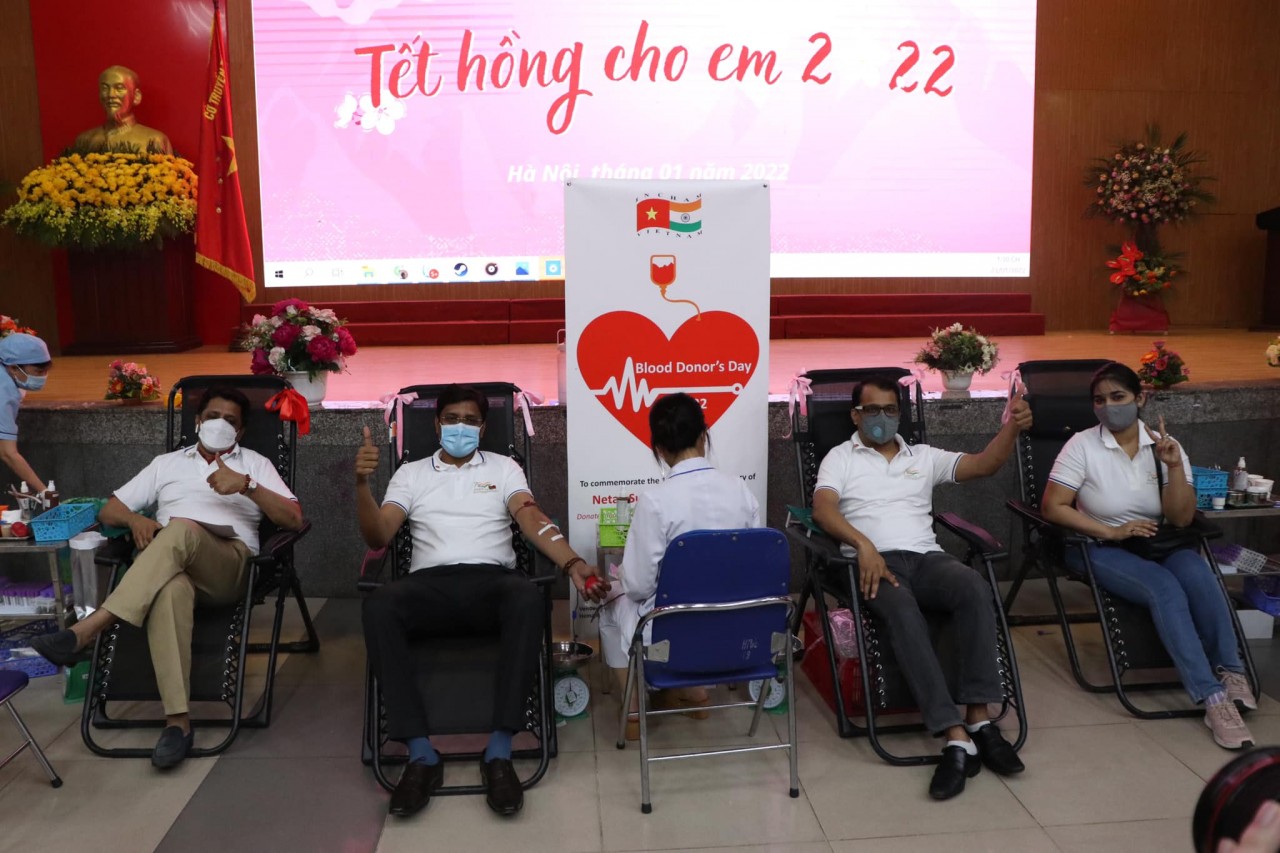 Indians at the blood donation event. Photo: Cong Thang
On the occasion of 50th anniversary of the establishment of diplomatic relations between India and Vietnam (1972 - 2022), embassy of India and the Indian Business Chamber organized a blood donation camp at the Hanoi-based National Institute of Hematology and Blood Transfusion on Jan. 23.
It was also an activity to celebrate the 125th birth anniversary of iconic freedom fighter Subhas Chandra Bose and as part of events to mark Azadi Ka Amrit Mahotsav - an initiative of the Government of India to celebrate and commemorate 75 years of progressive India.
"I myself have participated in blood donation eight times in India, however this is my first time in Vietnam and I am very happy about it. I hope I will be able to do this meaningful work more," said Indian Ambassador Pranay Verma
According to him, blood donation is an extremely noble act and brings great humanitarian value. "The blood donation program of the Indian Embassy today hopes to be a meaningful gift to give to Vietnamese patients on the occasion of the coming traditional New Year," said Verma.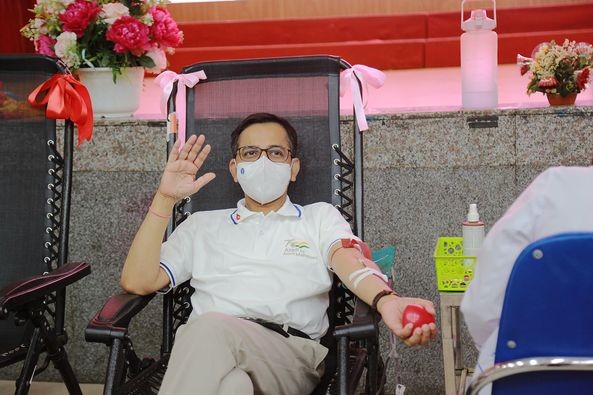 Indian Ambassador to Vietnam Pranay Verma donates his blood. Photo: Cong Thang
The difficult year of 2021 has passed and the delightful Tet atmosphere has come everywhere. Vietnamese people are busy preparing to welcome Tet. Through this, he would like to send his best wishes to all Vietnamese people, especially wishing us victory over the Covid-19 pandemic.
Also this afternoon, besides officials and employees of the Indian Embassy who came to donate blood, the Indian Business Association and the Indian community in Vietnam also came to participate in this meaningful activity.
Amrita Sarraf, a woman participating in the program recalled when her father was saved thanks to blood from donors. Since then she wants to share hers with other patients as a way to give back those who have donated blood for her father, whether in India or Vietnam. "That makes me feel happy," Sarraf shared.
Blood donations were down because of Covid-19 and many blood donation events were cancelled. This event will contribute to help ease blood shortages for first aid and treatment during the upcoming Lunar New Year holiday (Tet) – the longest and most important traditional festival in Vietnam. This year, the holiday will last from Jan. 31 through Feb. 4.
Dr. Bach Quoc Khanh, Director of the National Institute of Hematology and Blood Transfusion, said NIBHT usually received 30,000 units of blood every month to supply to hospitals in the north. However, the hospital had recently received only 25,000 to 28,000 units of blood in the period near the Lunar New Year.
"The closer Tet comes, the more the health sector and patients worry about blood shortages. The NIHBT needs at least 50,000 blood units in the first two months of the year 2022," he said.
However, with the blood donation schedules already in place, we are still short of 15,000 units of blood and 2,000 platelet units. Just one more unit of blood, or one more unit of platelet while Tet is approaching is a valuable lifesaver for the patient."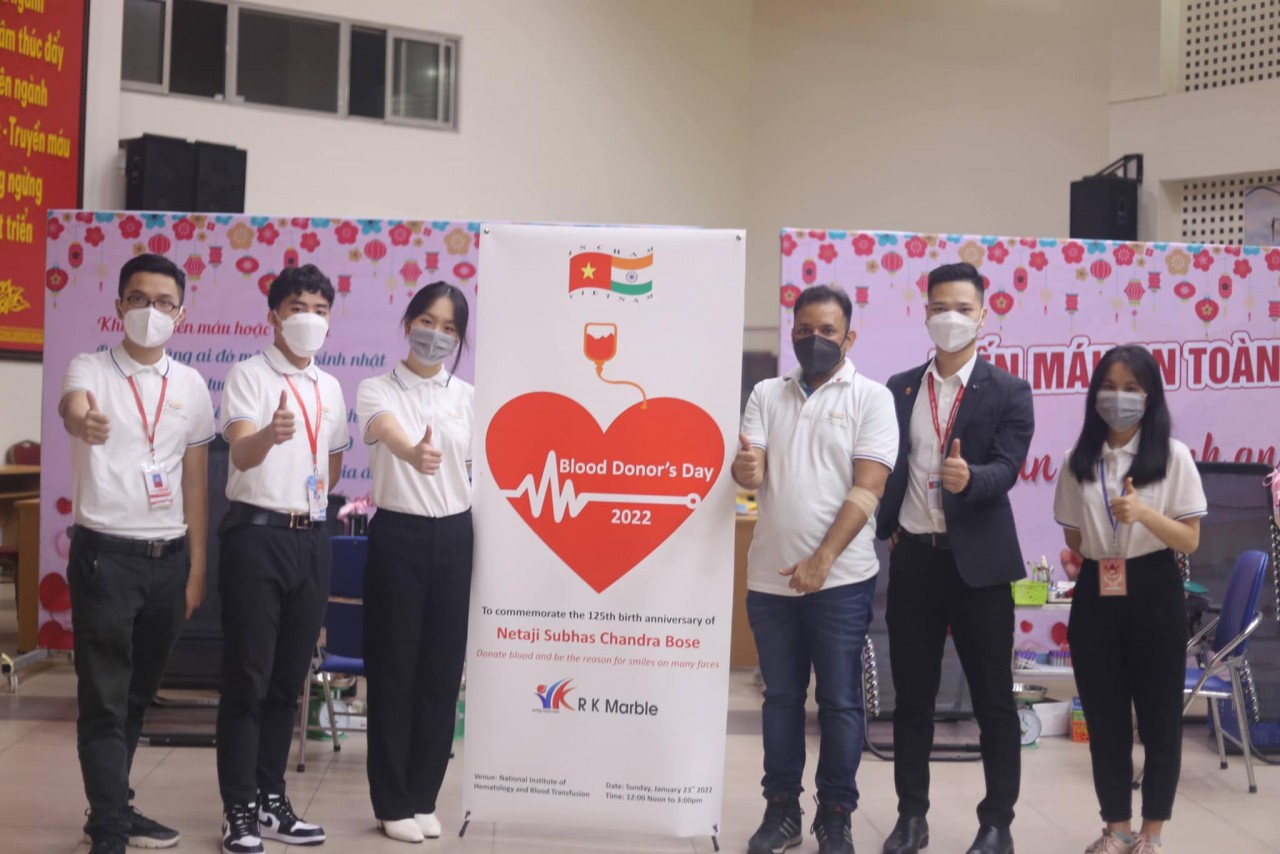 The event will contribute to easing the blood shortage in the city, especially when the wave of Covid-19 outbreaks have resulted in a rising demand for blood from medical facilities. Source: Embassy of India in Vietnam
In December 2022, the Thai Consulate General in Ho Chi Minh City also organized a blood donation event on the occasion of the 45th anniversary of the establishment of Thailand-Vietnam diplomatic relations (1976-2021).
Thailand's Acting Consul General Natthapol Na Songkhla said the donation drive would help strengthen not only people-to-people relations but also the strategic partnership between Thailand and Vietnam.
The Thai Consulate-General also donated VND 45 million (nearly USD 2,000) to support the municipal HCM Communist Youth Union committee's project in helping children orphaned by the pandemic.
Since May 2019, the Thai Consulate-General and partners have organised four blood donation drives with 647 blood units to help Vietnamese patients.
Vietnam is striving to mobilize 1.5% of the population to donate 1.5 million blood units this year, heard a conference held by the national steering committee for blood donation on Jan. 14.