India's daily coronavirus update: World's highest daily rise in COVID cases, record deaths
India's coronavirus infections rose by 346,786 overnight, the health ministry said on Saturday, setting a new world record for the third consecutive day.
Coronavirus cases in India climb to new world record as hospitals buckle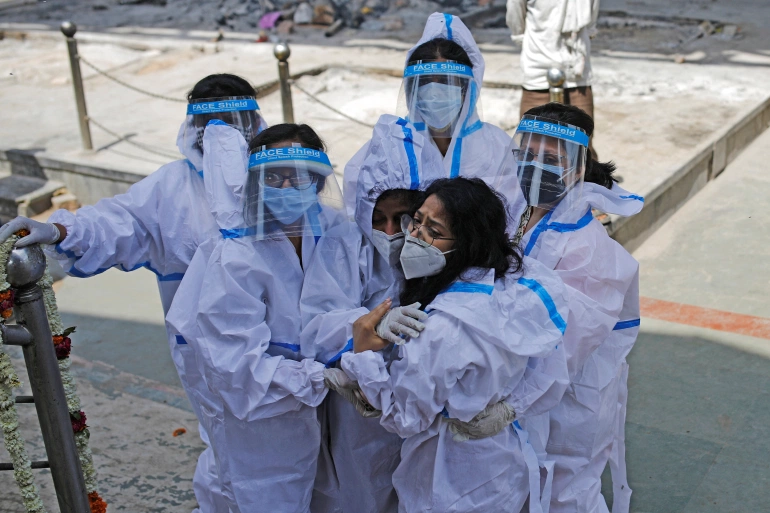 Relatives wearing personal protective equipment (PPE) mourn a man, who died from COVID-19, at a crematorium in New Delhi [Adnan Abidi/Reuters]
India's coronavirus infections rose by 346,786 overnight, the health ministry said on Saturday, setting a new world record for the third consecutive day, as overwhelmed hospitals in the densely-populated country begged for oxygen supplies, according to CNBC.
India is in the grip of a rampaging second wave of the pandemic, hitting a rate of one COVID-19 death in just under every four minutes in Delhi as the capital's underfunded health system buckles.
India surpassed the U.S. record of 297,430 single-day infections anywhere in the world on Thursday, making it the global epicenter of a pandemic that is waning in many other countries. The Indian government had itself declared it had beaten back the coronavirus in February when new cases fell to all time lows.
However, COVID-19 deaths across India rose by 2,624 over the past 24 hours, the highest daily rate for the country so far. Crematoriums across Delhi said they were full up and asked grieving families to wait.
The country of around 1.3 billion has now recorded a total of 16.6 million cases, including 189,544 deaths.
Authorities battle to get oxygen supplies to hospitals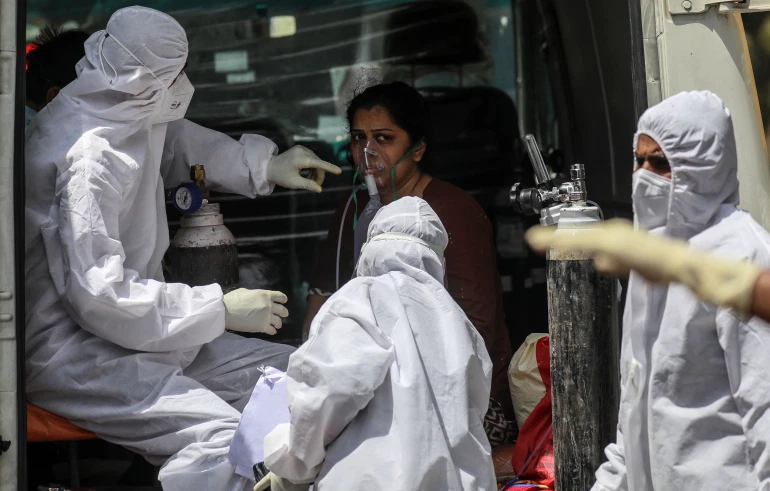 Health workers attend to a suspected COVID-19 patient in Mumbai [Divyakant Solanki/EPA]
More than 340,000 new cases were also reported, taking India's total to 16.5 million, second only to the United States.
But many experts are predicting the current wave will not peak for at least three weeks and that the real death and case numbers are much higher.
Stung by criticism of its lack of preparation ahead of the wave of infections, the central government has organised special trains to get oxygen supplies to the worst-hit cities, the Guardian reported.
One "oxygen express" carrying 30,000 litres for hospitals arrived in Lucknow, Uttar Pradesh state at dawn on Saturday, where armed guards were waiting to escort trucks to hospitals.
Lucknow has been one of the worst-hit cities, with hospitals and crematoriums inundated with patients and bodies, and officials said the liquid oxygen would only be enough for half a day's needs.
The Indian air force is also being used to transport oxygen tankers and other supplies around the country.
In Delhi, the city's government said it would begin setting up buffer stocks of oxygen to speed supplies to hospitals when they are within hours of running out.
Mass cremations in New Delhi as India's capital faces deluge of COVID-19 deaths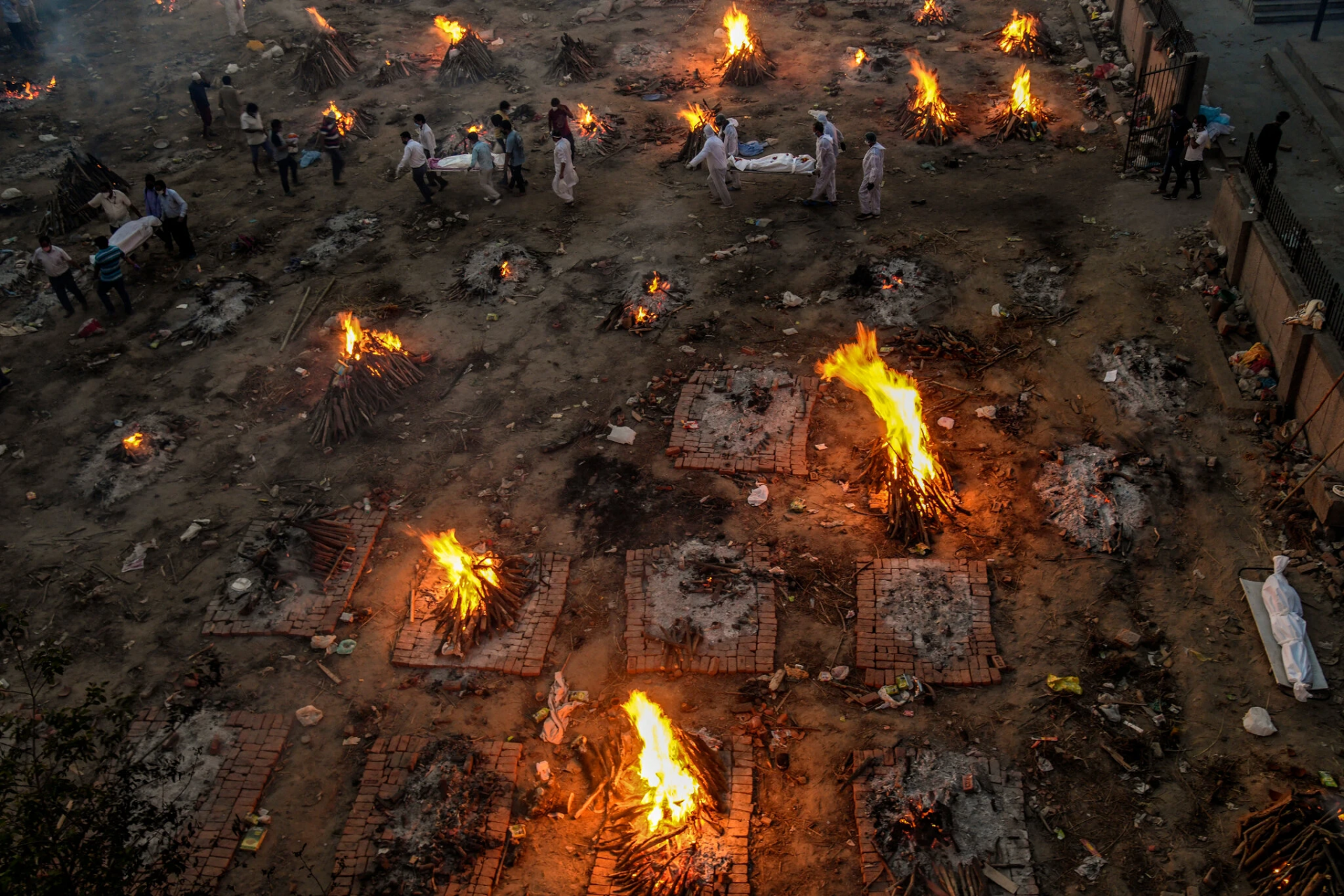 Photo: New York Times
India recorded the world's highest daily tally of 314,835 coronavirus infections on Thursday, with the second wave of the pandemic crushing its weak health infrastructure. In Delhi alone, where hospitals are running out of medical oxygen supplies, the daily rise is over 26,000.
People losing loved ones in the Indian capital, where 306 people have died of COVID-19 in the last 24 hours, are turning to makeshift facilities that are undertaking mass burials and cremations as crematoriums come under pressure, according to the Reuters.
Jitender Singh Shunty who runs a non-profit medical service, the Shaheed Bhagat Singh Sewa Dal, said as of Thursday afternoon 60 bodies had been cremated at the makeshift facility in the parking lot and 15 others were still waiting.
Shunty, dressed in protective gear and a bright yellow turban, said last year during the peak of the first wave the maximum number of bodies he helped cremate in a single day was 18, while the average was eight to 10 a day.
On Tuesday, 78 bodies were cremated in that one place alone, he said.
Kumar said when his mother, a government healthcare worker, tested positive 10 days ago, the authorities could not find a hospital bed for her.
"The government is not doing anything. Only you can save your family. You are on your own," he said.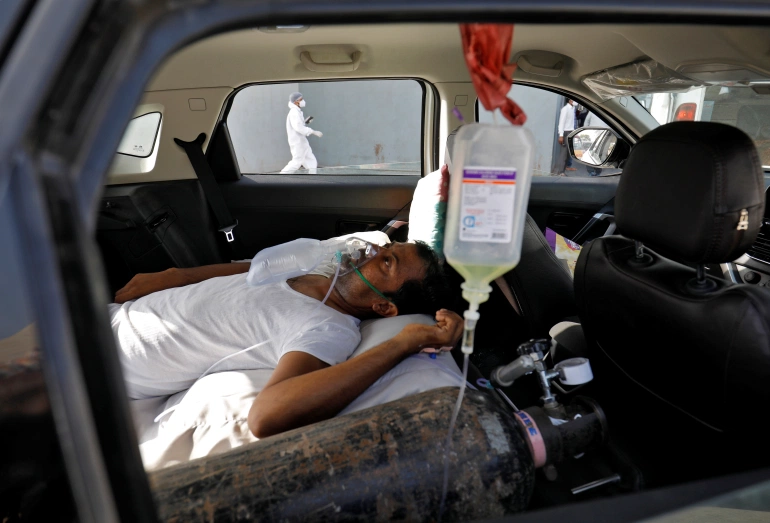 A patient with breathing problems is seen inside a car while waiting to enter a COVID-19 hospital in Ahmedabad [Amit Dave/Reuters]
Indian Super Rich Flee World's Worst COVID Outbreak on Private Jets
Eight private jets carrying India's super wealthy—and potentially the coronavirus—landed in London ahead of the U.K.'s 4 a.m. ban on travel from India, according to the London Times. The U.K. added India to its "red list" of pandemic-stricken countries. As of Friday, any Britons returning from India must quarantine for 10 days in a government-approved hotel. All non-British or non-Irish citizens will be banned entirely from entering the country if they have been in India in the previous 10 days. British Prime Minister Boris Johnson had to cancel his own state visit to India scheduled for next week as a "precautionary measure."
The last of the luxury airliners to arrive, VistaJet Bombardier Global 6000, which left Dubai Thursday to collect passengers in Mumbai, landed at 3:15 a.m., just 44 minutes before the restrictions took place.
The private jet passengers were fleeing unimaginable horror back home. At least 14 COVID-19 patients perished in a devastating fire that ripped through an ICU ward in one of India's overcrowded hospitals about 70 miles outside Mumbai. The fire that broke out around 3 a.m. Friday morning was contained and extinguished, but not before 14 patients—many who were intubated and hard to evacuate—had died. "Around 90 patients were admitted to the hospital at the time of the incident," Dilip Shah, the head of the Vijay Vallabh Hospital where it happened, said in a statement Friday.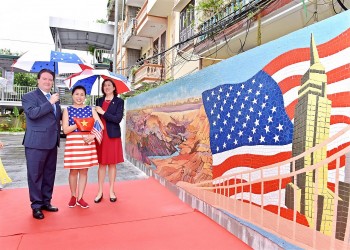 Multimedia
A ceramic mosaic mural named "Vietnam - US friendship" depicting the natural and cultural heritages of the two countries, was just revealed in Hanoi